So you've googled Salesforce to find out what it's all about and might have realized it has a LOT to offer. Where do you even start? Well, we created this cheat sheet for beginners like you to guide you through it all. From understanding what CRM technology is to figuring out which solution is best for you, we've got you covered!
The Power of Salesforce
So let's start off by explaining what Salesforce is and how it works.
More than just the name of a company, Salesforce is also the name of the "cloud" (set of computing services available through a network). Salesforce offers a wide variety of products that help you in customer relationship management (CRM), as well as integrate with multiple systems.
Salesforce is highly customizable; in it you will find tools to easily develop your own applications and make the platform meet your needs as much as possible. It was designed to accompany your client along their customer journey and give them a unique experience. This is Salesforce, a platform that satisfies salespeople, marketers, analysts, and developers. Salesforce was the first CRM in the cloud and currently the leading product in this area of the market.
Like any cloud technology provider, Salesforce makes available to its customers products that do not need to be installed or deployed on its own infrastructure. All you need to do is register on the platform, get a package, log in through a browser and then multiple functionalities and services will be immediately available to your organization, ready to be used from anywhere and through different devices. With Salesforce, your business data will be hosted in the cloud so you can sleep easily knowing your data is safe and secure, automatically backing up on its own. Through Salesforce Editions, customers can obtain feature and service packages geared to their specific business needs and budgets.
Among Salesforce services or products, we can find other "clouds". These are what the groups of functionalities oriented to a certain type of activity would usually be called, such as selling or providing customer support. Examples of these are: Sales Cloud, Service Cloud and Marketing Cloud. As a cloud service modality, all are classified as Software-as-a-Service (SaaS). Salesforce also includes predesigned applications or apps to meet specific needs in the CRM. Additionally, it provides Platform-as-a-Service (PaaS), which includes the platforms used by developers such as: Lightning Platform and Heroku. It also has its own application market and a wide community where it can provide training, support, consulting, etc.
Salesforce works for businesses of any size or industry and gives all departments the ability to share a 360° view of your customers with one integrated CRM platform. It allows companies to streamline their business processes and manage customer relationships by focusing on sales, service, marketing, and commerce. It keeps your data organized and secure while also presenting reports with effective analytics. Its automation features include tracking leads, managing emails, assigning tasks, notifications, approvals, etc, and so much more. It also handles all customer interactions of an organization through different forms of communication including phone calls, site email enquiries, communities, and social media.
Salesforce helps companies accelerate efficiency and productivity, ultimately increasing revenue and growth by organizing data and automating business processes. With visibility and easy access to data, it is easier to collaborate and increase productivity. Everyone in your company can see how customers have been communicated with, what they have bought, when they last purchased, what they paid, and so much more.

The Salesforce ABC's
Review the most common key terms that you'll encounter at the very beginning of your Salesforce experience.
10 Reasons Why Companies Choose Salesforce
It is a powerful and intuitive tool.
Great flexibility and unlimited customization. Salesforce can be configured to help run almost any business process.
Better business management (tasks, campaigns, clients, contacts, documents, etc.), better visibility and more access to key information for better decision-making.
Facilitates and multiplies the ways of interaction with customers, makes it possible to obtain more leads and close deals faster.
Covers all the needs of a company, offering solutions for each department and each moment of interaction with customers.
Improve team collaboration and time management.
Allows you to increase efficiency through the automation of sales and marketing processes.
Strategic ability to perform cross selling and up selling.
Fast and scalable deployment, automatic software updates.
Accessibility from anywhere on any device.
Salesforce Solutions
Products and services overview
Salesforce offers its users:
Software-As-A-Service (SAAS), where all applications are included.
Lightning Platform is the first Platform-As-A-Service (PAAS) that is very easy to use and allows you, without programming experience, to develop any type of commercial application.
A broad community where training, support, and consulting are provided, best practices are shared, and events and discussion forums are organized. Community VisitSalesforce.com, Salesforce.com.
AppExchange, its online marketplace.
The products and services included in Salesforce can be classified according to the needs of each business to be more easily identified: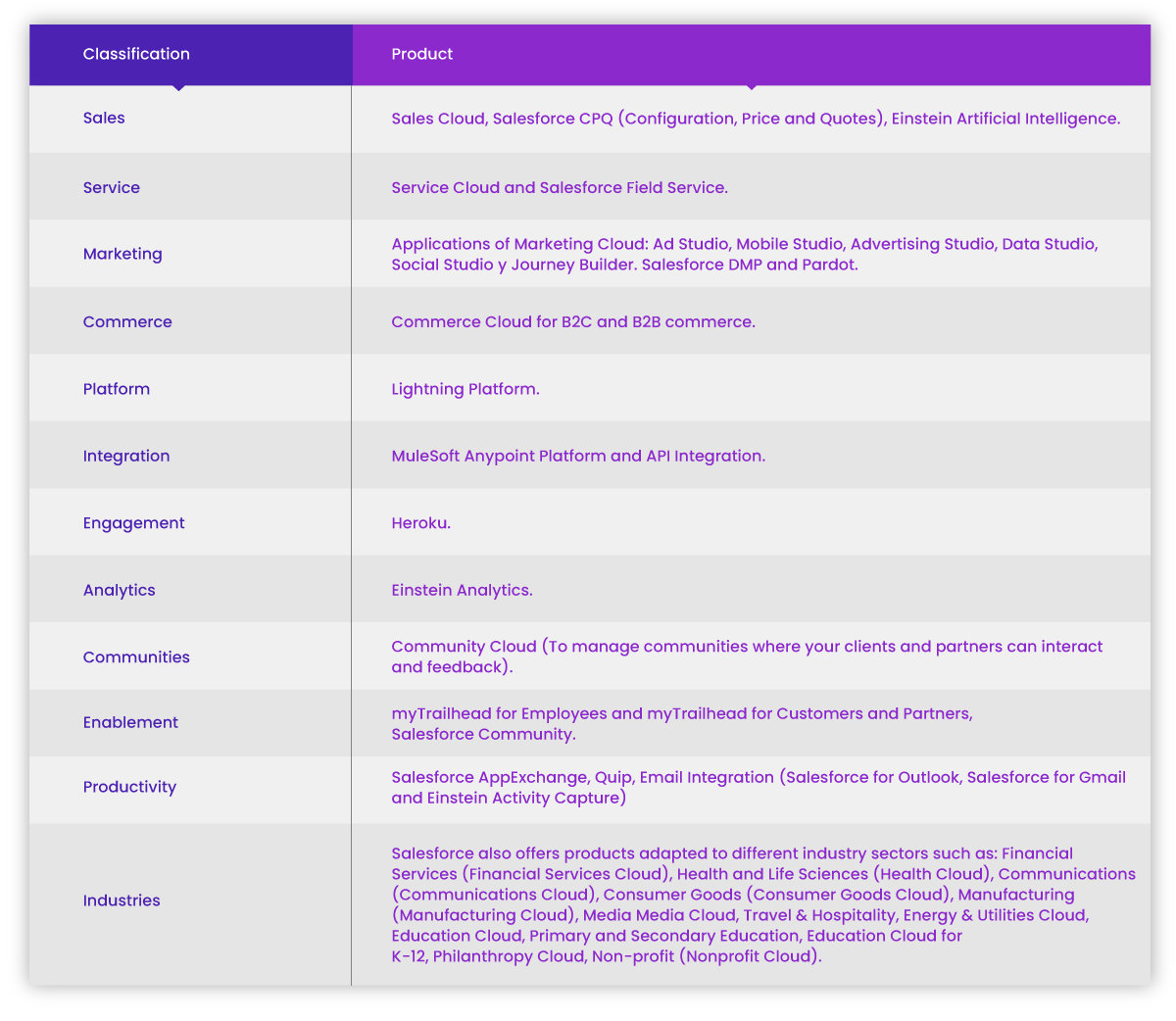 Most popular solutions
Now that you have an idea of what Salesforce is and how it works, let's talk about its best-selling solutions, which include the likes of Sales Cloud, Service Cloud, Marketing Cloud, Community Cloud & Einstein Analytics.
Sales Cloud
Sales Cloud is performance management software built for salespeople. This software can optimize business processes and increase the chances that leads will become customers thanks to a personalized guide created by the software to help guide customers through the conversion funnels. It is designed to cover the entire sales process from start to finish, allowing sales reps to work faster and smarter. It can store and organize data including leads, accounts, contacts, contracts, opportunities, products, price lists, quotes, campaigns, and more. Some of its key features are: lead management, sales forecasts, creation of workflows and integration with email.
See our Sales Cloud Quickstart Package
Service Cloud
Service Cloud is a platform designed for customer service and support, enabling users to automate service processes, streamline workflows and find key articles, topics and experts to support the agent. It can listen and respond to customers across a variety of social platforms and route cases to the appropriate agent. It also gives agents a 360-degree view of each individual customer by providing AI-powered insights and predictions.
See our Service Cloud Quickstart Package

Sales Cloud and Service Cloud: a successful binomial.
Sales Cloud and Service Cloud are two of the most used Salesforce products. You will be surprised to know how they can complement each other, to satisfy the interests and objectives of your business.
Marketing Cloud
Marketing Cloud is a digital marketing software that enables you to connect interactions from any channel or device and combine customer data and behaviors to create real-time engagement. It includes integrated solutions for customer journey management, email, mobile, social media, advertising, landing pages, content creation, and data analytics. It also allows you to create campaigns and target specific customer behaviors, needs, and demographics.
See our Marketing Cloud Quickstart Package
Commerce Cloud
Commerce Cloud is a B2B and B2C commerce platform that empowers brands to create intelligent, unified buying experiences across all channels including mobile, social, web, and stores. It provides a rich set of capabilities, including marketing, merchandising, content, promotions, customer service, fulfillment, and artificial intelligence.
Community Cloud
Community Cloud is a social platform designed to connect and facilitate communication among an organization's employees, partners, and customers. It allows users to share information in real time throughout an ongoing conversation and is beneficial for troubleshooting, human resources management, and collaboration.
See our Community Cloud Quickstart Package
Heroku
Heroku is a cloud platform that allows companies to build, deliver, monitor, and scale apps. It supports several programming languages so developers can build apps in the language of their choice including Java, Ruby, Node.js, Scala, Clojure, Python, PHP, and Go.
Lightning Platform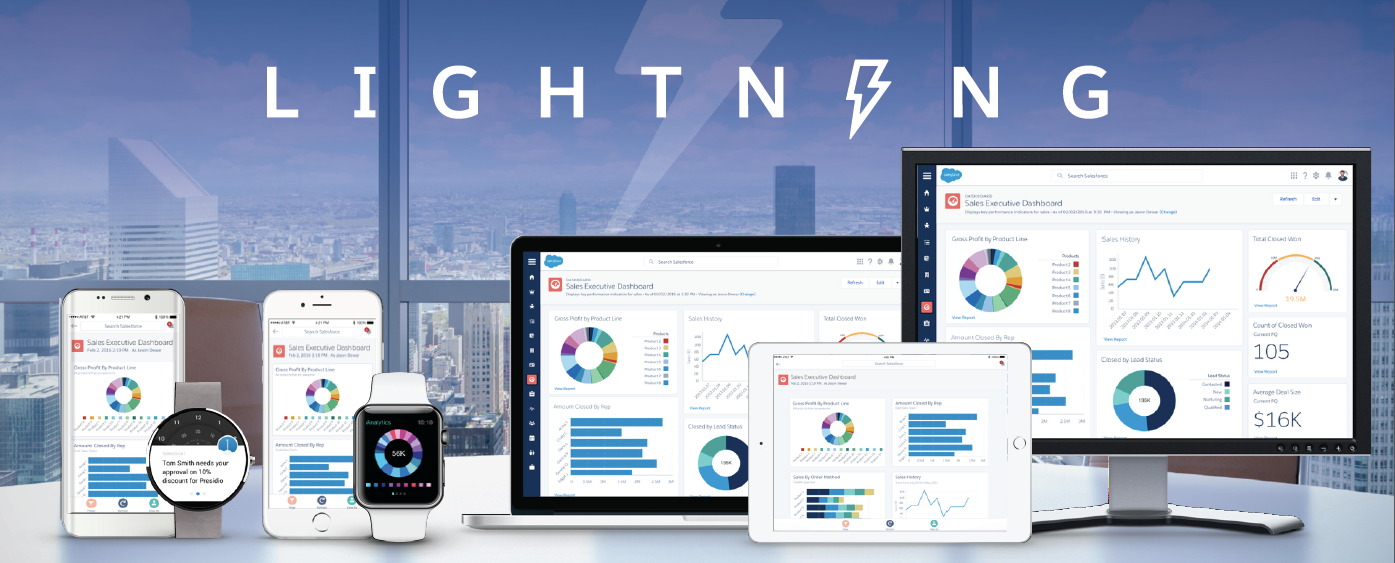 Salesforce has two versions: Classic and Lightning. The Lightning Platform offers more advanced features including customizations and app integrations so you can work faster and smarter. In essence, Lightning Platform is an app development platform that is designed to simplify processes for business users by accelerating development and app performance. It offers low-code to no-code building and automations so you can customize apps for any business need.
Einstein Analytics
Einstein Analytics provides advanced analytics powered by artificial intelligence that automatically analyzes billions of data combinations to surface predictive insights and prescriptive recommendations. With these analytics, you can create Analytics charts to better visualize and understand your data. Einstein Analytics also allows you to build your own custom, intelligent apps, utilize APIs and SDKs to enhance your app, and connect to third party data sources to view all your data in one place.
Quip for Salesforce
Quip is a collaborative productivity software that allows teams to create and edit documents and spreadsheets together as a team. You can embed real-time document collaboration inside Salesforce and communicate via its built-in chat to boost sales productivity and resolve complex service cases faster.
myTrailhead
With myTrailhead, you can empower your team as well as customers and partners to learn how to use Salesforce in a gamified learning platform customized with your brand and content. You can tailor content to match the roles and needs of your company and increase Salesforce adoption.
Pardot
Pardot is a powerful B2B marketing automation tool designed to generate high-level leads, close more deals, and maximize ROI. It allows you to personalize the customer experience and display targeted offers thanks to the automated configuration of the scoring, grading, tracking and nurturing processes. It has a very intuitive and easy-to-use email marketing editor.
See our Pardot Quickstart Package
Mulesoft
Mulesoft is an integration software for connecting apps, data, and devices in the cloud or on-premises. It allows you to bring data into Salesforce from any third-party system such as SAP or Oracle.
What is Customer 360?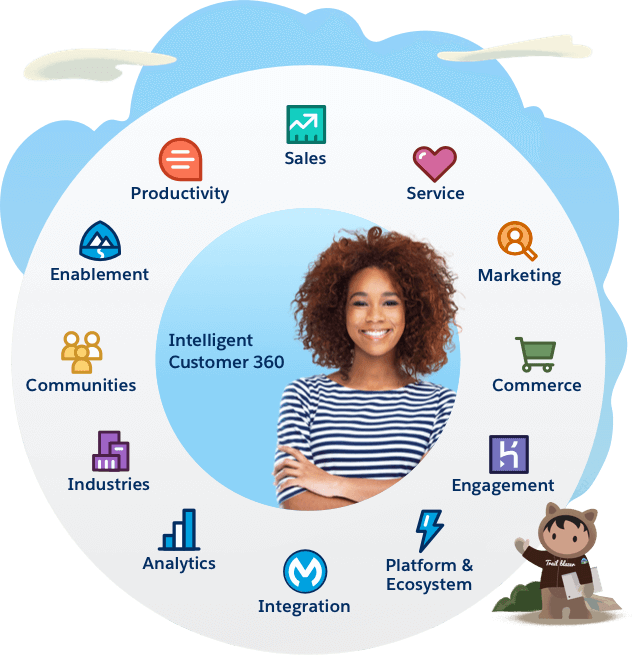 Customer 360 is a comprehensive technology portfolio that unites all your departments in a CRM platform with a single customer-oriented view. This integration allows you to accompany and guide your customers in all phases of interaction with your product from marketing, sales, commerce to support services. In addition, it allows you to help them get the most benefit from your product, an experience where everyone wins. A Customer 360 implementation could be, for example, a combination of Sales Cloud, Service Cloud, Marketing Cloud, Commerce Cloud, MuleSoft, and myTrailhead.
Due to its breadth of offerings, Salesforce can be fully customizable to fit any business in any industry. Need an app? Check out the AppExchange, an online marketplace filled with hundreds of pre-built mobile and desktop apps, components and services ready for use. Want to customize your Salesforce solution? Check out Salesforce's standard features. Looking for something more tailored to your business? Find a Salesforce certified consultant, like us, that can work with you to tailor the whole platform to meet your specific business needs and goals. Whether you're a global conglomerate or a small business, Salesforce has solutions to help everyone regardless of size or industry.
AppExchange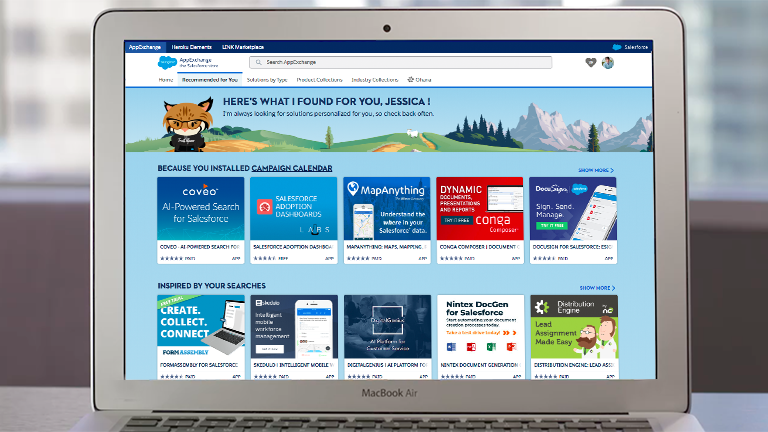 As we mentioned earlier, Salesforce has its own online marketplace. This includes thousands of cloud applications created by Salesforce customers, developers, and partners. Many of them are free and all are pre-integrated with Salesforce, allowing you to add functionality to your organization easily and efficiently. On the AppExchange, you can find applications to cover almost any need. This can be considered as Salesforce's version of an App Store. This online store also offers the services of expert consultants, thousands of developers, and a space with job offers in the world of Salesforce.
Integration Apps
A very common need is to be able to integrate Salesforce with tools that are already part of our lives and that we need to manage our business. On AppExchange, integration apps are in high demand and allow connection to a wide variety of solutions.
Some of Salesforce's most popular integrations include:
Google Cloud
Google Analytics
Facebook
LinkedIn
Outlook
Slack
Quickbooks
Dropbox
MailChimp
DocuSign
Jira
HelloSign
CodeScience
Eventbrite
SAP

An AppExchange's Quick Guide
Check out our guide to quickly discover what you can find there, how it works and what are its main advantages.
Available Salesforce Editions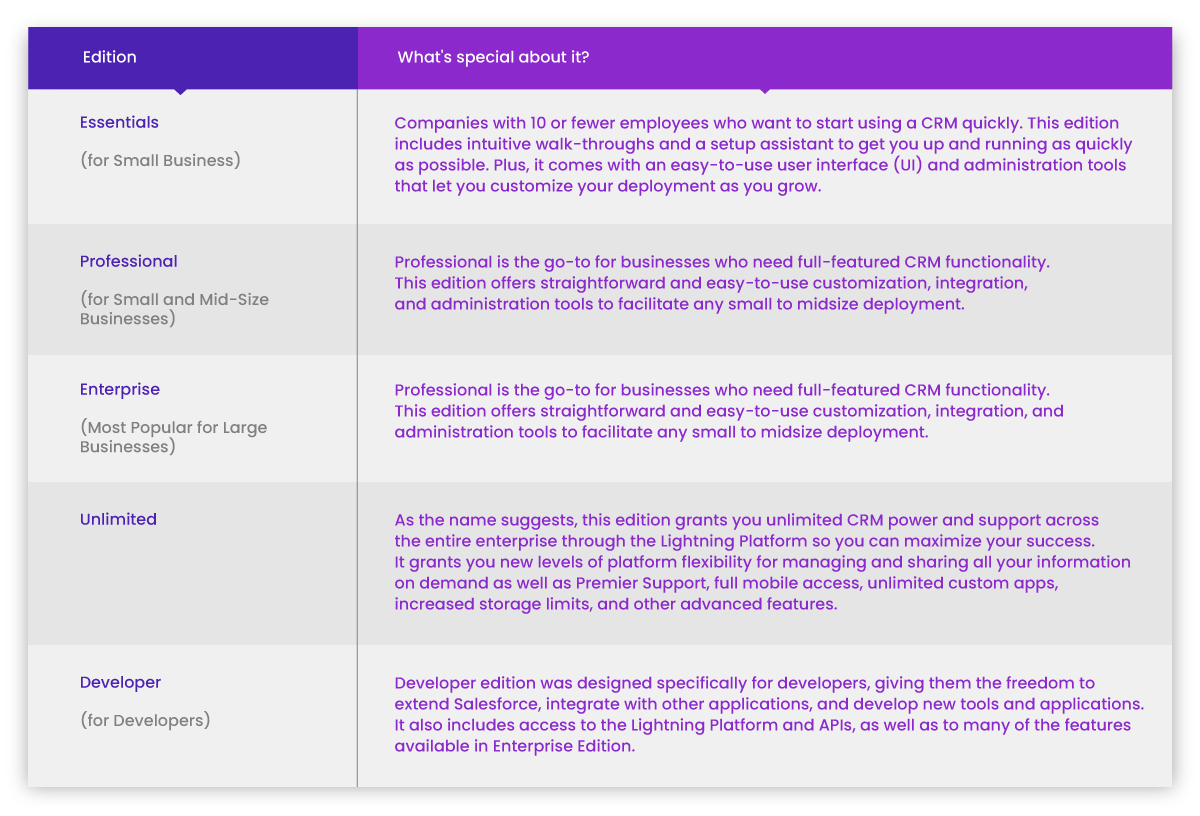 There are other editions of Salesforce that continue to be used but are no longer sold, those are: Contact Manager, Group, Personal, Performance and Database.com.

Salesforce Editions. Keys for a successful selection.
If you want to make a successful selection, we offer you the information you need considering the organization type in which they are used, the updates and the limitations they present.
Licenses
Salesforce offers different types of licenses: organization-level licenses, user-level licenses, permission set licenses, and add-on licenses. At this time, we would like to focus on two of these licenses:
Organization-level licensing
When you purchase Salesforce, you purchase an org-level license or edition (Essentials, Professional, Enterprise, Unlimited, Developed) and each edition defines:
Features, such as contracts or Collaborative Forecasts.
Amounts, such as quantity of storage and the number of sandboxes.
User-Level Licenses
When you purchase Salesforce, your org receives a specific number of user licenses such as Salesforce or Chatter Free user licenses. Each user that is created is assigned a license which defines:
User permissions, such as Activate Contracts or View All Forecasts.
Permissions regarding creating, reading, modifying and deleting objects. Example: Who can create a contract or delete an account.
If you would like to delve deeper into the subject, you can visit What Happens When You Purchase Salesforce official page.
How to see user licenses in your organization
Go to Setup and under "Company Information" you will find the "User Licenses".

User interfaces
Salesforce offers two user interfaces (UI).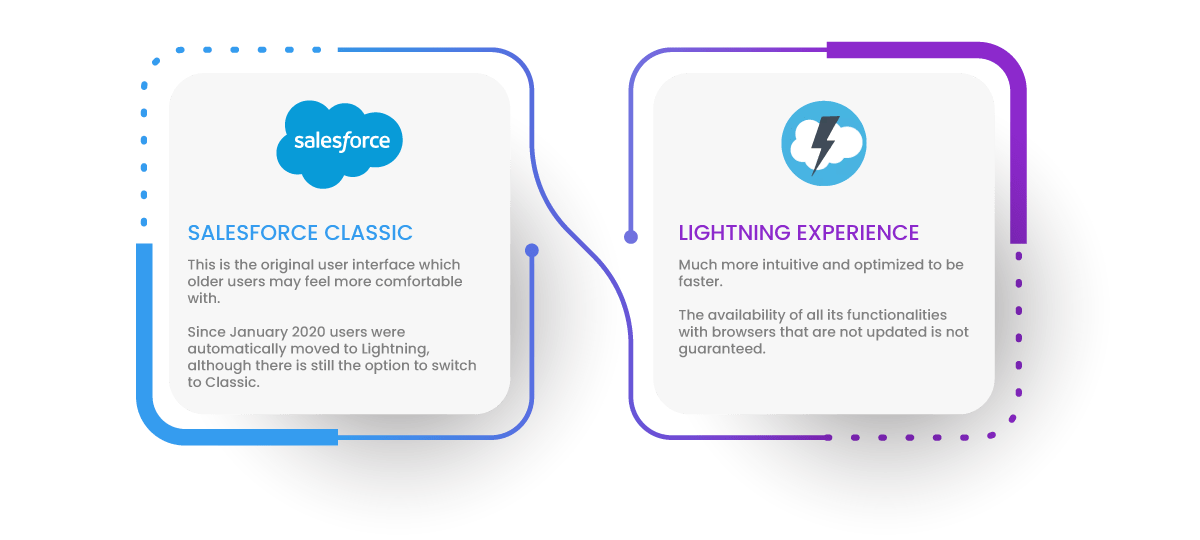 Depending on the edition, you may or may not use one UI or the other in your session. Customers who use Lightning Experience are more productive than customers who work in Salesforce Classic. To ensure that you experience and benefit from this new UI, selected trials and purchased subscriptions offer Lightning Experience exclusively. To check if you can switch to Salesforce Classic, click on your "Avatar" (Profile) in the upper right-hand side and the option "Switch to Salesforce Classic" should be enabled.


Salesforce Free Trial
Salesforce wants you to experience what it has to offer. For this reason, it provides a free trial for 30 days on its official website.

When accessing a free trial, you will receive a standard implementation proposal based on a strategic aspect, such as the number of employees your company has, which is one of the fields filled out in the subscription form before starting:

Once the form has been completed and the Subscription agreement is accepted, you will receive a Link with the URL of your organization and your username in your email account: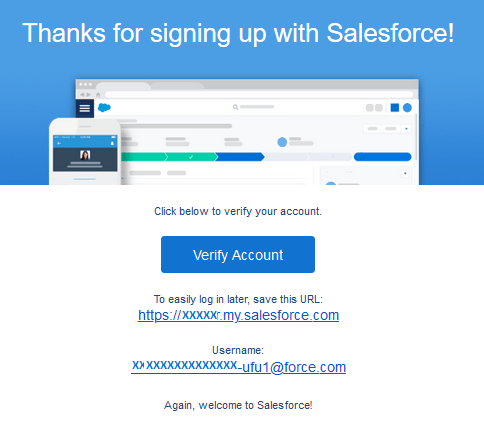 A basic product of Salesforce CRM implementation is Sales Cloud (which Salesforce recommends you start with). However, you can select a free trial of any of the products by choosing them directly.
In the example above, a company with no more than 20 employees was chosen, for which Salesforce proposes a Sales Cloud package: Professional edition (It could have recommended the Essentials edition, considering the size of the company, but Salesforce recommends the options it believes you would best enjoy).
Within Configuration under "Company Information", you will be able to see the profile of your organization with basic information such as: user licenses, the edition of the organization, the space used, etc.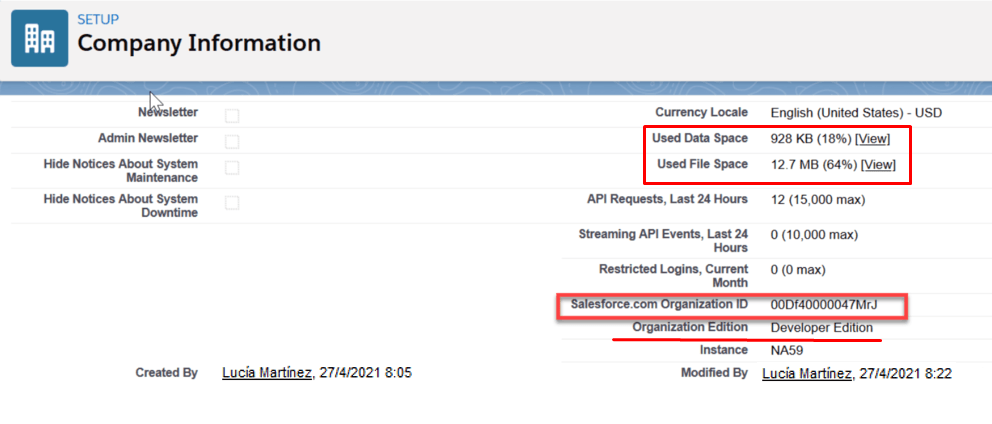 Something important that you should not forget during your free trial is to set your password. From your personal settings, enter Password in the Quick Find box, then select Change My Password or "Profile" in the Settings option select "Change my password". Then, with this password, you will be able to access your organization at another time after you have closed the session.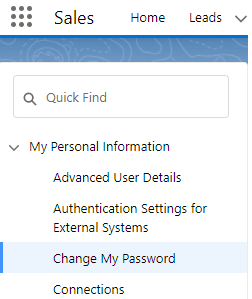 In this test, you can work with default data proposed as an example by Salesforce or upload your own. You will find preconfigured dashboards, reports, and processes along with guided experiences for sales reps, leaders, and administrators. Plus, online training and webinars.
In the second part of this article, we will continue exploring the platform and we will see in greater detail what are some of the options it offers us and what we can do with them.
Due to its breadth of offerings, Salesforce can be fully customizable to fit any business in any industry. Need an app? Check out the AppExchange, an online marketplace filled with hundreds of pre-built mobile and desktop apps, components, and services ready for use. Want to customize your Salesforce solution? Check out Salesforce's standard features. Looking for something more tailored to your business? Find a Salesforce certified consultant, like us, that can work with you to tailor the whole platform to meet your specific business needs and goals. Write to us at hello@theskyplanner.com. We will be delighted to help you!