Implementing Salesforce demands active commitment and technical expertise to achieve the desired goals. Between 18% and 69% of CRM implementation projects fail due to project management issues and unrealistic expectations. That is why organizations rely on the expertise of a Salesforce partner to maximize return on investment.
Salesforce has a partner program that allows you to improve and grow successful businesses while providing customer success. This program includes 3 classifications:
Consulting partners or system integrators (SI): they contribute to business growth and increase efficiency by applying their experiences, leading personalized practices, and taking advantage of innovative tools.
AppExchange partners (ISV): Independent Software Vendors (ISV) who develop and market applications in AppExchange.
Resellers: Partners who sell Salesforce licenses but are not necessarily involved in their implementation.
Are you interested in how a Salesforce consulting partner can help? If so, you are in the right place. In this article we will answer the following questions:
What is a Salesforce consulting partner?
How to become a Salesforce consulting partner?
What are the levels that Salesforce consulting partners can achieve?
Are there additional tools and resources for a Salesforce consulting partner?
What does it mean to be admitted as a Salesforce consulting partner?
What is a Salesforce consulting partner?
A Salesforce consulting partner is a company authorized by Salesforce to develop and provide custom solutions, as well as project implementations and integrations. These companies are trained to lead the innovation phase and help companies connect with their customers in new ways.
These organizations market their Salesforce expertise to customers who need help with software migration, implementation, systems integration, and custom application development. They demonstrate this expertise by keeping their Salesforce certifications current and by displaying portfolios of successful projects. In this way, they help you improve and grow your business while enriching your experience.

What is a Salesforce Consultant?
If you already bought and use Salesforce in your organization, what benefits are there to hiring a consultant?
How to become a Salesforce consulting partner?
To become part of the Salesforce family of consulting partners, applicants undergo a very demanding selection process. They must meet the necessary requirements and provide the requested information in order to be accepted. This requires a significant effort in terms of investment, training, certifications, etc.
Accepting the policies established by the agreement of the Salesforce partner program (SPPA) is the first step of many to access your community (Salesforce partner community).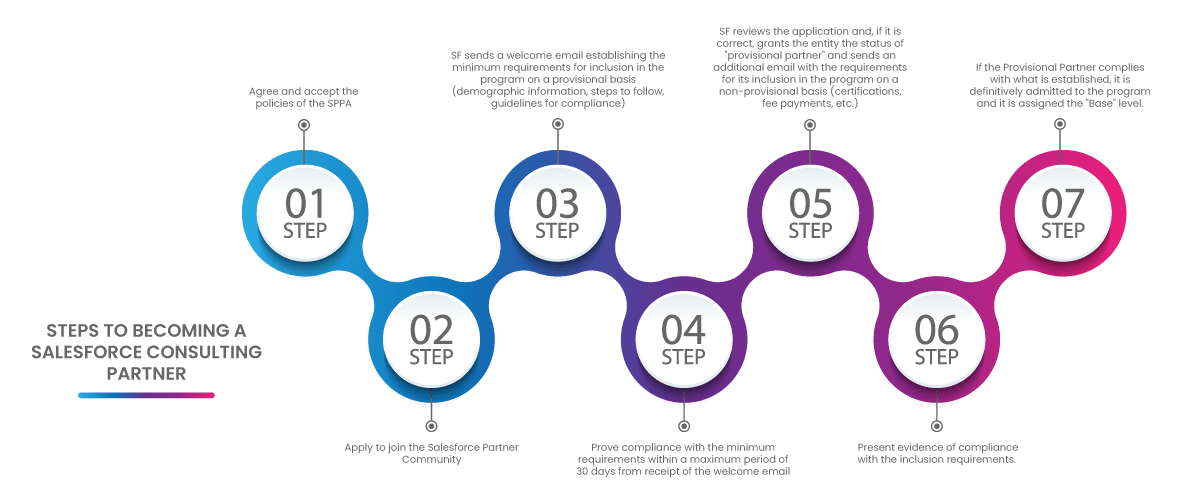 Among the requirements that endorse Salesforce consulting partners are:
Certifications: To register into the program, a partner requires a minimum of two certifications of which are exposed below.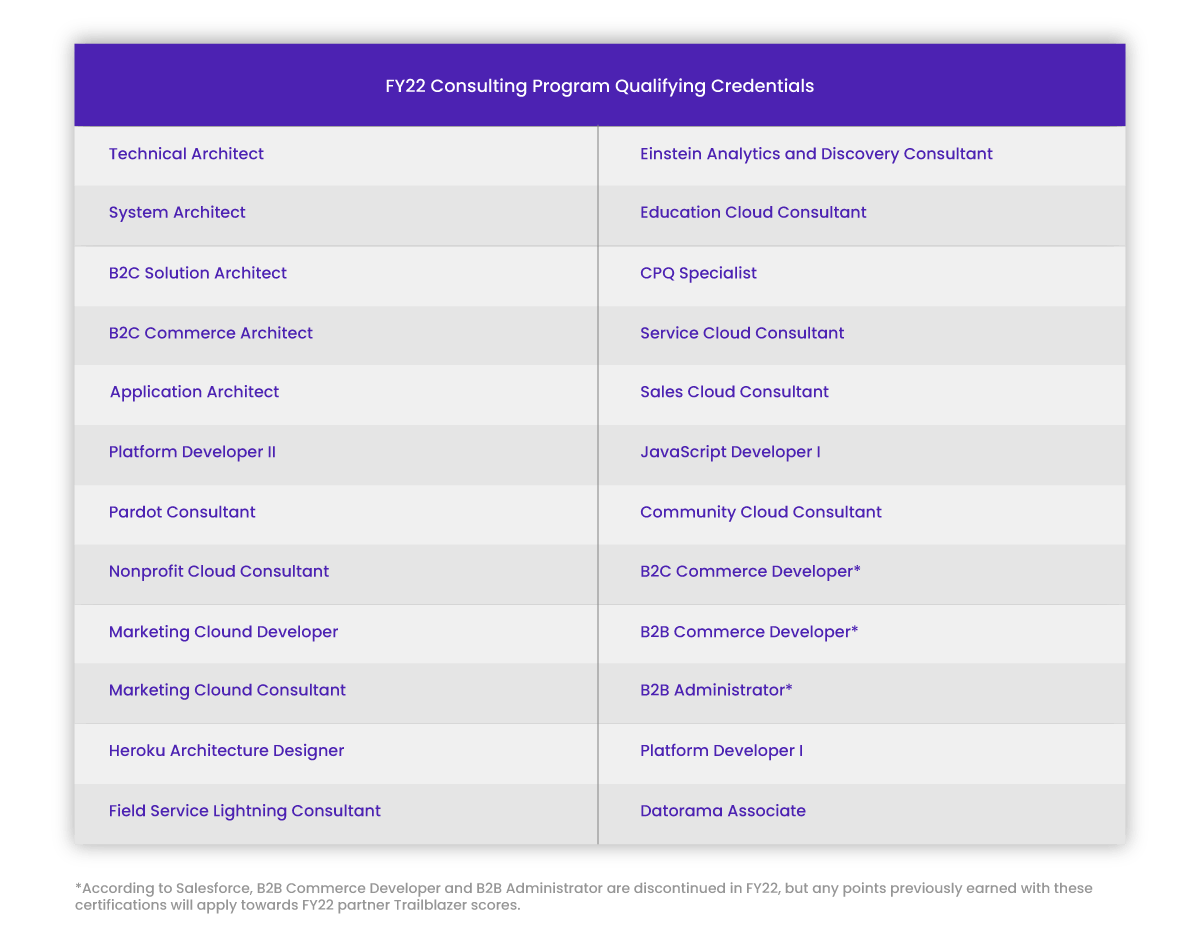 Payment Fees: A consulting partner is required to pay the following fees upon enrollment and upon renewal annually, based on tier and market.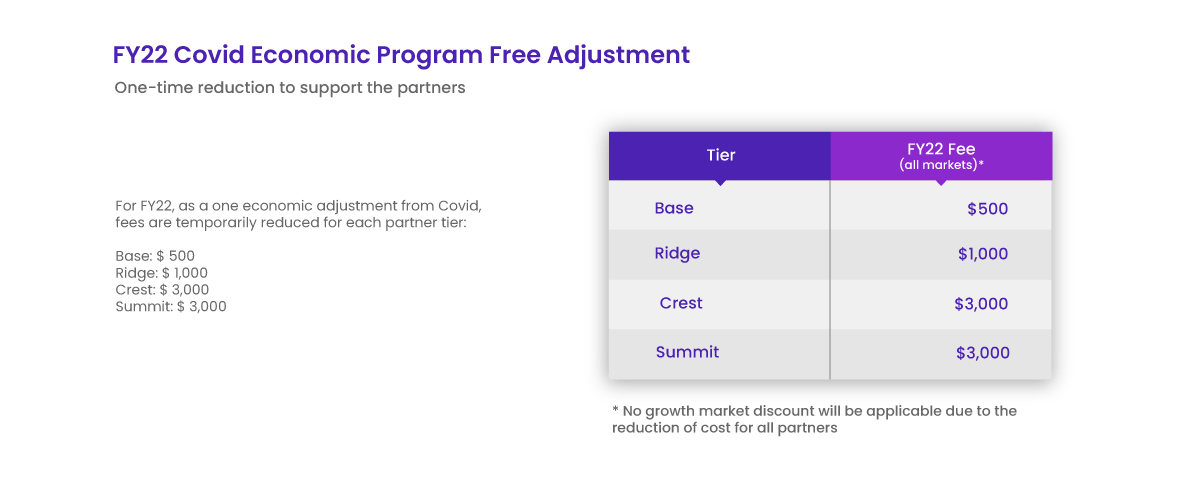 Need Salesforce Consulting Services?
We offer Salesforce consulting services aimed to kickstart your company's growth, either by implementing a new business-tailored solution or improving an existing implementation.
What are the levels that Salesforce consulting partners can achieve?
Salesforce has 4 levels (Base, Ridge, Crest, Summit) to classify consulting partners. Each quarter, based on Salesforce's fiscal year, partners are evaluated and may be reassigned to a different level based on their Trailblazer consulting partner score.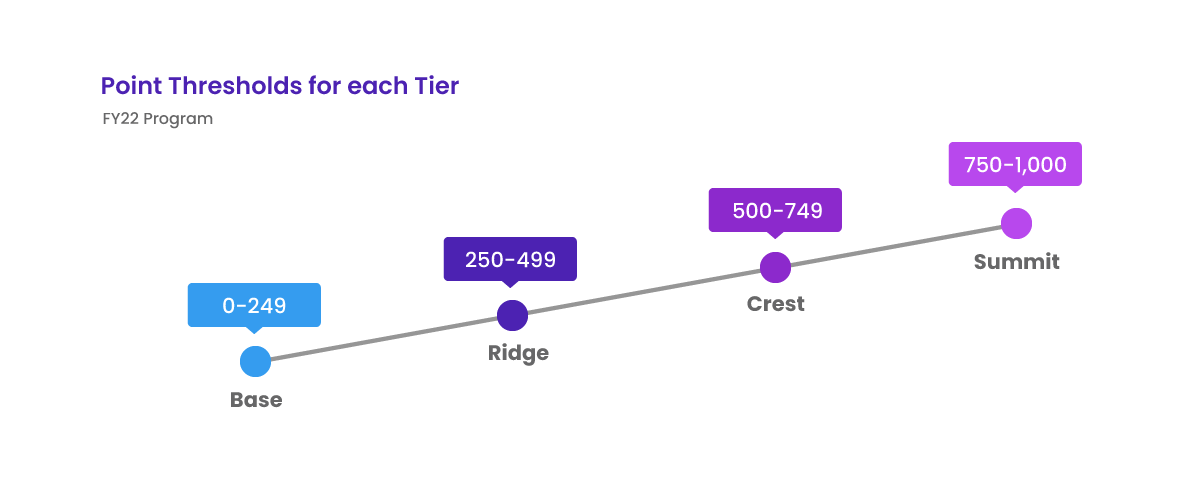 Trailblazer score measures a partner's contribution against the goals set by Salesforce in four main categories: customer success, innovation, growth and lead. This score can reach a maximum of 1000. You can see here all the elements of the program, the maximum number of points per attribute, and the requirements needed to obtain full points in each category.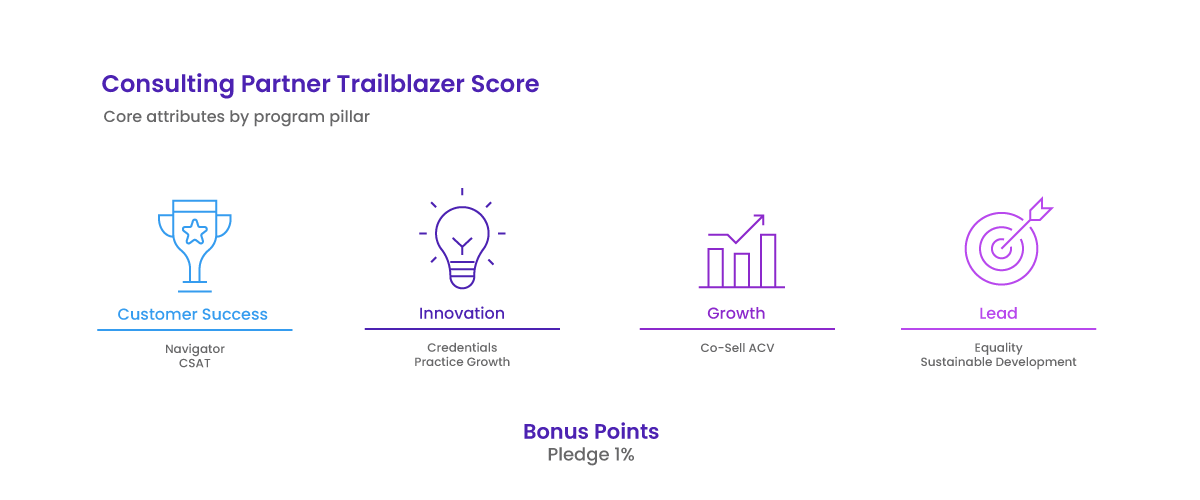 Assessments take place during the first month after the end of a Salesforce fiscal quarter, with any resulting reassignments effective the first day of the following month.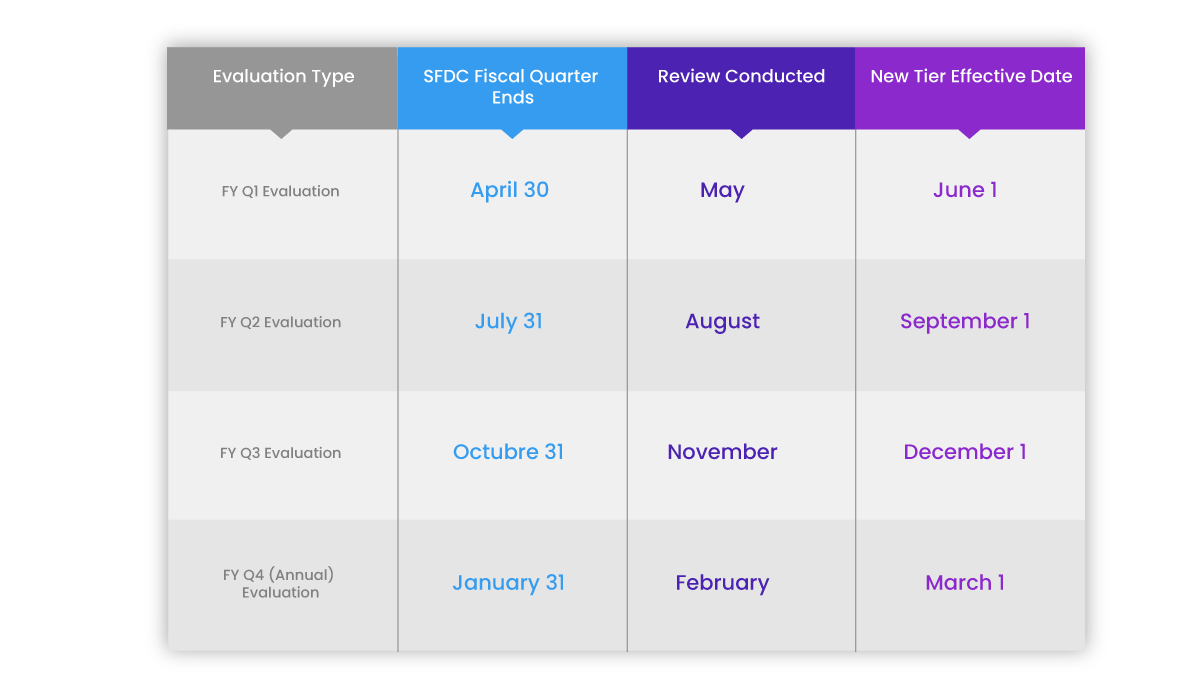 Salesforce notifies each partner of their new level either on or before the effective date of the level. Those who do not meet the requirements can be removed from the program and the partner community without any refund of fees. Members who are promoted to a higher level during a fiscal year maintain the highest level obtained during the remainder of that year and the following year, after which they will be reassessed accordingly.
Are there additional tools and resources for a Salesforce consulting partner?
Salesforce provides consulting partners with resources, training, and tools which enable them to develop expertise in specific business functions, product areas, and industries so that they can better serve their customers and hone their practices.
Here are some of the benefits offered by the consulting partner program according to each category:
Design and develop.

Access to forums to connect with partners around the world and share experiences.
Marketing Cloud trial organizations to build and test the capabilities of this tool.

Sell ​​and market.

Partners may be eligible to receive a referral benefit when a recommended lead is submitted through the partner community.
Access to the AppExchange Marketing Program (AMP)

Service and support.

Case package that includes a certain number of Premier cases for the program year based on benefit level.
Coupons to cover the cost of certification exams and build your expertise.
These benefits may also vary depending on the level of the member. If you want to know more details, here you can find more information.
What does it mean to be admitted as a Salesforce Consulting Partner?
This means that the organization reflects excellent work and demonstrates a strong commitment to its clients. When Salesforce joins forces with a consulting partner, they can achieve goals that cannot be completed alone. Of course, entering a partnership such as this means that you are not in control of everything. Therefore, this not a decision that should be taken lightly. Doing things the right way requires a lot of work and commitment.
Remember that consulting partners can help select a system, configure it, select applications, create new tools, and plan how everything will work together. By doing this, your consulting partner takes care of the details so that you can focus on the development and growth of your business.
At SkyPlanner, we have more than 75 certifications in Salesforce. We offer Salesforce consulting services designed to drive growth for your business, either by implementing a new custom solution or enhancing an existing implementation. If you need help, do not hesitate to send us an email at hello@skyplanner.com. Our team will guide you towards the results you want.