What is Salesforce?
Salesforce is a customer relationship management solution that brings companies and customers together. It's one integrated CRM platform that gives all of your departments — including marketing, sales, commerce, and service — a single, shared view of every customer. With 10 core apps, more than 3,000 AppExchange partners, the ability to build custom apps and to connect with outside business systems, Salesforce has everything you need to run your business from anywhere.
Discover all you can do with Salesforce
Check out our full Salesforce glossary guide
Why Salesforce?
Sell smarter + faster.
Create more engaging marketing.
Provide your customers with the support they need.
Connect every commerce channel.
Easily build apps for every role.
With Salesforce, you get…
Everything you need, nothing that you don't.
A complete CRM tool that gives you a 360 view of your customer + insight into your own business.
10 Core Apps including Sales Cloud, Marketing Cloud + Service Cloud
3,000+ AppExchange Partners
The ability to customize your apps + connect to external systems
The bottom line…
Salesforce's suite of apps provides you with what you need, when you need it.
While its Partner Program, supports you with the ability to customize products to meet your specific business needs.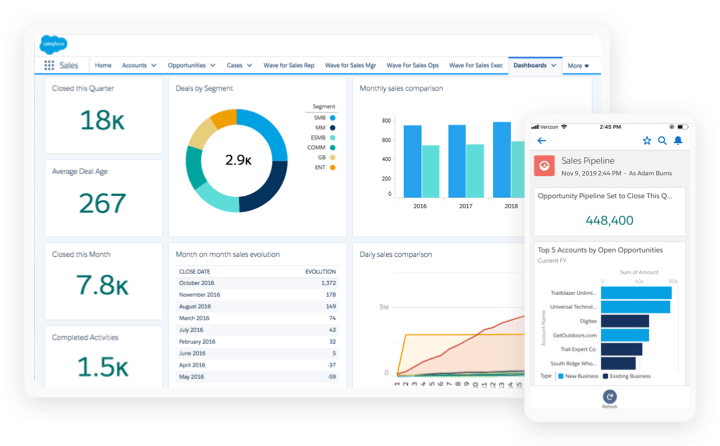 Salesforce customers have seen:
36%
26%
More deals
28%
Increase in sales revenue
38%
Better forecasting