You might be familiar with Salesforce yet have wondered what the heck a Salesforce consultant is. If I already bought and use Salesforce in my organization, what benefits are there to hiring a consultant?
Perhaps the number one reason why many businesses choose to go with this route is because the right Salesforce Consultant will actually help you get more out of your investment. A consultant's job is to make sure Salesforce is optimized to its fullest potential and is working for your business needs and goals. Implementing Salesforce can be quite a challenge with all the data migration and necessary configurations, but the right consultant will be there to guide you along the way and make sure it's a smooth process from Day 1.
To better explain why you need to think about hiring a Salesforce Consultant, let us share a brief anecdote with you. Last fall, one of our clients from the manufacturing industry originally purchased the Salesforce Sales Cloud to replace their outdated hardware infrastructure. They had heard a lot about its amazing features and how Salesforce has helped hundreds of global enterprises. Plus, with their colleagues raving about it, they decided to make an organization-wide investment. What they loved most about Salesforce, was its storage capability. With Salesforce, they could store their data securely on the cloud and make it accessible across all of their devices. But once they implemented the new solution, they had no idea what to do with it. They were struggling to understand the new software and how to navigate it, and were becoming more and more frustrated with their large investment. Salesforce was supposed to increase efficiency and enhance productivity yet they were falling behind on everything, trying to learn how to use the software on their own.
And that's when they hired us. After a quick assessment of the situation, we diagnosed the problem — they were trying to make a standard, straight out-of-the-box solution work for them. That's like trying to fit a square peg into a round hole. It just doesn't work. So instead of taking the easy route and just forcing their current solution to work for them, we helped them tailor the solution to fit their business needs and goals. First, we developed custom solutions to streamline and automate their business processes, and gave them a stronger way to strategically up-sell and cross-sell. Then, we automated analytics reporting which allowed them to gain key insights for better decision making.
After a period of time with their tailored Salesforce platform, our client saw a major boost in lead generation and conversion, ultimately resulting in increased sales revenue. They also experienced a significant improvement in efficiency, productivity, team collaboration, and customer satisfaction. Overall, they were delighted by the high return on investment they received from working with our team of Salesforce Consultants.
Unfortunately, our Client's case is not uncommon when it comes to Salesforce. Hundreds of businesses like that one, struggle to make their newly purchased Salesforce products or platform work for their organization and worse, they struggle to make their employees use them with little to no training, making their investments feel expensive and worthless. What most people don't understand is that Salesforce is not one-size-fits-all. Often times, we see clients purchasing standard Salesforce solutions. with this in mind, hoping that their teams can figure out how to make it work for their business. And sometimes, they get lucky and the solution at hand does the trick. But often times, it requires a tweak or a more tailored optimization with hands-on training and support. Having a Salesforce Consultant help you through your Salesforce journey, can free up resources, time and budget, so that you and your team can focus on what matters most.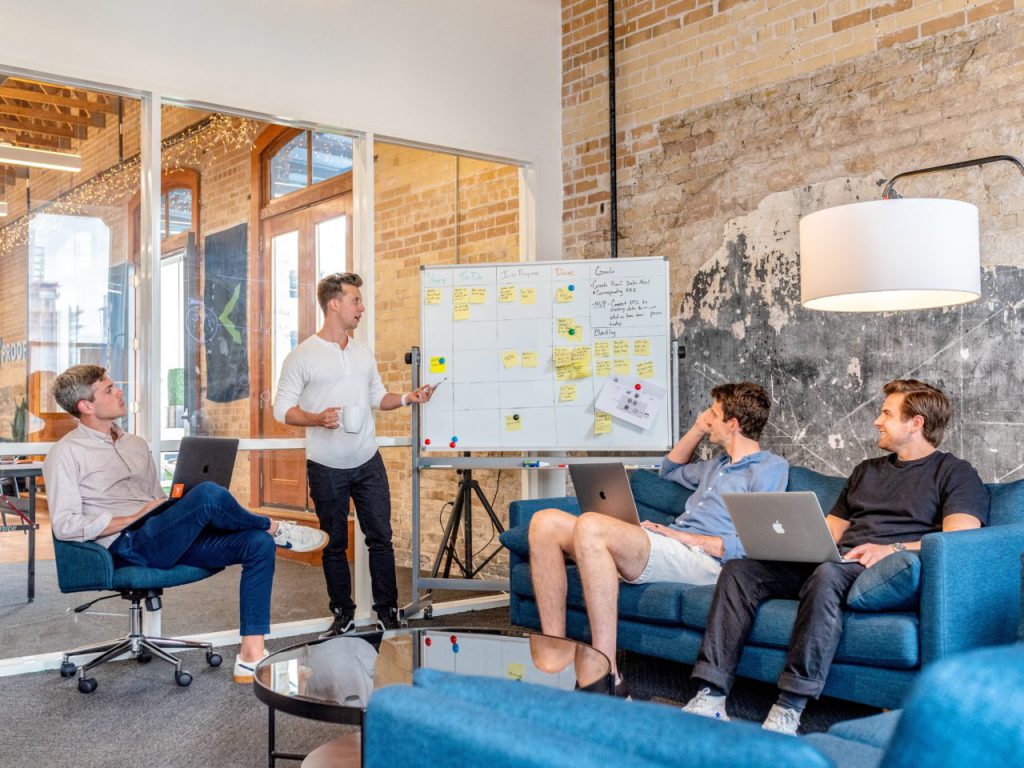 So let's go back to our first question: What does a Salesforce Consultant do?
Essentially, a Salesforce Consultant helps companies implement or optimize their use of the Salesforce Platform. At SkyPlanner, our winning strategy begins with meeting our Clients and discussing their pain points and opportunities. Once the client signs on for a project, our team will research and analyze company data and make recommendations. From there, we will begin development and implementation, staying in close contact with the Client through the completion of the project. Our team may also recommend training and support to help the Client and their team get familiar with the Salesforce platform and use it to its maximum potential.
Benefits to hiring a Salesforce Consultant:
An external resource who's very knowledgeable about Salesforce and has been working with its products for several years.
A Salesforce Consultant usually has experience working with Salesforce across a wide-range of industries and may be more equipped to solve your challenge than an internal resource.
Salesforce consultants are adept on the development side of Salesforce and can implement the right custom configurations to meet your business goals.
Salesforce consultants are Salesforce certified. They are required to renew their certification every year in conjunction with major product releases to stay up to date with Salesforce's latest technology.
Finally, working with a Salesforce Certified Consulting Partner, like our team, can give you the reassurance and confidence you need to sell and implement Salesforce at your organization. However, working with us directly, can also give you the guarantee that your implementation and configuration will be streamlined and stress-free. Plus, when you work with SkyPlanner, you also get the comfort of knowing that our team will be there to support yours, every step of the way. Wherever you are in your Salesforce journey, we can help.
If you are currently struggling with a Salesforce question or are interested in learning more about our consulting, customization, training and other services, please email us at hello@theskyplanner.com or call us directly at 305-814-7597.
We'd be more than happy to answer your questions and help get you on the road to success.