Migrating your business to the Cloud can be a tough key decision for many executives, but the results prove to be worth it. If you're unfamiliar with the cloud, it's a network of remote servers that hold your data on the Internet instead of through physical hardware and computers. In today's digital landscape, the cloud is a must in order to stay ahead of the curve, and it's not just for large enterprises. Small businesses can benefit a lot too, and there's many resources out there to make it affordable (check out this list of some of the best services and providers for your software development needs). The cloud offers tons of advantages, but here are the six biggest reasons why you should consider making the big move.
1) Reduced IT costs
One might assume that moving to the cloud will be a big expense, but in reality you're actually saving a lot of money especially in the long run. The cloud eliminates the need for expensive hardware or data centers, and of course their maintenance. In addition, you'll see a huge reduction in monthly energy costs when you get rid of servers.
2) Accessible
A huge advantage of the cloud is that you can work from any location and from any device. Whether you're in the office, home, or on a flight, you can access your information from anywhere and any device through your authenticated login. All you need is a secure internet connection and you're good to go.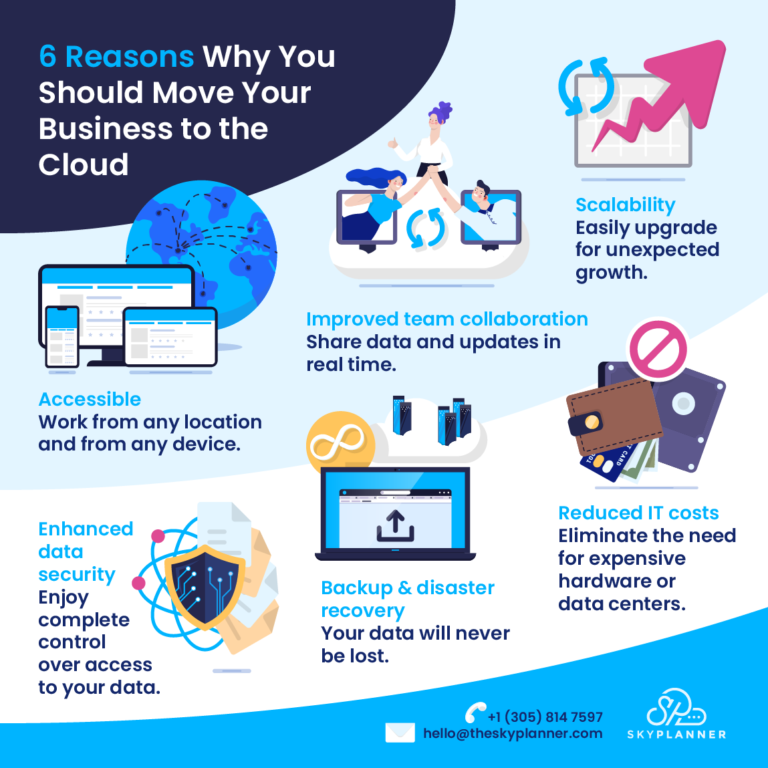 3) Improved team collaboration and productivity
The cloud boosts team collaboration and productivity, allowing you to get more done in less time. Your team can share data and updates in real time on a global scale. The cloud also gives your executives a 360 degree view of your business by collecting, analyzing, and leveraging your data across all departments.
4) Scalability
Growth can happen when you least expect it. That's why another huge bonus of the cloud is that you can upgrade your data storage at any time. As your company continues to grow, you'll be more than prepared to scale at any moment without incurring the high costs of adding new servers.
5) Enhanced data security
The cloud gives you the opportunity to enjoy complete control over access to your data, allowing you to set up different levels of access to your team members. It also offers a strong cybersecurity system, making it extremely difficult for hackers to breach in. You can also delete confidential information from any device through the cloud.
6) Backup & disaster recovery
Unfortunately in life, accidents tend to happen, but with the cloud you'll always be safer than sorry. The great thing about the cloud is that in any situation, your data will never be lost. If a natural disaster or fire occurs, you won't be out of business because your business is in the cloud. With regular backups, all your data and information stays safe and sound.
If you're interested in adopting a cloud based software for your business, we're more than happy to help you get set up right! Feel free to reach out to us by emailing hello@theskyplanner.com or call us directly at 305-814-7597.