Sales Cloud and Service Cloud are two of the most used Salesforce products. Do you know what each of them consists of? Here you can see its characteristics, benefits and main differences. You will be surprised to know how they can complement each other, to satisfy the interests and objectives of your business.
Studies carried out show that organizations that direct their strategies to the acquisition of new clients find it to be 5 to 25 times more expensive to capture than to retain. This does not mean that you should focus only on retention, recruitment is also essential for your business. You must be able to carry both in a timely manner.
Sales Cloud focuses on opportunities, sales and converting a prospect to a customer. Meanwhile, Service Cloud offers efficient customer service management by improving customer retention.
Salesforce Sales Cloud.
This allows you to manage and automate the sales process, generating an increase in potential customers and sales. It is a customizable product that gathers the information of your clients, in an integrated platform, which makes it easier for your sales agents to monitor and analyze the information in real time. It also provides the opportunity to grow your business by developing your sales strategy and expanding its reach to other markets.
Salesforce Service Cloud.
This is the ideal product for customer service and support. Salesforce Service Cloud allows you to automate processes, streamline workflows and support your team with predictions and recommendations based on artificial intelligence. It also facilitates the analysis and monitoring of key indicators (KPI) through the use of dashboards. Thanks to its chat feature, you can provide instant and personalized assistance and service to each client.
What benefits does each product offer?
Sales Cloud encourages effective management of the status, relationships and communications with customers and prospects, as well as their needs and preferences, taking into account the information contained in your databases. It facilitates the creation of strategies that optimize business processes, aligning with your company's marketing and customer service.
It also automates and increases the productivity of the sales process, in addition to providing an optimal forecast of the behavior of sales, either by territory or seller. The flexibility that Sales Cloud presents excels in its ability to access job opportunities using mobile, manage potential clients, record calls, verify reports.
Its Visual Workflow interface will help you design, automate and drive any business process towards success, supported by a flexible approval system. This saves time that translates into a competitive advantage.
Service Cloud manages service processes. It creates and manages knowledge bases to provide information. The use of business intelligence tools in these bases helps your sales agents better understand the business logic and anticipate the needs of your customers.
It also offers customer service and support at all times through a 24/7 chat, social networks, and communities. It contains a service console whose friendly work interface enables the management, exchange, and organization of activities to meet and exceed customer demands.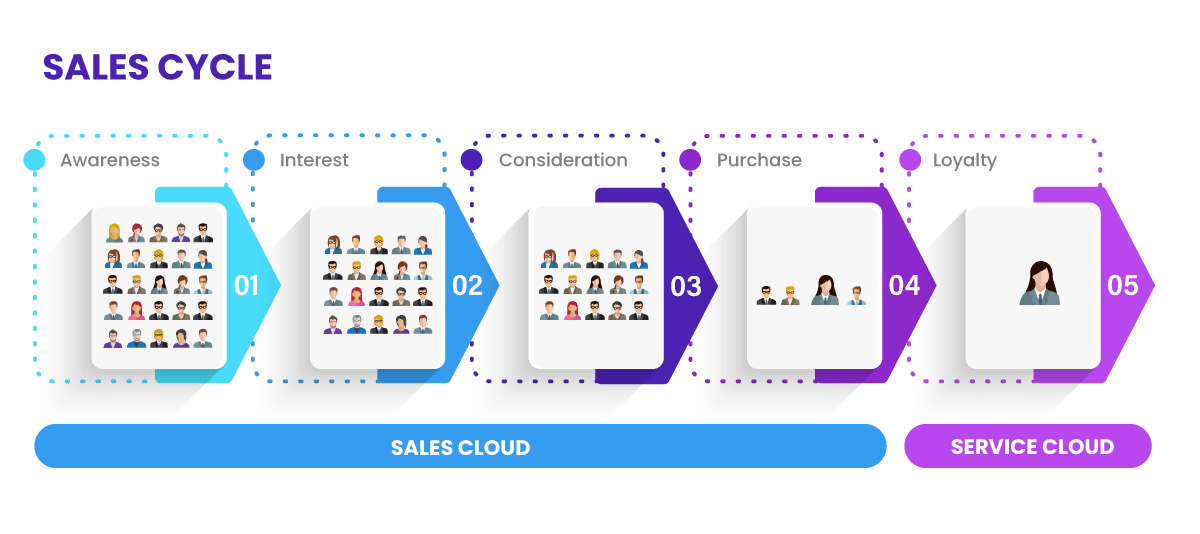 When to use Sales Cloud and/or Service Cloud?
If you are having difficulties in managing and monitoring your leads and you want to increase the performance of your sales process, you should consider using Sales Cloud. If you need to form a robust strategy to connect with your customers, reduce the response time to their concerns and increase the productivity of your sales agents, then you can use Service Cloud.
If you are looking to improve your sales and customer service together, Salesforce introduces a Sales + Service Cloud package. You will have at your disposal everything you need to achieve the success and sustainability of your business.
To make your choice, you will need to consider the price of each product and the Salesforce edition that best suits your needs. We have made the following summary that will be of great use to you.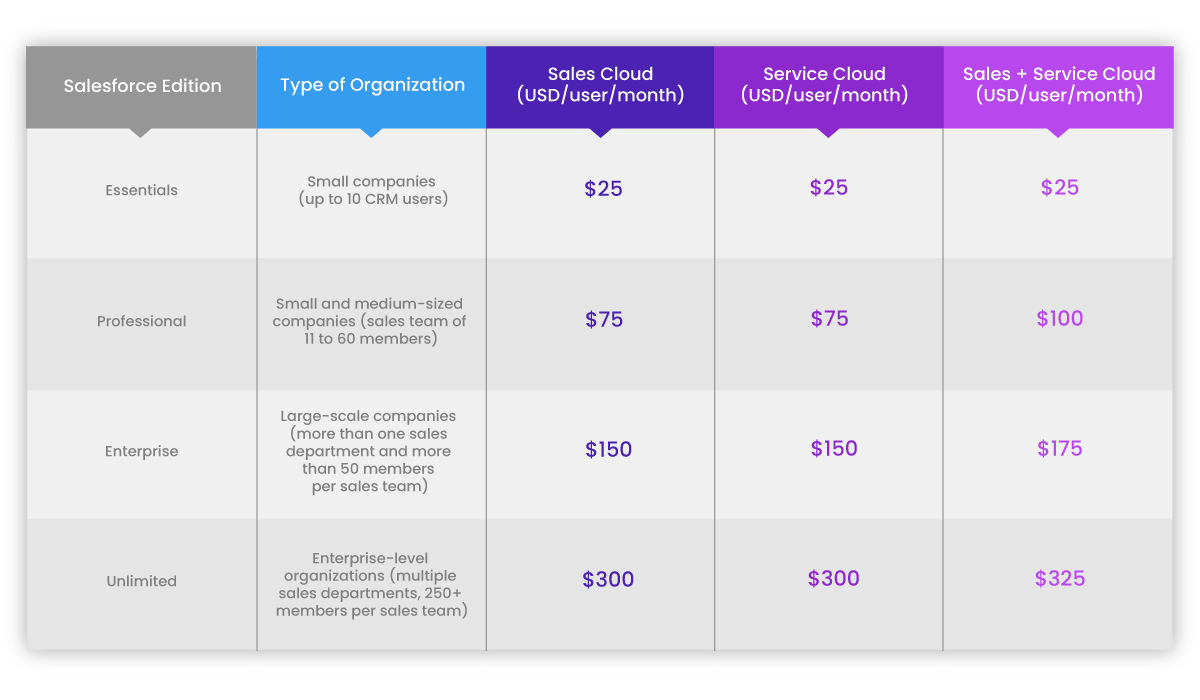 These clouds services can be difficult to work with, especially if you are new into the Salesforce world. If you need help, you can email us at hello@theskyplanner.com. We have quick start packages for Sales Cloud and Service Cloud. Our consultants are in the best position to help you.