Salesforce's associative model clearly showcases the concept of parallel business and collaboration underpinning the leading platform. Unlike an approach focused solely on direct reselling, the Salesforce Partner Program is envisioned as a business collaboration ecosystem with global impact that includes the following partner categories:
AppExchange Partners, Independent Software Vendors (ISVs)
Consulting Partners (System Integrators) and Agencies
MSP (Managed Service Provider)
Resellers. Resell or distribute Salesforce products in emerging markets (currently available in EMEA, APAC, and LATAM)
As part of Salesforce's comprehensive process of continuous improvement, the partner program went through a deep review in 2019 and was re-launched in 2020. Recently FY23 made its appearance, an improved program packed with new benefits and updates.
Next, we briefly explain how some of these benefits materialize.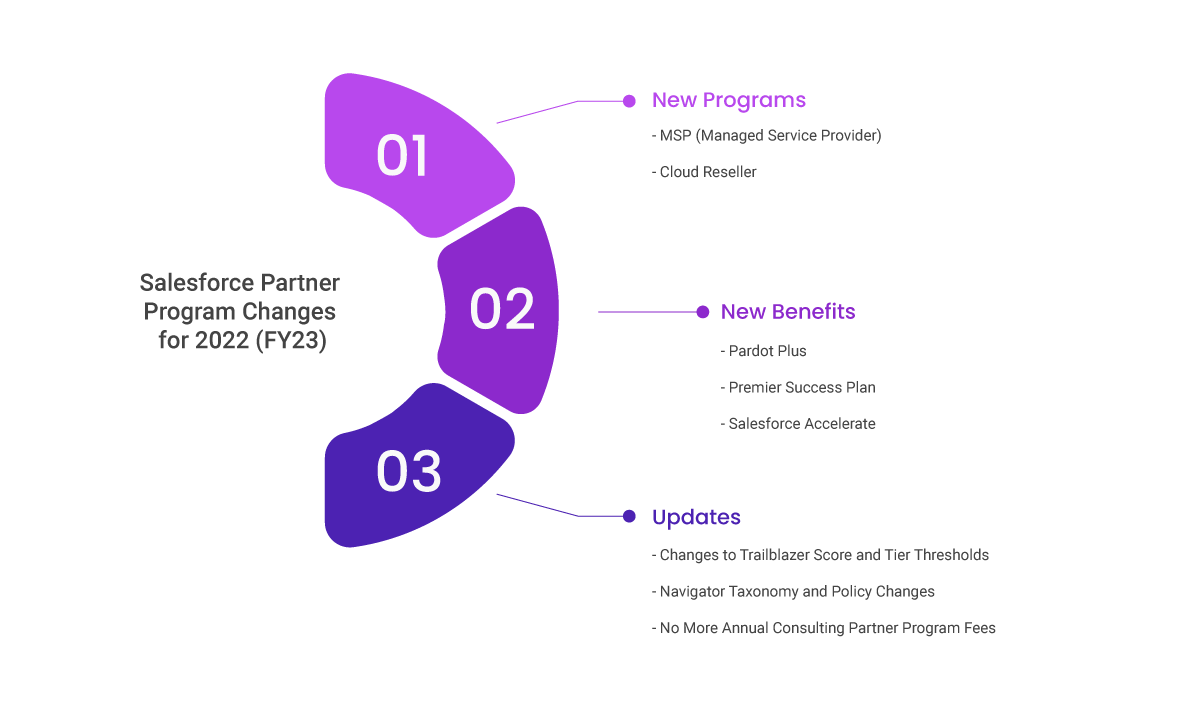 New Salesforce Partner Programs
MSP (Managed Service Provider Program)
A new form of association that incorporates, for consulting partners, six modalities for the provision of specialized services to external clients. Each client will be able to determine, in accordance with his characteristics and possibilities, if he prefers it to the traditional options (internal administrator, temporary hiring for emergencies or making his IT team responsible). With a good implementation, you can achieve results close to those of an internal administrator at a considerably lower cost. This allows customers to focus on innovation and value-adding tasks, leaving infrastructure and systems management in the hands of skilled and experienced professionals. As a new program, it is waiting to interact with the partners in order to continue to be perfected.
Cloud Reseller
This is a new program for existing reseller partners (EMEA and APAC regions only) who will be able to sign up. After completing the necessary steps, they will be able to access reimbursements based on new contracts closed in fiscal year 2023, Pardot Plus, among other benefits.

What is a Salesforce Consulting Partner and How Can It Help You?
A Salesforce Consulting Partner can help you to fully implement the platform by taking care of the details so that you can focus on the development and growth of your business.
New Salesforce Partner Program Benefits
Pardot Plus
Consulting and AppExchange partners at the Ridge, Crest, and Summit levels will have access to a full production license for Pardot Plus. This edition of Pardot has all the features of the Growth edition plus access to advanced automation, customization and qualification, and advanced analytics and reporting (such as B2B Marketing Analytics, B2BMA), and more.
Premier Success Plan
A new unlimited support plan for all partner levels during all stages of the cycle. It is equivalent to an extra member of your team who, with his high experience and dedication, will save you many stumbling blocks. Provide quick 24/7 responses to technical issues that may arise, including code reviews.
Salesforce Accelerate
A new benefit for AppExchange partners. This is a virtual program, applied since 2006, that promotes the development of companies and partners linked to Salesforce, especially through the AppExchange. For this, it provides support, both to companies in integration with the Salesforce ecosystem (Accelerate Built Program), and to partners that intend to scale and improve their business (Accelerate Grow Program).
In fiscal year 2023, only the Accelerate Grow program will be implemented. It combines a rigorous curriculum taught by experts, with executive sponsorship, mentorship and access to key advisors, as well as a growing network of associated alumni. All partners can apply to join Accelerate Grow, but must meet certain selection criteria to be accepted.
AppExchange Chat
Enables real-time connection between potential customers and partners from AppExchange listings via a chat widget. This creates a personalized experience.
Updates in the Salesforce Partner Program
Trailhead Score and Tier Changes
The name of one of the four key pillars of the program was changed. The "Direction" pillar is now called "Impact", which better represents the work that partners do.
In addition, in the case of AppExchange partners, the granting ranges of the levels of this program have also changed.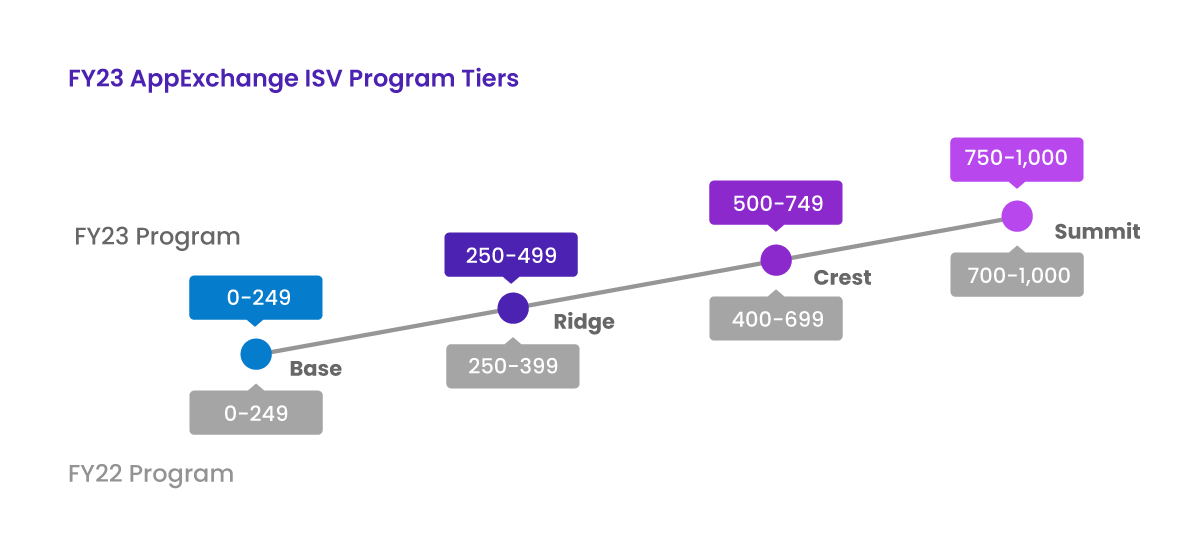 Navigator
The Navigator is the essential way to connect customers with the most suitable partners. This is why Salesforce, with the improvement of its filters and search engines, will guarantee results that are more oriented and personalized to the areas of expertise of each partner. The changes that are introduced include modifications to its policies, as well as its taxonomy of specializations.
Program fees
The annual fee for the consulting partner program is eliminated in fiscal year 2023. Salesforce recommends investing the money that partners will save, in growing their business.
SkyPlanner, as a Consulting Partner of Salesforce and a member of the AppExchange, has a duty to disseminate everything that can improve collaboration with our current and future customers. We hope that this short tour of FY23 contributes to that goal. If you're interested in learning about our work, visit our profile on the AppExchange, where we proudly display our 5-star customer satisfaction rating.