After almost four years of waiting, the Miami Salesforce User Group Event finally returned in person. The excitement and energy were palpable in the air as professionals, pioneers, and experts came together to learn, collaborate, and connect. The event was held Wednesday, March 29, and was organized by the Salesforce Admin and Salesforce Developer user groups of Miami, under the sponsorship of MatchMyEmail, RealZips, and our company SkyPlanner.
The event was successfully held at the Business Innovation and Technology Center and it was a unique and incredible opportunity for Salesforce professionals and customers. Those who were able to attend, took advantage of the good energy of this space to connect, share knowledge, and explore new trends.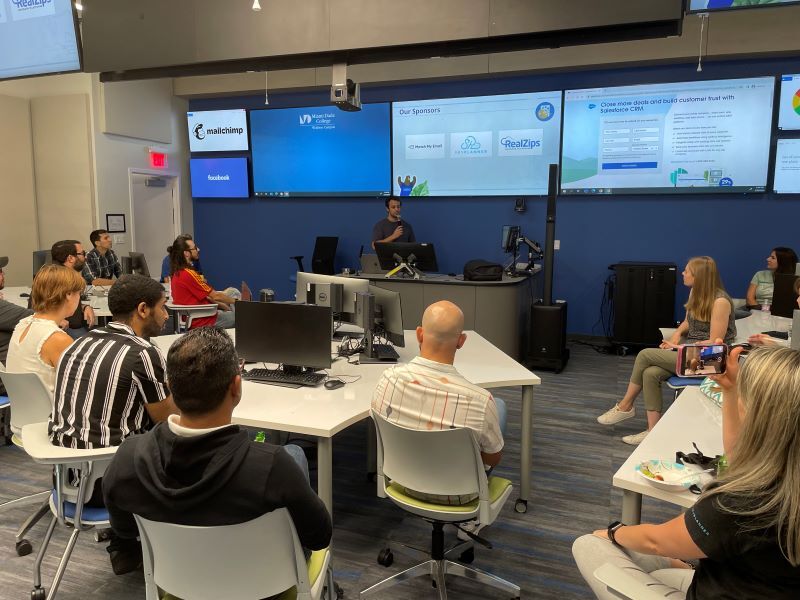 What is the Salesforce User Groups Community?
Salesforce User Groups Community is a community of, typically local, groups organized by CRM users who meet regularly to share Salesforce-related knowledge, skills, and experiences. These groups provide an opportunity for community members to connect, learn, and help others in a friendly and collaborative environment. Salesforce User Groups can be specialized in specific roles and topics, such as Developers, Administrators, Marketing Cloud, Sales Cloud or Service Cloud, among others. The communities can also be much broader and cover an entire territory like the Salesforce Community of Miami.
What happened on March 29?
Well, in this event many expectations were met. First and foremost, the long-awaited face-to-face that, since 2019, did not take place finally met! Words of welcome came from Jorge Fernandez and Rene R. Garcia, leaders of the Admin and Developer user groups of the Salesforce Miami Community and Co-Directors of SkyPlanner. Then came the main course of the afternoon, six presentations by important speakers:
Salesforce Spring '23 Release Highlights. Presented by Katherine Rodriguez. Salesforce Administrator, SkyPlanner.
Writing Effective and Maintainable Validation Rules. Presented by Lourdes Montero. Senior Member of Technical Staff, Trailhead, Salesforce.
RealZips Ver 15. See it here first! Presented by Fred Widarsson. Founder & CEO, RealZips, Inc.
Straightforward Email Integration: Match My Email vs. Einstein Activity Capture. Presented by Samuel Broda. VP Sales & Marketing, Match My Email.
Streamlining Marketing and Sales with Salesforce Account Engagement. Presented by Franchella Ales Senior Digital Marketing Specialist, Alliance Laundry Systems
Be a Trailblazer! Presented by Andres F Garcia. Principal Enterprise Architect, Salesforce.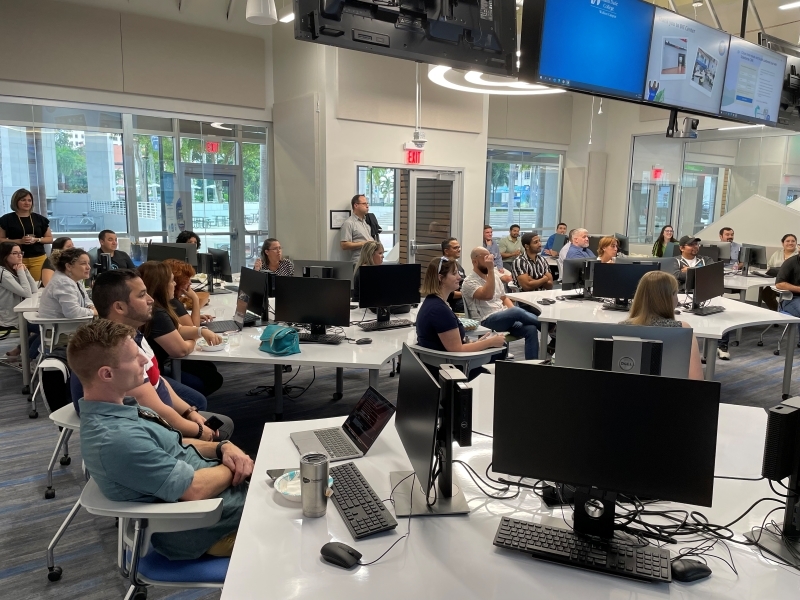 Of course, these presentations were a great treat for all attendees and if you would like to see them, they are available on the event page, along with some images of the event itself. Finally, the climax of the event came, reinforcing the spirit of all Trailblazers: connect, share, learn, and have fun.
Concluding…
While you may feel discouraged or frustrated at this point about not attending this event, the solution is clear: join the next one! Salesforce User Groups typically meet several times a year and participating in these meetups is an opportunity to learn from other Salesforce users and platform experts. You can learn about best practices, new features, and solutions to common problems. Additionally, you can expand your network of contacts and meet other Salesforce professionals in your area or industry.
Furthermore, another benefit is that Salesforce User Groups events are often free and open to all users, regardless of experience or level. The main idea being that if you are new to Salesforce, you can learn a lot from other more experienced users and if you are an advanced user, you can share your knowledge and help others.
Finally, Salesforce User Groups events are a great opportunity to connect with the Trailblazer culture, which is built on innovation, learning, and collaboration. Participating is also a way to show your commitment to the platform and ongoing professional development.
If you don't belong to any Salesforce community yet, you can join in easily. Just sign up for Trailblazer Community Groups and search for your city or country to find the group closest to you and, if you don't find any, you can organize one yourself! If you have any other questions, remember that at SkyPlanner we can accompany you on your journey through Salesforce and you can even join the Miami Community Salesforce Administrator or Salesforce Developers User Groups, led by our company co-directors. So, you can be aware of the upcoming events that we will be organizing and join them. You can write to us at hello@theskyplanner.com.