Welcome to TrailblazerDX 2023!
The ideal event for business leaders and professionals in technical roles who are interested in getting the most out of the Salesforce platform. During this event, you will have the opportunity to learn about the latest CRM trends, tools, and best practices. Save the date: March 7 and 8 at the Moscone Center in the city of San Francisco. Pay attention to all the details!
What is TrailblazerDX?
TrailblazerDX is Salesforce's event focused specifically on the more technical CRM roles. We are talking about developers, administrators, consultants, and architects. As well as entrepreneurs, partners, IT leaders, and students. It is a unique opportunity for participants to gain a better understanding of the platform while interacting with each other, and with experts. In addition, they will be able to participate in a wide variety of workshops, conferences, and technical sessions. Likewise, there will be many opportunities for certifications.
This event aims at increasing knowledge about Salesforce and learning from the best, in order to boost the efficiency, innovation, and success of organizations. In short, TrailblazerDX 2023 is a no-loss event for everyone interested in learning about Salesforce and connecting with their community.
Why participate in TrailblazerDX?
There are tons of reasons to get involved in the 2023 TrailblazerDX. If you're still not convinced, here are some of the top ones:
Learning: Offers a wide variety of classes, sessions, and workshops. This includes more than 200 technical sessions.
Networking: It is an excellent opportunity to connect with other industry leaders and expand your network of contacts with more than 25,000 Trailblazers just like you.
Access to experts: Allows you to interact and get direct advice with more than 400 experts from Salesforce, MuleSoft, Slack, and Tableau.
Certifications: Provides over a thousand certification opportunities.
Wide community: Attracts a wide variety of participants from different industries and knowledge levels, offering different perspectives and experiences.
Optimize your organization: With so much concentrated knowledge, it ensures that you can learn the best practices to power your organization's Salesforce solution.
Fun: This, of course, includes meetings, unforgettable parties, and epic concerts. Although the schedule for the event has yet to be released, we already know that the first night will close with a surprise performance by one of today's best-selling rock groups. Exciting!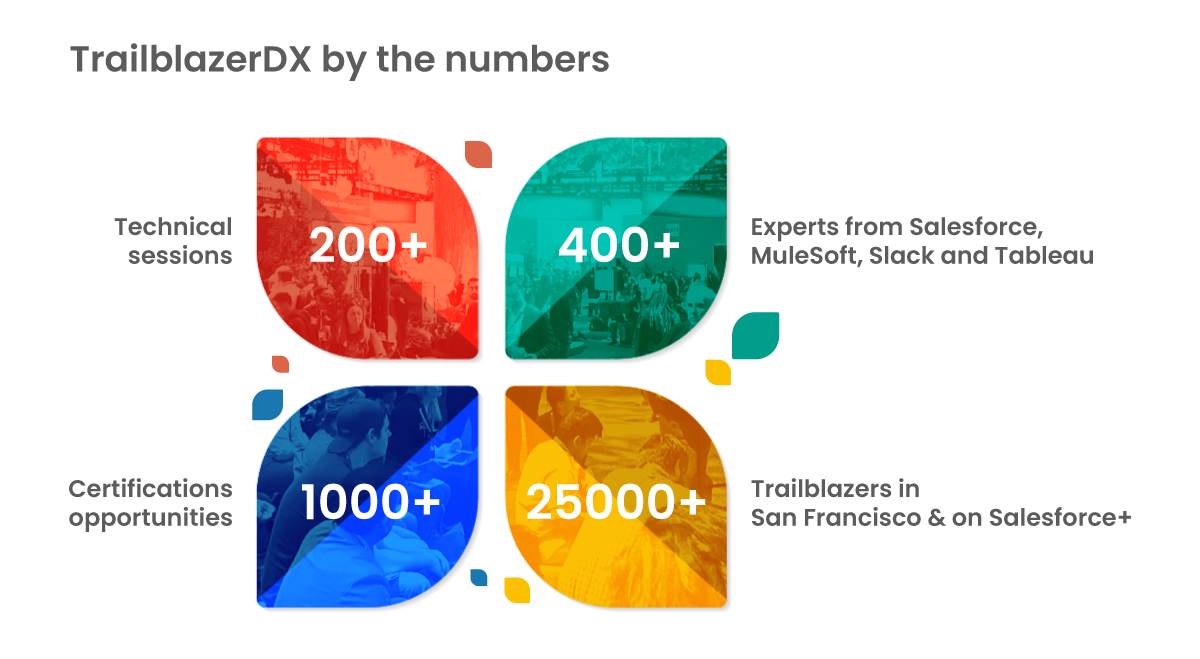 How to take part?
Building on last year's success, the 2023 TrailblazerDX returns in hybrid mode. You can decide whether to participate in person at the Moscone Center, in San Francisco, with the guarantee of experiencing a spectacular moment while surrounded by experts and having fun. Or enjoy it from the comfort of your home through the Salesforce+ streaming service. It offers free access to a mix of relevant live and on-demand moments; with interactive Q&A, parties, and other surprises.
In both cases, face-to-face or online, you should not waste time in registering to the event. Early registration will earn you a free certification exam, as well as a $200 discount for people who will attend in person. You can sign up here.
TrailblazerDX Bootcamp
Likewise, the Bootcamp returns, the best option to optimize the experience and speed up the certification. These are three days of interactive learning with specialized classes, immersive experiences, specific technical sessions, study rooms, and other resources. It also includes information about Salesforce certifications, products, and knowledge.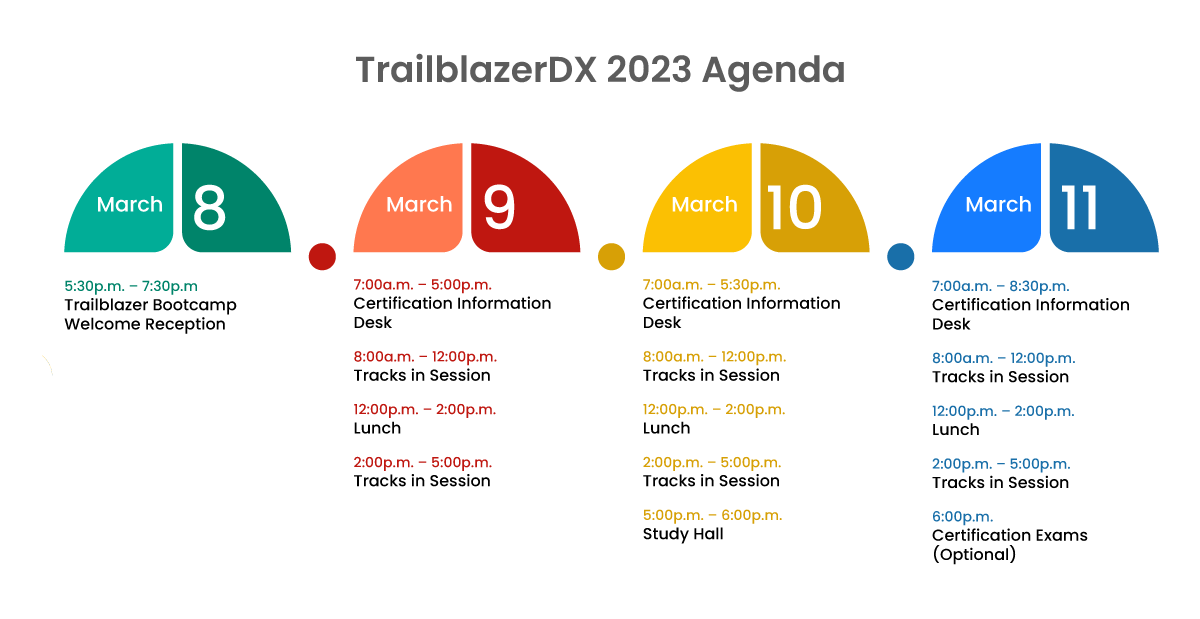 In addition, it has ten role-based learning profiles in order to ensure that you choose the one that best suits your needs:
Administrator
Admin Flow Builder
Advanced Administrator
Data Architect
Integration Architect
Lightning Web Components Developer
MuleSoft Developer
Platform Developer
Sharing & Visibility Architect
Tableau Desktop Rockstar
The Bootcamp will take place after the main event is over, from March 9-11, 2023 at Salesforce West in San Francisco. Register here so you don't miss out on this unique learning experience.
We look forward to seeing you there!We look forward to seeing you there!