The Salesforce user community in Miami met on Wednesday, September 27th, at the well-known host, the BIT Center. This meeting offers an ideal space to connect with other professionals, share experiences, and explore innovative ideas about Salesforce.
The central premise of these events is to foster networking, as well as constructive exchange of best practices, effective solutions, and product demonstrations. Despite the restrictions imposed by the pandemic in previous years, in early 2023, our community enthusiastically resumed these physical gatherings. Now, we work again towards creating an inclusive and collaborative network, benefiting both newcomers and experts in the Salesforce platform. A journey of learning and fun for all!
What happened on September 27th?
In this third meeting of the year, there were valuable tips, tricks, and hot-off-the-press updates from Dreamforce 2023. Again, Jorge Fernández and Rene R. García, Co-Directors of SkyPlanner and leaders of the Administrators and Developers user groups respectively, gave a warm welcome to the attendees. Then we moved on to the main course: 4 relevant conferences with very valuable information. Below, we present a summary of the main ideas from each.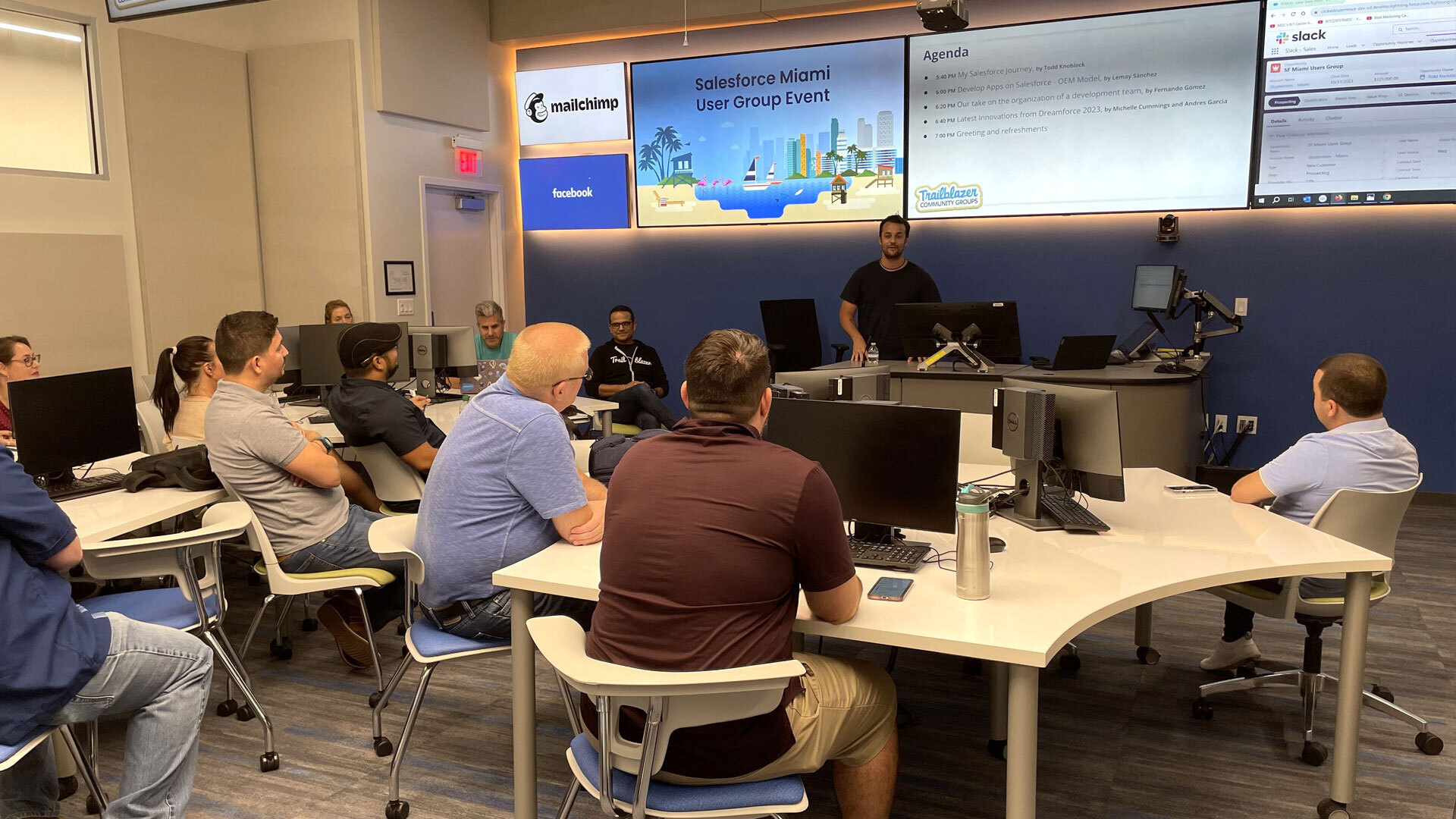 My Salesforce Journey. Presented by Todd Knoblock.
Until very recently, Todd had nothing to do with Salesforce. This makes his presentation very interesting.
Evolution in Salesforce: Firstly, he showed his progress in Salesforce since joining in August 2022. In just over a year, he has obtained several certifications, demonstrating how one can progress on this platform in a short period.
Diverse Training Opportunities: But Todd's journey would not have been possible without the various CRM training opportunities. He highlights various platforms and programs, such as Trailhead, Focus on Force, and Talent Stacker, that offer training opportunities to enhance Salesforce skills.
Importance of Automation and Standardization: Based on his experience, he emphasizes how flows in Salesforce can automate and standardize processes, providing greater efficiency and consistency in work.
Focus on Effective Communication and Real-Time Alerts: Finally, he showed how effective communication and real-time alerts can be crucial to improving efficiency in sales teams.
Develop Apps on Salesforce – OEM model. Presented by Lemay Sánchez.
Lemay, CEO of PlanProphet, talked about the OEM model for application development in Salesforce, as well as his own company.
Benefits of the Application OEM Model: Initially, he highlighted how the OEM model allows leveraging Salesforce as a base, selling to organizations that do not use Salesforce, and rapidly scaling in the app market.
Working Process in the OEM Model: Working in the OEM model includes requesting the Salesforce license, as well as explaining the business model to Salesforce (including the shared revenue percentage). Lastly, the development and security review of the application before its publication and sale.
PlanProphet: it is a cloud-based solution designed for the printing industry, which is already integrated with Salesforce. It also provides innovative analytics by leveraging historical customer data stored in the Management Information System (MIS).
Wide Reach: Finally, he detailed how PlanProphet deeply integrates into various aspects of business management in the printing industry. It includes CRM, sales and marketing automation, proof management, billing, customer service, and internal collaboration, among others. Moreover, it has an active user community that shares ideas and supports each other.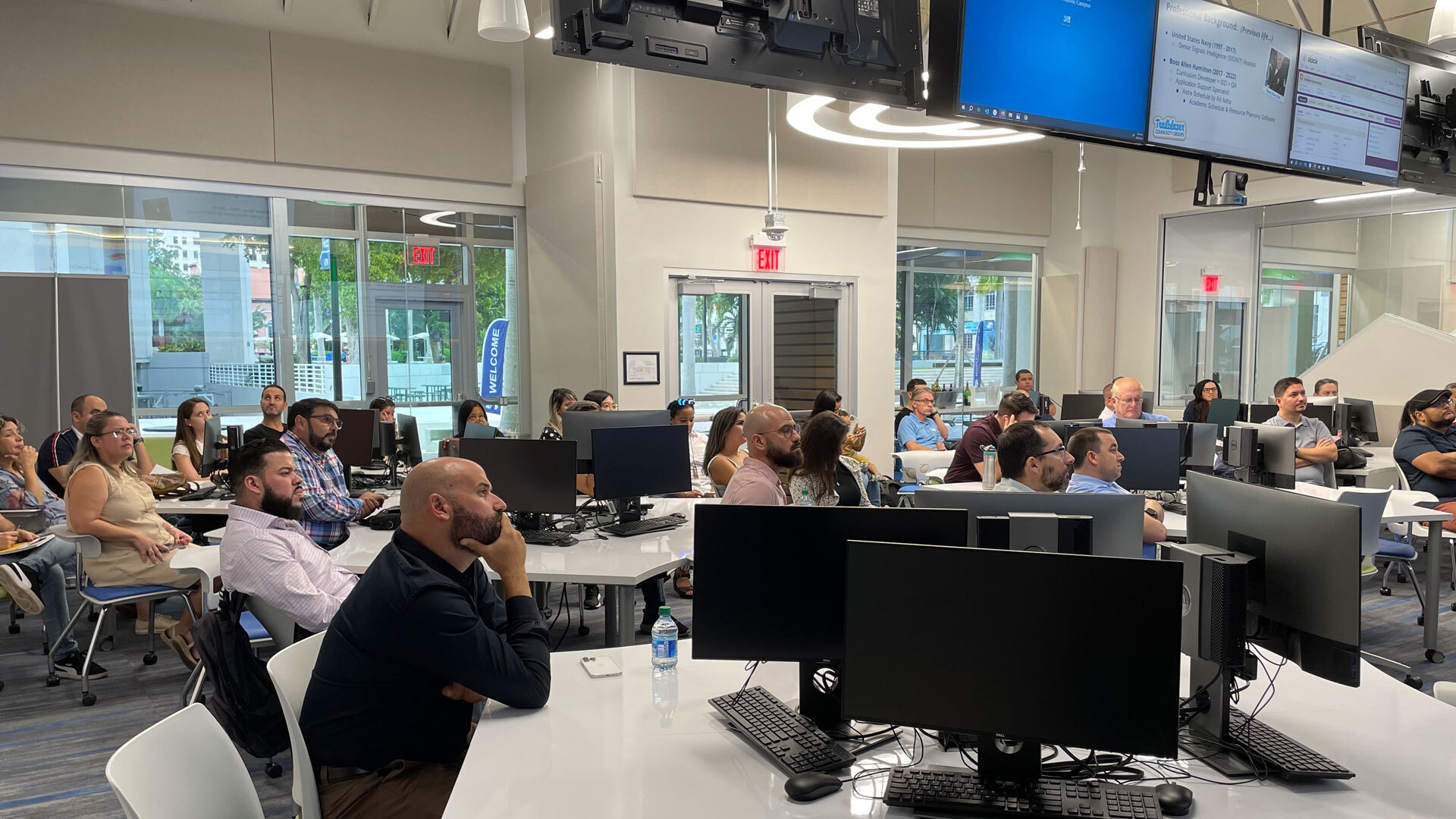 Our take on the organization of a development team. Presented by Fernando Gómez.
In a highly interesting dissertation, Fernando emphasized the importance of creating effective frameworks, following coding standards, promoting code reuse, etc., for efficient and high-quality software development. The main ideas of this conference are:
Framework Building Approach: Adopting a framework mentality involves identifying and documenting the key elements needed, common in most organizations. Then, develop generic and reusable versions, with an emphasis on thorough documentation. It includes a standardized framework for handling triggers and essential utilities like custom logs, mathematical calculations, etc. This knowledge base is stored accessibly in a shared repository, fostering effective collaboration.
Unified Coding Standards: Establishing unified coding standards is essential. This includes naming conventions, coding style, as well as rules and recommendations (exception handling, PMD Source Analyzer). These standards make the code more readable, maintainable, and efficient by reducing security issues and performance problems.
Reusability as a Rule: Reusing existing code and components is a key practice. It can reduce development time, costs, and errors, as well as enhance consistency, reliability, and security. It's important to develop functionalities in layers, from generic to specific, identify repeated code snippets, and follow the "Rule of 3": if you repeat something once, copy it; if you repeat it twice, refactor it.
Frequent Team Touchpoints: In the last point, Fernando highlighted that communication and teamwork are essential. We're talking about collaboration and human connection. Keeping everyone on the same page and not discussing specific projects but rather trends, industry standards, and how to approach certain issues is key to effective group integration. Moreover, a bit of informal chatter always helps strengthen relationships, achieve mutual understanding, and find creative solutions to overcome obstacles.
Latest innovations from Dreamforce 2023. Presented by Michelle Cummings and Andres García.
Undoubtedly, something many were eagerly awaiting, the innovations presented at Dreamforce and everything related to the powerful integration of AI + Data + CRM. "Now everyone's an Einstein," but it's Salesforce who is making it possible.
AI Revolution: There is no doubt about the revolution that AI has generated. Michelle and Andres presented its evolution in 4 waves. Then they discussed the 10 years of AI history at Salesforce, from the founding of the AI research team in 2014 to the recent deployment of GPT solutions in the CRM.
Einstein Platform1: Among the key innovations, the Einstein Platform1 stands out, described as integrated, intelligent, and accessible, it will enable greater business productivity and efficiency. They emphasized its ability to democratize AI and facilitate work with little or no code.
AI Solutions by Business Function: They also presented a significant part of the range of AI solutions offered by Salesforce, tailored to different business functions such as customer service, sales, marketing, commerce, and IT.
Transformation with Einstein Copilot: Finally, they introduced the new assistant that, as the name suggests, aims to be your best ally in using AI. They pointed out the multiple benefits of Einstein Copilot in transforming business productivity and efficiency. The conference also underscored the importance that Salesforce places on reliable and secure AI, always safeguarding your customer data and information.
To conclude, we had our dose of exchange and networking among all attendees. The Trailblazer culture was at its peak, combining innovation, learning, and camaraderie. If you couldn't participate in this edition, we anticipate that in December we will have our last meeting of the year. At SkyPlanner, we are committed to this community and eager to welcome more Salesforce enthusiasts. Join us and be part of this transformative experience!