On September 12, the world of technology and business eagerly immersed itself in the event of the year: Dreamforce 2023. With more than 40,000 people present and around 1,500 sessions, this action-packed mega-event did not disappoint. In the spotlight was the convergence of Artificial Intelligence (AI) and Data Cloud, as reflected in the keynote titled "Now everyone is an Einstein: Data + AI + CRM + Trust," led by Marc Benioff, founder and CEO of Salesforce.
Already concluded, Dreamforce 2023 made it clear that Salesforce is leveraging its leadership to integrate AI into its products and services. Furthermore, the company emphasized the importance of building the technology on a foundation of solid trust and security. Assuming this commitment, the leading CRM in business technology made important announcements, setting the course for a future of trusted innovation and collaboration. Let's see what the most notable Dreamforce 2023 highlights were.
1- Einstein Platform 1 + Einstein Copilot
We couldn't start any other way than with Einstein, Salesforce's AI engine. Now comes the Einstein 1 platform, a revolutionary fusion of Data Cloud technologies and AI innovations. This platform is designed to redefine the user experience, seamlessly integrating advanced AI capabilities.
At the heart of this transformation is Einstein Copilot, seamlessly integrated into the user interface. This conversational AI assistant allows both internal users and clients to interact in natural language, imitating human conversations. What sets Copilot apart is its ability to offer recommendations and multi-step action plans that can be tailored to your needs.
The Einstein1 Platform marks a crucial step toward creating a trusted AI environment within Salesforce. It shows significant advancements in both Data Cloud and Einstein AI capabilities, all based on Salesforce's robust metadata framework.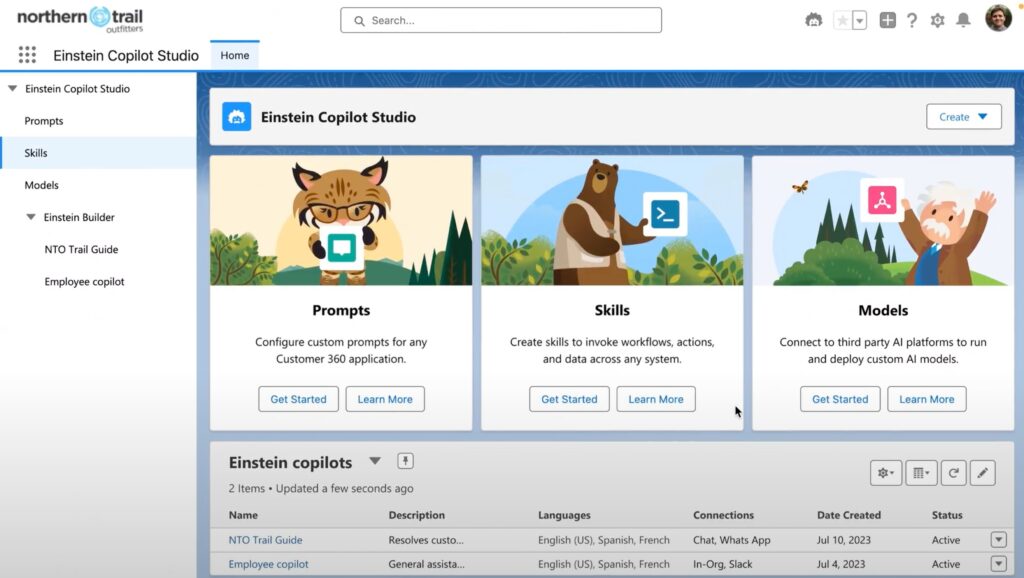 2- Einstein Copilot Study
It is a powerful tool that enhances the recently introduced Einstein Copilot. It brings together Prompt Builder, Skills Builder, and Model Builder, demonstrating Salesforce's commitment to creating actionable and reusable workflows in Copilot. In this way, it guarantees an agile work process for users.
Prompt Builder: Creates reusable prompt templates connected to business and customer data.
Skills Builder: Grants specific skills to copilots to execute designated tasks.
Model Builder: Provides flexibility in selecting AI models, including Salesforce's own and those from partners such as Anthropic, Cohere, Databricks, Google Cloud's, Vertex IX, and OpenAI.
This study enables organizations to build a new generation of AI-powered applications with personalized prompts, skills, and AI models. All this in order to speed up sales, improve customer service, create websites based on personalized browsing histories and much more. Additionally, it offers configurability to use Copilot on consumer-facing channels, such as websites and messaging platforms.
3- Flow Triggered with Data Cloud
With the introduction of Data Cloud on Salesforce's Einstein1 platform, a new horizon opens in process automation. Automation flows can now be triggered by dynamic data from the Data Cloud, including real-time data from various systems.
This represents a significant milestone in operational efficiency, allowing users to trigger complex workflows and precise actions based on the conditions of Data Cloud data model objects (DMO) or calculated insight objects (CIO). Essentially, this integration takes automation to the next level, leveraging the robustness of Data Cloud to power the execution of responsive, data-driven workflows in real-time. All within the familiar and friendly environment of Salesforce.
4- Innovations in Slack
During the keynote, Slack CEO Lidiane Jones shared all the innovations in Slack AI and how users will be able to use this powerful tool to improve their work in smarter and more productive ways. Slack AI's many innovations include thread and channel summaries, search responses, and Slack automation and lists.
5- Free Data Cloud and Tableau licenses
Salesforce will offer free Data Cloud and Tableau licenses as a starting point on your journey with Einstein1. This initiative is an opportunity to learn skills and experiment with the many features the platform has to offer. It is valid for Sales and Service Cloud customers in Enterprise or Unlimited editions and includes two free Tableau Creator and Data Cloud licenses for up to 10,000 profiles.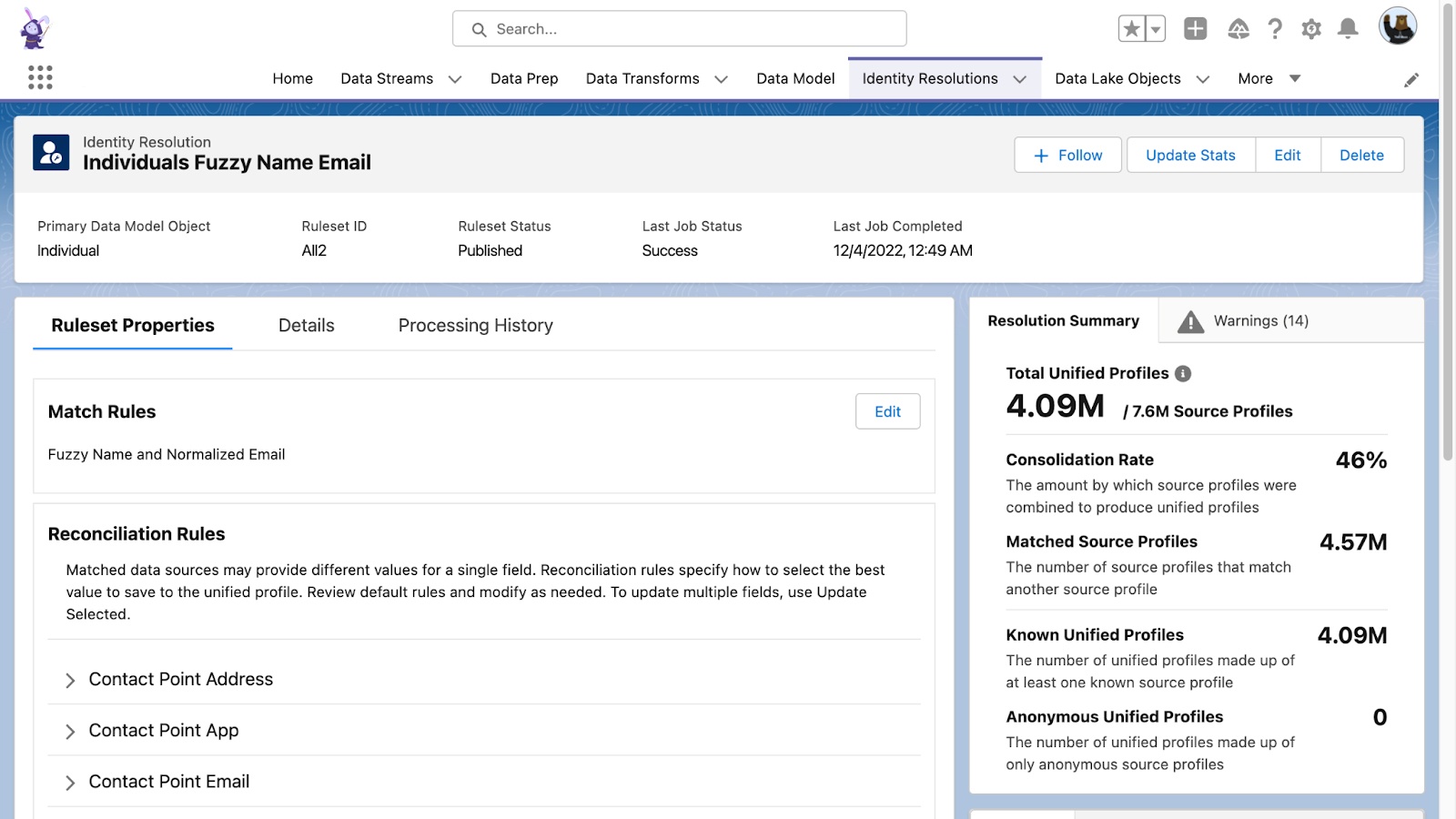 6- New industry-specific cloud: Life Sciences Cloud
Salesforce Industries is expanding its family with the introduction of Life Sciences Cloud, a specialized platform for the life sciences sector. This cloud has a unique architecture designed for harmonious integration with Salesforce. It aims to transform the sector, whether in the pharmaceutical, biotechnology or medical device industries, by accelerating its operation and efficiency.
7- Closer collaboration between Marketing and Commerce Cloud
The closer collaboration between Marketing Cloud and Commerce Cloud is a strategic move by Salesforce. With more than 50 generative AI capabilities planned for 2024, 26 current capabilities and another 25 expected for 2024, all based on Data Cloud, this integration promises unparalleled synergy. It allows organizations to harness the power of AI to create personalized marketing campaigns and improve e-commerce experiences.
Concluding…
Dreamforce 2023 stood not only as an event but as a transformative journey, fusing technology with humanity, ethics and innovation. The debate, guided by industry visionaries, outlined a future where organizations must be more adaptable, ethically responsible and deeply connected to technology. The key message that resonated in these dialogues ranged from ethical considerations about AI to data privacy and generative AI, underscoring the need for collaborative innovation.
In this context, Salesforce emphasized its core values, with trust as the main pillar to ensure safe AI for organizations. They discussed the "Salesforce's Trusted AI Principles", which will be the guide for all of their innovations, designed to maintain trust between Salesforce and its customers. Additionally, a significant impact on revenue and employment is projected in the Salesforce ecosystem, with an estimated net increase of $2.02 trillion by 2022-2028 and the creation of around 18 million jobs worldwide.
Sustainability is also at the heart of Salesforce's values, evidenced by the introduction of the Net Zero Cloud to help other organizations achieve their sustainability goals. In this way, with global leaders, startups and industry giants sharing the stage, Dreamforce 2023 encapsulated best practices, experiences and visions, providing a roadmap to the future.