On June 28, Miami Salesforce user group met again in an incredible space, where fellowship and the exchange of experiences were the main course. Typically, these events are designed to provide a friendly and networking environment, allowing attendees to discuss, exchange ideas, and gain insight from other professionals who face daily challenges in their work with Salesforce.
As in the last March edition, the BIT Center turned out to be an exceptional venue to celebrate this event. Its facilities, especially in terms of technology, made it possible to offer an unparalleled experience to all attendees. The meeting began with the introductory words of Jorge Fernández, leader of the Admin user group of the Salesforce Miami Community and Co-Director of SkyPlanner.
Next, four informational presentations addressed real use cases and live demonstrations, providing ideal moments for the construction of collective knowledge and professional growth. Here is a summary of each presentation.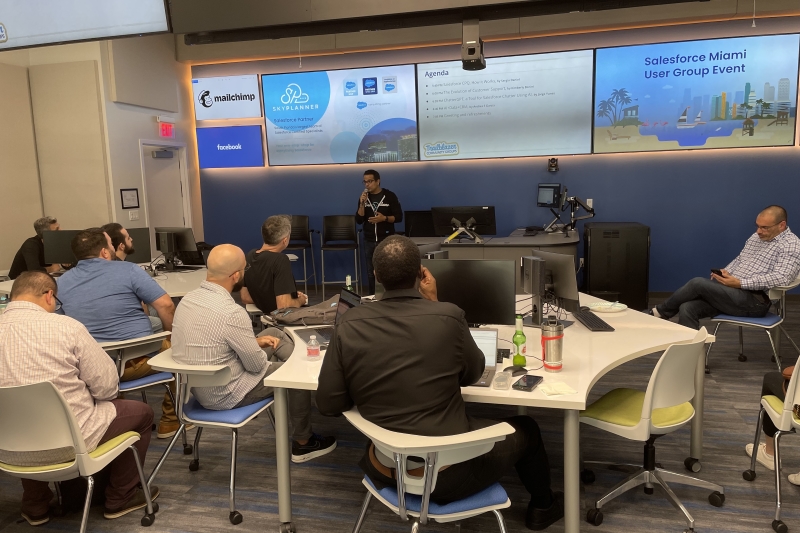 Salesforce CPQ, How It Works. Presented by Sergio Daniel, Salesforce Admin, SkyPlanner.
Without a doubt, Salesforce CPQ has its shine this meeting. This was a presentation that provided too much for the exchange. The advantages of Salesforce CPQ compared to other similar solutions were highlighted, emphasizing the importance of taking advantage of the potential and facilities of the platform. First, Sergio presented an overview of the tool. Then he gave a hands-on demo on how to work with it, configure functionality, and assign specific features.
The main ideas of the presentation are:
Salesforce CPQ offers high levels of customization to support a variety of products, complex offerings with multiple features and pricing structures.
Sales teams can spend less time on administrative tasks and more time selling, increasing their productivity.
CPQ eliminates errors and inconsistencies in quotes and contracts by combining rules with pricing and discount tools.
Faster sales cycles are encouraged as streamlined processes allow for faster quote generation and deal closing.
Real-time information improves visualization of sales performance and revenue metrics.
The Evolution of Customer Support. Presented by Kimberly Benini, Customer Support Engineer, Bucher + Suter.
This presentation highlights how changes in technology, data, and mindset have transformed the way companies support their customers. Salesforce has played a crucial role in this evolution by providing tools like Customer 360 and the Service Cloud Console. These tools provide a comprehensive vision, process automation and artificial intelligence integration to improve efficiency and customer satisfaction.
The main conclusions are:
There is a paradigm shift in customer service. Information about them and your entire journey with the company is crucial. For this reason, many companies are already adopting a consumer-centric approach. There's a reason that it is said that customer service is the new marketing.
Communication channels have multiplied and diversified exponentially. Customers can communicate using many of them, such as email, SMS, chat and social networks, which requires adaptation by companies.
Artificial intelligence (AI) and automation have become important trends in customer support, making it possible to anticipate needs and streamline processes.
In addition, Kimberly complemented the presentation with her professional experience of using Service Cloud Voice and Incident Management at Bucher + Suter.
ChatterGPT, a tool for Salesforce chatter using AI. Presented by Jorge Yunes, Salesforce Developer, UKG (Ultimate Kronos Group).
Undoubtedly, AI is in the crosshairs of the business world and our meeting was not going to be different. Jorge introduced Chatter GPT, a product that is being developed at UKG since the launch of Chat GPT. In this case, Chatter GPT has the goal of optimizing and taking customer sentiment analysis to the next level.
The key ideas to take away from this presentation are:
The current approach to managing Chatter posts is slow and requires manual input to gauge customer satisfaction after interactions.
ChatterGPT is a custom tool for summarizing conversations in Chatter posts in Salesforce and capturing user sentiment using AI. Generated responses are stored for future analysis, and dashboards and reports are created to view post status and spot negative trends.
Mulesoft is used to facilitate communication with ChatGPT, allowing integration with other artificial intelligence technologies and ensuring transparency in the user experience.
AI+Data+CRM. Presented by Andres F Garcia, Principal Enterprise Architect, Salesforce.
The closing presentation allowed us to take a look at Salesforce's ambitious project to optimize all its solutions with the latest advances in artificial intelligence. Based on the integration of AI, data and CRM, Customer 360 was presented powered by Data Cloud, a unified customer management platform with real-time data and empowered with AI.
The most important ideas of this presentation:
Access to better data is essential, but it is increasingly complex due to the number and diversity of sources. We are already speaking in terms of zettabytes.
The "real-time" approach offers the ability to understand and meet the needs of customers in their interaction with your organization, providing all areas with a unified vision to boost intelligence and automation on a large scale.
Salesforce Data Cloud connects and harmonizes all customer data, reducing costs, increasing productivity, and accelerating application development. In addition, Data Cloud integrates natively with Customer 360, as well as other IT systems and partners to maximize the value of data.
The explosion of data coupled with the integration between AI, data and CRM allow Customer 360, powered by Data Cloud, to offer a complete view of the customer. This allows you to harness the power of data to deliver highly personalized, efficient, and secure experiences.
Of course, there was no lack of free exchange between the attendees. The event provided a unique opportunity to immerse yourself in the best of Trailblazer culture: the integration of innovation, learning and collaboration.
We have nothing more to say: it was a real success! At SkyPlanner, we are strongly motivated to continue supporting and strengthening the Miami user group. Therefore, we urge you to show your commitment to Salesforce and continuous professional development. Connect with passionate professionals and discover new perspectives to achieve success. We look forward to seeing you at upcoming events!