You have probably heard that a happy customer is a loyal customer, and loyalty is one of the main objectives where the efforts of marketing and the company in general are concentrated. The truth is that a customer with a positive relationship with your brand is more likely to generate income for you. In fact, studies show that sentiment is deeply intertwined with profit. A study states that more than 85% of customers are likely to purchase or invest more in a company after a positive experience, while 70% are likely to decrease their investment after a negative experience.
For this reason, many companies seek to know the state of opinion of their buyers in order to act proactively and optimize the customer experience. Artificial Intelligence (AI) is a wonderful technology for this. When consumers interact with your brand, products, or support services, they often leave sentimental comments and impressions. Using AI tools, these comments can be analyzed regardless of whether they originate from social media, a website, or any other source that may be discussing your brand. This is, without a doubt, a great source of vital and timely information for marketing campaigns.
Having access to the right data at the right time definitely puts you in a very advantageous position when making decisions in order to increase customer satisfaction and loyalty. Sentiment analysis using AI then becomes a very successful strategy, as part of the philosophy of data-driven marketing.
What is customer sentiment analysis?
Customer sentiment analysis is an automated process aimed at discovering customer emotions when interacting with a company's products and services. It works as a gauge that allows you to know how your customers feel about the brand by identifying general emotions in interactions at a specific moment in the customer journey.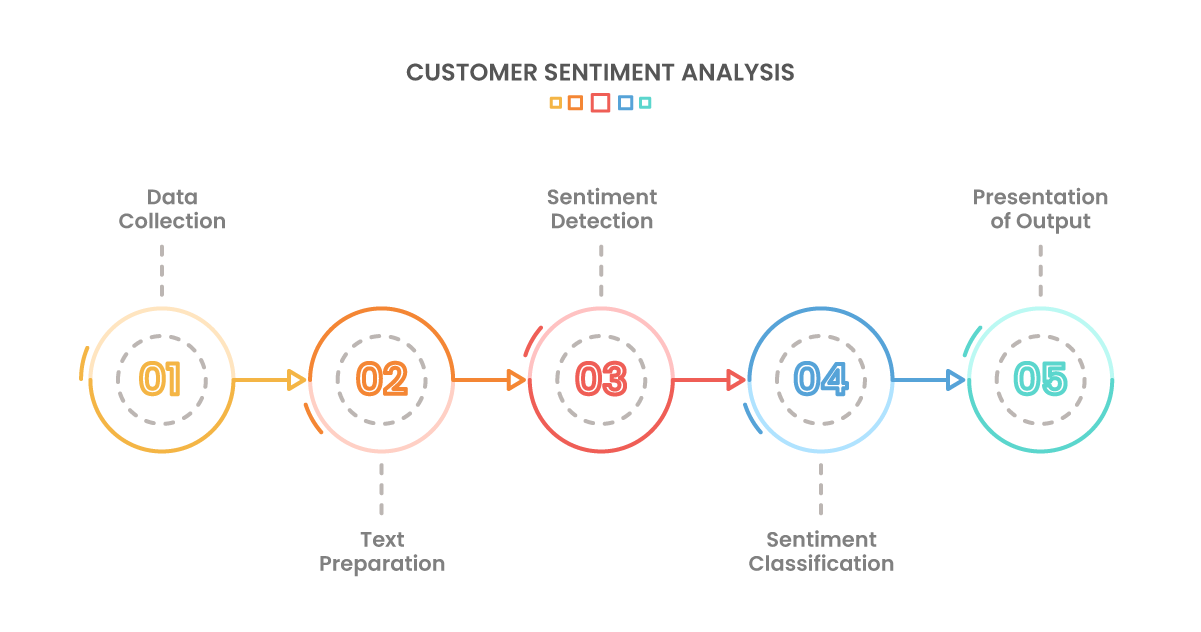 Using Natural Language Processing (NLP), machine learning, statistics, and a suite of algorithms, sentiment analysis models can detect patterns in text and verbal communications to classify sentiment as positive, negative, or neutral. This has allowed even sarcasm to be interpreted, ambivalent expressions, and apparently contradictory content. Additionally, it can measure the intensity and determine the causes of customers' feelings.
Customer sentiment is a key indicator used in order to obtain insightful information to improve the customer satisfaction index, their loyalty, and therefore, maximize the income obtained down to the individual level, which is why its analysis is so vital. For example, another study claims that customers who enjoy positive experiences probably spend 140% more than customers who report negative experiences and would tell an average of 9 people about these experiences. On the other hand, if the experience was negative, they would tell an average of 16 people.
It is worth noting that the way in which these emotions are collected from customers has undergone drastic changes in the last two decades. Previously, communication with consumers was primarily mediated through letters or telephone calls. However, the boom in information and communication technologies has exponentially increased the ways companies and customers interact. Today, it has become a multi-layered approach that can be overwhelming for organizations. This is where the functionality of AI comes in to collect and process all the information obtained from this omnichannel system and return the resulting data that analysts will later turn into valuable information.

What is Salesforce Einstein and why should you use it in your business?
Salesforce Einstein is an integrated set of technologies that brings the power of artificial intelligence to all Salesforce cloud products. Why should you use it in your business? What characteristics make it a very useful tool?
Benefits of customer sentiment analysis
In general, the main benefit of sentiment analysis is to act as an indicator of the buyers' state of opinion. Other benefits can also be derived from this, such as:
Optimize customer service: Customer service is essential in any business since it is often the first level of company-public contact. Analyzing customer service feedback is extremely helpful in finding out what makes them happy or unhappy about the service they received. It is possible to understand how and why these customers attained these negative emotions, and then take actions to completely eliminate the factors that contributed to them. About 64% of consumers say that they would stop doing business with a brand after just two or three bad experiences.
Prepare the customer service agent: According to Calabrio, 60% of customer service agents feel that they do not have the right tools or technology to handle customer issues, and 34% cite a lack of relevant customer data as their biggest problem. Through sentiment analysis, the agent can be equipped with the necessary information. This way, they are better prepared to connect and empathize with the client. This is beneficial for both personalizing the experience for the customer and anticipating potentially difficult conversations early on. A properly trained agent is an invaluable resource for the company. According to Salesforce research, 79% of buyers say it is essential or very important that they interact with a salesperson that is seen as a trusted advisor.
Increase the rate of return on investment of marketing campaigns: Knowing the feelings customers have about your products and your company allows you to adjust and optimize campaigns based on relevant data. In addition, it allows you to create hyper-personalized customer experiences based on how they feel about the company.
Improved products and services: Sentiment analysis allows you to discover certain characteristics of your company's products and services from the interactions had with your customers. As a result, problems and/or errors that need to be corrected can come to light, which allow for new improvements or updates to be introduced. In addition, it helps you identify trends in your industry early, gain insight into new markets, and understand where product launches went wrong.
Improvements in brand reputation management: Through sentiment analysis, constant monitoring of brand reputation can be guaranteed. This way, it is possible to speed up responses and actions to negative comments and mentions in real time, avoiding their subsequent disclosure that would prevent potential issues from being noticed.
Eliminate fragmentation in the customer experience: Sentiment analysis must take into account the omnichannel approach that prevails in companies today. They should not be focused on specific channels, but done in a holistic way that integrates the entire customer journey. Therefore, a comprehensive way of collecting the data should be considered in order to analyze it more accurately. An AI-powered CRM may be the optimal option.
Sentiment Analysis and Salesforce Einstein Language
As the #1 CRM in the world, Salesforce understands the critical role of customer sentiment analysis in the modern business world and has incorporated it into its solutions for businesses around the world. It does this through Service Cloud Einstein, a powerful AI-powered customer service tool. Among its functionalities is the Einstein Language that allows you to take full advantage of natural language processing capabilities to analyze and deduce the emotions that underlie company-client communications. If you want to know more about the subject, you can write to us at hello@theskyplanner.com.