Currently, the application of artificial intelligence in business is vital. The data-driven and customer-centric approach is gaining ground by leaps and bounds in the business world. In a hyper-connected scenario, where the customer-company communication channels are multiple and different from each other, keeping up with customers can be a laborious task. Additionally, our customers expect us to do so by providing them with personalized communications and offers based on their interests and history. We are surrounded by data, insights and knowledge but only a good use of these resources can guarantee our place in the market.
With this goal in mind, Salesforce CRM has developed a wide variety of highly competitive solutions in the business world. In previous articles, we've talked about their amazing Einstein platform that puts AI at the service of business. This time, we will talk about a solution that helps a large part of the company's departments to make clear decisions and determine the course to follow. So, let's look at Einstein Next Best Action.
What is Einstein Next Best Action?
Einstein Next Best Action is a functionality that determines the best immediate actions to be carried out that are available to agents and customers. It works as a recommendation engine based on big data that, through predictive analysis, promotes a dynamic workflow in order to correctly maintain the customer pipeline.
Einstein Next Best Action is an out-of-the-box solution with the potential to configure business rules and filters to display recommended best actions.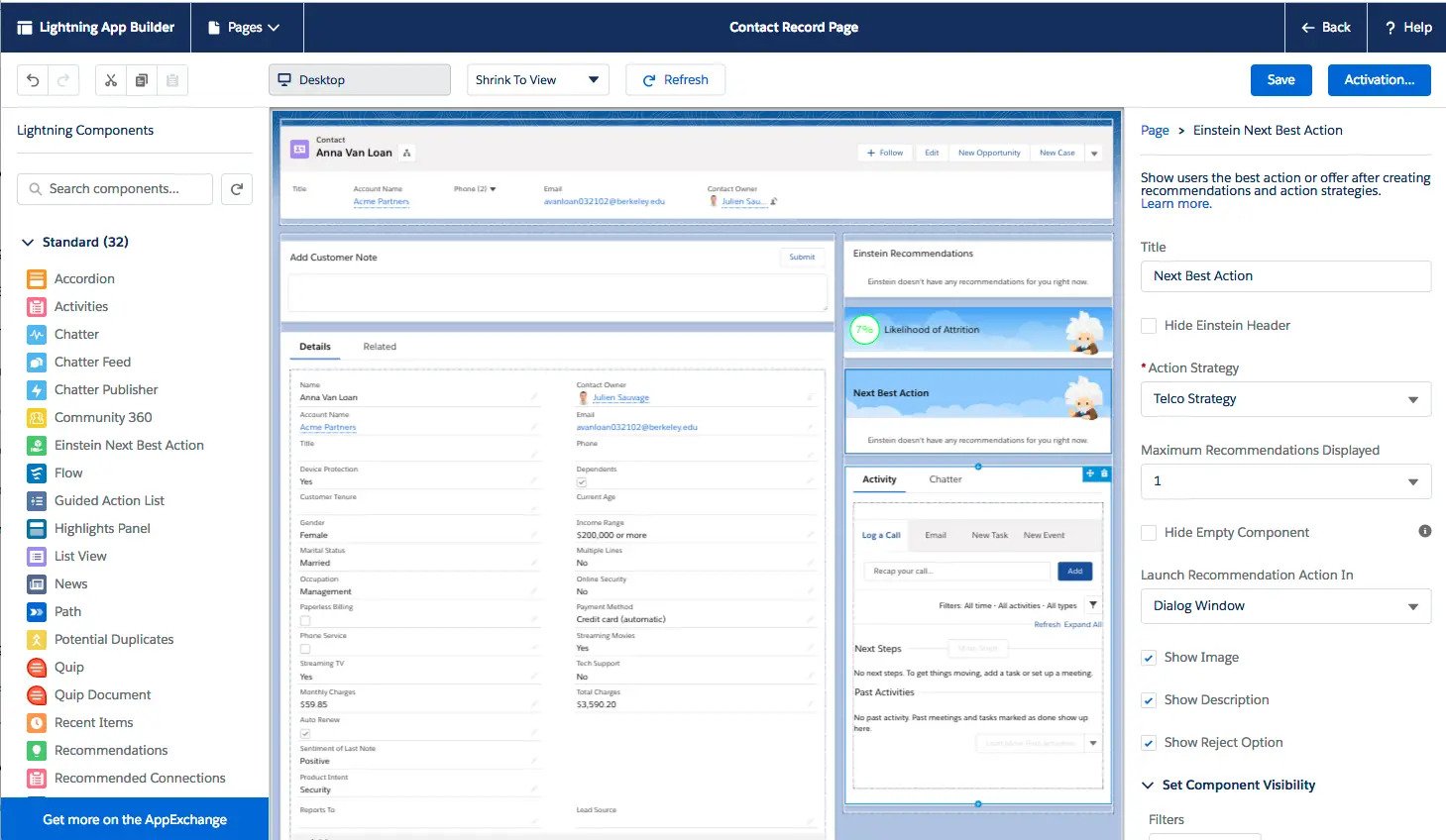 How does it work?
Well, basically, Next Best Action offers the best solution based on your company's business rules and logic. To achieve this, it uses recommendations, flows, and action strategies as needed.
Recommendations
Recommendations are stored as a standard object in Salesforce and they contain an image, text values, custom fields, and an assigned flow. These objects are shown to the agents and they have the option to accept or reject them, but before creating the recommendations, it is advisable to plan what are the conditions in which they should appear and to whom they are directed. In addition, it must be accompanied by the automation plan that you want to execute in case of acceptance.
Flows
The flows are responsible for generating automation. They show the right recommendations to the right people at the right time, based on your business criteria.
Action Strategies
The action strategies guide and determine which recommendations to show to the agents, according to the data and business logic. You can create, control, and evaluate strategies for different situations, users, and departments. For example, Sales, Marketing, and Customer Service.
Action strategies can be created in both Flow Builder and Strategy Builder. Although Salesforce CRM itself recommends that you build strategies in Flow Builder whenever possible, Strategy Builder has its own appeal. It has a set of elements such as Recommendations, Recommendation Logic, and Branch Logic, by which you can declaratively create recommendations. In addition, it has desirable features that can only be used in the action strategies created by it. For example, the display of recommendations on an Experience Cloud site or an external site.

Need Salesforce Consulting Services?
We offer Salesforce consulting services aimed to kickstart your company's growth, either by implementing a new business-tailored solution or improving an existing implementation.
With this in mind, knowing how Einstein Next Best Action works is simple:
1- Recommendations and automations are planned.
Plan where it appears, to whom it appears and what the conditions of each recommendation will be, as well as the path to follow if it is accepted.
2- Flows are created.
Design and create in Flow Builder the flows that automate the processes to be executed if the user accepts or rejects a recommendation.
3- Recommendations are created.
Build recommendations using business rules, predictive models, and other data sources. The result of this process is context-specific recommendations that you present to your users.
4- Action strategies are created.
Create the action strategy to determine when and how to submit a recommendation.
5- The recommendations are displayed.
Once the action strategies are created, choose the page to execute them and display the recommendations.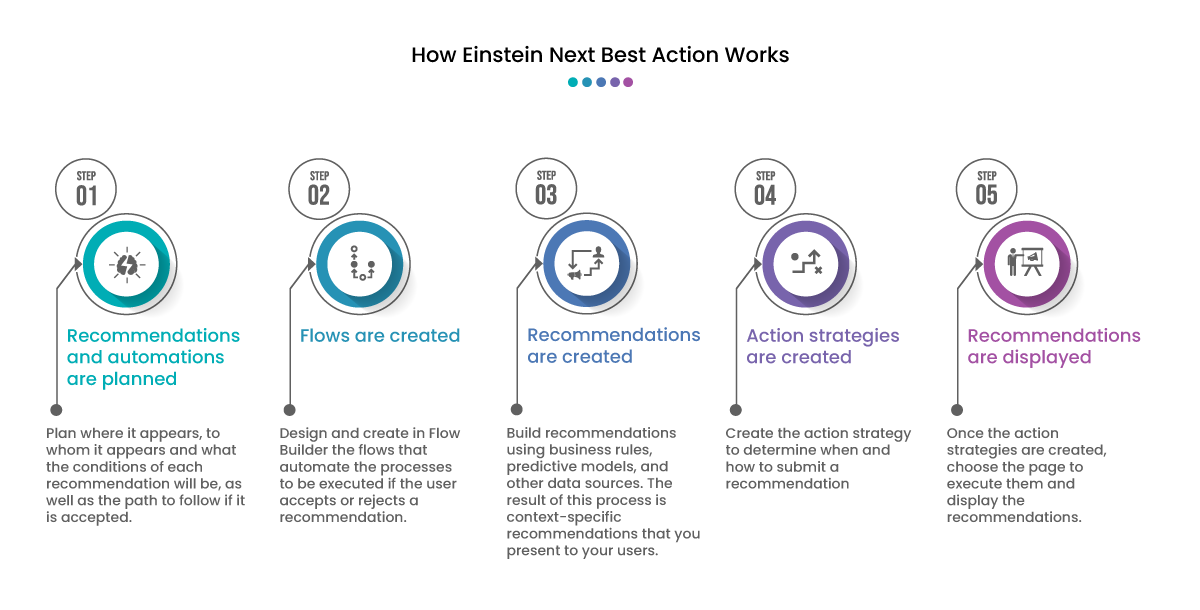 These recommendations can be displayed on different pages, including Lightning pages, Visualforce, Experience Cloud sites, and external sites. Visualization is done by these components:
Einstein Next Best Action Component: Displays recommendations to agents on most Lightning pages including signup, home, and app pages.
Suggested Actions component: Works on Experience Cloud sites. Therefore, it is only functional for action strategies created in Strategy Builder.
Einstein Next Best Action Benefits
The benefits of Next Best Action can be leveraged in different areas of the company and they include:
Proactive approach of sales, marketing, and service agents.
High level of efficiency and effectiveness on the part of the agents, since they will be better supported in their communication with the client.
Personalization of communication that contributes to the hyper-personalized messages and experiences with each specific client, achieving greater marketing effectiveness.
Optimization of sales opportunities. Using the recommendation engine, your company can create personalized offers for a customer based on their tastes and characteristics. This encourages offers to be better received by customers.
Since they receive personalized communications and offers, customers can have an increase in loyalty.
Optimization of the company's expenses once the correct messages and offers reach the right people, thus achieving a greater impact on customers. Through this, financial efforts are better steered in the right direction.
Einstein AI optimization. While Next Best Action is a complete solution on its own, it is also capable of integrating with other Einstein solutions. For example:

with the Bots, managing to automate complete conversations without the intervention of an agent;
with the Predictive Lead Scoring to focus on those with the best conversion opportunities;
with Prediction Builder to suggest actions based on the predictions made, among many other examples.
It is truly through this integration between the Einstein Platform solutions that you can get the most out of AI at the service of your business. Undoubtedly, Einstein Next Best Action is one of those essential solutions for today's world and vital for making immediate decisions. Do you want to see its advantages in greater depth? At SkyPlanner we can help you. Write to us at hello@theskyplanner.com.