Salesforce is one of the most used platforms in the business ecosystem. That is why the skills required for its successful operation are growing rapidly.
There are so many features and capabilities available within Salesforce that getting started is a challenge. The good news is that Salesforce, since 2014, has given us an extraordinary online learning portal. It's called Trailhead and it's at your fingertips.
What is Trailhead?
Trailhead is an engaging and fun way to learn. It is available for all users, without the need for previous experience, to explore the Salesforce universe for free and acquire new skills. As you increase your level, you can earn badges as an incentive and recognition for work done. It also contains evaluations with which you can demonstrate the skills acquired. It is a library of training content that you will have access to whenever you want.
Trailhead is designed around the learning needs of users. It allows you to choose from several topics to learn new skills at your own pace. Salesforce is continually adding new content to Trailhead, so you will always find something new to learn.
How to start using Trailhead?
Access to Trailhead is available anytime and anywhere. To start completing challenges, earning badges, and tracking your progress, you must register into the program.
Access the official Trailhead site here.
Select the option to register.
Choose the registration form. If you have a Salesforce, Mail, Gmail, LinkedIn, Apple or Facebook account, you can use it for this.
Enter your username and password.
You will receive a notification with a verification code that you will use when you need it.
Fill in your personal details.
You can now start using Trailhead.

Salesforce 101: The Ultimate Cheat Sheet
So you've googled Salesforce to find out what it's all about and might have realized it has a LOT to offer. Where do you even start? Well, we created this cheat sheet to guide you through it all.
What can you do at Trailhead?
1- Learn new skills to use Salesforce in a fun way.
The content is organized in units, modules, trails, projects, and trailmixes that guide you through all the content you need to know about Salesforce.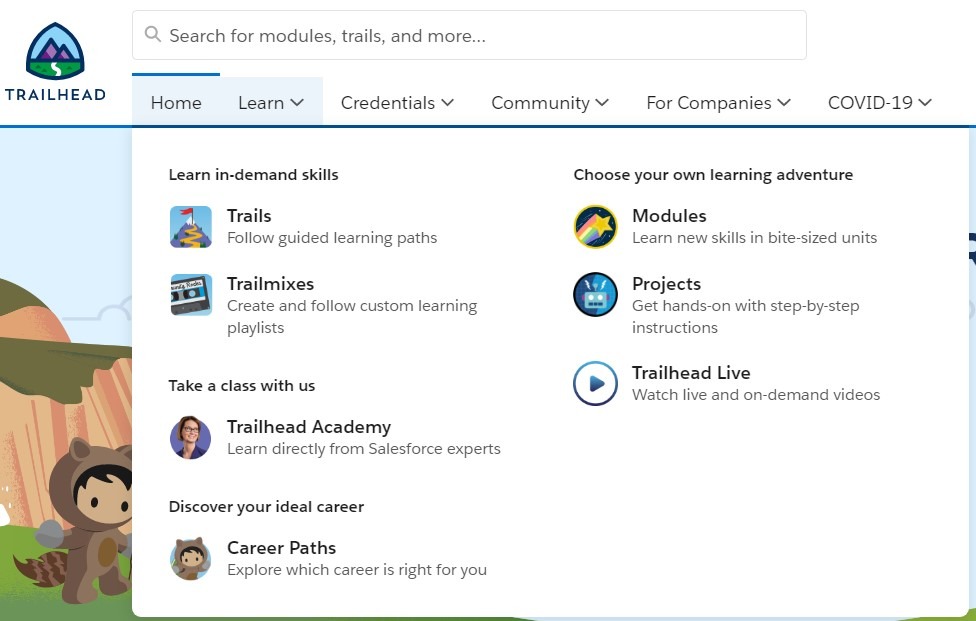 Units: allow the user to navigate through various Salesforce-related features, tools, or best practices learning objectives.

Modules: set of small units for a particular subject area.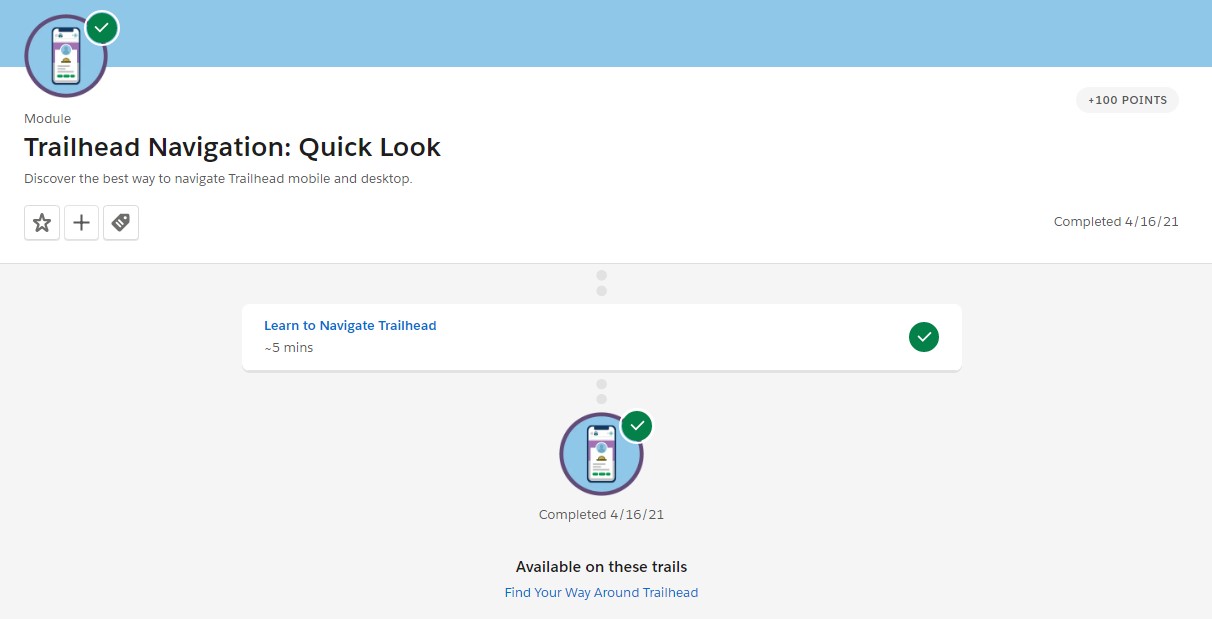 Trails: groups of modules that provide guided learning tailored to specific needs and functions.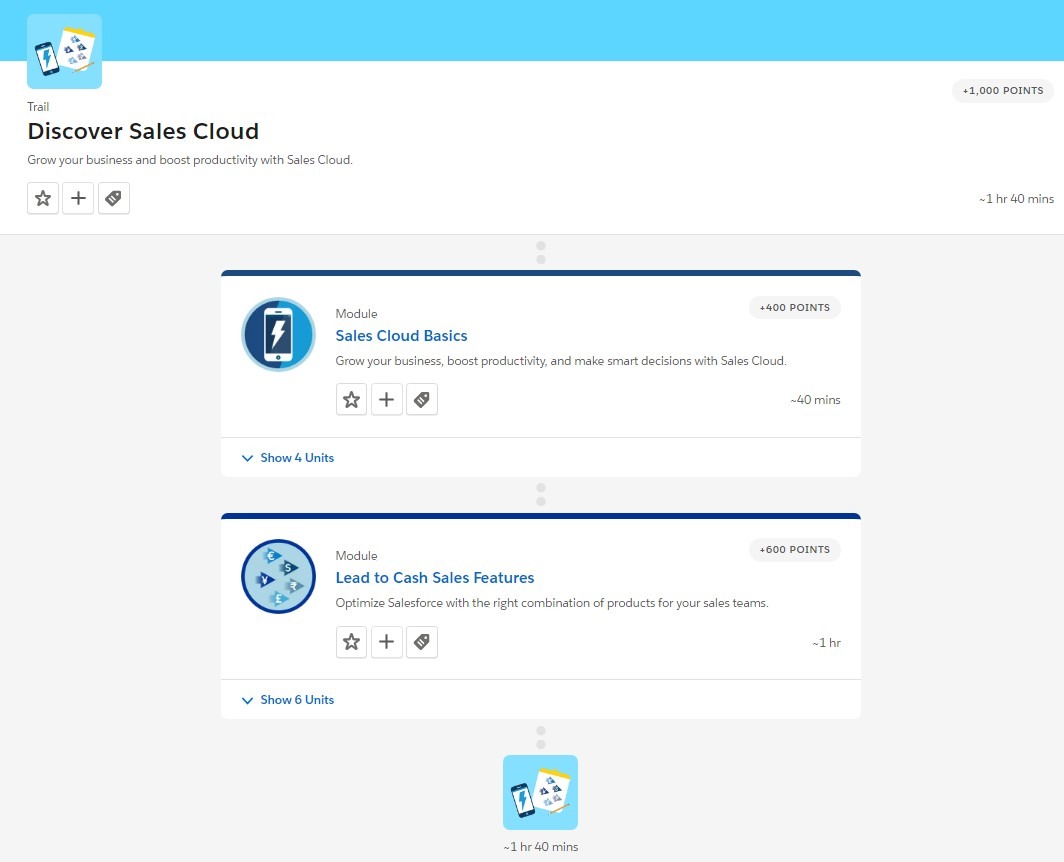 Projects: bring hands-on experience with Salesforce technologies through step-by-step instructions.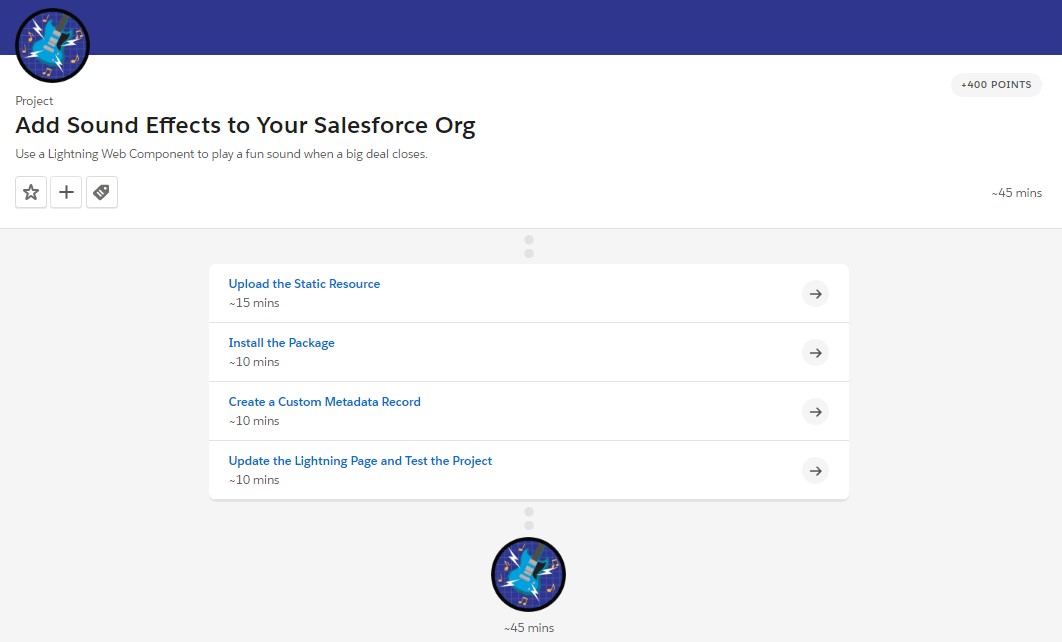 Trailmixes: allow you to customize your own learning path by choosing the modules, trails, projects and superbadges, etc., that interest you the most without having to follow a pre-existing badge.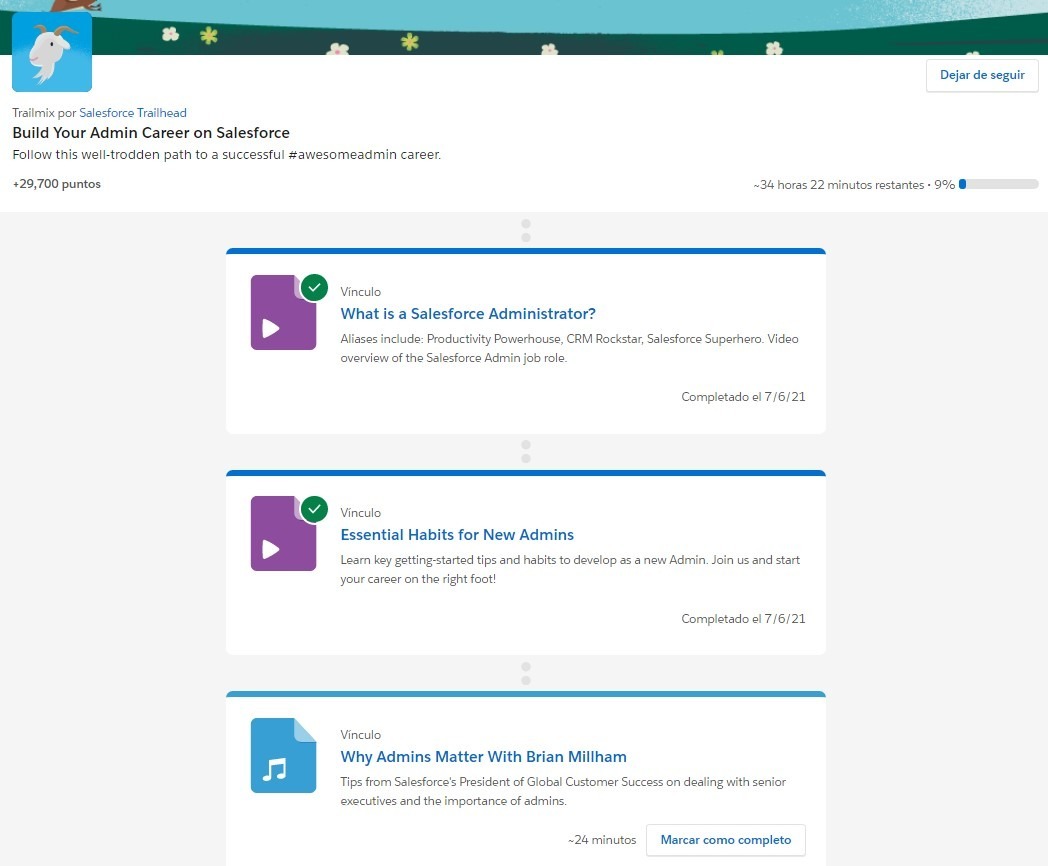 2- Earn certifications and superbadges that demonstrate your Salesforce experience, enrich your curriculum, and give you a competitive advantage in the job market.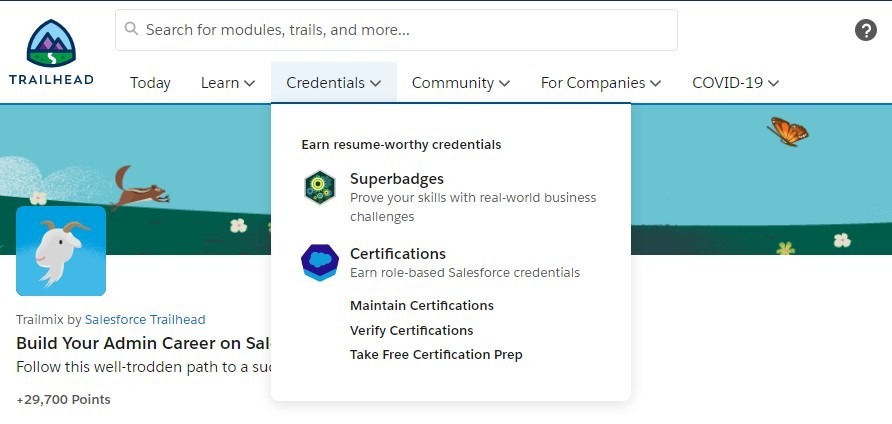 Superbadges: they allow you to project the skills you have learned and apply them to complex business problems in the real world.

Certifications: they demonstrate the knowledge and skills acquired in the use of Salesforce.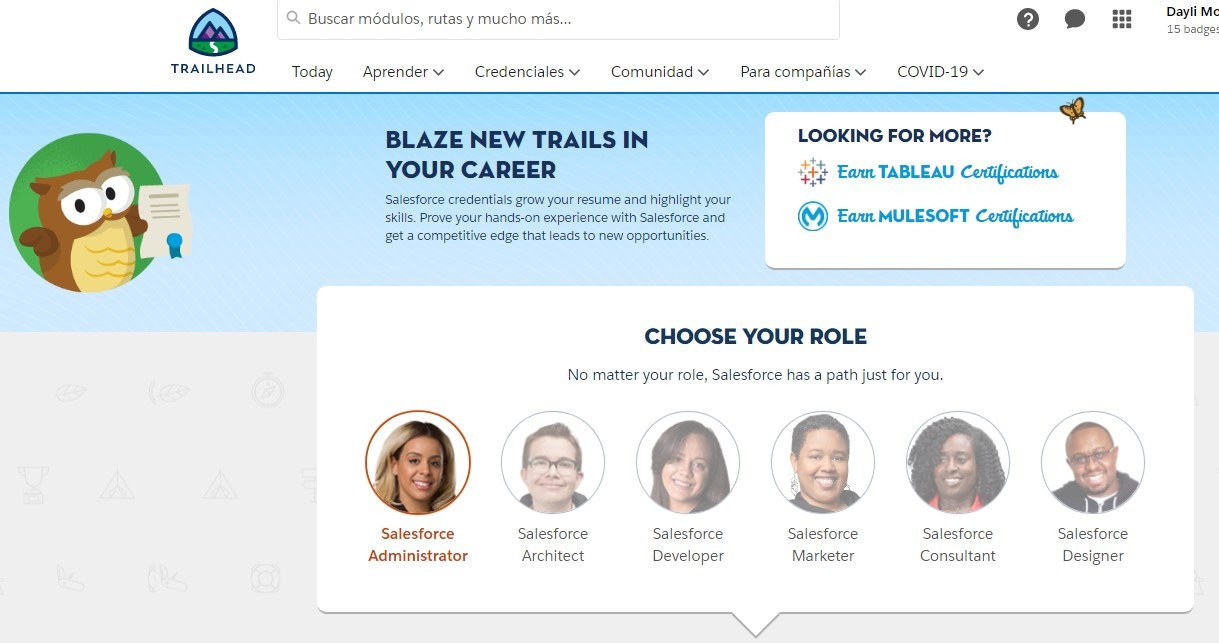 3- Connect with the Trailblazer community for mentorship, collaboration and career opportunities.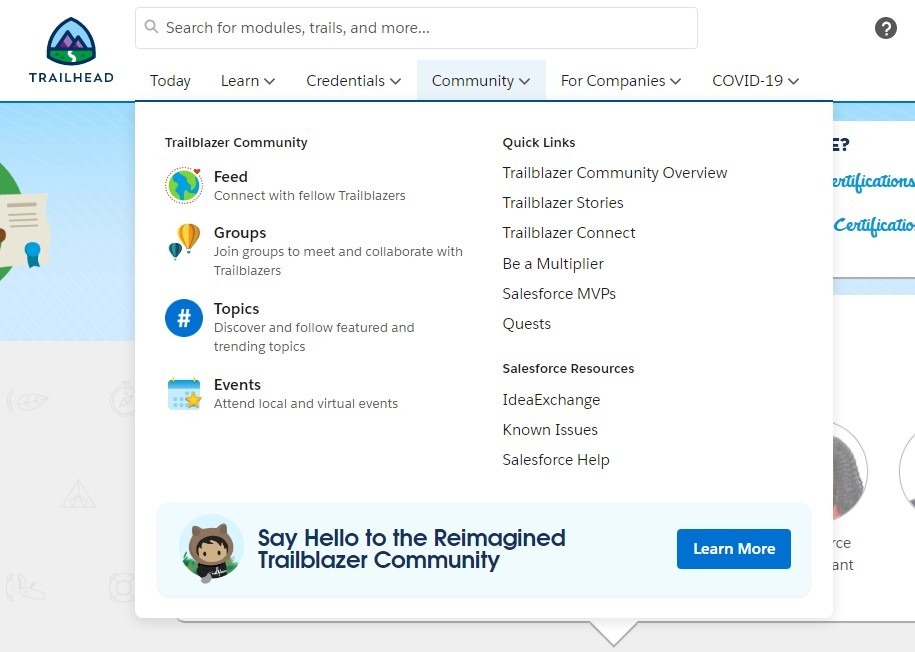 How to earn points and badges on Trailhead?
You must complete a series of challenges (tests or practical challenges) available on the platform. A test is an interactive exercise in which knowledge of a unit is assessed using multiple-choice questions. A practical challenge involves working directly in a Salesforce org.
On the other hand, there are the badges, which are obtained automatically when you finish all the units of a module.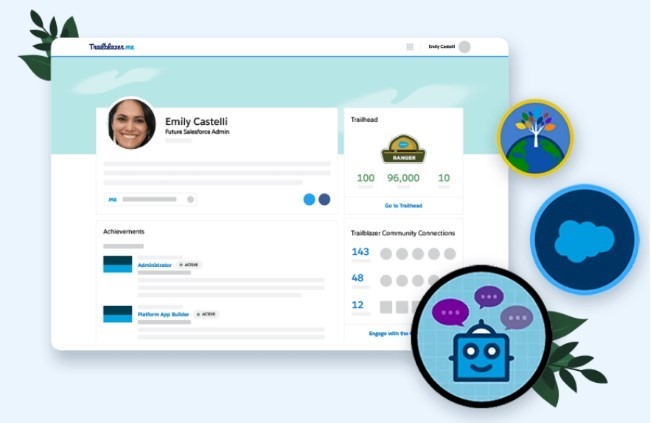 Every time you earn points and badges, you can show your achievements through Twitter, Facebook, or LinkedIn. Badges and points are also automatically displayed on your Trailhead profile when you complete the challenges. You can share these results with the people you want by sending them a direct link to your profile.
How can Trailhead help you?
Some insights from a recent report about Salesforce Trailhead can be observed below:
More than 50% of Trailhead users have acquired new skills that resulted in a promotion or pay raise.
A third of users have found a new job with the content learned on Trailhead.
One in five users reported a salary increase of more than 20%.
Two-thirds of the developers on Trailhead have shared code or tips through the platform.
If you use Salesforce or are considering getting started, Trailhead is a key resource for you. You will learn new skills, update your skills for the future, and make your business a much more productive place.
The SkyPlanner team can help you get started in this wonderful world, you don't have to do it alone. Email us at hello@theskyplanner.com and we'll show you the right way.