This year's Dreamforce was definitely one for the books! The four day event was nonstop consisting of over 2,700 sessions and workshops, 27 product launches, parties, networking and more (check out our essential Dreamforce 2019 guide to see all the extravaganza). Over 170,000 people from all around the globe came together on November 19 to 22 in San Francisco to join the Salesforce Ohana to learn, inspire, give back, and of course have fun.
We flew in to the Golden Gate City to take part in all the fun, and brought back some interesting insights to help customers transform their business and reach new heights. From artificial intelligence to social responsibility, here are the top 5 biggest surprises at Dreamforce 2019.
Customer 360
Tableau
Artificial Intelligence
Einstein Voice
Sustainable Development Goals
1) Customer 360
This year Salesforce rebranded their product offerings with the Customer 360, aligning all touch points to deliver a single view of each customer. This new cross-cloud technology initiative creates a single data model for sales to service to marketing and beyond, and features AI-powered recommendations, high-speed automation, and personalized engagement. With more data available and better organized, Customer 360 empowers businesses to create a more unified and personalized experience for each customer.
"We're going to make it easy for you to build your own 360 and your own single source of truth."

Bret Taylor, Salesforce President and Chief Product Officer.
At the end of the day, customers want to speak to a brand that understands them and can deliver a connected experience across all channels and departments. With Customer 360, companies can now master the connected customer experience by unifying customer data, authenticating identity, governing privacy, segmenting audiences, and personalizing experiences.
2) Tableau
The opening keynote at Dreamforce kicked off with a warm welcome to the latest member of the Salesforce family, Tableau. Salesforce acquired Tableau earlier this year, and unveiled its numerous opportunities for customers at Dreamforce. With the #1 analytics solution, customers from every industry now have access to an enhanced view of their data which will empower them to create more accurate reporting and gain clearer insights.
"You are dealing with a lot of data. And there are so many people who need to make decisions with that data. That's why Tableau is focused on a singular mission: we help people see and understand data."

Adam Selipsky, Tableau CEO.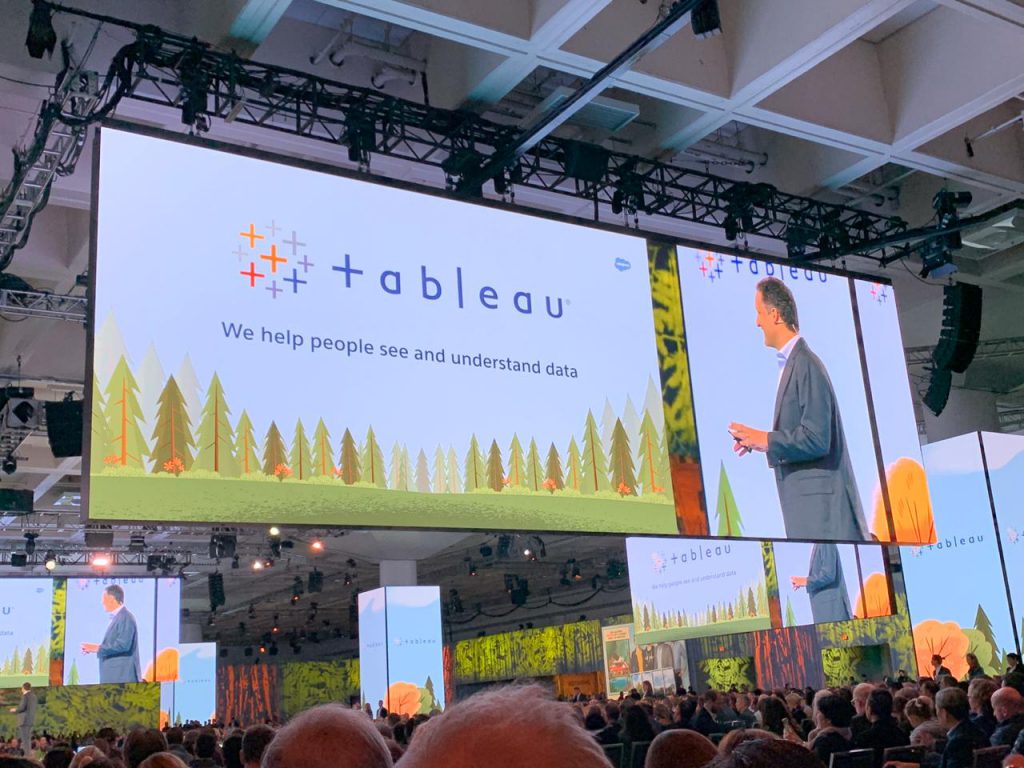 Tableau CEO Adam Selipsky explains how customers can see and understand data in a keynote presentation at Dreamforce 2019.
In today's digital environment, everyone needs data to make better decisions and create impact. With Tableau, everyone can get a better understanding of their data whether they're a CRM admin, HR manager, marketer, doctor, teacher, and more.
3) Artificial Intelligence
There was also a lot of talks on artificial intelligence (AI) and how we can use it to transform the customer experience. Salesforce is currently working towards making AI accessible to everyone by making it easier for admins and developers to build custom AI solutions. The goal is to apply AI across all touchpoints – sales, service, marketing, and commerce – and enhance productivity and the customer journey.
As more companies advance towards digital transformation, they're discovering how AI plays a huge role in productivity and customer success. It's the reason behind changing business models, consumer expectations, and our workforce.
"It all starts with a question — one that makes sense for your business… That question could be, 'Which opportunity is going to close or which students are in danger of dropping out of school? Or, will my email get opened or not?"

Marco Casalaina, Salesforce Vice President of Einstein Products.
With artificial intelligence intertwined into the Customer 360, employees can get these questions answered to become more productive. They can develop the insights necessary to elevate their customer experience.
4) Einstein Voice
One of the biggest surprises out of Dreamforce was a talking Einstein. This year Salesforce teamed up with Amazon's voice service, Alexa, to create a smart speaker in the shape of Einstein. These talking Einsteins popped up all over the Dreamforce campus, showcasing how voice is about to transform business productivity in a major way.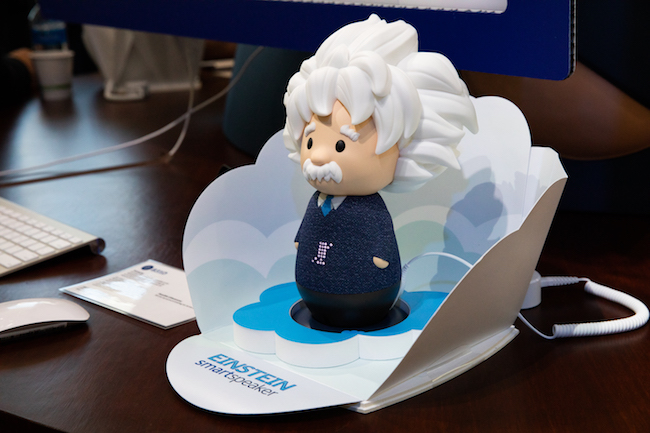 Although the speaker won't be for sale, Einstein will begin to deliver new voice capabilities, making it easier and faster for sales reps to enter data into their Salesforce organization immediately following a customer interaction. With more data available to analyze, teams will be empowered to create more accurate insights and predictions. In addition, Einstein's voice platform will enable admins and developers to build custom voice solutions for any role or industry with just clicks instead of code. Without any knowledge of voice technology, any company can build voice-powered apps to elevate their customer experience.
5) Sustainable Development Goals
Another big focus was on Salesforce's commitment to the Sustainable Development Goals (SDGs). Created by the United Nations and adopted by 193 countries, the SDGs tackle our advancement towards the world's most critical issues, paving the way for a better world by 2030. You can take a look at these 17 goals below.
Many speakers focused on promoting the SDGs, including President Barack Obama, Under-Secretary-General and Executive Director of UN Women Phumzile Mlambo-Ngcuka, World Cup and Olympic Champion Megan Rapinoe, and many more. Now more than ever, there's a massive need for diversity, equality, and sustainability.
In a keynote presentation, Salesforce CEO Marc Benioff shed light on how we can use business as a platform for change – across sustainability, equality, climate, and more. The business of business is to improve the state of the world, and together we can use business and technology to create an impact.
"There was a thing called corporate social responsibility, but we are shifting now into a time of responsible social corporations."

Richard Curtis, Film Writer, Director, and UN SDG Advocate.
Within this new decade, companies will need to become more socially responsible and set forth a new way of conducting business that benefits both people and the planet. They must measure their efforts and provide accurate visibility of their impact.
How do you think you'll be using Salesforce's latest technology to make an impact? Tell us in the comments below. We'd love to hear your thoughts!