Today, our team is very excited to announce that we've been recently named as one of the most recommended IT services companies in all of Miami. Thanks to The Manifest and their team for acknowledging the hard work and passion that we pour into every project we handled this year.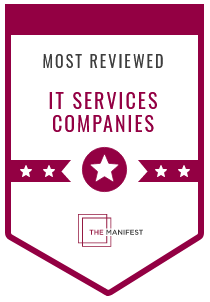 For those that don't know, The Manifest is a business blog website that has a mission to gather and verify the hard data, expert insights, and actionable advice that you need to build your brand and grow your business – to provide the practical business wisdom that manifests in your success.
According to the 2022 Manifest list, our team was able to deliver impeccable IT services and solutions to our clients. This is an incredible milestone for us and probably one of the most exciting ways to open up the new year. We are truly honored and privileged to be recognized for our hard work and dedication to the industry.
Founded in 2011, our team has been consistently recognized as one of the premier IT companies in the market. Our services range from CRM consulting to system integrations.
We've managed to deliver solutions and integrations for our clients. As a matter of fact, this award wouldn't have been possible without the help of our amazing clients and partners. We would also like to extend our thanks and appreciation to the Manifest team and everyone that made this award possible.
Our team of technology innovators and strategic problem solvers would love the opportunity to work with you to help you achieve a vision or solve a business problem. You can write to us at hello@theskyplanner.com.