Customer relationship management is an integral part of your business. Having access to all the data related to all your interactions with your customers plays a key role in customer retention. Today, there are various tools available to automate and improve accuracy in managing customer relationships, including Salesforce.
SkyPlanner is a Salesforce expert that helps businesses explore the utilization of a CRM to boost their operations. We believe in fully integrating ourselves into your business, developing a true partnership with you and your employees. We leverage the power of advanced tools to improve your organization efficiency.
In light of our efforts to lead our partners toward Salesforce excellence, we recently received a brand new 5-star review on Clutch, a B2B platform.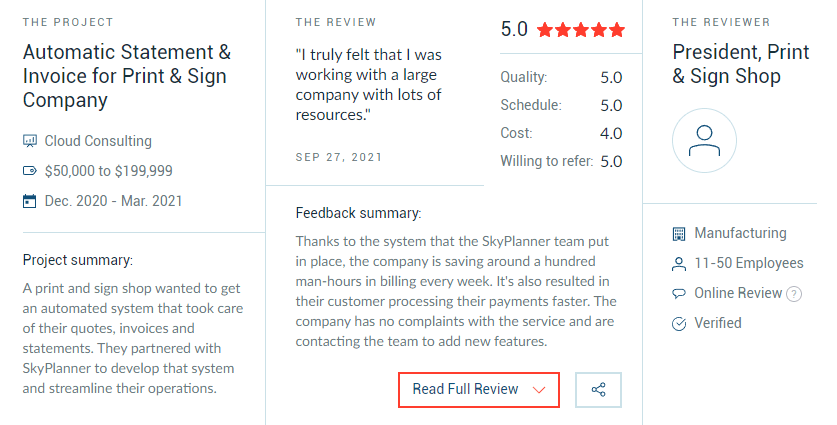 To explain why this is a big deal for us, Clutch is the leading ratings and reviews platform for IT, marketing, and business service providers. Each month, over half a million buyers and sellers of services use the Clutch platform, and the user base is growing over 50% a year.
Clutch has been recognized by Inc. Magazine as one of the 500 fastest-growing companies in the U.S. and has been listed as a top 50 startup by LinkedIn.
In our latest review, our client, a print and sign company, described what it's like to partner with us. Their interview with Clutch shed light on the way we solve problems through seamless back-and-forth communication. The client also shared our accomplishments during and after the engagement.
"SkyPlanner had to develop an automation system that could be configured by the user indicating the schedule and, at the account level, it could disable the automation or indicate to which contact sent it.
Skyplanner's work is saving over 100 staff hours per week when it comes to billing, and customers are paying a lot faster.
I truly felt that I was working with a large company with lots of resources."
President, Sir Speedy Miami Lakes
Discover more about our work by checking out our catalog of reviews. We're also on The Manifest, a company listing resource where businesses can browse the top companies by industry and location.
Explore Salesforce today, and learn how it can fortify your business-customer relationships. Get your free consultation from us.