Eight years ago, our founders Rene, Jorge, and Rene Raul decided to improve the travel experience to Cuba by creating a software system for travel agencies. Passionate about improving business efficiency, they believed they could map the sky, and that's how SkyPlanner was formed. After realizing how cloud software can benefit not only travel agencies but businesses from different industries as well, the trio decided to become a Salesforce Partner and embark on a mission to help companies close more sales and enhance their operations by implementing and optimizing Salesforce.
But, they didn't just want to stop there. They wanted to do more and go further. They wanted to help companies (just like YOU) use Salesforce to do what they do best and to reach beyond their wildest dreams. And, they wanted to do it together. At SkyPlanner, everything that we do, is a team effort. That's why nothing holds truer than our motto: "somos la suma de todos." To directly translate, "we are the sum of all," or "we are better together." It's this belief that has led us to join forces with more than 30 brilliant, equally passionate and diverse specialists, who've joined our SkyPlanner family and have helped us make exciting headways on this journey that our three founders paved for us, so many moons ago.
Today we work with 34 incredibly talented team members across three global offices in Miami, FL (our HQ), Bogota, Colombia and Vitoria, Brazil. And together we speak four languages including English, Spanish, Portuguese, and Italian. We have really cool interests like both Renes are Ironman triathletes and Jorge brews his own beer. Some of us enjoy playing the drums at local gigs and dancing salsa while others are obsessed with traveling, cooking, and reading poetry.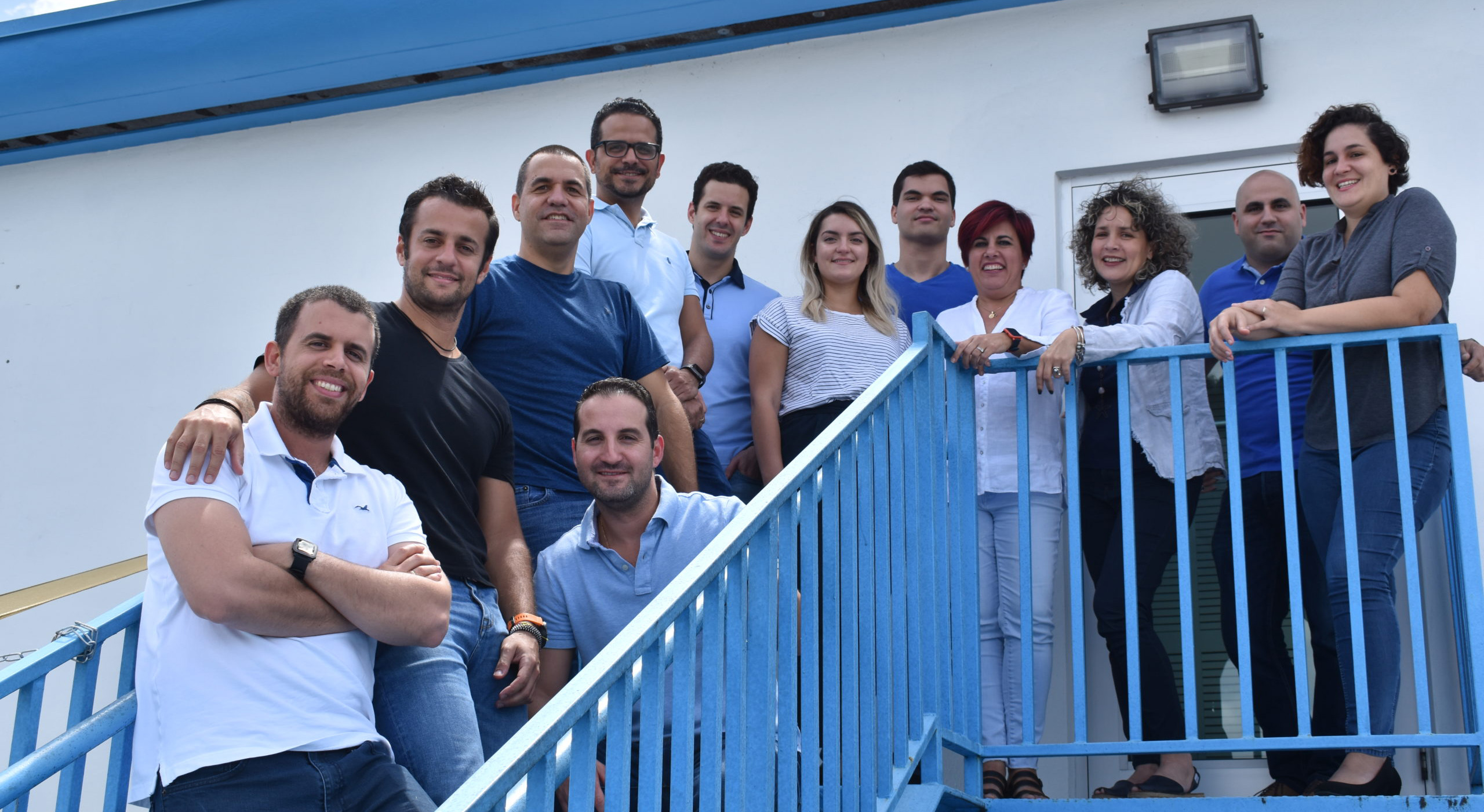 We've also grown to become the largest Salesforce certified team based in South Florida. Our team is made up of Salesforce project managers, architects, developers, administrators, consultants, UI/UX designers, data scientists, and QA specialists. Combined we hold 67 Salesforce certifications and counting, including Advanced Administrator, Platform Developer, App Builder, and Pardot Specialist. Today, that number continues to grow as we sharpen our skills, adopt Salesforce's latest products and innovations, and keep our fingers on the pulse on all things tech. Some of our favorite Trailhead badges include the Data Modeling, Artificial Intelligence Basics, Lightning Experience Rollout Specialist, Apex Specialist, and Einstein Analytics and Discovery Insights Specialist. We're also obsessed with Astro and Codey from the Salesforce Ohana.
At SkyPlanner, we're a family-first company, making trust and transparency two words that we live by. We're a group of innovative, multicultural, and engaging people who know how to work hard yet keep it light and have fun. We love what we do and are devoted to doing it well which is why we look forward to being here Monday – Friday. We're open-minded and easy-going. Our door is always open, literally. We've eliminated offices to encourage team members to sit together, collaborate and question everything regardless of hierarchical titles. We're proud of the learning environment we've fostered and are constantly encouraging our team to grow, ask for help and improve. Even when we excel at a project, we push our teams to look for ways to do it better next time. At SkyPlanner, we're deeply committed to helping every single one of our team members achieve their very best, because only when we're all doing our best, can we be great.
FROM MIAMI TO SOUTH AMERICA
Our team in Miami is trilingual, loud, funny and super charismatic. We love to sing and dance to 80's rock and Latin reggaeton. Every month, we host breakfast and each bring something we love, anything from croquetas to empanadas, arepas, pastelitos, tequeños, and Spanish omelette. And if that's not savory enough, our Cuban team members make the most amazing cafe Cubano. Don't believe us? Stop by for a cafecito, we're always brewing. And while you're here, we'll tell you about our cool immigration stories and how grateful and excited we're, to be able to create an amazing life not just here in the U.S., but also at SkyPlanner, our home away from home.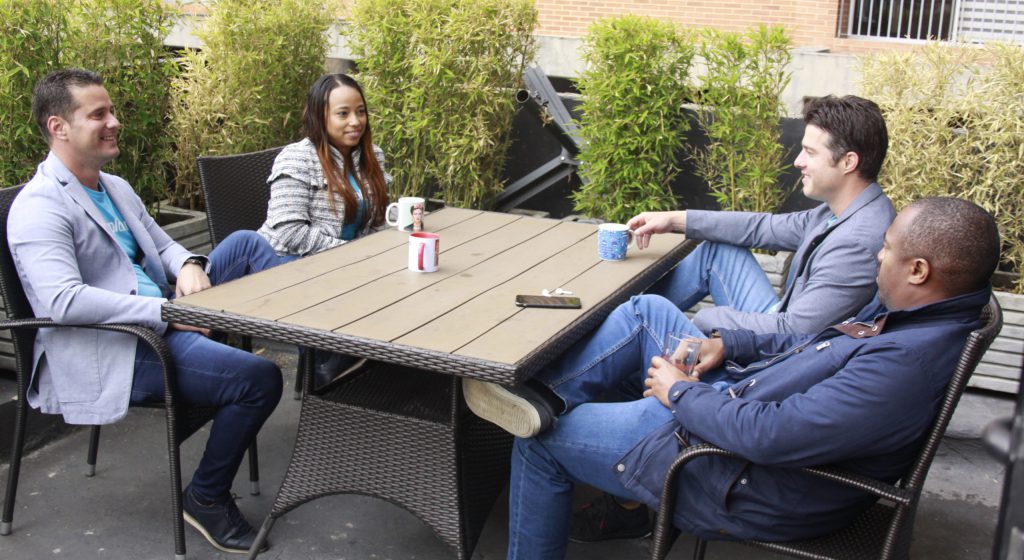 Our awesomeness extends beyond Miami's shores and into Bogotá, Colombia and Vitória, Brazil, where our team members love to watch fútbol and rep their team colors at every match, especially during Brazil vs. Colombia games. Every month, each team enjoys getting together and having fun whether it's bowling or riding roller coasters in Colombia, or hosting BBQs, making Caipirinhas and dancing Samba in Brazil.
As our company grows and expands, we work hard to maintain the intimate and fun dynamic of the business we started out with. Everytime we add a new member to our team, we make sure their values align with ours and that they add some "sazon" (flavor) to the family spirit we've built and nurtured. As our motto goes, we're one big family. Together we win some and lose some. We work hard to support each other and are always up for learning something new. We try our best to sit together for lunch every day and jam out to our favorite music videos. Every Friday, we go out for lunch to one of our favorite local spots and on at least one weekend of every month, we bring our families together for a potluck or a pool party. With our team members in South America, we stay connected through our SkyPlanner WhatsApp Group Chat, sending each other funny memes, reactions to the latest Copa America game, series updates and more.
This Winter, we're launching an exciting new blog series that'll shed light on who we're (as a team and as individuals) and what we're all about (inside and outside of SkyPlanner). Stay tuned as we take turns spotlighting each one of our uniquely talented team members and give you a behind-the-scenes look of what it's really like to work with us everyday.