One of the most exciting announcements from Salesforce at Dreamforce 2023 was the launch of the Einstein 1 Platform. This powerful computing platform aims to boost business productivity and provide trusted experiences powered by AI and CRM data.
Einstein 1 is a high-tech platform where you can safely develop and run hundreds of applications. Not only does it give you the possibility of finding solutions to meet the growing demands of your business, it also guarantees technological support for the growth and evolution of your company.
With over 20 years of experience and investment in technology, Salesforce is one of the largest companies in the world and the number 1 in AI-powered CRM applications. Their products are a safe bet when it comes to software, and the Einstein 1 Platform is no exception.
What is the Einstein 1 Platform?
The Einstein 1 Platform natively integrates Data Cloud and Einstein AI. It features Einstein Copilot, an AI conversational assistant, and Einstein Copilot Studio for the low-code development of AI-powered applications. Both operate within the Einstein Trust Layer, taking advantage of the flexible and dynamic environment offered by the Salesforce metadata framework.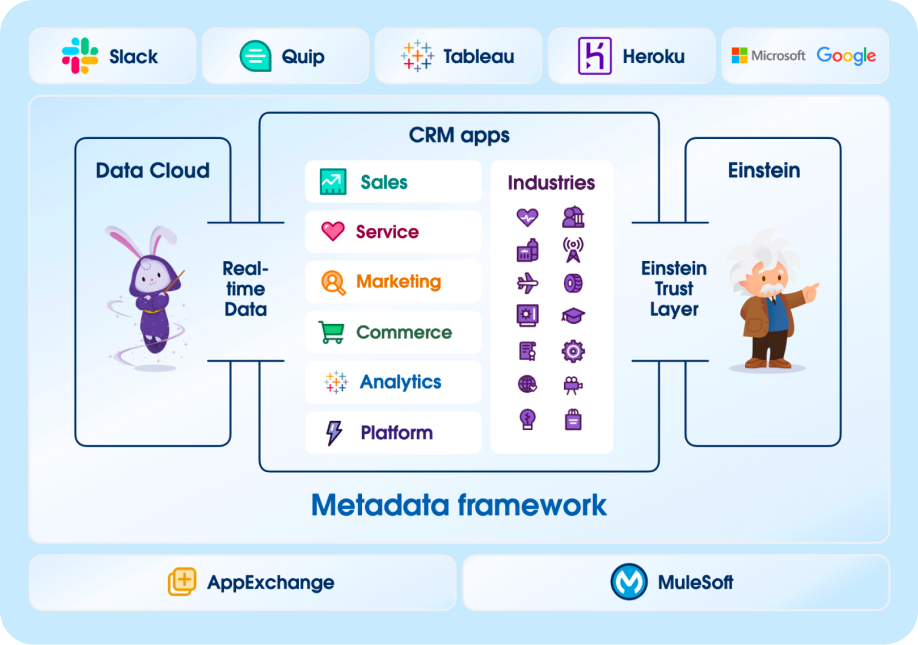 Typically, any modern software platform constitutes the technological support for the execution and creation of applications. It includes tools for analysis and integration, databases, and data management, as well as intelligent technologies such as machine learning and the Internet of Things ( IoT ). The Einstein 1 Platform has everything to help you drive innovation and support both the execution of powerful applications and the growth of your hyperscale business:
Metadata framework
For nearly 25 years, Salesforce has been using its metadata framework to help companies organize and relate data between their applications. Now, it serves as a common language through which all applications developed on the Einstein 1 Platform communicate. This framework provides the conditions to create a unified view of all your organization's data.
Data Cloud
Data Cloud has been optimized specifically for this platform, ensuring a harmonized and unified real-time view of all your company's data. This cloud allows you to create rich user profiles and offer customers highly personalized experiences. Data Cloud has technology capable of gathering data from very diverse sources, regardless of whether they are structured or not. Chat conversations, audio, telemetry data and business information are integrated in real time within the Data Cloud.
Generative Conversational AI Assistant
This next generation of Einstein is natively integrated with the platform, providing a conversational AI assistant for every CRM application. Einstein Copilot and Einstein Copilot Studio are the tools that, based on the Einstein Trust Layer architecture , allow you to boost productivity in your company. They facilitate the generation of code, content, emails, campaigns, and more.
Einstein Copilot
It is the assistant that is inserted into the users' workflow, allowing them to ask questions in natural language and receive accurate answers based on real company data from Data Cloud. Additionally, it can perform proactive actions and suggest complementary options in response to user queries. For example, propose a recommended action plan after a sales call, check the status of a consumer's order, and even adjust the shipping date. Currently, Einstein Copilot is in the pilot phase.
Einstein Copilot Studio
This includes tools designed to let you customize the Einstein Copilot generative AI assistant based on the purpose of the Salesforce application it targets. These tools, Prompt Builder, Skills Builder and Model Builder, offer the possibility of configuring Einstein Copilot to insert itself into various customer interaction channels, including real-time chat, Slack, WhatsApp, or SMS. This solution is also in the pilot phase.
Security
In addition to the security offered by native Salesforce tools, Einstein 1 integrates with Salesforce Shield. Shield offers a powerful set of services that allow you to increase security levels, providing greater flexibility to achieve compliance with demanding standards in the storage of sensitive information, higher levels of trust and governance in business-critical applications. In addition, it includes encryption mechanisms, event monitoring, and permanent auditing of the status and value of your data.

Salesforce Data Cloud, A Platform To Do Magic
Salesforce Data Cloud is the solution that allows you to integrate all the data generated in each customer interaction with your company in real time. Find out how it works to offer more personalized experiences and what's new about this proposal.
What facilities does Einstein 1 provide?
This platform was designed to ensure that companies that use Salesforce are empowered with AI, enabling the seamless integration and extension of applications across various business types.These are some of the facilities it provides:
Easily integrate AI into your business applications. This platform helps administrators and developers create their own generative AI assistants while meeting a wide variety of use cases.
Simplifies application development. You don't need to be a developer to create apps. With minimal code and convenience of drag and drop functionalities, you can create your applications quickly. Additionally, you have the possibility of programming in different languages, even outside of Salesforce, and Einstein 1 integrates these developments into the platform.
Accelerate development through internal and third-party integrations. Thanks to the metadata framework, all your Salesforce applications can connect, and thanks to Mulesoft, they can also integrate with legacy applications.
Enhances process automation. You can create flows that are triggered by changes in objects, events from an IoT device, and AI predictions.
Support the growth of your business. This platform is capable of supporting data, automation, and analytics at scale. Likewise, it allows the incorporation of massive volumes of data.
Elevate the power of your data. If you are an Enterprise Edition customer or higher, you can incorporate, harmonize and explore your data with Data Cloud and Tableau for free.
Why jump to the Einstein 1 Platform?
There are several reasons why your company might decide that it needs to evolve to this new technological platform:
You want to leverage your Salesforce AI and Data Cloud capabilities.
You want to boost growth.
You need to increase productivity.
You want to gain advantages over your competitors.
You need to optimize the management of Big Data.
The Einstein 1 Platform offers benefits beyond traditional application support. It presents a fast and safe path to the power that the use of generative AI brings to the productivity of your business.
If you are interested in getting closer to the world of Salesforce, at SkyPlanner we have the certified experience to guide organizations from various industries on this way. Contact us at hello@theskyplanner.com and we will provide you with the roadmap to achieve this.