If there is one thing that companies are clear about today, it is that collecting and processing their customers' data is essential to driving the success of their businesses. A good source of information allows you to segment the market, personalize your products and services, improve the quality of your offers, make decisions based on data, and more. However, far too often is the case that large amounts of resources are invested in information storage without having an efficient solution that allows the data to be used to recover the investment. Unstructured data and those in silos can be a rich source of information, but if it is difficult to manage it can end up generating losses.
If you want to know what Salesforce proposes so that the data collected from your customers allows you to better understand how they think, as well as what their needs and preferences are, then this article is for you. Learn how to unify all your data sources to deliver more personalized experiences and target your marketing efforts effectively with Salesforce Data Cloud.
What is Data Cloud?
Data Cloud is the solution that allows you to integrate in real time all the data generated in each customer interaction with your company. This data, regardless of their characteristics, is harmonized in a unified customer profile. Data Cloud is the evolution of Salesforce Genie that powers the creation of highly personalized experiences in Customer 360.
This tool facilitates the management and use of the data generated in your company. It has connectors that allow integration between different sources, whether they are Salesforce applications, mobile applications, the web, connected devices and even, thanks to MuleSoft, from legacy systems. It makes it possible for every customer interaction to be taken advantage of: an ad clicked, a purchase made, help requested, etc.
A customer, depending on the channel through which they reach your business, can be represented through an IP address, an email account, registration data, bank account number, among others. However, it is still the same consumer with a set of needs and preferences. With Data Cloud you can harmonize all this information in a unified and consistent view that you can even use in your company's own developments. Thanks to this customer profile that's continually updated with new data, you can offer an incredible level of personalization at all touch points.
How does Data Cloud work?
Data Cloud, like all Salesforce clouds, is supported on the Hyperforce infrastructure and combines the power of the Salesforce Platform with its architecture capable of handling an immense amount of data in real time. All under the concept of Data Spaces that allows data to be partitioned at a logical level and for each business to work on a different data partition. In summary, Data Cloud works as follows:
Connect all your data sources and bring them to Salesforce. Data Cloud is capable of connecting to all of your customer data sources, both internal and external to Salesforce. By using the lakehouse data management architecture, it relates them regardless of whether they are structured or not, thus facilitating their access, categorization, and classification. In addition, it obtains the data directly from live streams (streaming) or in large batches through scheduled tasks (batch). Data Cloud, powered by MuleSoft and Snowflake, makes all your customer information available to you in a single source.
Harmonize all the data. By mapping various source records, it harmonizes all data into a standard model. Personal data is mapped to individual data model objects, in the Customer 360 Data Model. During this process, the data is transformed into quality information, free of errors and duplication. All this thanks to Customer Graph, the set of data models and Identity Resolution (IR) rules, created by Salesforce and powered by Artificial Intelligence.
Unify your customer data. Once the data has been mapped, the IR rules are applied in order to identify who is who and integrate all the related data into the same profile. A rule can establish that all independent records with the same email address and name are unified. According to Salesforce reports, by bringing all their data into the Data Cloud, companies have been able to reduce duplicate records and consolidate more than 52% of their customer profiles.
Optimize your analysis and predictions. Once your data has been unified, normalized, and harmonized by Data Cloud, your company can begin to identify its insights. Whether based on batch or streaming data, the insights allow you to generate metrics such as, "the number of products you have with a value over $300" and "the products that have gotten the most clicks in the last 10 minutes on your website". Because Data Cloud is natively integrated with Tableau, with just one click you can trigger CRM analytics. Additionally, these unified profiles can be integrated with Einstein or third-party Large Language Models. The segmentations that can be achieved based on these profiles, insights and artificial intelligence are really appealing.
It allows you to act based on data. Data Cloud provides great opportunities to create highly personalized marketing campaigns. Predictions, recommendations, intelligent flows, and data-based actions allow your company to make the best possible decisions. You will be able to reach each consumer in a unique way, exceed their expectations, and make them feel special as if you could read their mind. For example, a technology company can use a data action to trigger an alert and create an automatic service call when a customer's computer shows signs of heating, high CPU consumption, or insufficient RAM.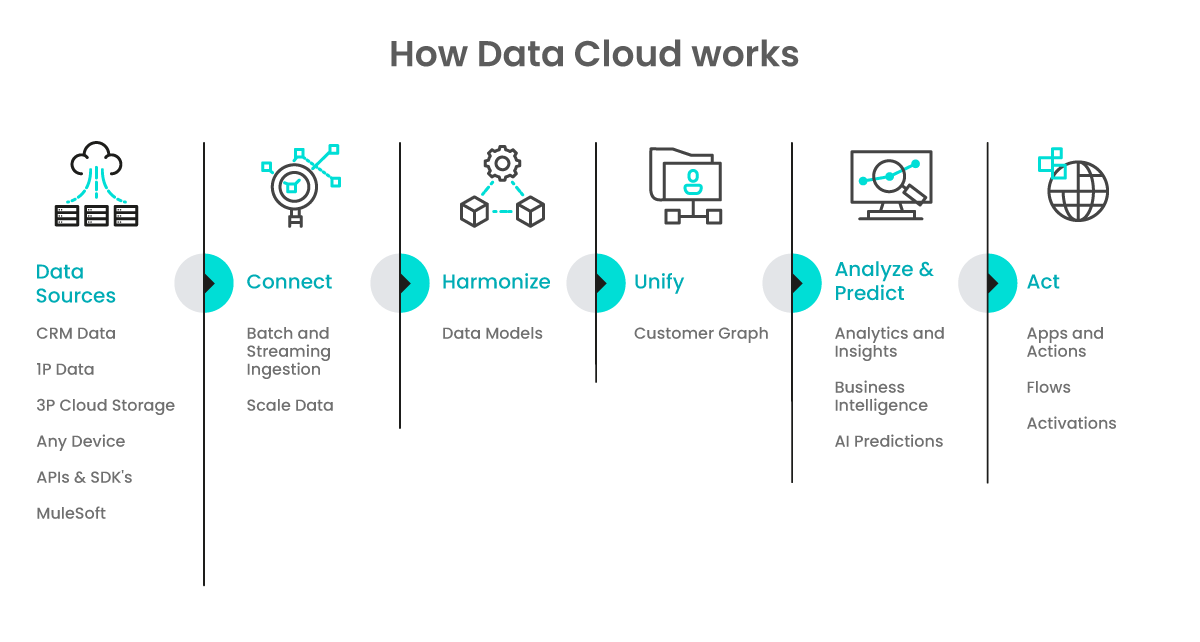 What is new about this product?
Unquestionably, there are two aspects that make Data Cloud stand out:
Make your company's customer data available to you, which is collected and unified in real time. Example: when a client contacts customer service because a product does not meet the expected requirements. If the company uses Data Cloud for Service, it can automatically trigger actions that stop all sales and marketing interactions associated with the customer profile and product in question.
Allow all the work teams involved in customer interactions with your company to work as one. Typically, other data platforms focus on the areas of marketing and commerce. In a case like the one in the previous example, despite the customer's bad experience with the product, if no manual intervention occurs, the customer could continue to receive emails with offers associated with it because there is no automatically articulated work between the different areas. With Data Cloud, the marketing, sales, service, commerce, and analytics departments can work in full sync so this doesn't happen and personalized experiences can be delivered in real time.
According to a study conducted by McKinsey, "Companies with faster growth rates derive 40 percent more of their revenue from personalization than their slower-growing counterparts." Undoubtedly, if your company implements Data Cloud you will gain a competitive advantage by using the power of real-time data in your interactions with customers. Make it possible for your decisions to become increasingly more accurate and your customizations to become more incredible.
If you found this article useful and it piqued your interest in our work, do not hesitate to write to us at hello@theskyplanner.com. We will gladly tell you about our products and services.