With information technology emergence, process automations have taken a significant rise in the business strategies of organizations to strengthen the direct link with their customers. Having your processes automated brings great benefits such as the reduction of execution times for tasks and the reduction of activities and costs, which allows it to be more profitable, efficient and effective every day.
In this context, marketing automation appears currently showing an increase in the number of B2B companies that have begun to use it or plan to implement it.
Making a review of the statistics related to this term, it is evident that:
These elements demonstrate the growing interest of marketing automation within the marketing strategy of organizations due to the benefits it generates for the company and its clients, facilitating the fulfillment of the proposed objectives.
Given these advantages, the following questions appear to which we will answer in this article.
What is marketing automation?
Why is marketing automation important today?
What are the elements that you should consider when implementing marketing automation?
When is it advisable to start using marketing automation?
What is marketing automation?
It is the process or methodology that allows to automate, streamline, control and improve the specific tasks related to the different marketing activities (market research, pricing, customer relations, sales promotion, etc.), through the use of computer science tools or software.
Why is marketing automation important today?
Marketing automation allows you to focus specifically on customers based on their behavior, preferences, browsing histories, use of applications on social networks, emails, etc. In this way, a large volume of information is collected that helps to create a complete view of each client to later respond to each of their individual needs.
From there, marketing automation is responsible for streamlining the segmentation and targeting processes to determine the right audiences. It adapts the messaging to each client automatically based on their profile.
In addition, it generates relevant and personalized messages through email, mobile devices, social networks, web experiences, and more. Marketing automation allows you to reach customers at any stage of their customer lifecycle, regardless of which stage they are currently within.
If you want to know more about this formidable solution, I invite you to look into 7 reasons to use marketing automation in B2B companies.
All of the above determines the creation of a more complete marketing strategy aimed at offering the customer what they really want and promoting potential customers (leads), which will cause its growth.
Three elements that you cannot ignore when implementing marketing automation
So far, you are already aware of marketing automation's importance within your business, but you are wondering what are the elements you should consider when implementing it? We recommend that you do not overlook the factors shown below.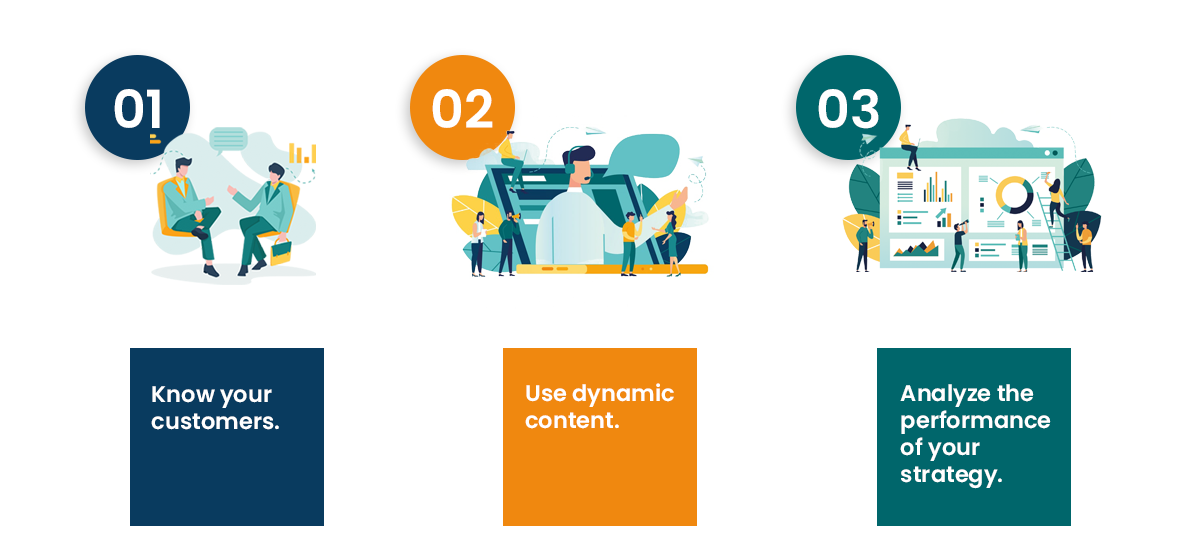 1- Know your customers
In an organization, there are different types of clients which may have common interests, but the reality is that this almost never happens. This emphasizes the importance of analyzing the requirements of each one in order to satisfy their needs and anticipate their expectations and thus to increase their satisfaction.
2- Use dynamic content
With the help of marketing automation, you can create dynamic and meaningful content that considers the needs of your customers at all times, which are increasingly growing and changing. The success of your business, the satisfaction of your customers and the increase in your potential customers will depend on it.
3- Analyze the performance of your strategy
At all times, you can measure the performance of your indicators to understand your customers' behavior and be able to continuously improve your performance. This will allow you to analyze the evolution of your automation strategy and simplify your decision-making process.
How feasible is it for your business to implement marketing automation and what should you take into account when deciding to do so?
The right time to start using marketing automation
To respond to this question, we list below a series of conditions that could take place within your business and are indisputable signs that demonstrate the need to enter into the world of marketing automation.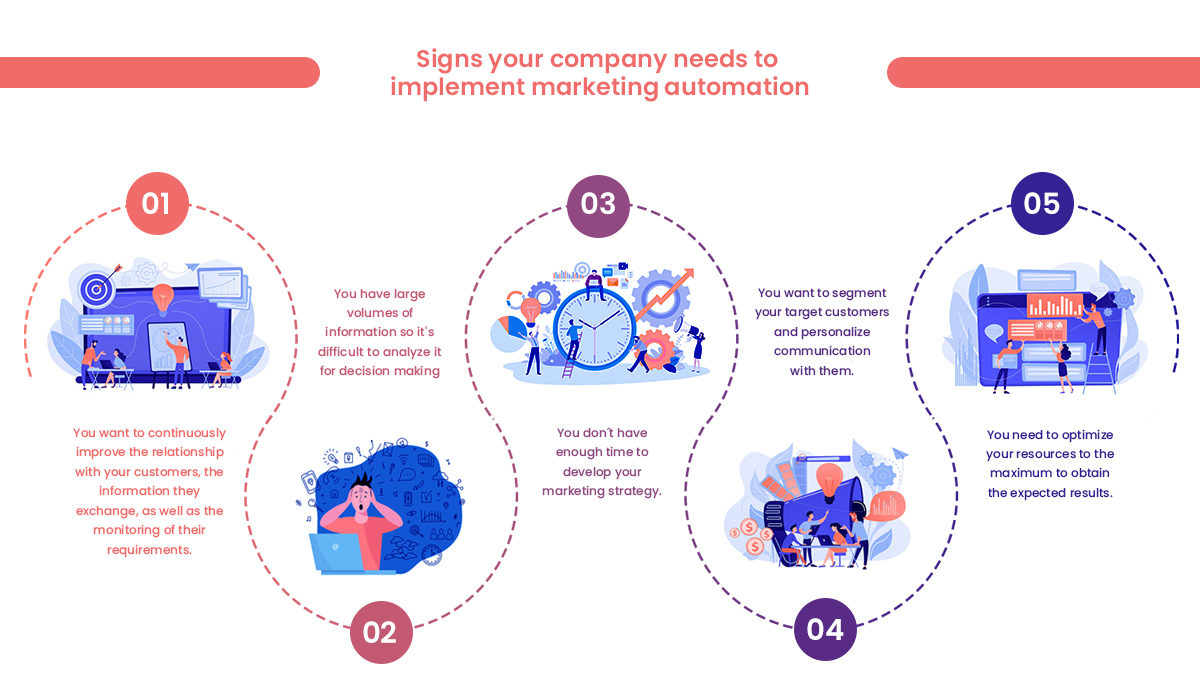 1- You want to continuously improve the relationship with your customers, the information they exchange, as well as the following of their requirements.
Using the information you have about your customers and with the help of marketing automation, you will be able to track their needs. This will allow you to continually improve your relationships with them. Additionally, marketing automation makes it possible that as your users fill in forms, you will be able to create different profiles of the potential customers participating. This will make it easier for you to get to know your contacts in depth. In this way, you can better focus on them through concrete and effective actions taking into account each of their requirements.
2- You have large volumes of content on your website so it is difficult to analyze all this information for decision making.
Due to the large volumes of information in your website or in databases, it is increasingly complex to make correct decisions considering all this information, which also generates an excessive expenditure of time. Marketing automation then appears as an analytic tool for all that information, which undoubtedly allows for better business decisions to be made by making use of the information obtained.
3- You do not have enough time to develop your marketing strategy.
On many occasions, due to the large volume of work, you do not have the time necessary to carry out the marketing activities of your business. That is why automation plays a fundamental role in your strategy because it allows you to perform tasks automatically, which translates into time savings. Through marketing automation, you will be able, for example, to schedule several emails for a specific date and time. This will help you organize your work and give you the option to spend your time on other tasks.
4- You want to segment your target customers and personalize communication with them.
Segmentation of your database consists of studying and classifying each of your clients automatically, quickly and effectively. This allows you to group them according to your preferences or needs in relation to the stage of the sales cycle in which they are in. This way you can guide them through the entire process and meet their needs effectively.
Personalization is the fundamental link when you address your customers and marketing automation greatly facilitates you to classify your database through categories according to their characteristics. In this way, you will be able to personalize the emails depending on the recipient.
5- Optimize your resources to the maximum to obtain the expected results.
The decrease in time spent for activities through marketing automation will bring with it an increase in the use of the company's resources, which generates an impact in the economic sphere. Consequently, you can invest in other areas of the company that need it or simply save an unnecessary investment. Monitoring all the actions you carry out is also a key point in your strategy.
If you find yourself in any of the above situations, these are good signs that marketing automation could work for your business. Have no doubt that it is time to take that long-awaited leap. It can be a bit complex at the beginning, but in the near future the benefits will be many.
Marketing automation is a great ally to improve your processes. It is an essential tool for any organization that seeks to be increasingly profitable, efficient and effective. It encourages an increase in potential customers, reduces costs and eliminates repetitive activities. That is why you should consider including it as an essential support for your marketing strategy.
In a future article we will refer to how to implement this solution and what are the tools that will help you do it.
If you need assistance evaluating your organization and determining how to better automate your business processes, please do not hesitate to contact us. You can email us at hello@theskyplanner.com. Our team of professionals will guide you towards the sustained success of your company, making the most of your resources.