If you got here, it is because you have made the right decision; you have taken a step forward and decided to invest in marketing automation. The fascinating world of Salesforce presents before you two powerful and efficient products: Marketing Cloud Account Engagement (formerly known as Pardot) and Marketing Cloud that, well implemented, will guide your marketing efforts to success.
Before reviewing some characteristics, advantages and disadvantages, as well as similarities and differences between these two products, it is important to identify particularities of your business that guide you during your decision-making. You can lean on the following questions:
Is your company B2B or B2C?
How big is your business and how much information do you keep about your customers?
How are your sales cycles?
Do you usually close your deals in stores, on websites or through sales teams?
What communication channels would you like to cover with your marketing strategy?
Do you have a CRM?
Now, with these answers, it will be easier for you to understand the main differences between Pardot and Marketing Cloud.
What is Pardot or Marketing Cloud Account Engagement?
Account Engagement is a tool marketed under the Salesforce Marketing Cloud umbrella brand. Which allows marketing teams to personalize communication with customers and respond to their individual needs at each stage of the buying process. In addition, it offers detailed analysis of marketing campaigns, which makes it possible to adjust strategies to improve efficiency and return on investment.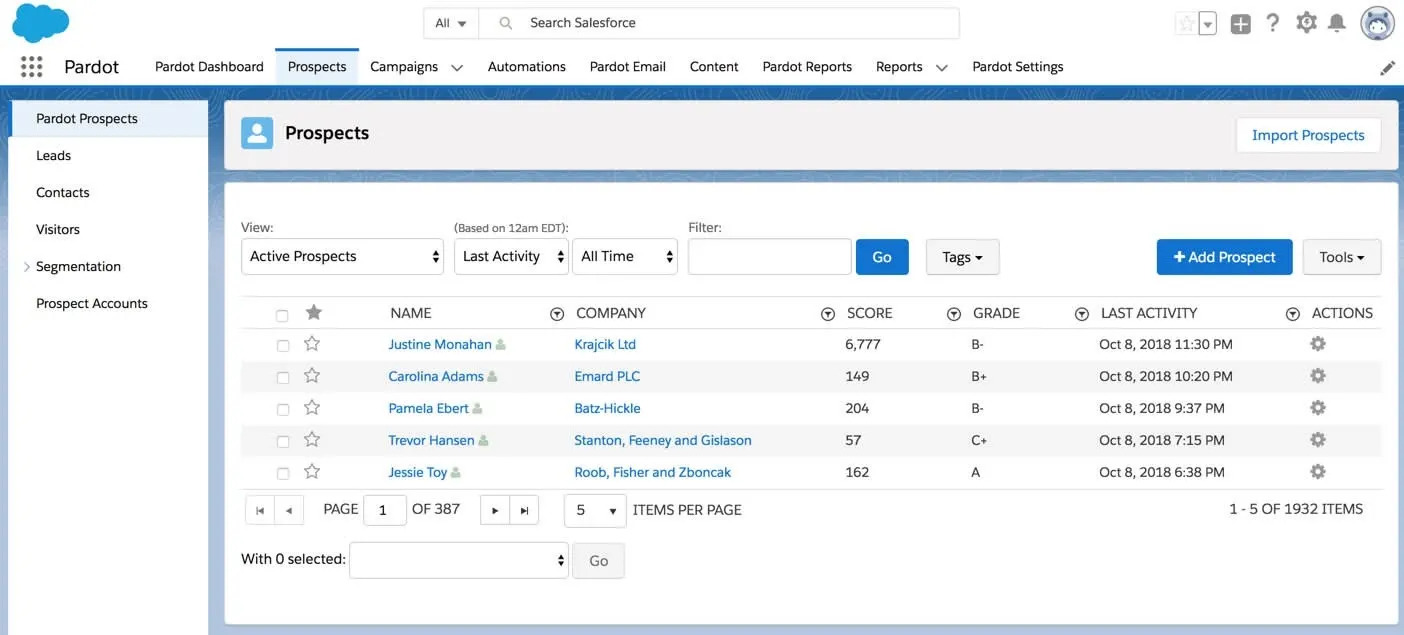 This platform is characterized by:
To be a B2B-oriented marketing automation tool.
Having a very intuitive and easy-to-use email marketing editor. With which you can design your own templates, upload one you already have or choose between pre-defined templates.
Detailed Return on Investment (ROI) reports. Thanks to the predictive analysis of B2B Marketing Analytics Plus you will be able to delve into the impact of marketing campaigns on your revenue.
Generate high-level leads. Without the need to enter code, just with clicks, you can create landing pages and forms with excellent custom designs. In addition, by making use of Salesforce Einstein, the Artificial Intelligence (AI) solution, you will also significantly increase the effectiveness when it comes to reaching potential customers.
Very simple and functional lead management, with automated configuration of scoring, grading, tracking and nurturing processes. It even allows the configuration of notifications when potential customers are active on your site.
Implement the account-based marketing strategy. In which the efforts of the sales and marketing departments are joined with the objective of identifying valuable accounts, for which specific content will be prepared in order to consolidate long-term relationships.
Marketing Cloud Account Engagement allows you to create personalized marketing experiences, which helps B2B companies establish lasting relationships with customers. In addition, it facilitates the management of potential customers, this influences the increase in conversion rates and helps to accelerate sales.
What is Marketing Cloud?
Marketing Cloud is a digital marketing platform that allows companies to create, execute and measure marketing campaigns through channels such as: email, social networks, online advertising and text messages. The platform includes tools for managing prospects and leads, marketing automation, and data analysis aimed at improving campaign performance.
It is a comprehensive marketing solution that helps companies connect with their customers in an effective and personalized way that is characterized by:
A whole family of high-tech products aimed at generating great impact on B2C businesses. Email Studio, Journey Builder, Mobile Studio, Marketing Cloud Advertising, Content Management and Marketing Cloud Personalization are some of those great tools.
Highly configurable; modules can be deployed according to your marketing needs.
Marketing Cloud is a platform that allows you to offer your customers a highly personalized or one-to-one experience, based on AI recommendations through multiple channels: mobile, mail, web, etc. Also, if you wish, you can reach countless clients with a single shipment.
Collect data from multiple sources in real time: CRM, points of sale and each point of contact with the customer in general.
Marketing Cloud works as a data warehouse that integrates all customer information.
Allow maximum use of the budget allocated to marketing campaigns. With a proven decrease in the cost of customer acquisition.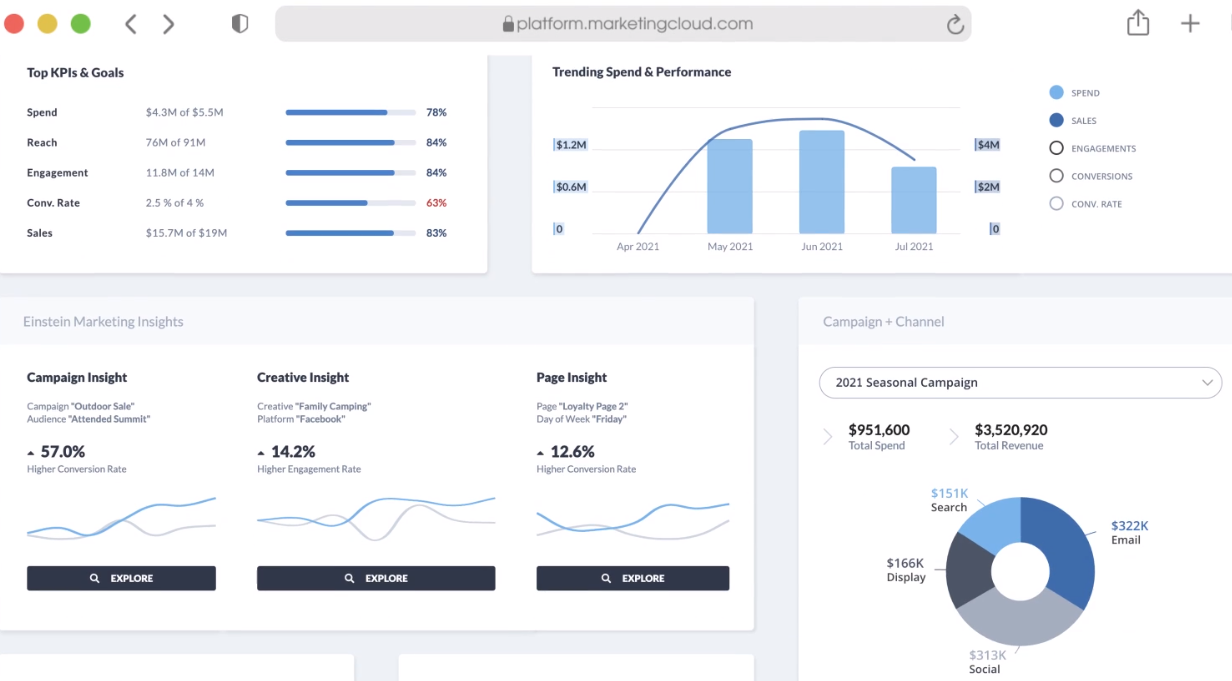 Main differences between Pardot and Marketing Cloud
Both platforms differ in aspects such as usability, the learning curve, the communication channels they support, the type of companies and industries they target, etc. Although they have great versatility and customization capacity, we must not forget that Marketing Cloud Account Engagement and Marketing Cloud have been designed to meet different needs.
Taking into account the general characteristics of each platform, we can make the following comparison Pardot (Account Engagement) vs Marketing Cloud:
Aspects to evaluate
Pardot(Account Engagement)
Marketing Cloud
Design
Intuitive, simple and easy to use.
Sophisticated, more complex and contains many functionalities.
Learning curve
Flat, it is relatively easy to learn to work with it.
Steep, it takes quite a bit of training to master.
Supported communication channels
Social media and email marketing. SMS (using somewhat complex additional settings).
Social media, email marketing, SMS and push notifications.
Orientation
Medium and large B2B companies with relatively small databases, long sales cycles and deals closed for high values.
Large B2C businesses with short sales cycles, large accumulated customer data, and low price sales.
Industry (both tools share clients in manufacturing, healthcare, life sciences and financial services)
– High technology
– Professional services
In general, there are many success stories.
– Retailer
– Consumer goods
– Education
Has a wide spectrum of industries that it satisfies.
Price
Affordable.
Good cost / benefit ratio.
Relatively high, varies based on deployment.
Marketing Cloud is marketed by modules.
Integration
It is essential that it integrates with a CRM; it does it natively with Salesforce. In the case of using another, the integration can be complicated.
It can exist perfectly without integrating with a CRM, it is itself a group of integrated tools that work in a single environment.
In summary, if you have a B2B business model and need to coach your customers through long sales cycles, Pardot (Account Engagement) might be a good fit. If your stores or warehouses are territorially distributed with highly demanded products and your weekly sales reports show high volumes, Marketing Cloud is quite close to what you need. If you also have the projection of increasing your range of products and customers, you could benefit a lot with the Marketing Cloud suite.
To choose wisely, it is necessary to value many aspects and remember that nothing is set in stone. Pardot may perfectly satisfy the demands of a B2C business or a business with long sales cycles may find success with Marketing Cloud. However, there is a possible scenario in which the joint use of both solutions is advantageous. Although it is true that many of the functionalities would overlap, it is also true that they can be complemented.
We hope that everything is much clearer to you and that you have been able to identify among these solutions the one that best suits the characteristics and needs of your company. If you are interested in implementing either of these two products, you can contact us by sending an email to hello@theskyplanner.com. You can also review our Marketing Cloud and Pardot (Account Engagement) quickstart packages if you want to get started with Salesforce as soon as possible.