The automation of routine tasks or processes always brings notable advantages: cost reduction, better use of time and increased productivity. Marketing automation brings these advantages to digital marketing through the use of software tools.
There are many tools specially designed to optimize digital marketing strategies, and when they are correctly implemented, a direct impact on increasing the number of leads or potential customers can be observed.
Companies with a business-to-business (B2B) model are characterized by a reduced and demanding market and include purchases that are made rationally for a high value after long decision-making processes. They are also characterized by having very loyal customers, as each purchase they make usually has a high impact on their business.
This post offers 7 reasons why B2B companies should seriously consider implementing marketing automation.
1- No lead escapes you.
Marketing automation tools provide solutions for every moment from the acquisition to the conversion of potential customers. Pardot , the B2B marketing automation solution from Salesforce, is among the most used marketing automation tools and it easily allows the creation of landing pages where you can capture your prospects' information after they follow some content posted by your company. It also allows you to record all the movements made within these pages, thus capturing detailed and useful information to guarantee an efficient lead segmentation.
Let us suppose that there is a potential client who has been browsing through the pages of your website for two consecutive days and another potential client who you have consulted with prior about your solutions in two occasions or more. However, neither of these potential clients have registered nor subscribed.
With the automation tool, rules could be created that classify this type of user in a specific group within the database. Once segmented, it is easier to target them with specific campaigns. For example, a rule could be designed so that the next time they enter the site they will be shown a pop-up window requesting their registration or subscription.
2- You can guide potential clients towards conversion.
Depending on the pages that a user visits within the website and the type of information exchanged with the company, it can be determined automatically with the corresponding tool if the potential client is in a stage of exploration and learning, problem recognition, solution consideration or purchase decision. In each of these stages, leads can be sent personalized information carefully designed to meet their expectations at all times.
As the strategy takes effect, in an ideal scenario, the potential customer can advance through the funnel automatically and obtain greater qualification for the sale. Lead nurturing techniques play a fundamental role throughout this process.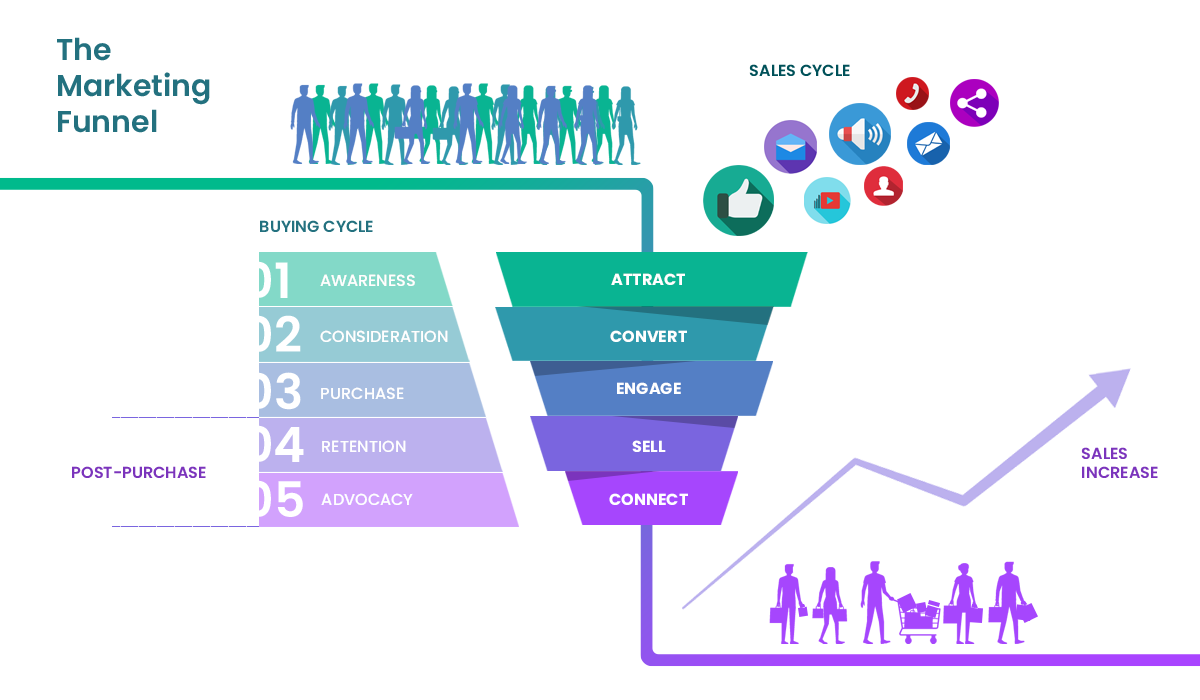 3- A much more attractive email marketing.
Marketing automation tools generally provide many convenient features when designing email marketing. The design of templates and the management of contact lists that have been generated from lead scoring are a few examples of these features .
Pardot, for example, has a very easy-to-use editor that allows you to design your own templates in record time or upload templates that you may already have , not to mention that of course, it has its own repository of pre-designed templates.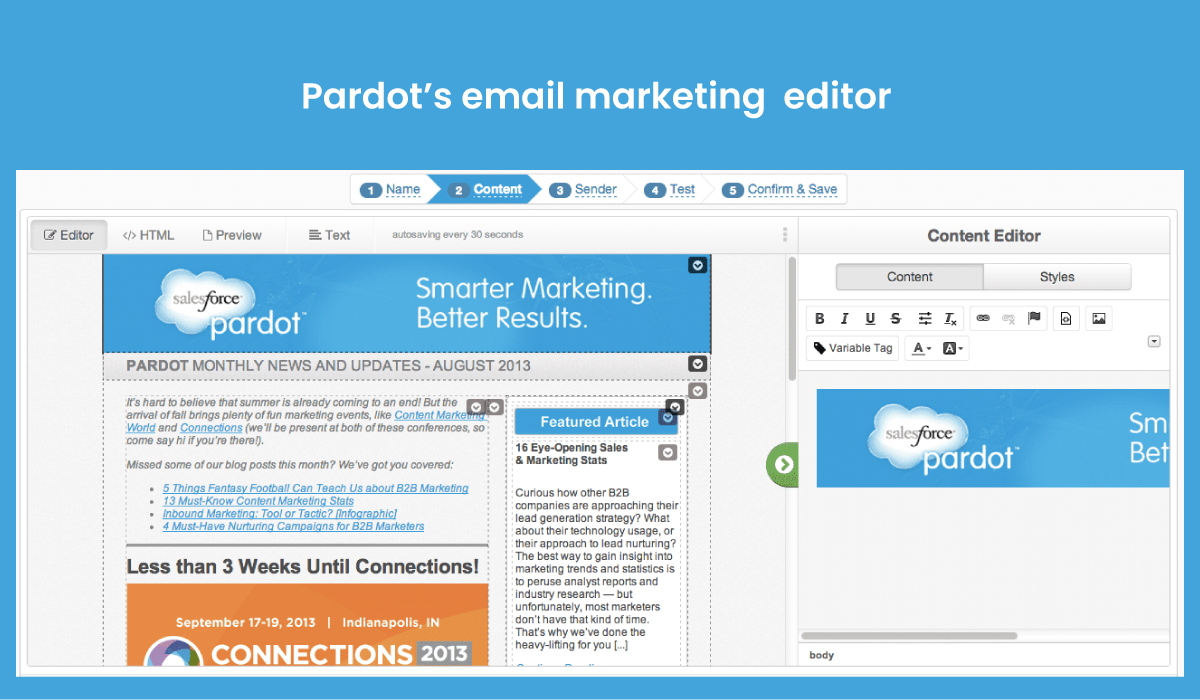 4- Instant reaction to important events.
Automatic actions that aim to retain the attention and interest of users and trigger reactions to specific behaviors that may represent business opportunities is of great importance.
Triggers are configuration items within automation software. They can be programmed to run before certain events and under certain rules. Which can allow the execution of one action or another depending, for example, on user segmentation.
Thus, emails with discount offers could be sent to potential customers who completed the free trial period and, after a week, have not shown interest in obtaining the paid version. Or the appearance of a Pop-up requesting the subscription of a user who spent more than 20 minutes browsing the website and then moves their mouse near the close button.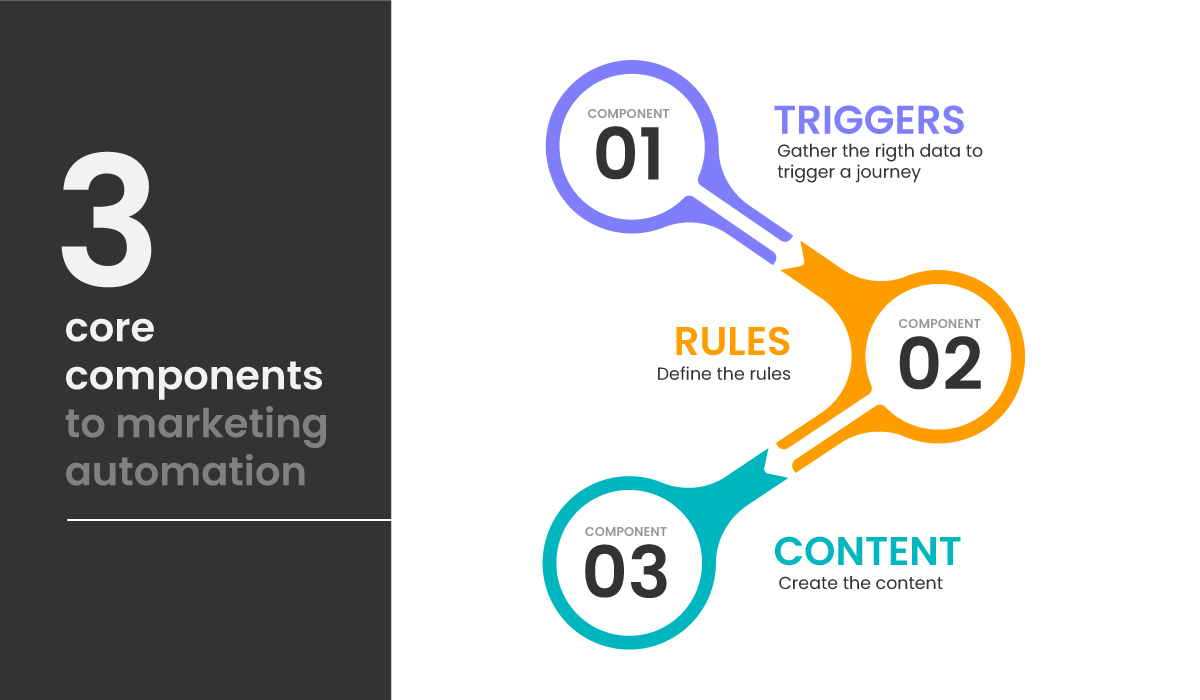 5- Continuous improvement with efficient use of workflows or conversion funnels.
Marketing automation tools allow you to create as many workflows or conversion funnels as necessary, which can be activated or deactivated according to the strategy that is being followed at all times.
Each flow responds to a combination of user targeting lists , triggers, rules, and actions that are executed together automatically. Conversion flows or funnels are made up of stages, which are defined by milestones that potential customers must meet to move through it.
For example, placing an order can be a milestone to be achieved at a certain stage and by fulfilling it, the user advances within the funnel. On the other hand, a stagnation could also occur, where a user who contacted the company by direct chat showed interest in a product (which made him advance), however in more than three weeks he has not interacted again. In this case, it would be prudent to review the flow and investigate what action may have caused their demotivation.
6- Detailed information of sales performance and marketing.
Having a clear idea of the metrics is essential to measure the effectiveness of any marketing action and make decisions in the company.
Marketing automation tools give marketers the ability to track metrics such as revenue contributed, leads generated, and ROI with 100% certainty.
Digging into and specializing in using these tools can help you see which campaigns are contributing to revenue and which are not, and as a result learn how to maximize your marketing efforts.
7- Combined with Artificial Intelligence you can obtain a superpower.
Marketing automation combined with Artificial Intelligence (AI) is the perfect machine for processing data, turning it into decisions and identifying patterns. Decisions and patterns that are crucial when conducting a campaign or promoting a certain product or service.
An AI algorithm is capable of processing large amounts of information in less time than a human. Therefore, the responses of the marketing software usually are more accurate.
An example of the use of the combination of IA + marketing automation can be the incorporation of predictive analytics within the search bar of the company website. As a user enters a term, the search engine shows him multiple suggestions that may even be associated with previously consulted information.
Marketing automation represents the present and the future. Technology advances and it is a necessity for the development of any organization to keep up with these advances. There is no time to lose, every second there is a potential client who is being trapped in the conversion funnel of some company that may not be better than yours but works in a more optimized way. It is not only about having a star product or service, but it is also about having the best strategies and tools that make it shine.
The good news is that Skyplanner has the perfect solution even for those who want to get started in Salesforce in a short amount of time. Our Quickstart Packages aim to quickly introduce companies to the use of the platform and include the Pardot option among others that will allow you to achieve visible results in less time than expected. Feel free to contact us by emailing hello@theskyplanner.com.