In today's fast-paced business world, marketing automation has become an indispensable tool for driving growth and maintaining a competitive advantage. With that in mind, Marketing Cloud Account Engagement, Salesforce's leading marketing automation platform, plays a critical role in enabling companies to optimize their marketing strategies and build strong customer relationships.
Below, we'll explore the features, functionality, and benefits of this powerful tool, highlighting how it drives efficiency, customization, and success in today's business landscape. Let's get to the point!
What is Marketing Cloud Account Engagement?
Marketing Cloud Account Engagement (MCAE), formerly Pardot, is a marketing automation platform from Salesforce, geared primarily for B2B businesses. Its integration with Salesforce CRM facilitates the bridge between marketing and sales activities, providing more efficient management. In this way, it gives marketing teams the ability to create highly personalized customer experiences and meet their individual needs at every stage of the buying journey. In addition, it offers detailed analysis of the campaigns, allowing you to adjust strategies to improve efficiency and ROI.
Marketing Cloud Account Engagement features
MCAE is characterized by:
Orient towards medium and large B2B companies, with relatively small databases, long sales cycles, and deals closed for high values. This is not meant to be exclusive to the B2B sector, as there are various types and scales of B2C businesses using MCAE as well. In fact, Salesforce recognizes that customers don't strictly fall under the B2B or B2C labels, and its approach is not to separate them, but to bring the two together.
MCAE has a separate architecture from Marketing Cloud, based partially on Salesforce's core infrastructure and on its own infrastructure. In fact, it now maintains close proximity to the core Salesforce platform, enabling dynamic unification of development teams, marketing teams, and other groups that interact with stakeholders.
Implement Account-Based Marketing (ABM). This is a growth strategy that focuses on specific accounts with high business value, considered ideal accounts. Marketing efforts are directed at identifying these ideal accounts and attracting them to the business, through continuous and personalized communication in order to convert them into customers. In fact, according to LXA, ABM offers a 50% reduction in sales time lost to unproductive prospecting.
It has a flat learning curve so it can be easily managed by certified MCAE specialists, using just clicks, not code. However, a solid vision and understanding of the market, as well as a high dose of insight, are essential to fully seize its potential.
The supported communication channels are email and social networks though SMS can be included through additional configurations.
It includes a flexible price range that is very attractive for companies with a smaller budget.
How does Marketing Cloud Account Engagement work?
MCAE works as a marketing automation platform that allows you to personalize customer experiences. It uses structured data in Salesforce to create personalized journeys across multiple channels. It generates relevant content and messaging at scale, including emails with dynamic content, mobile messaging integration, social campaigns, and targeted digital ads. In addition, it recommends suitable products for each user on the website. Marketing automation reaches customers at all stages of the lifecycle, from acquisition to promotion, delivering timely and relevant content to convert prospects into customers.
The integration between MCAE and Salesforce is achieved through a bidirectional connector that synchronizes the input information (fields, prospects, and Salesforce users) once activated. If you want to know more about this integration, we recommend you read this article.
Functionalities
The main functionalities of MCAE are:
Lead Generation: Enables the capture and tracking of high-value leads through customizable forms, landing page, and website activity tracking.
Marketing automation: Facilitates a simple and functional management of prospects, thanks to the automated configuration of the scoring, grading, tracking, and nurturing processes.
Email marketing: Provides tools to create and send personalized and automated emails, making it easy to target audience and manage email campaigns.
Tracking and Analytics: Provides detailed metrics and analysis on campaign performance, allowing marketers to gauge success and make adjustments to improve results.
Personalization and segmentation: Allow the personalization of messages and content according to the characteristics and behaviors of potential customers, which increases the relevance and effectiveness of communications.
Reports and Analytics: Offers a wide range of reports and analytics that help you measure the ROI of your marketing campaigns, identify trends, and make data-driven decisions.
Benefits of Marketing Cloud Account Engagement
At this point, we can sense that MCAE has important benefits. Some of these benefits include:
Time savings: The automation of your marketing campaigns saves a significant amount of time for the team. Time that they can spend on more important tasks.
High-Value Leads and ROI Improvements: The account-based approach, coupled with robust lead scoring and ranking techniques, allows you to acquire high-value customers. According to LXA, relative to other marketing activities, ABM delivers a 97% higher ROI.
Lasting business relationships: The hyper-personalization of messages, as well as specialized tools for monitoring and managing your prospects, lay the foundations for building solid relationships with customers.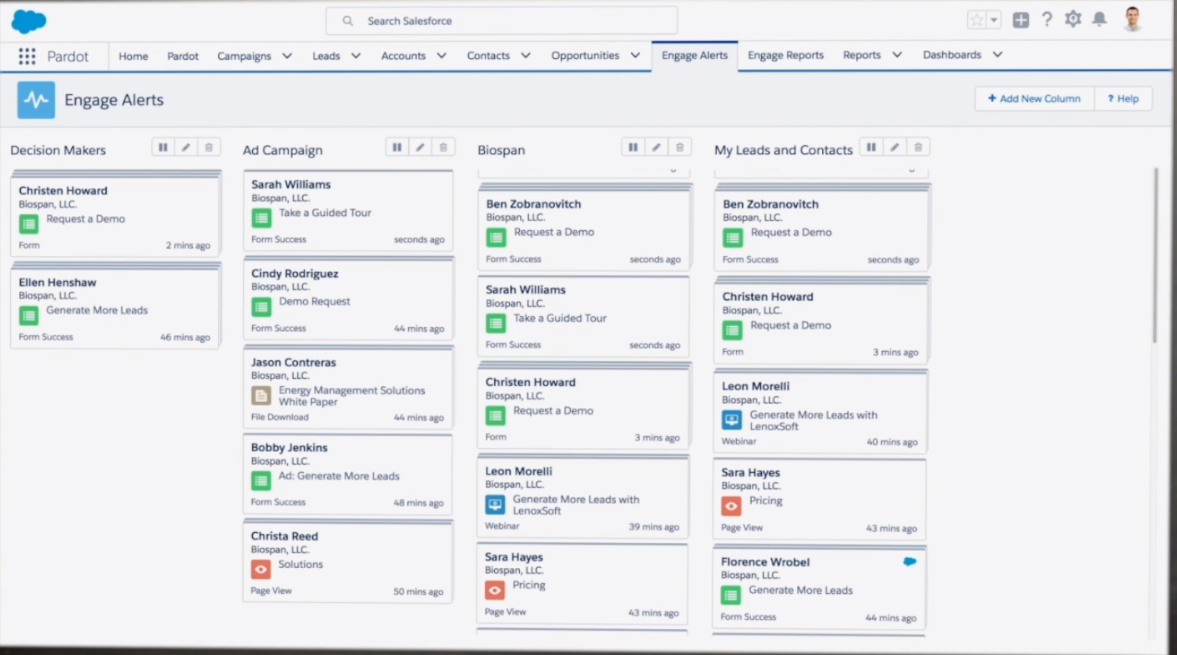 Collaborative environment: MCAE promotes a common space between sales and marketing, facilitating close collaboration between both areas.
Campaign Tracking and Analysis: Offers detailed analysis and tracking of your marketing campaigns, providing you with valuable information to make informed decisions and optimize your strategies.
Complete Customer View: Integrates seamlessly with the entire Salesforce ecosystem, allowing you to have a complete view of your customers and prospects in one place.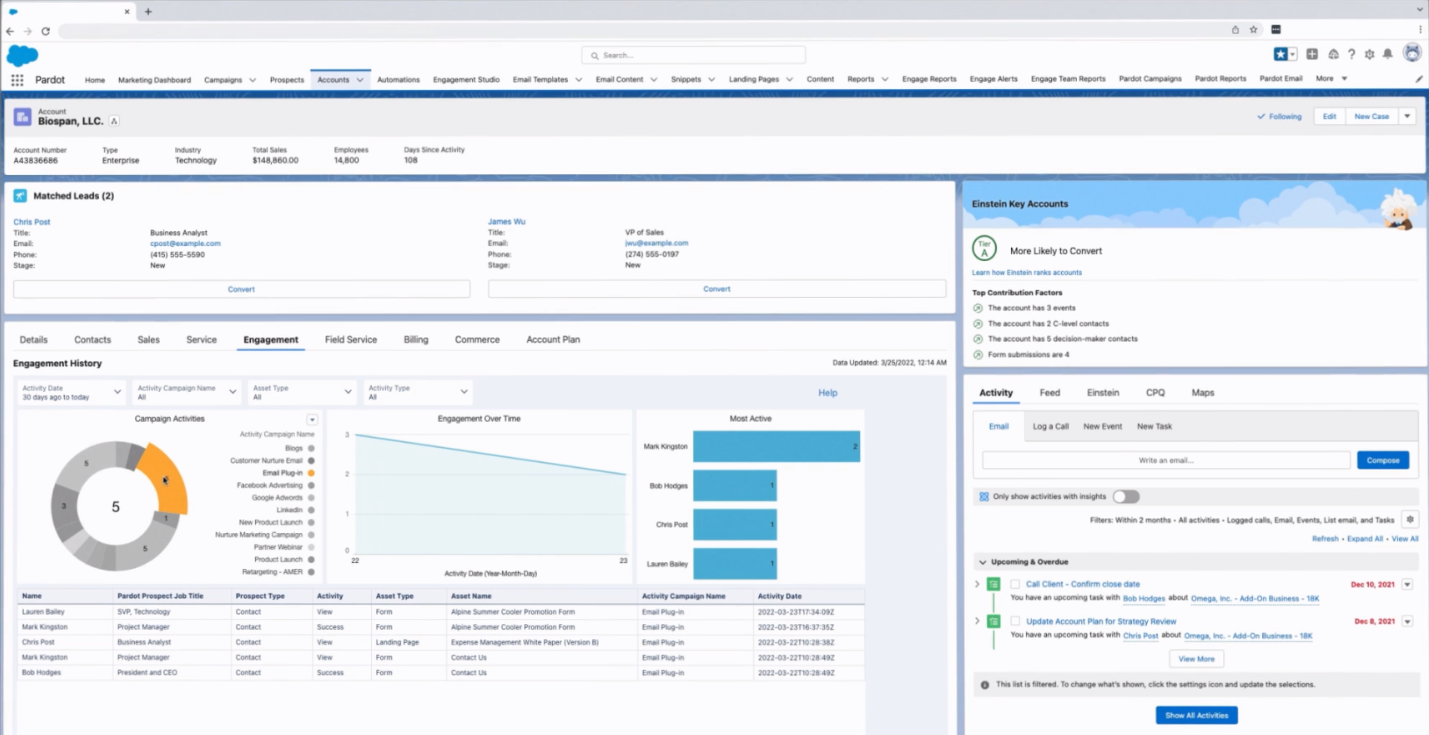 Sales Funnel Optimization: Helps identify the stages of the sales funnel and optimize them to increase efficiency and convert your leads into customers.
ROI Reports: Provides detailed ROI reports so you can measure the impact and profitability of your marketing campaigns.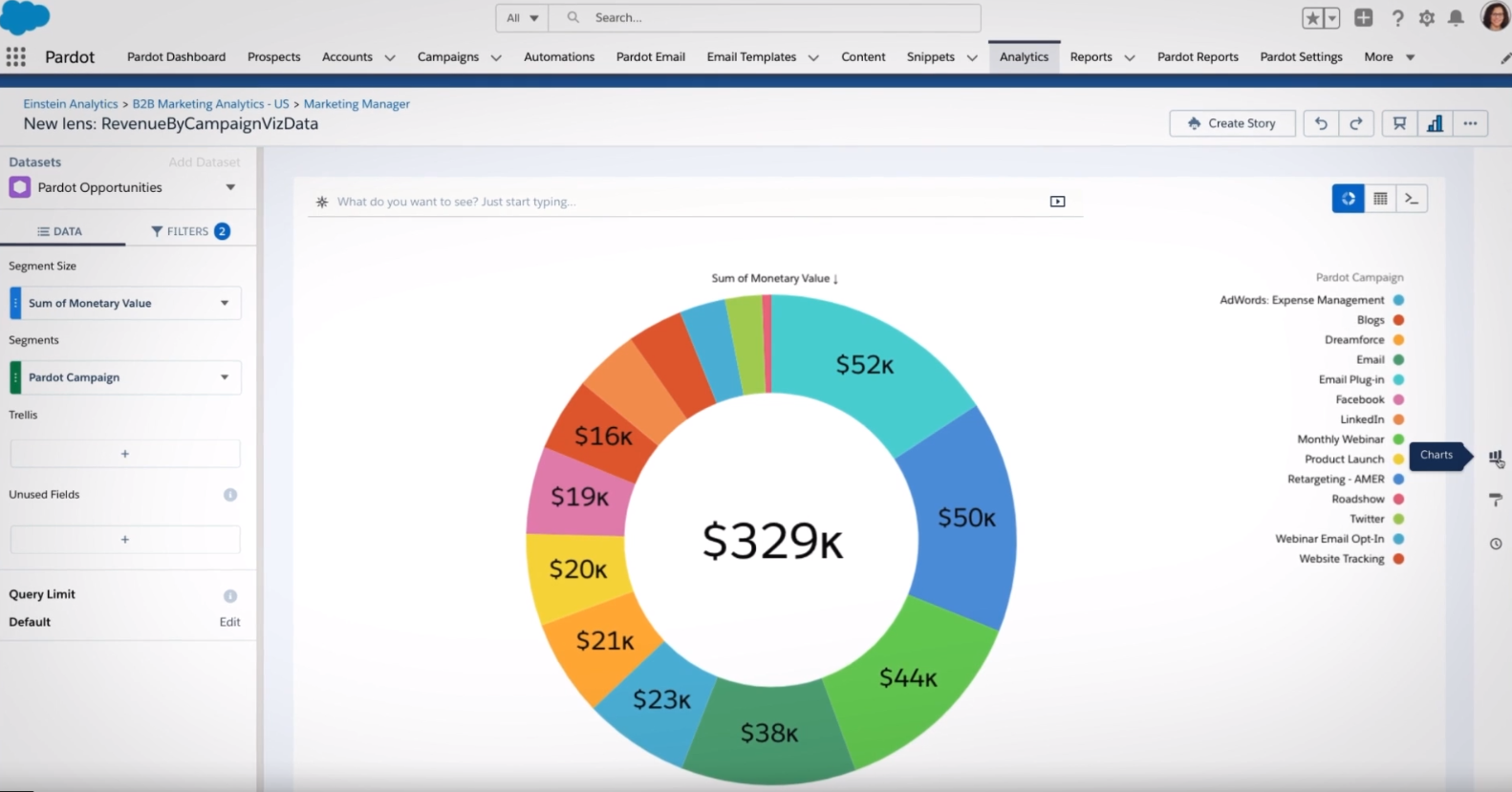 Editions
As we mentioned before, MCAE presents flexible pricing modalities, maintaining a good cost/benefit ratio. Depending on the needs and budgetary capacity of your organization, you can purchase the following editions: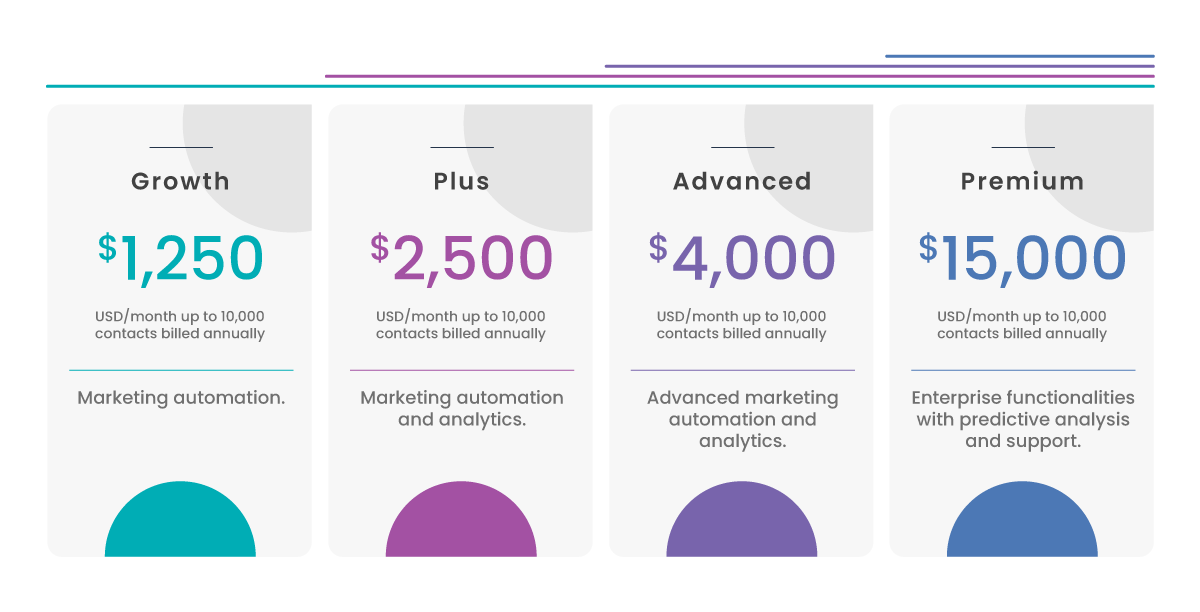 In conclusion, MCAE is a powerful marketing automation tool that offers a wide range of benefits for organizations. The combination of its numerous features and benefits make it an essential solution to improve efficiency and increase conversions for your business.
Do you find MCAE fascinating? Well, so do we! If you're interested in taking a deeper look, the SkyPlanner team, with its strong certified experience, offers expert and personalized advice to ensure the success of your automated marketing strategies. Feel free to write to us at hello@theskyplanner.com.