The most anticipated Salesforce conference returns and does it in style. Dreamforce 2022 has a date and it's soon. At SkyPlanner we tell you all the details.
What is Dreamforce?
Dreamforce is Salesforce's flagship conference, held annually in the city of San Francisco. Every year it moves around 200 thousand attendees from all over the world! It features tons of workshops, networking opportunities, luminary speakers from the business world, and parties. Yes, unforgettable parties, including the Dreamfest, a time to release tension to the rhythm of a legendary band.
Save the date: September 20, 21 and 22, 2022. Only three days where administrators, developers, architects, newbies and pioneers will share alike. Dreamforce includes everyone within the Salesforce ecosystem.
Why come to Dreamforce 2022?
Well, there are many reasons not to miss this moment, we mention a few.
One of the largest technological events in the world.
Industry leading experience to learn how the future works.
Multiple hands-on learning opportunities, countless networking opportunities, and loads of business insights. There will be over 1,400 sessions and breakouts!
Opportunities to exchange with other Trailblazers, visionary leaders, speakers, and Salesforce experts. More than 30 thousand attendees in 25 thousand square feet!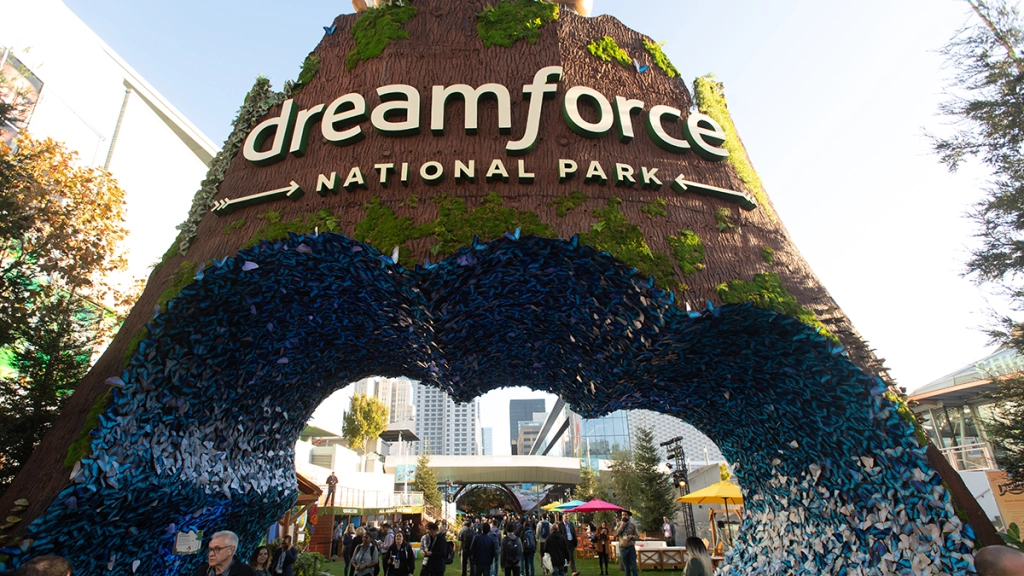 How to participate in Dreamforce 2022?
As in other previous Salesforce events, Dreamforce 2022 will have a hybrid format: virtual and face-to-face. The virtual experience brought to light an important online audience since Covid-19 , and Salesforce will not abandon it. The conference will be available on demand in Salesforce+.
But if you don't want to miss out on the vivid excitement for anything in the world, stay tuned. Coming very shortly, in July, the event's early registration process will begin with ticket sales starting at $1,299. Early booking can save you up to $700.
What to expect from this edition of Dreamforce?
Well, with only three days, it is to be assumed that the agenda will be quite full, although we will still have to wait to see it when it's fully published. However, you will surely find transcendental moments in these days. Visionary discussions led by pioneers from any industry and thoughtful leaders; interactive sessions, latest product innovations from the voice of their creators; practical workshops, and live demonstrations. Not to mention that it will be an invaluable opportunity to network and get contacts from people both inside and outside the sector.
Among what to expect from Dreamforce 2022 is:
Main Keynote: An essential time to hear about everything that's happened at Salesforce in the last year; as well as to know their best announcements.
Dreamfest: Is without a doubt, the salt and pepper of the event. Time to let it out in a baseball stadium with a fancy band or artist. In previous editions, bands such as Metallica, The Foo Fighters and The Killers have presented; so this year a great concert is expected.
Dream Pitch: if you are someone who likes strong emotions, don't miss this startup pitching competition. Here entrepreneurs present their companies to a panel of "all-star" judges, who will decide which one is worthy of an investment from Salesforce Ventures.
True to the Core: Unique time to ask senior Salesforce executives those burning questions you have.
High-profile interviews: One of the magical opportunities offered by Salesforce. Dreamforce 2022 will be the place to see several world-renowned speakers. In past events, Barack and Michelle Obama, Will Smith, Jane Fonda, Stephen Curry, David Beckham, among others, have been presented.
Partner Parties: Apart from the official events and the super Dreamfest, in previous editions there have been many parties organized by Salesforce partners.
This is all that is known so far about Dreamforce 2022. Keep an eye on their website for when registration opens, get your ticket and don't miss out on this unforgettable opportunity.