Erica Chan, the head of marketing at Alibaba for North America, stated in October 2020 that "The pandemic has really accelerated the digitization of the U.S. B2B SMB." This same company, after analyzing the results obtained from a survey of 2,401 B2B SMEs, concluded that being online is no longer an interesting option for these companies, but rather a necessity.
The growing digitization, the automation of routine activities of daily life, and the growing role of the Internet, where society spends most of its time and 85% of consumers make their purchases, have led to an increasing amount of information that is generated around buyers and sellers.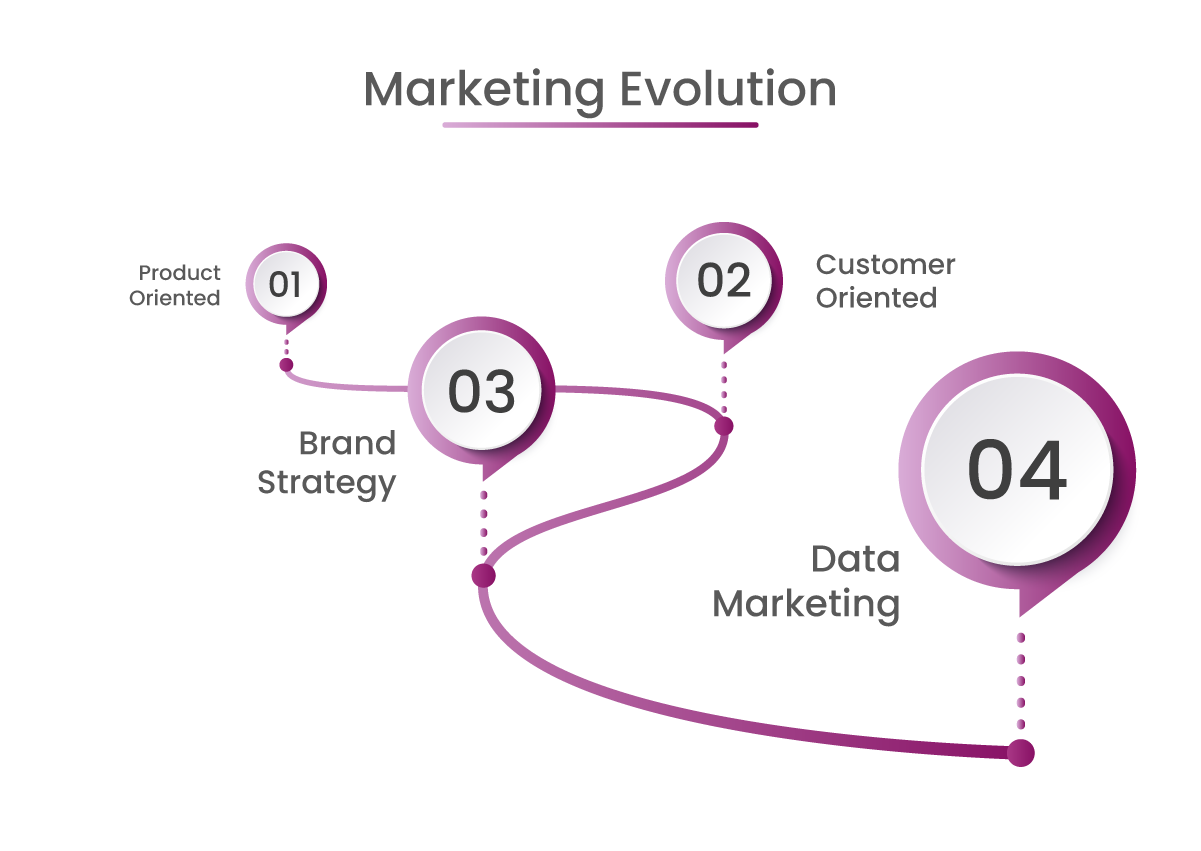 What does this mean? Marketing professionals and sales reps in B2B companies have had to change the way they do things. Likewise, traditional marketing has had to evolve as part of its adaptation to the social, economic, and technological changes that mark the interests and habits of the new society.
If previously the market trend was to create false consumer needs, or also known as "spray and pray" (reaching an audience with a non-personalized treatment), it is now the data generated by the "fingerprint" of Internet users that dictate to companies what products and services to develop and even determine the best way to market them. This is due to the data-driven marketing strategy.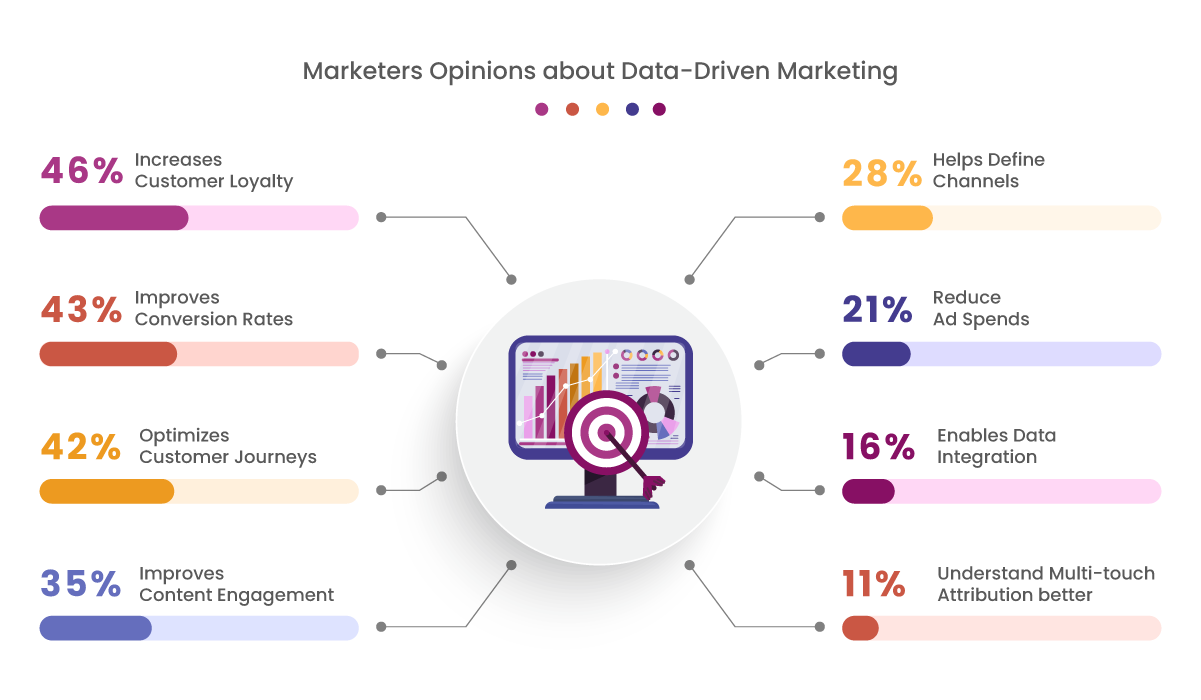 For B2B companies, which are characterized by their highly professional audience and complex buying cycles, the time spent on capturing leads is key. This is why the implementation of marketing techniques based on data processing is so attractive, as they are very effective and objective. Therefore, campaigns are no longer designed primarily on account intuition or personal experiences.

How Can Salesforce Help Your Marketing Team?
The use of Salesforce has become a competitive advantage in the modern business world. It provides highly customized solutions primarily to marketing and sales teams.
Promoting a data-based culture in your company is ensuring its future. To achieve this, follow these 10 recommendations as a guide in its implementation:
Think of data-driven marketing as a business strategy or new marketing approach. Data-driven marketing is not a project you should jump into with short-term thinking. You should see it as the path to success in automating your B2B business.
Define a data strategy appropriate to your business. It is essential that your company, based on the objectives that have been set, establish a guide with all the procedures to handle the data. To do this, it must be clear: how to standardize data generated from multiple sources, what the business rules are, how to access and protect the data, and the tools that may be needed. In addition, this strategic plan must include the technical details of the environment where the data is located.
Don't skimp on training your employees, hiring qualified staff, or technology. Developing a new business culture that is more focused on data requires great effort and the participation of all company departments. Everyone must understand the importance of data analysis in order to make more rational decisions.
Create your own data-savvy marketing team. When implementing the data-driven marketing strategy, you will have to deal with a large amount of information, sometimes in the form of "big data" in the most challenging of cases. You should make this information actionable and useful to your goals. For this, you will need teams of specialists who know the operations of all the departments of the company, databases, and especially the marketing automation.
Be clear about your goals before worrying about the data source. You must determine what you intend to achieve with your goals and what you need them for. For example: to decide what new products to incorporate into your production line, you must both identify how to increase efficiency, and decide where to open a new warehouse or how to generate more leads. This is the first step in developing a data-driven marketing strategy. Then you will have to analyze where you can obtain that data and define the tools and technologies that you will need to achieve these goals.
Adopt a centralized database with customer data as the main source of information, but not the only one. The role of a CRM (Customer Relationship Management) is to help you organize and manage customer relationships from a single place. Your CRM should be a main source of competitive intelligence, but not the only source. B2B sales and marketing leaders are improving the quality of their CRM data and supplementing it with data obtained directly from their buyers.
Convince your sales reps about the benefits of collecting customer and sales data. If necessary, perform internal marketing. Having well-nourished and error-free databases, places you in a better position compared to the competition. In order to obtain quality information, your salespeople must be aware of the importance of correctly collecting and entering all possible data resulting from each interaction with the customer into the systems they use.
Gather data only from trusted sources. Make sure that the information in your sources has been generated by certified and frequently audited software tools. You must also be certain that it has been handled by responsible and qualified personnel.
Collect data that allows you to address your audience with a highly personalized treatment. Experience the benefits of customer segmentation. Look for patterns within the firmographic data (key information that characterizes a company such as its size, credit history, growth rate, etc.) and the digital body language of your audience. Get the most out of your data and reach your potential customers through the right channel with the greatest probability of effectiveness by offering them only what interests them.
Avoid the formation of data silos. It is very common for companies, with their desire to collect as much data as possible and as a result of process automation, to have their data trapped on multiple platforms, with different formats, and used exclusively for certain work teams or departments. For security reasons, there are also cases where data can remain inaccessible, outside the network, or on isolated storage devices. In these cases, its usefulness should be seriously questioned. One way to avoid this from occurring is by defining a data strategy, as we had mentioned earlier.
At first glance, the idea of facing a large volume of data and being able to translate it into decisions that increase your sales and ROI can be overwhelming. That is why we are ready here at hello@theskyplanner.com, to support you in whatever you need and, together, find the best way to achieve your goals.