Although CRMs have traditionally been linked to sales teams; Salesforce has gone further to provide great solutions for the Marketing department. Its Marketing Cloud platform is capable of supporting many fundamental marketing processes that, in the medium term, positively impact sales. Plus, it seamlessly integrates with both B2B and B2C businesses. Let's see how Salesforce can help marketing in your company.
9 Ways Salesforce Can Help Marketing
1- Data-driven and customer-centric approach: Salesforce has Einstein, an incredible tool that puts artificial intelligence (AI) at the service of your company. Now data-driven and customer centric, this allows marketing to be taken to the next level. Your marketing department will be smarter every day! In addition, data management in Marketing Cloud is done through a SQL compatible relational database.
2- Marketing automation: By automating repetitive tasks, you will have more time to focus on strategic campaigns and projects.
3- Deep customer insight: Salesforce enables the collection and management of first, second, and third-party data, both from known and unknown people, across different sources and devices. In addition, it allows you to clean and unify data in order to provide a 360 view of each client. Through Salesforce CDP you will reach a higher level where the data is more connected and its processing is more intelligent.
4- Personalization of customer relationships: With the help of AI in the Einstein tool, you can strategically organize interactions with consumers. The unified view of each customer will make it easier for you to understand their tastes, habits, purchasing trends and track previous interactions. This will allow you to establish fully personalized communication at each point of customer-company contact, whether marketing, sales, services or support. Reaching the customer at the right time, channel, and message has a very favorable effect on their loyalty.
5- Personalization of marketing campaigns: Along the same lines, Salesforce allows you to get the most out of your marketing campaigns, since you have more precise data and more specific segmentations. This way you can create hyper-personalized campaigns that provide better results.
6- Fully connected customer experiences: In the customer's journey through the company, it is necessary to avoid fragmentation and give an organic and consistent message. Thankfully, Salesforce can help with just that! Through Experience Cloud, you can build online communities and establish personalized meeting points with your clients according to your brand and corporate style. In addition, it allows you to holistically manage these different meeting points (email, mobile applications and messaging, social networks, advertising, websites, IoT, communities, sales representatives, and service partners), turning multichannel communication into omnichannel. According to Salesforce, high-performing marketers who use their platform are 8.1 times more likely to excel at creating omnichannel and personalized customer experiences.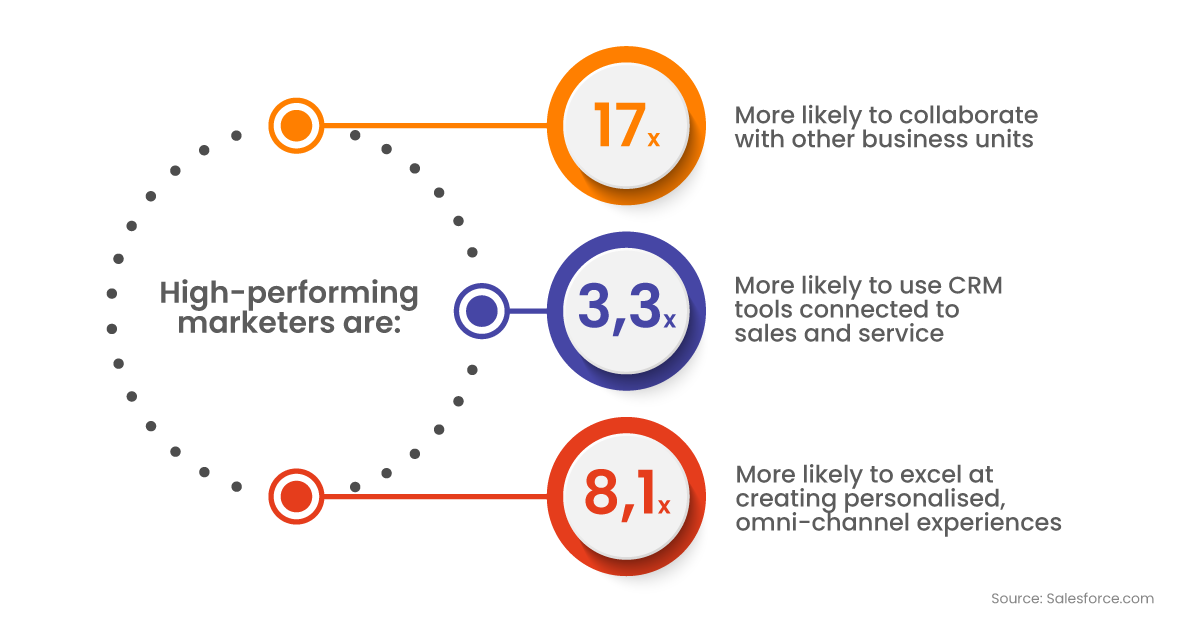 7- Impact analysis: With Salesforce, through its integration with Google Analytics 360 and the use of AI, you can measure each stage of the customer journey through the different channels and devices. This allows you to evaluate which messages, channels, and schedules, among other criteria, have been more successful. This makes it possible to reorient marketing strategies to more effective ones in a timely manner. In addition, the analysis of these results allows us to optimize each experience throughout the customer's life cycle. It also allows you to measure the success of campaigns through indicators such as: prospects generated monthly, quality of prospects, opportunities generated, income, etc.
8- Lead Scoring: Each prospect has different types and levels of potentialities. Therefore, a reliable tool is necessary to help discern between potential customers and unproductive prospects. For this, Einstein Lead Scoring is one of the best choices on the market. It allows you to create forecasts of possible users, determine conversion rates and classify in segments. An accurate customer score allows you to prioritize efforts on those with the greatest potential and speed up their conversion.
9- Improvement of the rate of return on investment (ROI): Salesforce promotes comprehensive marketing management, which, being data-based and customer-centric, avoids spontaneity and improvisation. This makes your messages, campaigns, strategies, and processes in general much more accurate and maximizes the rate of return. A survey conducted by Bluewolf shows that 77% of marketers using Salesforce report improved ROI as a result of integrating Marketing Cloud with their customer support systems.
Salesforce tools for marketing
As you can see, Marketing Cloud is a very powerful solution. Much of its power lies in the integration with the Salesforce ecosystem, since it can be combined with many of its tools. These are classified into construction companies and studios.
Builders
Builder tools are used for managing data, content, and customer journeys on the platform.
Einstein Service Cloud: Powerful tool that combines AI, CRM data, and assisted processes with analytical techniques, enabling deeper data processing.
Marketing Cloud Intelligence (formerly Datorama): Dashboard center where the return on investment and company growth is managed and controlled.
Google Analytics 360: Marketing Cloud allows integration with this Google solution that provides the tools and assistance required by companies to better know and understand their customers.
Marketing Cloud Engagement (formerly Journey Builder): Ideal for creating personalized customer journeys across multiple channels, including all moments of the customer lifecycle.
Marketing Cloud Account Engagement (formerly Pardot): Promotes marketing automation to give the sales team greater agility in closing deals and creating meaningful connections.
Studios
Studios are used to manage and participate in communication channels.
Email Studio: Oriented to the creation of personalized email marketing campaigns.
Social Studio: Aimed at carrying out personalized campaigns on social networks.
Mobile Studio: Allows the creation of mobile applications that integrate interactions through SMS, push notifications, and group messaging.
Audience Studio: "Social listening" tool that allows capturing and unifying data from any source.
Marketing Cloud Advertising (formerly Advertising Studio): Solution for managing digital advertising acquisition, retargeting, and alignment campaigns.
Marketing Cloud Personalization (formerly Interaction Studio): A tool to visualize the customer experience in real time and connect with them through any interaction.
Data Studio: Tool to discover the audience as well as acquire and manage data.
Web Studio: Solution for creating websites. It allows you to create integrated landing pages, consistent with the brand, among other features.
Without a doubt, the use of Salesforce has become a competitive advantage in the modern business world. It provides highly customized solutions primarily to marketing and sales teams. In addition, it interacts with support, development, and even with the executives themselves. If you're interested in learning how Salesforce can help your marketing team specifically, we at SkyPlanner can help. Feel free to write to us at hello@theskyplanner.com.