In previous articles we discussed Predictive Lead Scoring and its importance for contemporary marketing. In addition, we saw how the Salesforce CRM, with its cutting-edge approach, has its own AI-powered lead qualification tool. In this article we will delve into this tool, as well as its advantages, characteristics, specific requirements and how it can be useful for your company.
Salesforce Einstein Lead Scoring
Each lead has different types and levels of potential, so it was hard to create a reliable method to efficiently weed out unproductive leads. In fact, today, researchers say that marketing teams send around 60% of prospects directly to sales teams, without any pre-qualification strategy and that around 70% of them are ignored by the sales team. This causes, in addition to contradictions between the marketing and sales teams, a disparity in the qualification of prospects, a decrease in income, and possible effects on the organizational climate.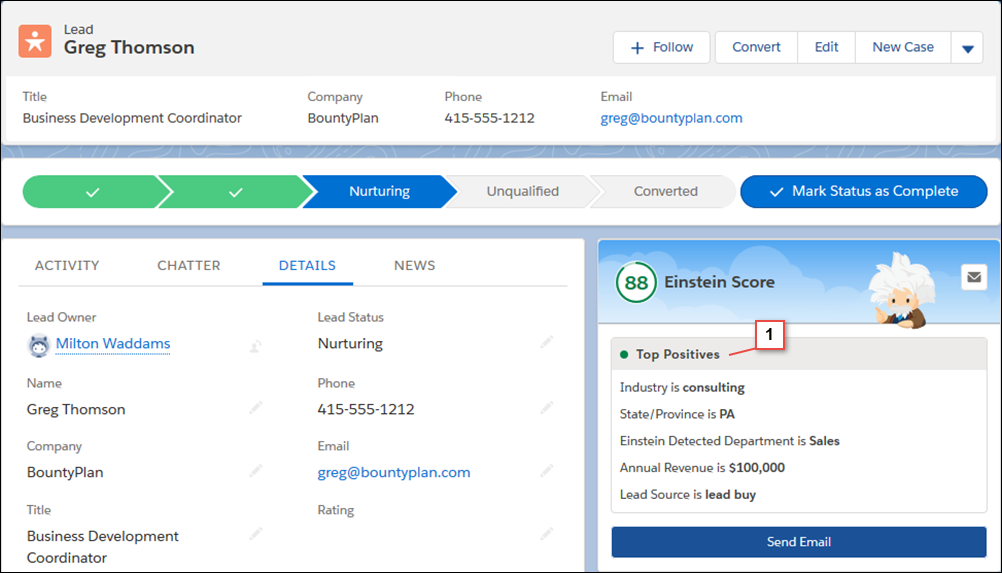 Salesforce Einstein Lead Scoring is an excellent solution to avoid these harmful effects, as well as harmonize the relationship between marketing and sales teams. This tool helps create a predictive lead scoring model tailored to the characteristics of your company. It's easier, faster, and more accurate than other rule-based lead qualification approaches. Einstein uses data science and machine learning to identify your company's lead conversion patterns. Based on their patterns, Einstein predicts which of your current leads should receive priority treatment.
This way, sales reps can differentiate real leads from unproductive prospects. This empowers reps with vital information and helps them quickly prepare for each conversation with them. It's almost like each rep has their own data scientist and, therefore, efforts can be classified and concentrated on those opportunities with similar sales probabilities to a customer already won.

What is Salesforce Einstein and why should you use it in your business?
Salesforce Einstein is an integrated set of technologies that brings the power of artificial intelligence to all Salesforce cloud products. Why should you use it in your business? What characteristics make it a very useful tool?
How does Einstein lead scoring work?
Without a doubt, artificial intelligence, specifically machine learning, is the magic behind Einstein. Successfully converted leads in the past are first analyzed to identify conversion patterns. Then, the current prospects that feature similar fields and activity data to those analyzed, are identified. This may include unification of nomenclatures. Based on this analysis, Einstein creates one or more scoring models specific to each customer and organization, ensuring the models are tailored to your business.
During the setup process, you can choose to qualify all leads together, or instead group leads into related segments. This allows more accurate scores to be calculated based on the characteristics of each segment. In addition, in each segmentation you can choose to omit certain fields from the lead. This is very important to improve the accuracy and precision of the model by not including redundant fields that could introduce bias in the modeling. In this instance, Einstein creates a separate qualification model for each lead segment, ignoring any omitted fields.
In contrast, when segmentation is not applied and all prospects are qualified simultaneously, there is not enough data to build a predictive model of your own. So, Einstein instead uses a global model. This model uses anonymous data from many different Salesforce customers. Once the required amount of lead data is accumulated, several scoring models are created and the one that gives the best results is used. To do this, it tries different predictive models such as Logistic Regression, Random Forests and Naive Bayes, with Einstein automatically selecting the one that best suits the characteristics and needs of your business.
Einstein's scoring models are updated every 10 days or whenever lead scoring settings are updated. In turn, the lead ratings are updated every few hours using the optimal model. This means that if new patterns emerge, Einstein will detect them and qualify the leads based on these new parameters.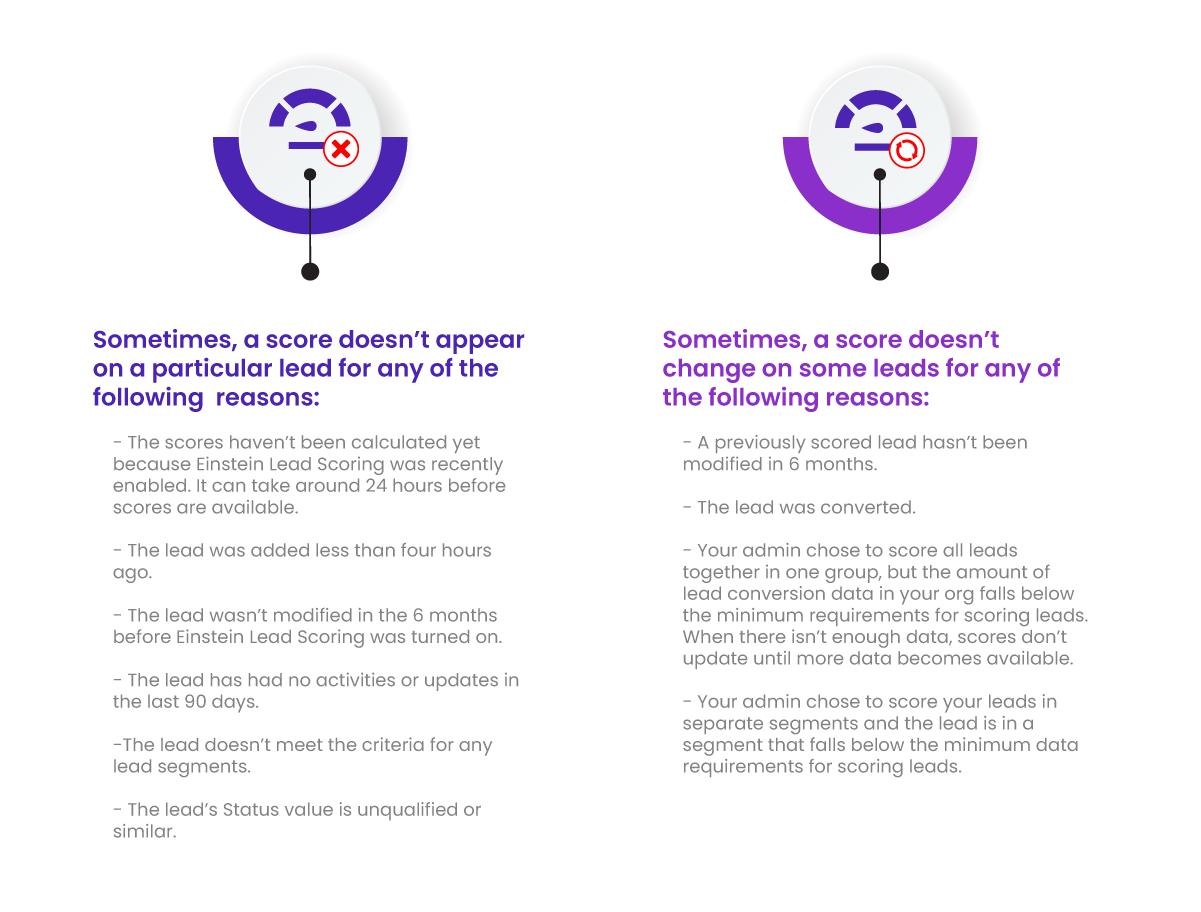 Einstein Lead Scoring Setup
One of the main advantages of this tool is that an internal data science team in the company is not necessary, at least for this purpose. Einstein does the heavy lifting of finding the best model to drive conversion. Setting up Einstein lead scoring is relatively easy; however, if you are not clear on the matter, it is recommended that you leave the job in the hands of a Salesforce administrator. You can find all the steps to enable Einstein Lead Scoring here.
Other benefits of Einstein lead scoring include:
Increased connection and conversion rates
Readiness to focus on the best prospects
Better Understanding Lead Qualification Factors
User Friendly interface
Einstein Lead Scoring is available in Lightning Experience and Salesforce Classic and is included in Sales Cloud Einstein licenses (for an additional cost) as well as Pardot Advanced for the Enterprise and Unlimited editions.
When it comes to taking advantage of predictive lead scoring to make a qualitative leap in your company, Salesforce offers one of the best tools on the market. Einstein Lead Scoring incorporates artificial intelligence into your company's daily workflow, forecasting, and decision-making. It makes it easy to identify the best leads and quickly assign tasks based on predictive scoring. All this without implementation, nor import and/or export to other tools.
If you're interested in getting Einstein Lead Scoring up and running for your business, the SkyPlanner team can help. Write to us at hello@theskyplanner.com.