Traditionally, companies did not have as many channels of direct communication with their customers and those that did exist were attended by different departments in the companies. This caused marketing data and strategies to be kept contained in separate channels. It was recurrent that the same person would be included in different marketing actions, resulting in a fragmented and inconsistent customer experience.
With the rise of ICTs, there was an explosion of new channels, devices and meeting points between companies and customers. This generated an unimaginable volume of data. There was data of all kinds circulating: from how a customer prefers his coffee, where he lives, how he pays, among others. Big Data raised a new question among marketers: how can we take advantage of this volume of vital information regarding a customer? A paradigm shift was brewing in marketing, now more focused on knowing consumers in depth from their information traces.
Data collection and management technologies had been implemented since the 1990s. However, with this new context its evolution accelerated given the demands of companies. A solution capable of collecting data from multiple sources, organizing and centralizing it in a single profile was required. The data took center place in the new marketing strategies and it was not due to trends. Data and information is translated into knowledge; the more data, more the knowledge. And greater knowledge fosters a harmonious relationship between clients and companies.
In 2013, the term Customer Data Platform (CDP) was used for the first time, as a marketing software whose objective was to create a 360 view of the customer. It was a resounding success! By 2016, the CDP industry had already been consolidated, since now more than software, CDPs consisted of a change in mentality according to the philosophy of the new marketing paradigm. The unified customer profiles made it possible to move from multichannel to omnichannel contact and hyper-personalize the messages for each customer according to their behavior. Thus, a personalized and consistent customer experience was achieved.
In the future, the data will be even more decisive. The World Economic Forum estimates that by 2025, 463 exabytes of data will be created daily globally; almost a hundred times greater than everything spoken by humanity since its existence. Companies that want to survive must learn to be more competitive and immerse themselves in the philosophy of data culture. The CDPs are here to stay and understanding them better means a step forward in their implementation.
What is a CDP?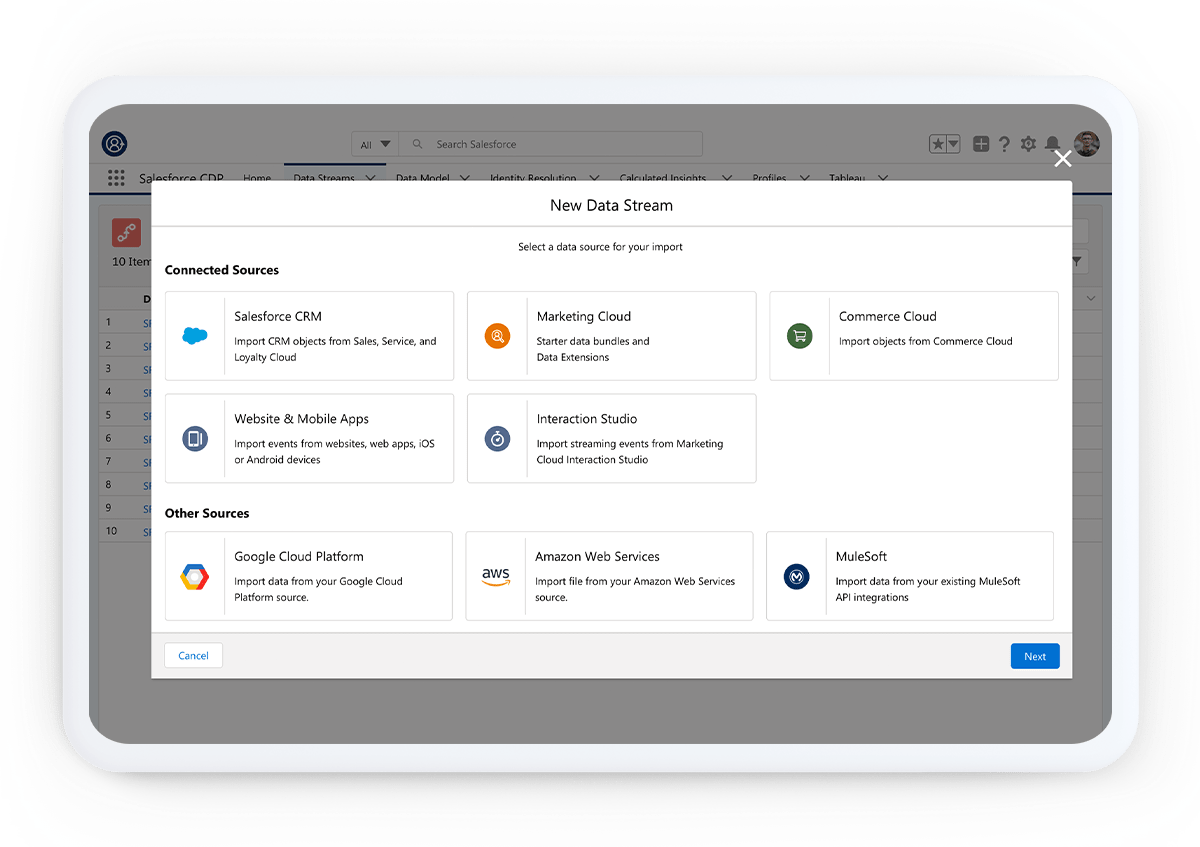 CDP -Customer Data Platform- establish a new marketing paradigm, now based on data and customer-centricity. They are basically a set of packaged software solutions designed to collect and combine customer data from all sources. And finally create complete and unified profiles of each client.
How does a CDP work?
Its operation is relatively simple: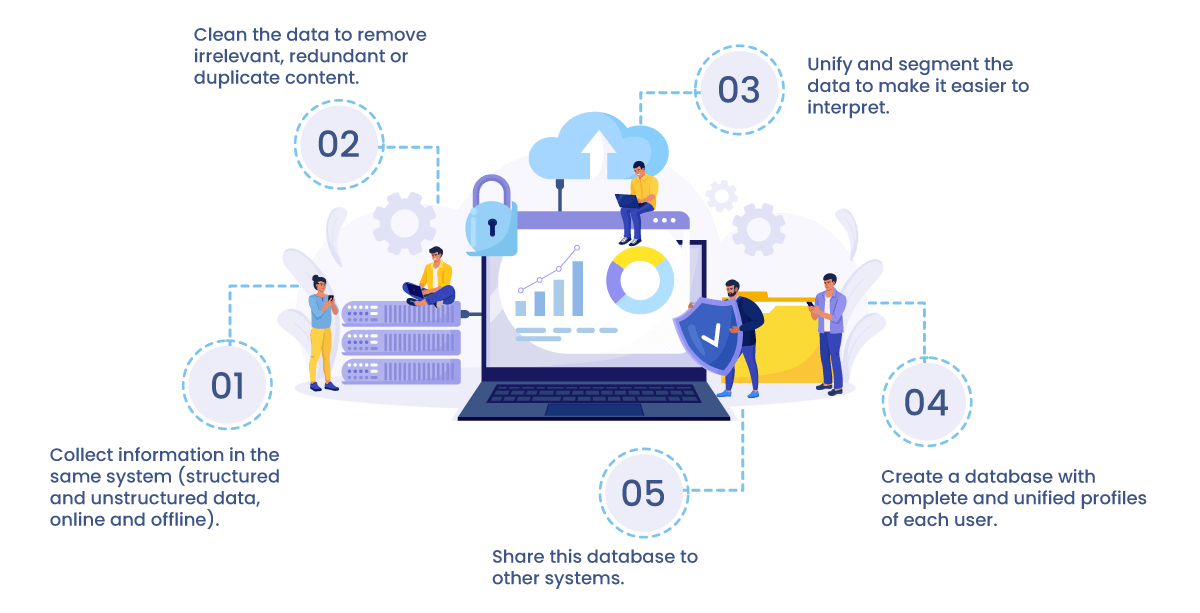 Currently, it is common to use Artificial Intelligence techniques, mainly machine learning, predictive models, statistics, sentiment analysis, frequent itineraries, graphs, among others. All this allows for more effective marketing actions, since they are based on customer behavior trends.
Main Features
CDPs have three essential characteristics:
Packaged software: they are pre-built systems, generally purchased and managed by the commercial areas of a company, usually Marketing. Its packaged nature means that, although technical resources are required to configure and maintain the software, it does not require very advanced technical skills. They are easy to implement and upgrade depending on corporate needs. This speeds up and lowers the cost of the whole process.
Persistent and unified database: allows to collect data from multiple systems, unify the information and store it for chronological monitoring. The system has personal identifiers that can be used to target marketing campaigns and monitor their results at an individual level.
Accessible to other systems: data collected by the software is used by other systems for the analysis and management of customer relationships. CDPs collect information, restructure data, forecast trends, and propose behavioral models. Finally, they share the results in formats that other tools can process. They often include APIs, database queries, files import and export.

CDP vs CRM, which one fits your business needs?
What are they? What differentiates them? Which one is the most suitable for your business? In this article, we provide you with all the necessary information so you can decide.
For what and why use a CDP
The simplest answer would be to create a persistent and unified database that collects 360 profiles of our clients. Now why is it necessary?
Well, because the comprehensive view of your customers allows you to transform data into knowledge. This not only directly affects the optimization of marketing campaigns; but it allows you to know the opinion of your consumers, behavioral trends, purchases, their needs, demands and other valuable information that will allow you to make more accurate and successful business decisions. To do this, a CDP solution performs the following actions:
Identity Resolution: Organize and unify a user's history across all devices and channels to display in a single customer view
Creation of characteristics and trends: analyzes and summarizes the data obtained, transforming them into individual characteristics and trends
Audience segmentation: segments the clientele in a way that allows marketers to personalize campaigns.
Activation: promotes more effective marketing strategies based on the data collected, the segmentation and the results obtained. CDPs fuse real-time and historical data with artificial intelligence tools to hyper-personalize messages and make each customer's experience unique.
Benefits of using a CDP
Integral view of the client: the 360 ​​profiles of each client are the essence of these systems. This exhaustive information of the clientele in all the devices and channels of the company allows to optimize the marketing campaigns to make them more effective.
Streamlined Systems Integration: By implementing a single "system of record" for proprietary customer data, redundancies and errors are minimized. This way the data flows faster to the other systems.
Data accessibility enhancements: Persistent and unified database centralizes customer data from across the enterprise. This way, they are shared more easily and efficiently in all areas and meeting points with customers.
Greater marketing efficiency: the holistic view of the customer enables more precise targeting and personalization in marketing campaigns, and more relevant customer experiences with the brand in all channels.
Greater speed of marketing: since the CDP is generally in control of this area, the time to segment and create audiences, execute campaigns and analyze results decreases significantly.
Greater regulatory compliance: promotes greater internal control over customer data. This is because to hire a CDP solution, you have to comply with the various regulations that affect brands around the world.
In summary, CDPs are part of the new paradigm of business marketing and its philosophy in favor of an adequate data culture. Although there is already talk of a solid CDP industry, it is an essential futuristic tool to guarantee competitiveness, which is why its best practices are still being developed. In a future article, we will dive comparatively into the functionalities of this technology compared to others also used in the business world.