AppExchange is Salesforce's online marketplace. From here, you can download and install more than 5,000 solutions with 10 million installations, 117,000 reviews, and the services of more than 2,000 consultants. This is an excellent source of options to enrich your business. It is the ideal setting for Salesforce partners to share their developments. AppExchange offers free and paid solutions, oriented to sectors such as: finance, human resources, sales, customer services, marketing, integration, and others.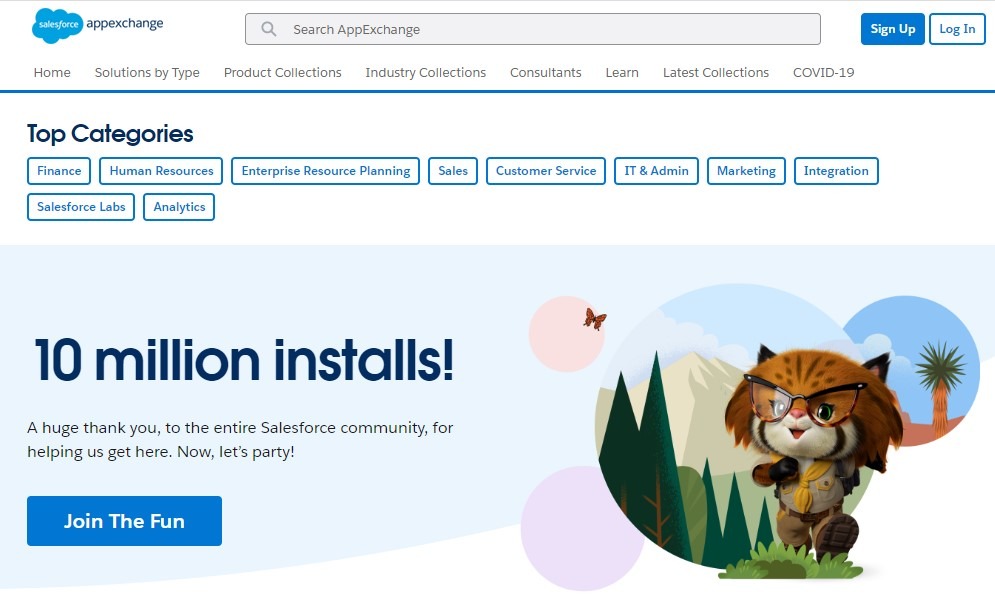 An AppExchange's Quick Guide
AppExchange is Salesforce's online marketplace from where you can download and install more than 4.000 solutions for your organization. Check out our guide to quickly discover what you can find there, how it works and what are its main advantages.
In a previous article, we explained what the Salesforce Partner Program is and what categories it includes. We specifically discussed consulting partners and how they can help you optimize your Salesforce implementation. Today we will talk about AppExchange partners and answer the following questions:
What is an AppExchange partner?
How to become an AppExchange partner?
What are the levels that an AppExchange partner can achieve?
Are there additional tools and resources for an AppExchange partner?
What does it mean to have been admitted as an AppExchange partner?
What is an AppExchange partner?
AppExchange partners are Independent Software Vendors (ISVs) who have the ability to develop and market free or paid applications on the AppExchange.
People who are interested can choose to participate in the AppExchange partner program. It contains several categories outlined in program policies which support different marketing strategies, with ISVforce being the most common.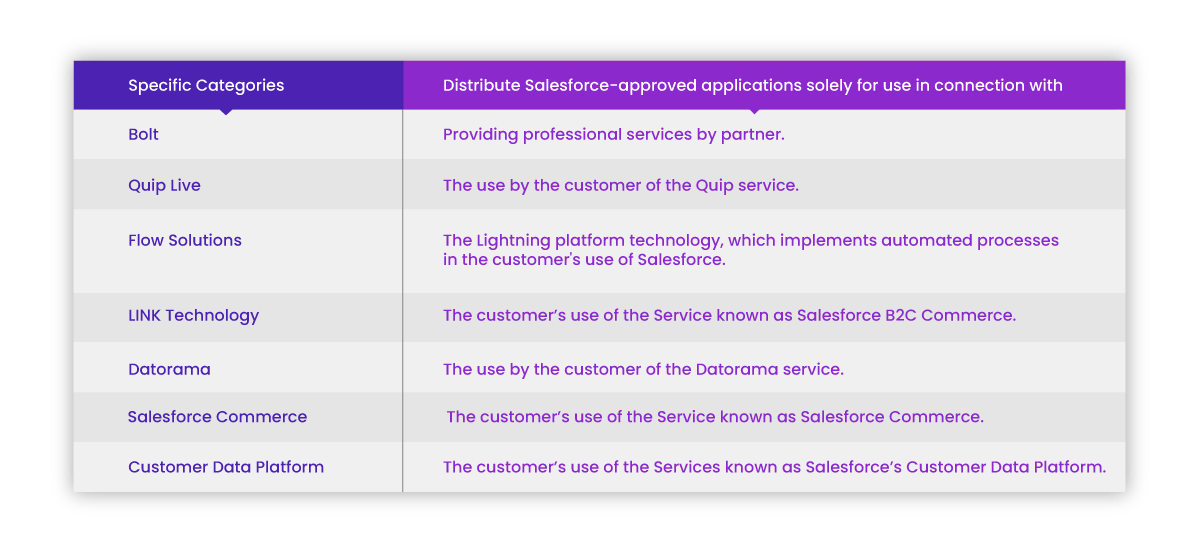 How to become an AppExchange partner?
To become part of the AppExchange partner family, you must go through a multi-step process:
Select the type of AppExchange partnership when completing the enrollment form.
Comply with legal requirements.
Register in one of the categories of the AppExchange partner program.
Get approved through Salesforce Security Review and Assessment.
As long as the partners maintain a good relationship with the platform, they will be able to continue with their membership program. If at any time a partner violates the eligibility criteria, Salesforce can reassign them to another category, as well as remove them from the program and/or partner community. Salesforce reserves the right to accept or deny any application to the partner program and community or terminate any partner's participation in this program.

What is a Salesforce Consulting Partner and How Can It Help You?
A Salesforce Consulting Partner can help you to fully implement the platform by taking care of the details so that you can focus on the development and growth of your business.
What are the levels that an AppExchange partner can achieve?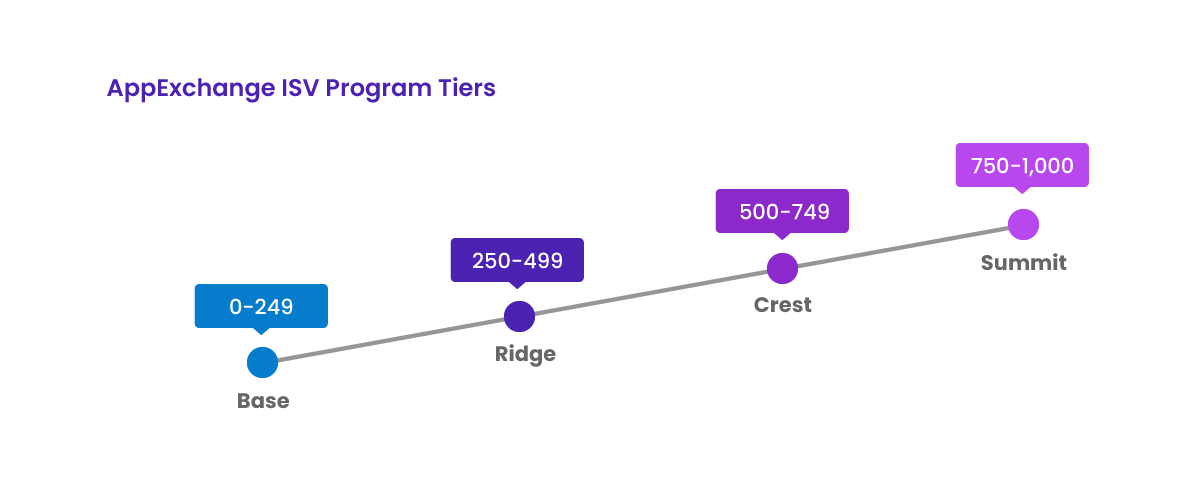 Salesforce has 4 levels (Base, Ridge, Crest, Summit) to classify AppExchange partners. Each quarter, based on Salesforce's fiscal year, partners are evaluated and can be reassigned to a different level.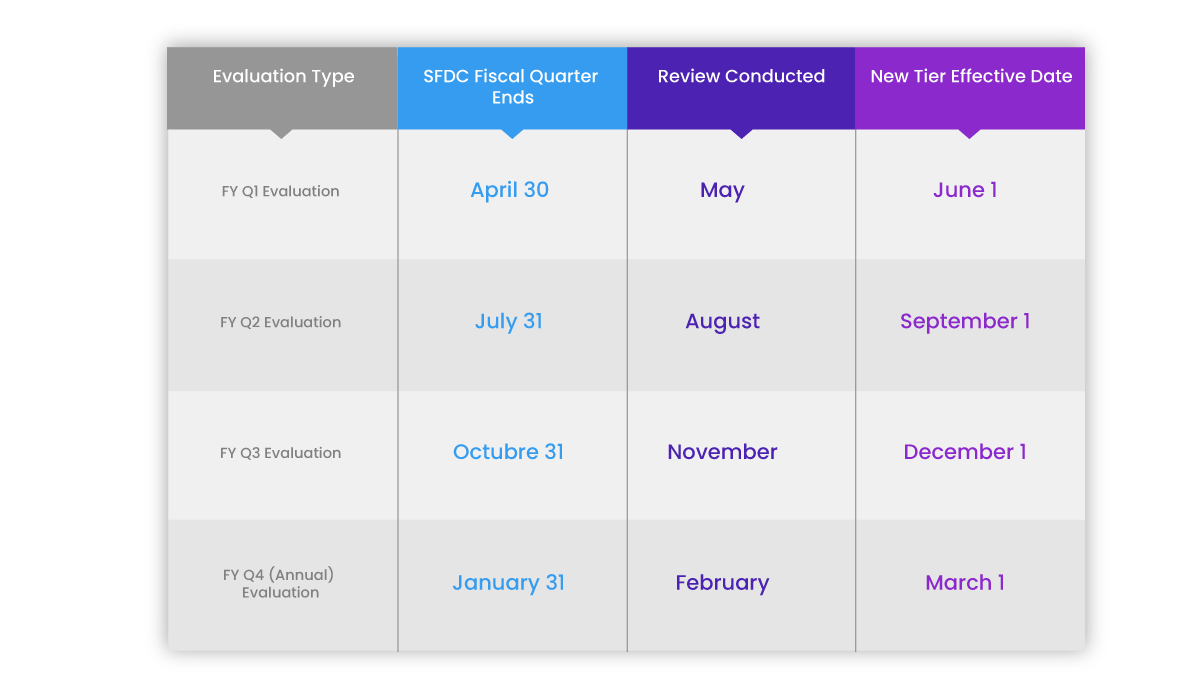 The level of each partner varies depending on the AppExchange Partner Trailblazer Score. This is measured based on the partner's contributions towards the objectives established in four key areas: Customer success, Innovation, Growth, and Impact. All Trailblazer points add up to a maximum of 1000. The maximum points per attribute and the requirements for obtaining full points in each category can be found here.
Are there additional tools and resources for a Salesforce AppExchange partner?
Salesforce provides AppExchange partners with a helpful set of resources, training modules, and tools which enable them to optimally service their customers, categorize their applications, and earn profitable returns.
Some of the benefits offered by the AppExchange partner program, according to each category, can be:
Design and develop.

Access to experts in the Salesforce Customer 360 platform.
ISV developer tools.

Sell and market.

Appointment of a Salesforce executive sponsor.
Access to the AppExchange Marketing Program (AMP).

Service and support.

Access to technical support case packages, including Premier cases.
Coupons to cover the cost of certification exams.
These benefits may also vary depending on the level of the member. If you want to know more details, you can find additional information here.
What does it mean to be admitted as a Salesforce AppExchange partner?
It means that those organizations have the opportunity to build advanced business applications on one of the world's leading CRM platforms. They have access to the latest technology and resources on the market, allowing them to provide exceptional customer satisfaction. The AppExchange partner program provides everything a partner needs (including knowledge, tools, and infrastructure) to bring their finished products to market. Joining forces with an AppExchange partner and being able to develop on the Salesforce platform allows you to position yourself ahead of the competition.
Keep in mind that these partners develop and market applications that can meet your needs, make your work easier, and increase the efficiency of your business. Herein lies the main advantage of working with them.
As a Salesforce Consulting and AppExchange partner, at SkyPlanner we specialize in helping companies across industries and sizes take full advantage of Salesforce capabilities. Be sure to visit our profile on the AppExchange, where we have been rated 5 stars in customer satisfaction. Our team is in the best position to help you.