In the fast-paced world of business, staying ahead of the curve is the key to success. With each new release, Salesforce stands as the undisputed ally of companies seeking to raise their sales standards and optimize their relationships with customers. In this race towards excellence, don't miss the benefits of the innovations that this Winter '24 has brought to Sales Cloud.
After having explored many of the updates and enhancements, we identified some that we consider most valuable and capable of transforming the efficiency with which your sales team works. From streamlined planning to expanded personalization capabilities, these updates are designed to empower your sales strategies and take your results to the next level.
Dive with us into this winter release and discover how these new features are poised to become your strategic allies in conquering new business horizons.
Important improvements from the Winter '24 release to enhance your sales strategy
1- Sales Planning Optimization.
Sales Planning is critical for any company seeking sustainable growth. With the Winter '24 enhancements, Salesforce has completely revamped this feature to give you an unparalleled strategic planning experience. Now, you can continuously and collaboratively design sales strategies, allowing you to quickly adapt to market changes.
One of the most notable enhancements is the ability to collaborate seamlessly with all stakeholders. No longer will you have to deal with long email threads or complicated shared documents. After Winter '24, collaboration will become intuitive and efficient.
Assigning revenue targets and rep quotas is another key task that has been simplified. You can do this in an optimal, data-driven manner, ensuring that every member of your team has realistic and achievable goals.
Additionally, this enhancement offers two approaches to territory design: a hierarchical structure, such as a tree list of territories, and a map view. This allows for greater flexibility and adaptability in defining your sales team's areas of focus.
Ongoing planning is essential to keep up with impactful events, and this update makes it easier than ever. Segmentation has been improved through automated and manual assignments at all territory levels, ensuring that your sales strategy is highly effective and accurate.
2- Better manage contacts and leads through Intelligence Views.
Efficiency is key in sales, and Salesforce Maps Lite is the perfect tool to help your reps focus on meeting and exceeding sales goals. By identifying customers and prospects on a map, reps can plan routes more efficiently for both in-person and virtual visits.
This not only saves time, but also resources by reducing miles driven and eliminating gaps in your reps' schedules. Salesforce Maps Lite is an invaluable addition for more effective navigation in the world of sales.
With Winter '24, Salesforce has also enhanced the Lead and Contact Intelligence Views to give you a more seamless experience. You now have everything in one place, allowing you to have a view of the totality of activities, take actions, and update records without the need to navigate to individual records.
You can quickly filter Contacts or Leads, view activity statistics, and take immediate action from the contact or prospect's home page. Activity details for individual records are just a click away, streamlining the process of tracking and managing customers.
3- Call summaries powered by Einstein GPT technology.
Effective communication with customers is essential in sales, and in Winter '24, Salesforce has taken it a step further by enabling Einstein Conversation Insights users to create generative summaries of voice and video calls.
With the new Summary tab in call logs, you can create editable summaries that include next steps and customer feedback. This facilitates smoother team collaboration and ensures that everyone is aligned after each customer conversation.
4- Optimized partner relationship management with pipeline inspection.
The health of your pipeline is a critical indicator of your sales success. In Winter '24, Salesforce introduced Partner Pipeline Inspection, a tool that brings all the crucial metrics together in one place.
With customizable reports and dashboards, you can now easily track your partners' performance. Get a detailed view of revenue, opportunity pipeline, partner scorecard, and certifications directly in Lightning Experience. It's never been easier to keep track of the health of your pipeline and make informed decisions.
5- Increased email personalization with Einstein GPT for Sales.
Sales Emails now allows your sales reps to send personalized and informed emails quickly. Einstein uses your sales data to generate personalized emails to contacts and prospects. In addition, you can choose from predefined message types for common emails, such as follow-ups or meeting invitations. This not only saves time, but also improves the effectiveness of your outreach efforts.
But effective sales communication is not just about words, it's also about context. Salesforce knows this, which is why sales reps can now include product information when composing emails with predefined messages.
This enhancement enriches your emails and ensures that you provide more comprehensive and detailed context to the recipient. Customers and prospects can better understand the value proposition of your products, which increases the likelihood of success in your sales communications.
But optimizing the use of mail as a strategic sales resource doesn't stop there. Capturing activity is essential for tracking and analyzing sales interactions. Emails captured by Einstein Activity Capture are now available in standard reports. This feature, an integral part of Activity 360 Reporting, provides a bird's eye view of your team's activities across all channels.
Gain insight into deal participation and benefit from other features such as Pipeline Inspection and Sales Engagement. This gives you a deeper understanding of your sales operations and helps you make more informed decisions.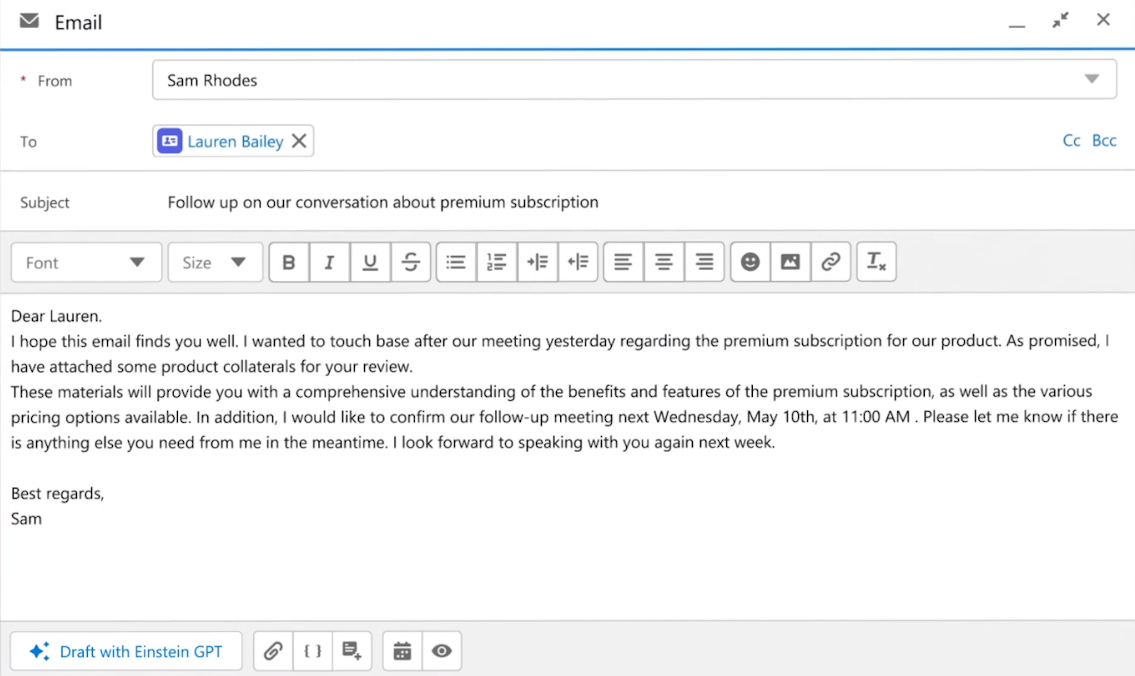 6- Home Page enriched with the Forecast Changes Chart.
Sales forecasting is a critical part of strategic planning. In Winter'24, Salesforce has taken this feature a step further by offering the Forecast Change Chart on the home page.
Previously, this tool was only available on the forecasts page, but now you can monitor forecast changes for the current period directly from your home page. This allows you to measure how your sales forecasts have evolved and make informed decisions in real time.
7- Greater comfort when managing negotiations with the Workspaces configuration.
Thanks to Workspace you can design your workspace according to your taste and needs. It gives you the possibility to create up to 10 customized workspace tabs to visualize your list data in the way that works best for you.
In the list, you can sort, filter, and query your data, and best of all, update it instantly. You have the freedom to choose what type of data you want to view and how you want to present it in your workspace. Once you have created a tab, you can modify the workspace to display related data. In addition, you can link your workspaces with the Sales Cloud Everywhere Chrome extension.
Don't wait any longer, the future of your sales is in your hands. If you want to know about the vast possibilities of Sales Cloud solutions and as well as our services to help ease into these technologies, do not hesitate to contact us. Write to us at hello@theskyplanner.com. Our team of professionals, with a solid certified expertise, will be happy to assist you.