In the modern business world, data occupies a fundamental role. The data-driven and customer-centric approach is rapidly gaining ground thanks to its indisputable benefits. A more refined knowledge of the audience, behavioral trends, forecasts of failures and errors, are some of the many advantages it brings. Virtually all areas of a company come to benefit. And, of course, income benefits too.
With this in mind, Salesforce developed its powerful Revenue Intelligence tool. Throughout this article, we will see what it is and how it can empower your company.
What is Salesforce Revenue Intelligence?
Salesforce Revenue Intelligence is part of the current trends of the data-driven approach. It is a way of managing sales based on specific analysis from actionable information. This tool is powered by AI and automations to empower sales leaders. Thus, they can monitor the status of the sales process, direct salespeople to the best deals and make accurate forecasts in order to increase revenue.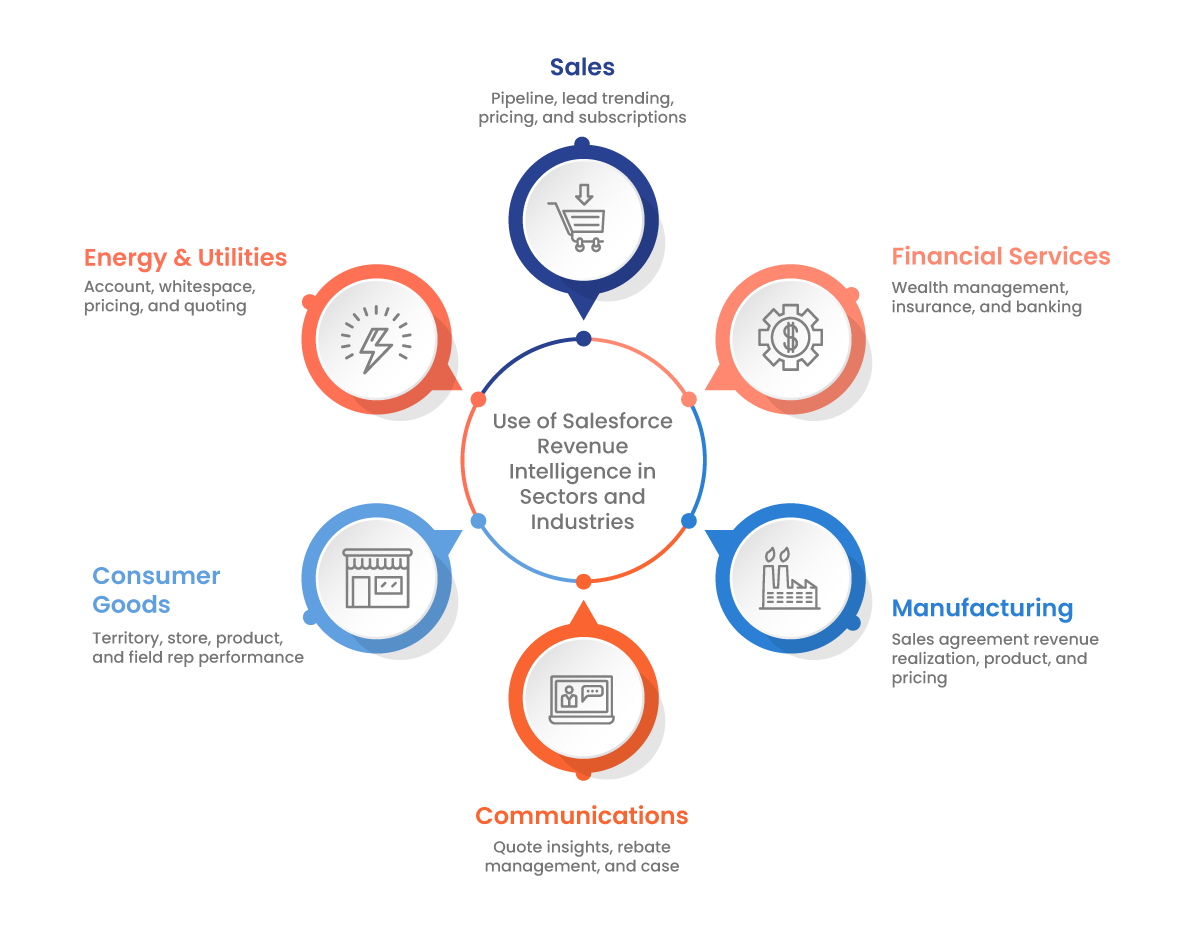 Main features
Obviously, just mentioning this tool's name raises high expectations. Therefore, it is worth mentioning what its main functions are.
Data-driven approach to business decision making: Shows the entire revenue lifecycle. This allows constant monitoring of the health of your company by tracking forecasts and closing deals. In addition, it enables the analysis of the performance of the sales team. All this, through personalized dashboards with configurable metrics and adaptable to your business.
Accurate Forecasting: Provides the tools you need to forecast in real time, without leaving Salesforce. It facilitates the monitoring of forecasts already made, main KPIs and other metrics. It also allows you to create custom filters for each type of forecast.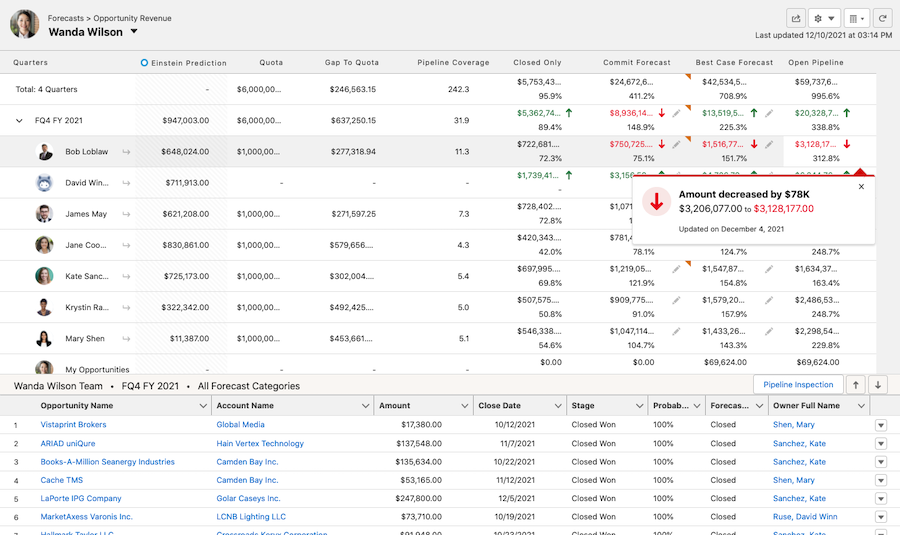 Pipeline management: allows real-time monitoring of pipeline status through flow charts. It also provides a robust view of the business through activity and information metrics, powered by AI. This way, you can visualize negative trends in your sales funnel in time and reduce risks.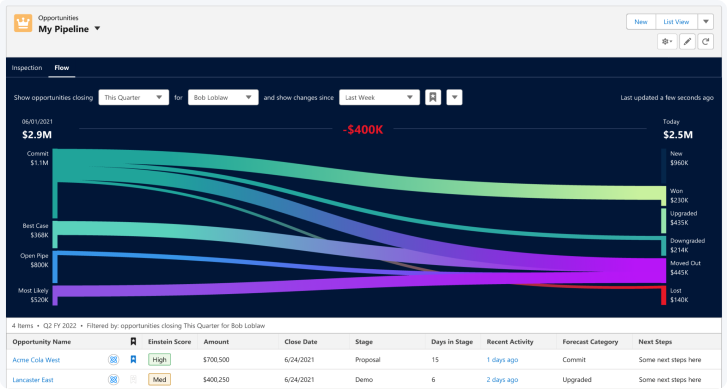 Use of Artificial Intelligence: allows the power of Einstein to be brought to all the teams that operate around the client. In addition, it strengthens each customer meeting point with your company with data and AI, in order to optimize and strengthen the management of relationships with them.
Accurate Sales Rep Guidance: enables sales team leaders to guide reps intelligently. It provides details on the evolution of the opportunities, the main risk factors and the winning trends.
Top Benefits of Salesforce Revenue Intelligence
According to a Forrester report, decision makers at companies that adopted revenue intelligence trusted their CRM data much more than those whose companies did not.
Respondents at companies that adopted revenue intelligence were:
33% more confident that the data and insights from CRM are accurate.
32% more likely than those at non-revenue-intelligent firms to say that their CRM systems provide the very latest information about their customers.
37% more confident that their CRM systems let them identify customer problems and issues.
26% more confident that their CRM systems supply predictive recommendations for addressing customer problems.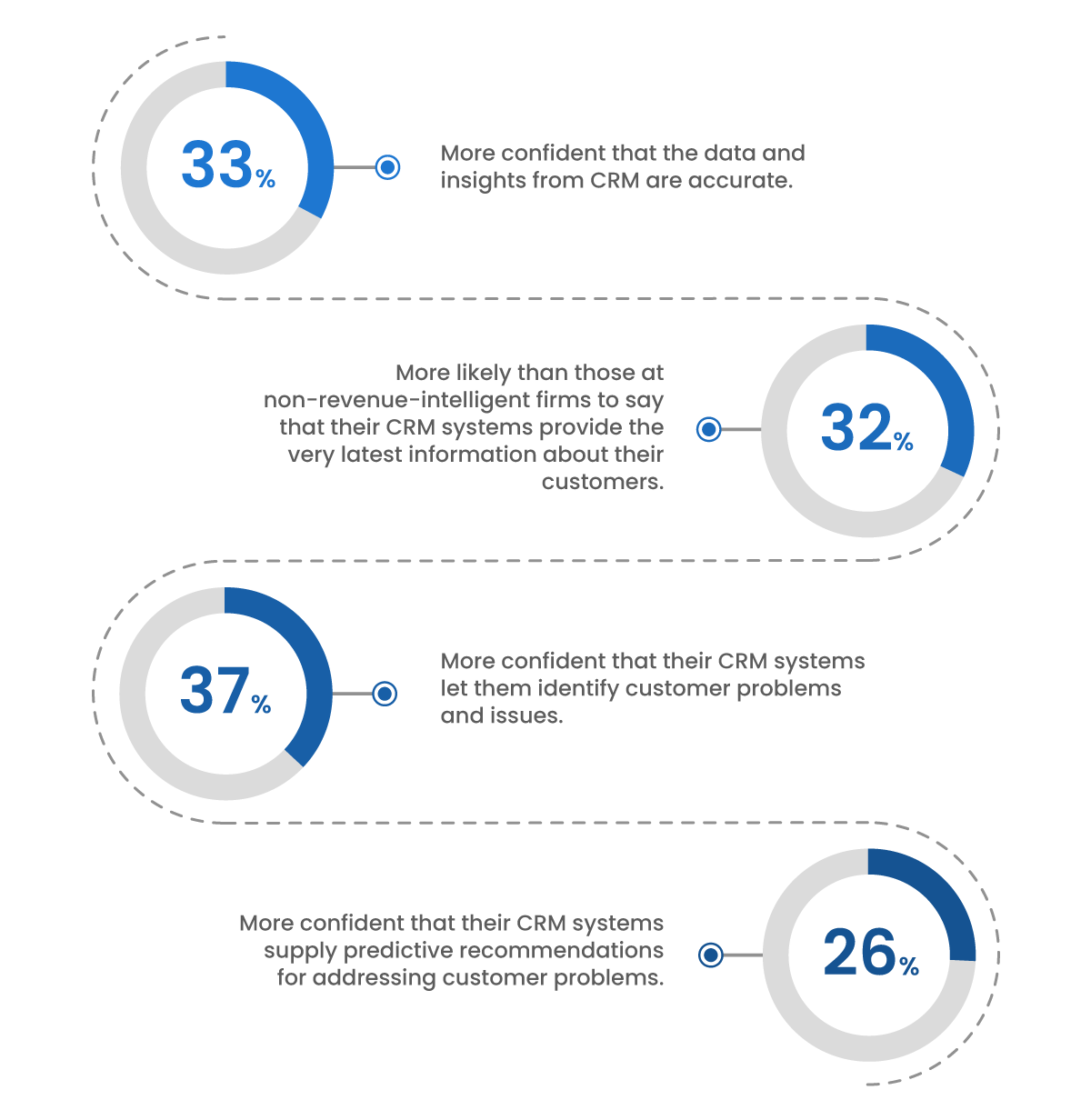 Undoubtedly, the main benefit of this tool is the increase in your company's income through smarter decisions. Other benefits are:
Total visibility of the general panorama and health of your company through updated data in real time.
Pre-built analytics and AI predictions.
Make more accurate business decisions.
Reduction of risks in the flow of pipelines in your company.
Reduction of the cycles and simplification of the periodic closing of sales.
Better supported sales agents.
Simple and intuitive income dashboards.
Seamless integration with the other solutions in the Salesforce ecosystem.
Without a doubt, Salesforce Revenue Intelligence is a powerful tool to boost your company's profits. It works like a radar that allows you to constantly monitor the state and health of your business, allowing you to work smarter. Are you interested in knowing more about this tool? Our team can accompany you on this promising adventure. Feel free to write to us at hello@theskyplanner.com.