In today's times, hyper-connected customers expect companies to be able to keep up with them wherever they go. Ideally through any of the channels they prefer, be it email, SMS, WhatsApp, website, and social networks among others. In this scenario, adequate communication, as part of a complete, consistent, and connected service, becomes an important competitive advantage.
Salesforce CRM, the undisputed leader in business cloud technology, can help you do just that so that's where your omni-channel solution comes in.
What is Salesforce Omni-Channel?
Salesforce Omni-Channel is a comprehensive customer service solution that provides a seamless experience across multiple channels by integrating them into a single system. This tool routes the right work to the right agents in real time and provides a complete profile of a customer's interactions. Thanks to this, agents can respond more efficiently and effectively.
Although this solution is usually located within the Service Cloud Console, the truth is that it is useful for both the sales and service teams, especially in larger companies. Omni-channel currently supports cases, chats, emergency video calls, social media posts, orders, custom objects, and leads. This allows you to configure routing rules to assign cases to service agents or assign leads to salespeople. Additionally, Omni-Channel can be configured by making only declarative changes to Salesforce, without the need for custom code.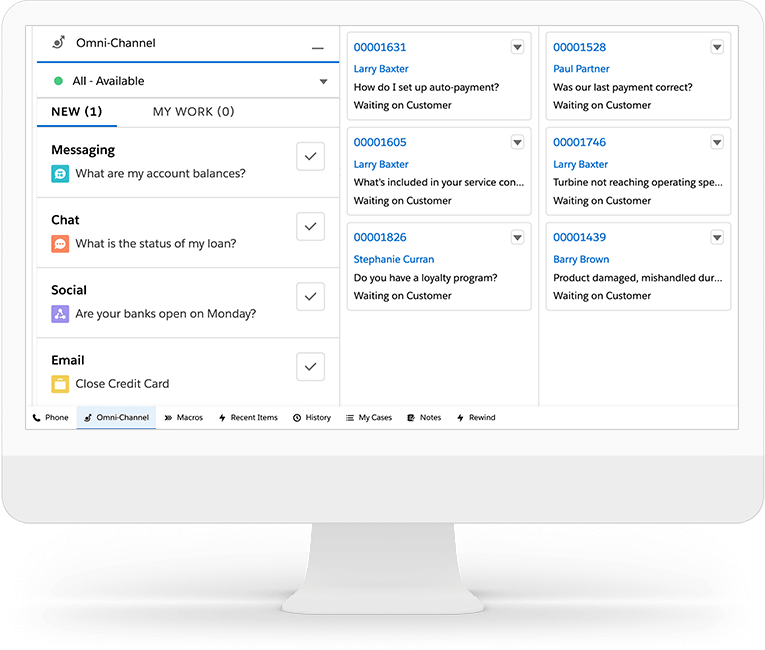 How does Salesforce Omni-Channel work?
Basically, Omni-Channel connects (routes) work items (customers, cases, calls, SMS, social posts, etc.) to agents based on existing queue, priority, agent availability, skills, or purpose (if for sales or for support).
Every time communication is started or resumed by the client, a "work item pending routing" is generated and the system automatically routes them to a potential agent. The agent can decide whether to reject or accept it and, if rejected, the work item is set back to pending and rerouted by the system. Otherwise, the agent can either finish the job or transfer it to another agent, whereupon it would again be set to pending and routed.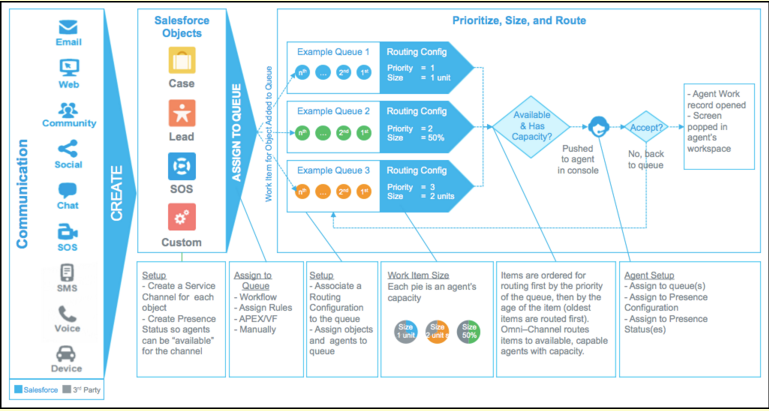 It is worth noting that, although this process is generally carried out automatically, sometimes it will have to be done manually. For example, for channels that do not operate in real time.
The destinations for routing the elements are:
Queues: pre-existing queues that distribute the workload among service team agents.
Skills: route customers directly to agents with the right set of skills and abilities to get the job done.
Agents: if your clients already have a preferred or usual agent, the system will simply route them to this one.
Bots: an agent is not always necessary. Depending on the complexity or needs of the case, it can be routed to a bot that interacts with the customer.
You can configure the routing rules taking into account what best suits the needs of your company:
Queue-Based Routing or Basic Routing: This rule is used to route work from a channel to a queue since, generally, the agents are organized in different queues. Queues can respond to specific channels or products, or a particular area of the business. For example, you can set up one queue for Sales, another for Billing, and another for Customer Service. Work routing is assigned to agents based on queue priority.
Skill-Based Routing: This rule allows you to connect work items to the best-supported agents based on specific customer needs. Each agent has their own set of skills and abilities, for example, a particular language, product configuration, or Billing among others. Salesforce Omni-Channel gives you the opportunity to take full advantage of these capabilities and when a work item is created, the skills required to solve it are included. Once the work item is set, it is easily routed to the agents that have those skills.
External Routing: This rule is used when you already have a routing implementation you like, you can integrate it into Omni-Channel using a standard Salesforce API and a streaming API.
Advantages of Salesforce Omni-Channel
The advantages of Omni-Channel are several:
Streamlines workflows by connecting all company channels into a single system.
Saves time by automating the routing process between work items and agents.
Provides a holistic view of the customer by continuing the conversation where it left off and offering better support to agents.
Simplifies the organization of assignments for each agent, allowing them to respond more quickly and efficiently, as well as closing assignments in less time. In addition, it allows you to enhance your specific abilities.
Facilitates supervision for administrators or service managers as it allows detailed viewing of open cases, waiting times and the best agents.
Offers a consistent and fluid image of the company, which has a positive impact on customer loyalty.
Contributes to the company's reputation, since making your customers happy helps in influencing them to spontaneously promote your brand.
Salesforce Omni-Channel is a helpful tool in today's modern world. It allows optimizing workflows between channels and agents, showing audiences an organic and consistent vision. In addition, the use of Omni-Channel allows you to get the maximum use of the Service Cloud. Do you want to know how to achieve the best results in your company? At SkyPlanner we have the necessary expertise to help you. Write to us at hello@theskyplanner.com.