Without a doubt, Salesforce has become the best strategic tool for the growth of many companies. Therefore, it is constantly evolving and optimizing its services.
Historically, every business that uses Salesforce has a de facto administrator in charge of maintaining operations. However, as businesses grow, the responsibilities and capabilities required to optimally support their custom Salesforce solution grow, and a single administrator becomes insufficient to manage and exploit the full potential of this growth.
Salesforce Managed Services is now introduced as a solution to this problem, an exciting and flexible alternative to managing and getting the most out of your investment, without the need to hire additional full-time staff. Let's get to know a little more about these services.
What are managed services?
Managed services consist of outsourcing a variety of processes and functionalities of the company in order to optimize operations and reduce expenses. In other words, it is about proactive outsourcing for the administration of a certain area or department, outside the staff of employees.
These managed services have their origin in the Break / Fix repair model, in which the customer calls their service provider once they find failures in their operations. Although the provider can find the solution to the problem in a few minutes, it can also take time to fix the fault in question; but it does not prevent future inconveniences or errors. In fact, the essence of this model is to repair what is already broken.
A failure in a system translates into loss of time and productivity which can cause a possible loss of income. Therefore, the Break / Fix model becomes inefficient, expensive, and obsolete for today's business world. This is where Managed Services come into play.
This new model changes the reactive approach to a proactive one. It focuses on the prevention of potential mishaps in order to safeguard the normal course of business life, its management system, and its revenue channels. It will identify problems and risks before they develop and create solutions to prevent them.
What is Salesforce Managed Services?
Salesforce Managed Services are a comprehensive set of processes and activities that range from implementation to monitoring the evolution and support of Salesforce solutions in a company. Its objective is the early detection of possible setbacks that may affect customers and operations supported by the CRM.
Download: Salesforce Managed Services →
What can be included as a Salesforce Managed Service
Consulting: Designed to meet the real needs of customers and provide customized solutions. Likewise, it suggests accurate strategies while taking into account the objectives of sales, marketing, customer service, and others.
Implementation: All contracted services are implemented to create a single Salesforce solution. In this way, full coverage of a customer's specific business needs is guaranteed.
Custom Application Development and Customization: Salesforce solutions are tailored to support custom workflows, reports, email templates, and more. It will make the solution work based on the requirements of your live business processes. Additionally, custom applications are created to meet the internal needs of a business.
Integration: This provides integration services for your Salesforce solution with third-party systems in order to provide a seamless and comprehensive user experience on all contracted systems.
Optimization: Guarantees the maximum usage of your Salesforce solution. To do this, it must maintain the continuous optimization of the solution's functionalities according to the evolution of the company and its commercial processes. Therefore, staff productivity is promoted, workflows are simplified, and a superior user experience is achieved.
Support and Evolution: You could have continuous support for your Salesforce solution.Managed services save time on the daily routine of administration by optimizing workflows. In addition, they make proactive improvements to that solution before it begins to become obsolete in the face of its business evolution. Similarly, users are trained on default and custom functionalities so that the company can get the most out of Salesforce.

Need Salesforce Consulting Services?
We offer Salesforce consulting services aimed to kickstart your company's growth, either by implementing a new business-tailored solution or improving an existing implementation.
Benefits of Salesforce Managed Services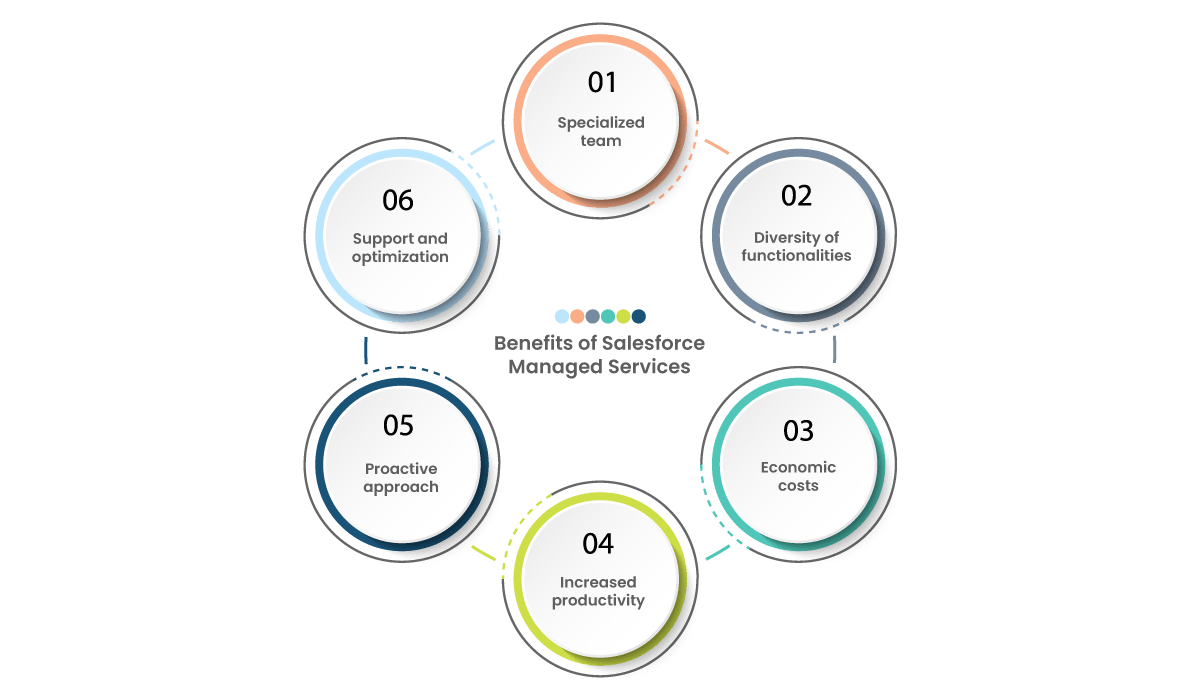 Specialized Team: Provides access to a team of experienced Salesforce specialists and consultants to manage contracted functions.
Diversity of functionalities: There is a wide range of functionalities. Among them are those related to the areas of IT, marketing, sales, consulting, support, and others.
Economic costs: they are affordable competitive costs for your business. Additionally, most Salesforce vendors generally offer a flat monthly rate, which avoids surprises and budget uncertainties.
Increased productivity: Enables your staff to focus on business performance and value tasks, develop lasting customer relationships, and achieve sales goals.
Proactive approach: Detect and fix errors before they happen, reducing the possibility of business interruptions. As the provider of these services gains a better understanding of your organization and its processes, they can detect which services would improve your solution and apply them to your company. Additionally, they can also take advantage of the latest available features of Salesforce and add them to your existing solution.
Support and optimization: Provide continuous support 24/7. In addition, it can take care of the optimization of your solutions without investing in more resources.

Salesforce Managed Services vs Full-Time Hire: A Complex Decision
The decision to hire Salesforce Managed Services or a full-time internal team will depend on the aspects and specific situation of your company.
We at SkyPlanner, as a certified consulting partner, can guarantee the stability of your Salesforce solution. Likewise, we are committed to the constant support and evolution of its functionalities in tune with the changing demands of your company. If you want to know more about our Salesforce managed services, you can write to us at hello@theskyplanner.com.