If you are making, or better yet, if you have made the decision to implement Salesforce in your organization, you have a great competitive advantage. You're off to a great start! Now perhaps you have before you the great challenge of making the most of your investment in terms of cost, time, and quality.
Among the first and most important aspects to achieve this, is the definition of who will undertake the task of utilizing all the potential of CRM. Then comes the dilemma between hiring an external consultant or creating an internal team, without ruling out the combination of both possibilities.
Below, we'll explore the pros and cons of these options. Seriously consider that the scope of the project, the resources available, and even the leadership style of your organization, can influence the final decision. Let's get to the point!
What are Salesforce Managed Services?
Salesforce Managed Services are a set of interrelated processes and stages that occur during the software lifecycle. These include:
Consulting: Identification and prioritization of customer needs to provide efficient solutions using the right tools and functionalities. This can save a lot of time and money.
Customization of existing standard applications: Modification of standard Salesforce objects to achieve their maximum correspondence with the interests of the client.
Custom Application Development: Create custom applications, even from scratch, to meet the specific needs of your industry, sector, and organization.
Integration: Integration of Salesforce, both with external databases and with third-party systems, to provide a secure, flexible, and fluid user experience.
Implementation: Implementation of a turnkey service using the ideal Salesforce solution. This includes direct advice during the adoption phase, which is one of the most complex.
Optimization: Process of continuous improvement of Salesforce functionalities to promote productivity and improve the user experience.
Ongoing Support: Outsourcing often includes post-implementation support and maintenance. Offers troubleshooting assistance, system upgrades, user training, and continuous improvements. This ensures that your Salesforce implementation remains optimized, up-to-date, and aligned with ever-evolving business needs. The following graph demonstrates the importance of this aspect.
Salesforce Managed Services Vs. Hiring Full Time
Undoubtedly, each option has its advantages and disadvantages. To make a good decision, it is necessary to analyze several key criteria. In the following table we try to concentrate the main elements:
| Criteria | Managed Service Provider (MSP) | Full-time hiring |
| --- | --- | --- |
| Recruitment | Made by an external consultant with high quality standards. | Recruiting an administrator costs an average of 42 days and 4,700 USD. |
| Cost | Single payment for contracted service, generally by the hour. Productivity per hour is higher. | Building a Salesforce team is often highly expensive in the short and long term. |
| Time | Availability according to the agreed package. | 100% available to your company, quick response to eventualities. |
| Opportunity | Qualified and immediate productive capacity. Make the most of opportunities. | Risk of losing valuable opportunities or assuming them with a high opportunity cost. |
| Flexibility | Flexible with their roles during the various stages of the process. | In general, it has very little flexibility. |
| Stability | They have the capacity to adjust in the face of specialist rotation, vacations, and any uncertainties. | Rotation of specialists is frequent and their departure in the middle of a project can prove fatal. |
| Quality | Total quality guaranteed with certified specialists for all stages. | Guarantee is based on company resources. |
| Experience | Deep knowledge, expertise, and extensive experience. High level of teamwork. | Many companies hire a single person who will hardly manage the entire CRM suite. |
| Personalization | High level guaranteed. | It depends on the skills. |
| Responsibility | Collaborative bilateral. | Unilateral. |
Don't think we forgot the cost! Given its importance, for many people, we treat it separately. The first thing is that the cost gap between both strategies is not abysmal. Look at this comparison between the development costs of both alternatives: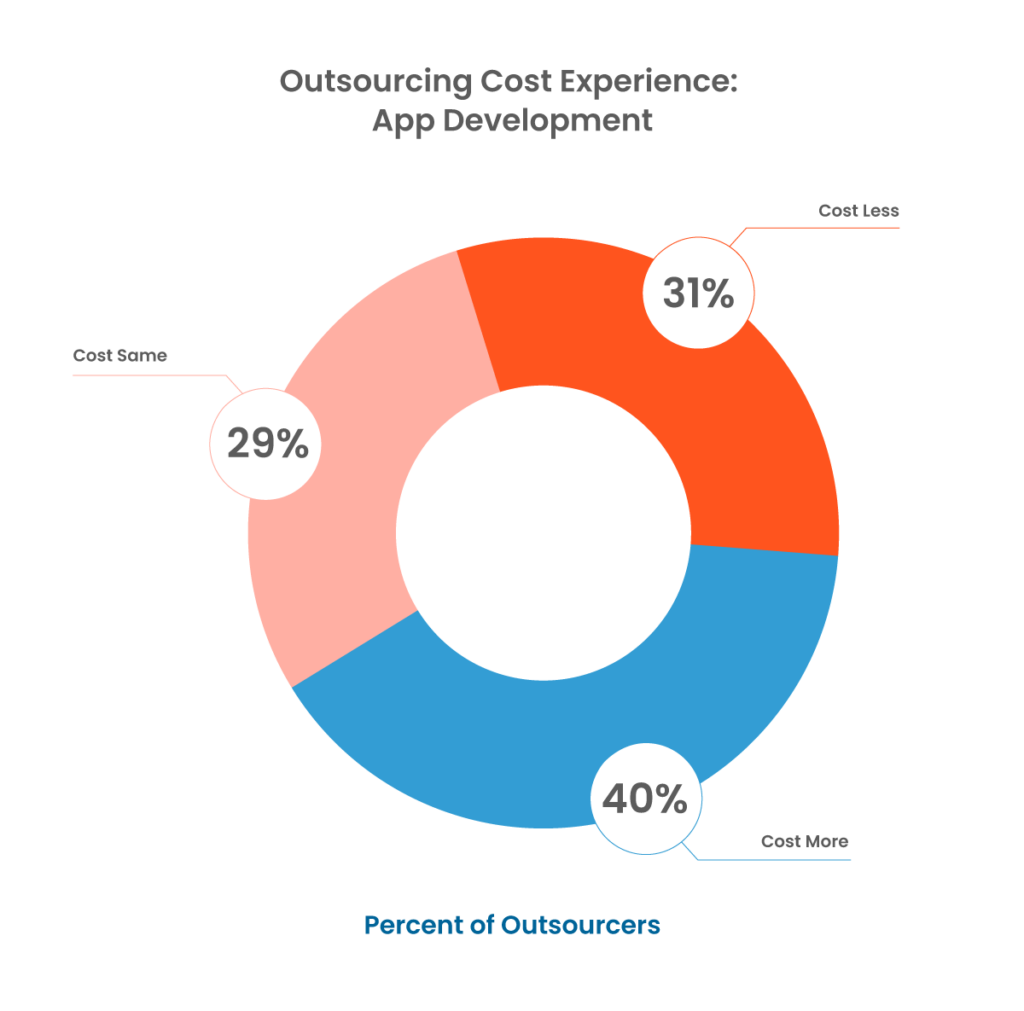 At first glance, the image is almost symmetrical. Of course, if both modalities were used simultaneously, this difference would overlap.
On the other hand, imagine how much money you could lose if you have one or more business opportunities that you must complete in a semester but you do not have the necessary team to manage them!
Of course, the evaluation of costs in the medium and long term would be more complex and you would need a feasibility and risk study with all its implications.
Although these criteria can help you make an informed decision, there are also specific situations in which the balance tips decisively.
| Scenario | Managed Service Provider (MSP) | Full-time hiring | Observations |
| --- | --- | --- | --- |
| Clients available immediately or on short notice | X | | Immediate response to the customer. Minimize missed opportunities. |
| Long term clients available | X | X | Requires feasibility analysis. It is possible to combine both alternatives. |
| Insufficient availability of specialists | X | | Seasonal business. Effect of Natural Events. Market swings. |
| Small businesses with limited budget | X | | Take advantage of present opportunities. Progressive team building. |
| Big enterprises | | X | Does not exclude complementation for specialized functionalities. |
| You have a specialist and require a wide range of services | X | X | Includes training and updating. Progressive gain of abilities. |
| You have no previous experience and want to implement CRM | X | X | It depends on the availability of time and financial resources. |
| Self Sufficiency vs Outsourcing | X | X | Availability of finances and leadership style. |
Other benefits of hiring Salesforce managed services:
Concentration on your core business: You won't have to worry about platform maintenance, updates, or technical issues, allowing your team to be more productive and efficient.
Scalability: As your business grows, the needs of Salesforce change. Managed service providers can nimbly scale up or down to meet these dynamics. This can be especially beneficial if you are launching a new product or expanding into new markets.
Increased Efficiency: Managed Service Providers use the latest tools, processes, and technologies to manage their Salesforce platform. This can result in increased efficiencies, better user adoption, and better business results.
Risk reduction: as long as you select a reliable supplier and establish a solid contractual basis, your economic and operational risks will be reduced. You will have less initial capital invested and greater capacity to face unforeseen events, both internal and external.
Disadvantages of hiring Salesforce managed services:
Lack of control: You are entrusting the management of your Salesforce platform to an external provider. This can make it difficult to have complete control over the platform and its customization.
Communication challenges: especially if there are time zone differences or language barriers.
Limited experience: External resources may not be sufficiently familiar with your organization's specific business processes and requirements.
Less flexibility: external providers can present rigid offers of services. You may be required to choose from a limited set of services or packages, which may not fully meet your specific needs.

Need Salesforce Consulting Services?
We offer Salesforce consulting services aimed to kickstart your company's growth, either by implementing a new business-tailored solution or improving an existing implementation.
The decision to hire Salesforce Managed Services or a full-time internal team will depend on the characteristics and specific situation of your company. In many cases, it is ideal to combine the professionalism of a Salesforce consultant with the experience that your company has on the business logic of its clients. Based on joint commitment and action, synergy can be achieved and a strategic alliance can be forged between both parties.
At SkyPlanner, as a Certified Consulting Partner, we have the expertise to build and maintain the ideal state of your Salesforce solution. If you want to know more about our Salesforce Managed Services you can write to us at hello@theskyplanner.com.