The world today is undergoing a process of extreme digitization that reaches all sectors and industries of society. Undoubtedly, the Covid-19 pandemic was an important catalyst for this digitization, but once the current epidemiological situation is overcome, the changes in the nature of business will not go back. For this reason, Salesforce has focused on expanding its offer and has made great strides in the vertical cloud solutions market for specific industries, according to their needs.
Today, Salesforce has several industry-specific clouds, all built on Customer 360. With them, it is possible to accelerate the digital transformation of various industrial sectors through a platform designed to consolidate trust, innovation, and agility. Below, we present some of the cloud solutions for specific sectors.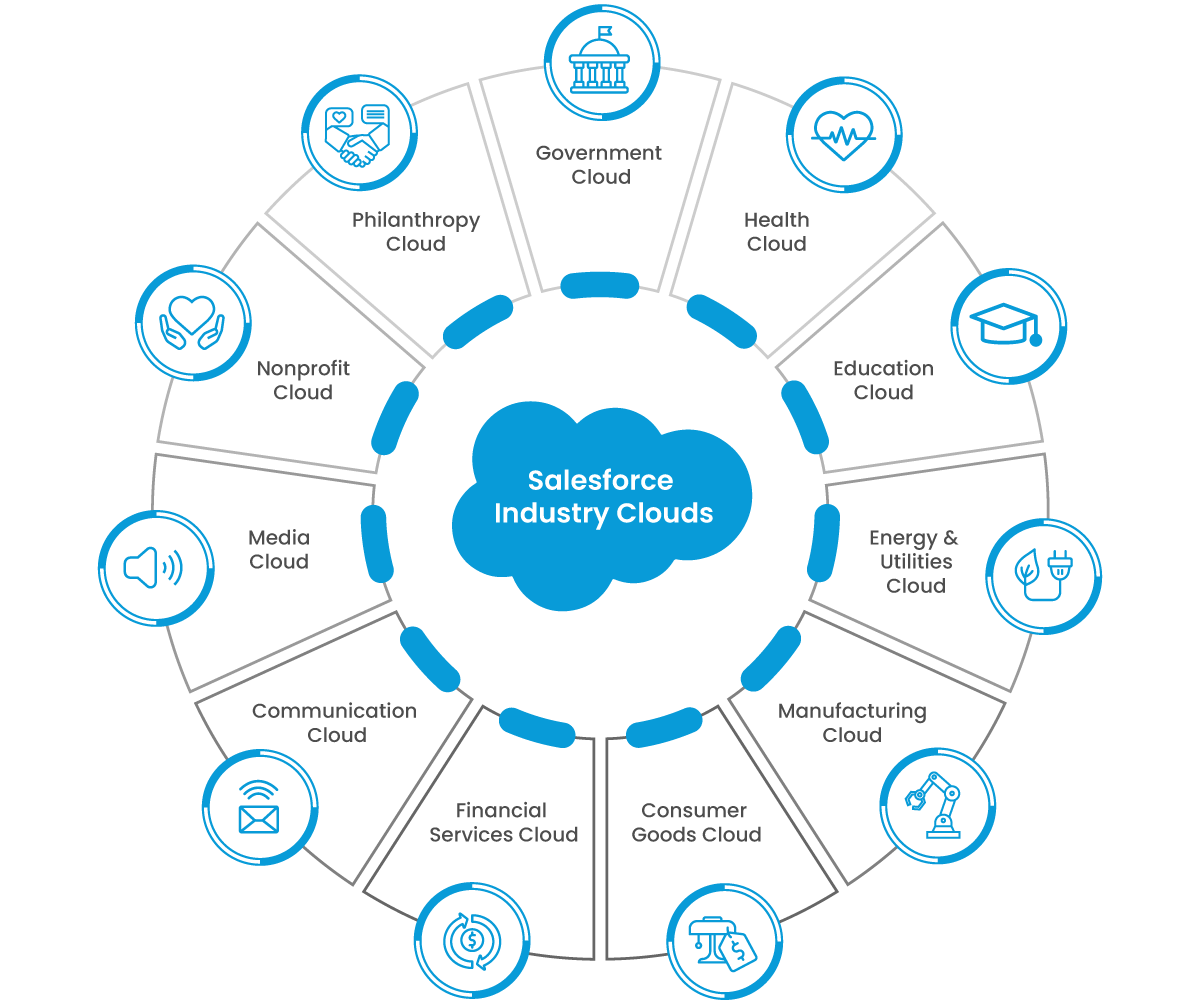 Government Cloud
This cloud was designed for government contractors, civil agencies, and governments at different levels as they seek to improve productivity and modernize technology, optimizing both its agility and its transparency. It offers tools for the management of licenses, permits, inspection management, and emergency programs. In addition, it provides an online assistance center for citizens and companies to connect citizens with public bodies and processes in the cloud, providing a personalized experience towards the public sector.
Health Cloud
It improves and extends the functionalities of Salesforce CRM, now oriented to the management of medical-patient relationships and records. It seeks to satisfy, in a specialized way, the demands of patients, doctors, health care providers, and financiers. It provides health system workers with various tools for effective collaboration, allowing more personalized interactions between the different levels of care (primary, secondary, and tertiary) as well as with all the specialties and institutions of the health system. In short, Health Cloud grants the ability to provide qualitatively superior care with highly personalized services that have a significant impact on the patient's health.
Education Cloud
As an extensive software system that encompasses all the administration and operations of the sector, Education Cloud allows educational institutions to create solutions for recruitment, admission, and registration while also improving the student experience in the course of the teaching process and extracurricular activities. Additionally, it involves the educational staff, the families, and the alumni. It offers a comprehensive view of students from their earliest grades through higher education and beyond, allowing the creation of a fully personalized learning experience. It also simplifies and automates daily administrative tasks, ensuring that teachers and educational staff are better focused on the success of their students.

Education Cloud, Salesforce's powerful proposal for the education industry
Salesforce offers the education sector a novel group of solutions and products under the Education Cloud umbrella. What is it? Find out in this article.
Energy & Utilities Cloud
The energy sector is transversal to society in general, which is why it requires solid relationships with customers and reliability in its service, based on its ability to meet consumer demands. This cloud seeks to connect equipment and systems through a unified platform with customer information. It includes pre-designed billing systems that are sensitive to sudden price fluctuations, so frequent in today's world. This enables the organization to provide personalized customer service experiences, including mobile and self-service solutions. In addition, it optimizes the sales process, boosts growth, and prepares for a sustainable energy future.
Manufacturing Cloud
This cloud promotes digital transformation in the manufacturing industry, seeking greater transparency among companies in the sector at a global level. The digital transformation enables more powerful and connected experiences for customers and partners. Manufacturing Cloud streamlines collaboration between companies with common interests, gives field agents a holistic view of customer data, and personalizes the buyer experience throughout the buying process.
Consumer Goods Cloud
This cloud is oriented to retail businesses or consumer goods and can turn sales data and technology into sellers' allies to optimize their in-store sales processes. Through AI tools, it supplies relevant information to optimize production, logistics, and retail flows. Consumer Goods Cloud can provide a list of visits to stores and could also include the use of apps and maps to manage movement, templates, inventores, processing tool requests, and other such things. In addition, it facilitates the management of spaces within the store through the visual representation of the location of products and shelves to maximize sales and minimize wasted space. On the other hand, it can also perform image recognition and object detection tasks, which are useful for monitoring the store's shelves and making sure that they are well organized and stocked. Through these functionalities and the automation of tasks, it is ensured that sales representatives spend more time with customers. Likewise, better data is available for the design of more effective sales strategies.
Financial Services Cloud
It provides a user-friendly platform to handle all customer data, build more trusted relationships, and create more seamless digital experiences at any touchpoint. It is designed to meet the demands of companies in the financial sector: banks, insurance agents, mortgage and loan companies, and others. It grants the ability to provide companies with personalized wealth management services and guarantee optimal operation in conditions of high market volatility.
Communication Cloud
Through the Communication Cloud, communication service providers are offered a better understanding of their customers so that they can provide better offers and personalized experiences at any time or place. In addition, it accelerates the launch of converged service offers and sales in general, while also making it possible to create seamless omnichannel interactions, provide tools to get the most out of data, optimize customer experience, and jumpstart projects using pre-built templates, products, and processes.
Media Cloud
Specifically designed for the media sector, Media Cloud became especially relevant in times of pandemic with hundreds of millions of users in quarantine. Their habits, expectations, and ways of consuming media have been irreversibly transformed. With the Media Cloud, media providers can deliver a seamless, dynamic experience across all channels and devices. In addition, it speeds up the development and launch of packages or subscription offers. It helps to know consumption and taste habits, preferences, and previous interactions for a more personal communication with the client. Boost audience participation with personalized tours and optimize sales processes, allowing the monetization of ads, content, and subscriptions.
Nonprofit Cloud
The cloud of non-profit organizations is designed to facilitate the access of these organizations to a connected platform. It helps achieve the proposed objectives through a set of solutions and a 360 view of its mission and participants. Nonprofit Cloud makes it possible to build lasting relationships. In turn, it simplifies the management of fundraising, support programs, marketing, and commitment to generate the necessary impact. In addition, it improves the connection with donors, monitors volunteers, and manages campaigns. It also provides the opportunity to customize a Nonprofit Success Package (NPSP) to connect an organization with the right people at the right time. Likewise, it enables the identification of common interests and collaboration between the sponsors themselves.
Philanthropy Cloud
The Philanthropic Cloud helps organizations with limited resources meet their social responsibility goals. It offers tools for the organization, management, customization and timely monitoring of all of a company's philanthropic efforts in a centralized platform. In addition, it provides the ability to measure the social impact of actions, inculcate a culture of impact, and makes it easier for employees to find causes that require support.
Migration and digital transformation are increasingly present in all sectors of society. For this reason, Salesforce has taken on the task of developing more vertical solutions to respond to the demands of each industry. Existing specific clouds are available on your Customer 360 platform and subject to a process of continuous improvement. If you are interested in knowing more about these clouds and their implementation, you can write to us at hello@theskyplanner.com.