Offering a good product is no longer enough for a company to be successful. Actually, customer assistance is another core element of positioning against the competition.
During the interaction of customers with a product, various situations can take place. From absolute satisfaction of the customer to the occurrence of some inconvenience. This last scenario is the most delicate for a company because it can have a negative impact on the consumer's perception of the product. It is also the time when special attention should be paid to the communication with customers and the assistance provided to them.
In the Salesforce ecosystem, every time a customer needs assistance or support from the company, a case is recorded, also known as a customer problem. When several cases are related or it is a problem that affects multiple clients, then we are in the presence of an incident.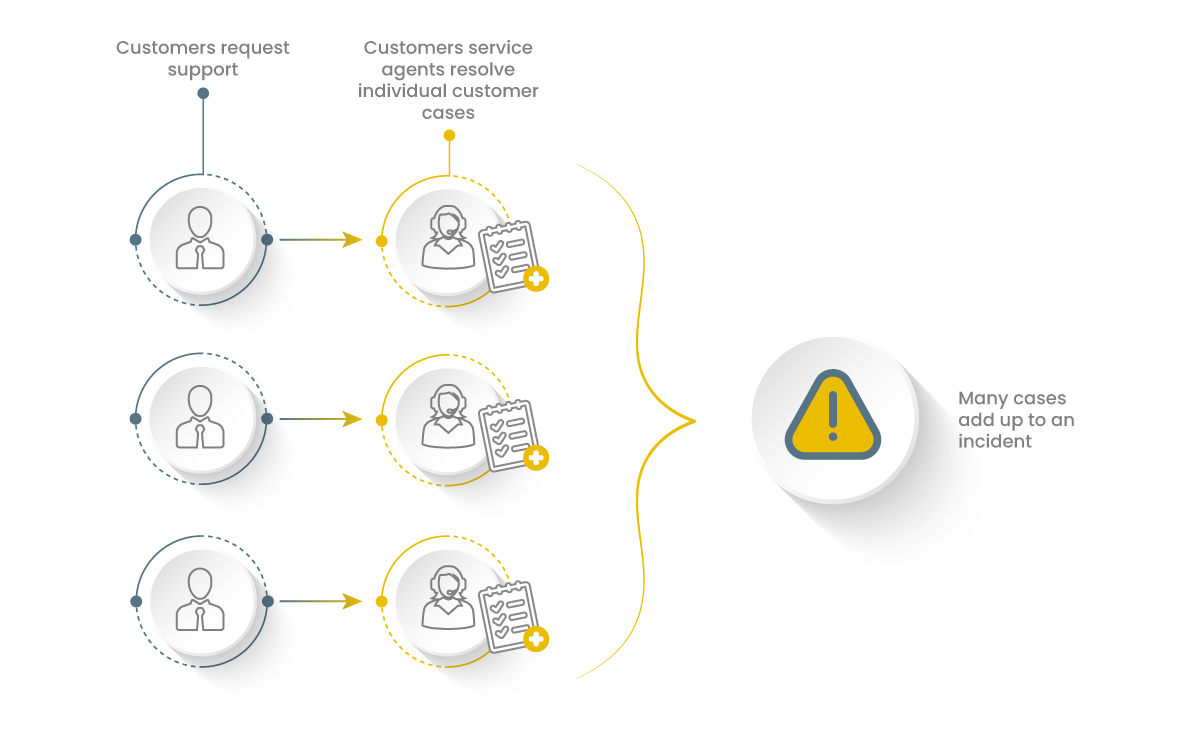 In the Winter '22 Release, Salesforce introduced the Customer Service Incident Management tool to Service Cloud. If you want to know how this solution can help you, then we present its 10 most attractive features.
What is Salesforce Service Cloud Incident Management?
Customer Service Incident Management facilitates the resolution of events that negatively affect the customer experience with your product or service. It allows service teams to effectively track problems, incidents, and change requests. In addition, it enhances proactivity in handling eventualities.
Customer Service Incident Management has been included by default and free in all orgs created after Winter '22 in Professional, Enterprise, Unlimited, and Developer editions. This tool, as part of the #1 service platform in the world and based on the ITIL (Information Technology Infrastructure Library) framework, makes it possible to provide clients with specialized attention based on best practices.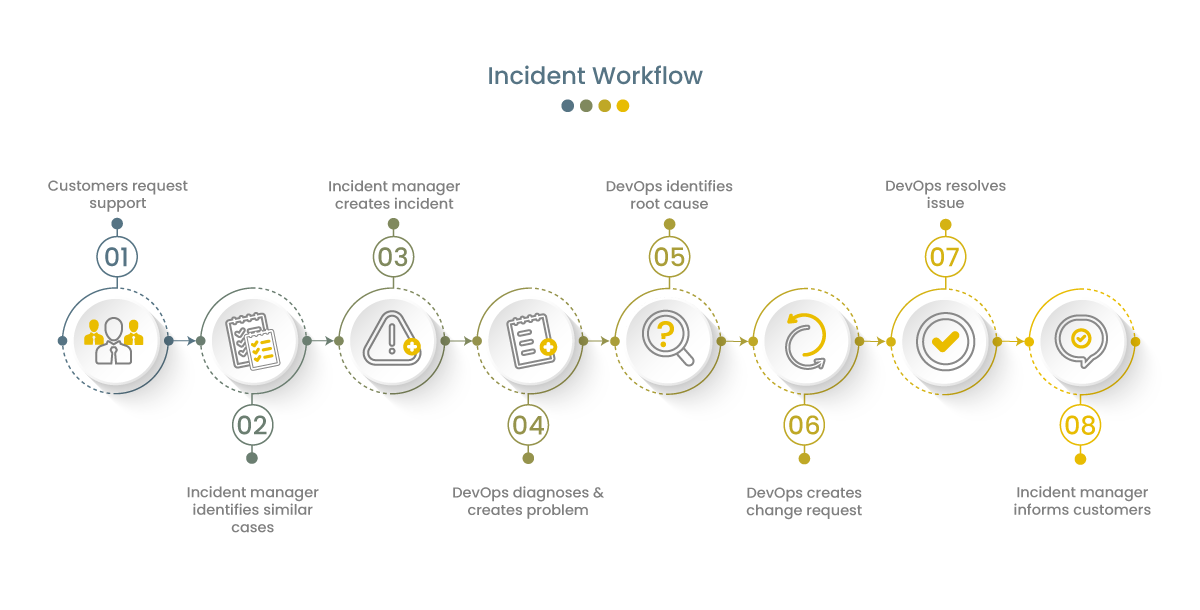 Surely when you have seen your business affected by an incident, the following questions have arisen: What was the cause? How could the functions of the service operation team be optimized? And, how could downtime be minimized?
Features available in Customer Service Incident Management
Among the multiple functionalities offered by Customer Service Incident Management, you will find the answers to the questions mentioned above. Some of them are:
1- Identify incidents. Incidents can often be identified from case streams that are linked from a widespread outage. However, with Artificial Intelligence, you will also be able to identify incidents based on large volumes of reported cases with the same characteristics. Example: the incident manager searches for new open cases and finds dozens of cases about a faulty discount code.
2- Centrally register incidents, problems, and change requests through fields and components. Fields and components allow you to collect useful information about objects. This information is essential when analyzing and making decisions. For service and operations teams, having it centrally in the same console (the Service Console) is very helpful and increases the efficiency of their work. It allows them to have better visibility into the scenario around incidents and makes it easier to escalate these incidents in the support queue if necessary.
3- Establish relationships between objects. These objects are: incidents, problems, change requests, contacts, accounts, assets, etc. In Customer Service Incident Management, each time an object is created, it can be related to others. For example: contacts with cases, incidents with cases, problems with incidents, assets affected by an incident, change requests with problems, etc. This functionality allows you to have a 360 view of a certain situation.
4- Automate the incident management process through the use of flows. In Customer Service Incident Management, you can find a series of sample flows that you can customize and activate to streamline your incident resolution process. Two of these flows are: Close Change Request & Related Issues and Change Case Owner to Incident Owner.
5- Collaborate with subject matter experts through swarms. Once the Service Cloud app for Slack is set up, a workgroup or swarm can be created in Slack. In it, both internal and external experts can meet, depending on the topic, to identify causes of problems, exchange solutions, and keep each other updated on their progress. This collaborative environment favors rapid incident resolution and reduced downtime.
6- Follow up on incidents. This is achieved through the creation of incident channels using Omni-Channel. These incident channels will have support agents associated with them, who will be able to receive new incidents to resolve as they become free from other jobs. Likewise, when there are several incidents, the agents will form queues with them.
7- Route incidents to agents, based on skills. This functionality ensures that each incident is assigned to a specialist with the necessary skills to resolve it. This ensures greater efficiency and effectiveness in your solution. In order to access this option, you will need to select Enable skill-based routing.
8- Share updates on the status of large-scale incidents. This is possible through emails and broadcast banners. As teams work together to resolve incidents, they can update incident contacts via email and use customizable banners from the Lightning Web Runtime and Aura sites.
9- Facilitate the necessary actions to ensure that the problem or incident does not occur again. Once the problem is diagnosed and the incident is fixed, a change request is created to implement the necessary solution. Then, the steps necessary to submit the change request and resolve the incident should be described in the work plans. The work plans will serve as a guide to solve similar incidents in the future. These guides can then be shared in Slack swarms and receive team approvals or enhancements.
10- Integrate Service Cloud with external incident management systems used by partners. From Customer Service Incident Management, you will be able to synchronize your incidents with those registered by your partners on other platforms such as PagerDuty, Datadog, Cadalys Sentinel, Jira and ServiceNow. In this way, you can prevent the formation of information silos.
A company without any incidents only exists in fantasies, as is to be expected in any activity in which people are involved. However, the goal is to minimize them and manage them as efficiently and effectively as possible without neglecting transparency and consideration when communicating with customers.
As we have seen, all of this is possible to achieve with Customer Service Incident Management. Do not miss the opportunity to rely on our certified expertise if you want to boost your brand using this tool. Contact us through our email at hello@theskyplanner.com.