Since its founding, Salesforce has been committed to ensuring high levels of security and performance to its customers. The success of this cloud-based software pioneer has been on the rise, along with the development of technologies and the demands of the growing number of customers. For more than 20 years, Salesforce has stored information from thousands of companies in its own data centers, but it had already begun to be insufficient.
A digital transformation is imperative for any company that wants to compete in today's market. Automation requests are fast in the making, and Salesforce has made it a point to satisfy its customers as quickly as possible.
The potential of the public cloud has been revealed to Salesforce as the most efficient way to support the rapid growth of its clients' businesses. Therefore, in December 2020, they announced Hyperforce, the public cloud architecture that has allowed them to reach new geographies.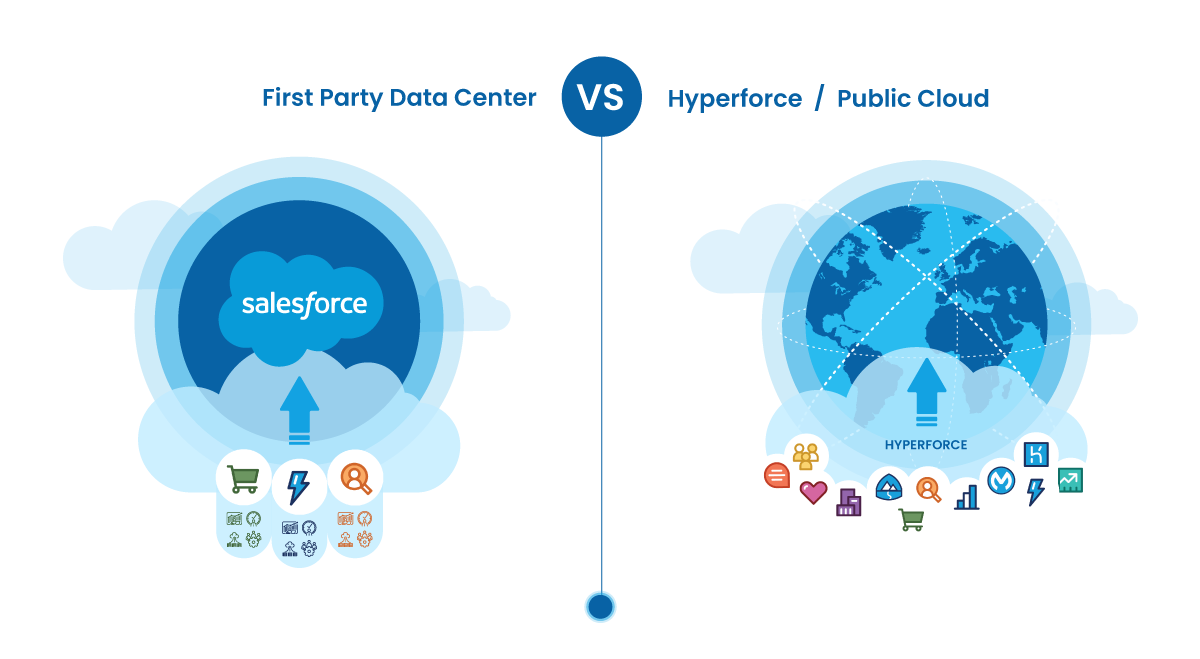 What is Salesforce Hyperforce?
Hyperforce is Salesforce's renewed infrastructure architecture, based on the consumption of public cloud services. This is designed to offer customers a more powerful and easily scalable platform. In this new scenario, Salesforce does not manage physical resources. The only layers under its domain are: the platform, the clouds, the applications, and the functionalities.
This approach allows Salesforce to focus all of its power on innovating and refining its products, diversifying its portfolio of services, and achieving the satisfaction of more and more customers around the world.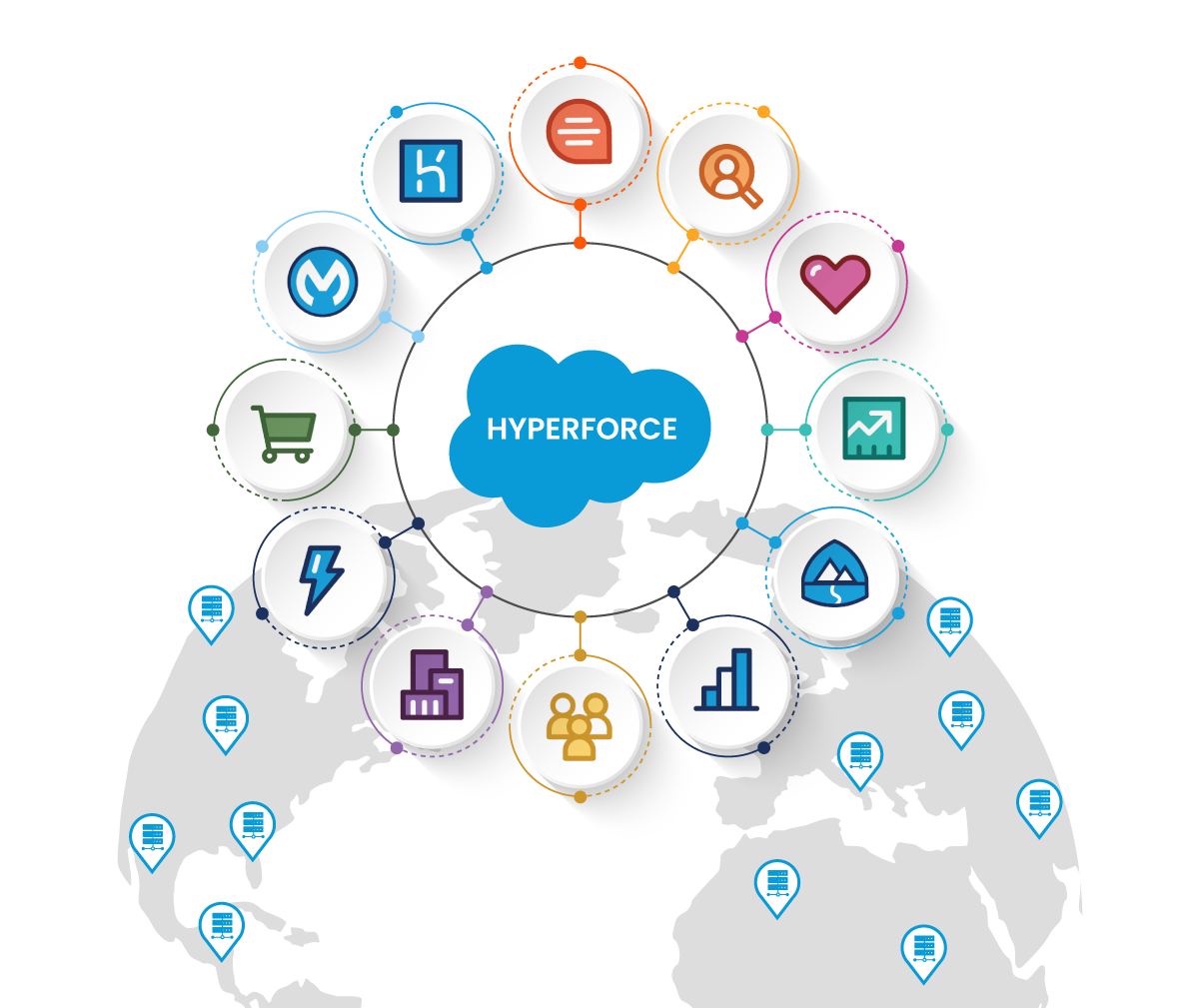 Hyperforce was designed with the best development practices that Salesforce has accumulated over its 20 years of experience. Salesforce Customer 360 is now based on a completely revamped architecture platform that is more flexible, scalable, and efficient. Sales Cloud, Service Cloud, Marketing Cloud, Commerce Cloud, Industries and many more solutions are now available from the world's leading public clouds.
At no additional cost, you can enjoy the benefits of migrating to this new architecture within your existing Salesforce organization. In the following, we will share some information about these benefits with you.

Need Salesforce Consulting Services?
We offer Salesforce consulting services aimed to kickstart your company's growth, either by implementing a new business-tailored solution or improving an existing implementation.
Main benefits of migrating to Salesforce Hyperforce
You will be able to choose where in the world you want to migrate your organization, thus reducing concerns about non-compliance with regional laws and regulations.
Hyperforce public cloud providers offer their services for various regions. It is beneficial for companies to select the region that is as close as possible to the organization. This greatly facilitates regional compliance with industry regulations and government legislation associated with information management. It should be noted that, before a migration, companies will be able to choose a location, but not the public cloud provider. However, not all applications are accessible from any region. This is something that must be taken into account before migrating.
You will have the guarantee that Salesforce will always have the infrastructure you need to scale your business quickly.
Public cloud providers not only ensure that Salesforce, through Hyperforce, always has the necessary resources to support their customers' growth, but also guarantees scalability in a sustainable way. Salesforce is committed to offering its customers infrastructures that are focused on 100% renewable energy, and providers oriented towards the goal of net zero carbon emissions in all its operations.
Your data will be as or more secure than before.
Hyperforce's security architecture implements principles such as: least privilege, zero trust, and encryption of customer data. Least Privilege ensures that users have the minimum access necessary to perform their jobs. Zero trust is based on the thesis that the security of a complex network is always under both external and internal threats. This allows organizing strategies to face threats and mitigate their effects. Data encryption can handle data that is both stored on disks or in transit within a network.
Control over the privacy of your data and the data of your customers is guaranteed.
Hyperforce ensures that the standards and regulations associated with privacy in the cloud are respected. This constitutes a guarantee that cloud service providers have the necessary procedures and controls in place to comply with legal obligations regarding the processing of private data. It also provides highly transparent information about how your data and that of your customers are collected and used.
Favors agile software development and performance in the execution of your applications.
With the Salesforce First-Party Data Center infrastructure architecture, organizations are contained in instances. These instances are assigned a certain amount of resources that are shared among several organizations. When an organization cannot find the necessary resources in an instance to run properly, the platform will then automatically migrate the organization to an instance with less load. When these migrations occur, the organizations will become temporarily inaccessible. If an organization is frequently migrated due to the lack of infrastructure processing, this may hinder development tasks, updates, etc. Generally, sandboxes or test and development environments are located in instances with fewer resources, where they can undergo many migrations.
With Hyperforce, all of these performance and resource issues disappear since this architecture does not require Salesforce to invest much energy and effort into them. Instead, public cloud providers ensure that the infrastructure meets all the running needs of organizations regardless of whether they are test, development, or production environments. Additionally, the benefits included can also be represented by the native integration of organizations with public cloud services such as AWS.
At the start, we mentioned that companies can choose to locate their organizations in regions close to where their business is carried out. By reducing the distance between data centers and end users, latency is also reduced, which has a significant impact on the performance of services.
We hope this post has helped you understand what Hyperforce is all about and how much it can benefit your business. This new infrastructure architecture has fascinated us. If you would like to know more about the subject, do not hesitate to contact us at hello@theskyplanner.com.