Many times, we from SkyPlanner, have insisted on how the data-based and customer-centric approach is gaining space and leading in the modern business world. Data is a valuable vault of information, but it requires an adequate culture to take advantage of its maximum potential, as well as more innovative tools. Likewise, people are increasingly demanding a close relationship with their favorite brands. In fact, according to the 2021 Next in Personalization Report, 71% of customers expect every interaction with a business to be personalized.
Salesforce CRM, the forefront of business technology, throughout its existence, has created various solutions for data management. But it turns out that a lot of these solutions were built on acquisitions and mergers. This has resulted in many CRM customers using multiple Salesforce solutions, tools and applications, at the risk of storing customer data in different silos within each.
To solve this, in the last Dreamforce 2022, Salesforce Genie was presented: the first real-time platform to guarantee relevant, personalized and, above all, magical experiences.
What is Salesforce Genie?
Salesforce Genie is a hyperscale, real-time data platform that powers the entire Customer 360 platform. It enables companies to turn their customer data into highly fluid, personalized experiences that adapt to customer needs in real time.
Genie is the highest level reached in Salesforce's quest for a fully integrated data platform. It's a solution that enhances every cloud and industry in the Customer 360 ecosystem. Salesforce has done this before with Flow and Einstein by bringing automation and intelligence to every Sales, Marketing, Customer Service and Commerce process.
How does it work?
As the driving force behind Customer 360, Salesforce Genie captures, stores and unifies data streams on a massive scale in real time. It then integrates it with Salesforce's own transactional data to create a unified view for each customer. To get into more detail, the process goes like this: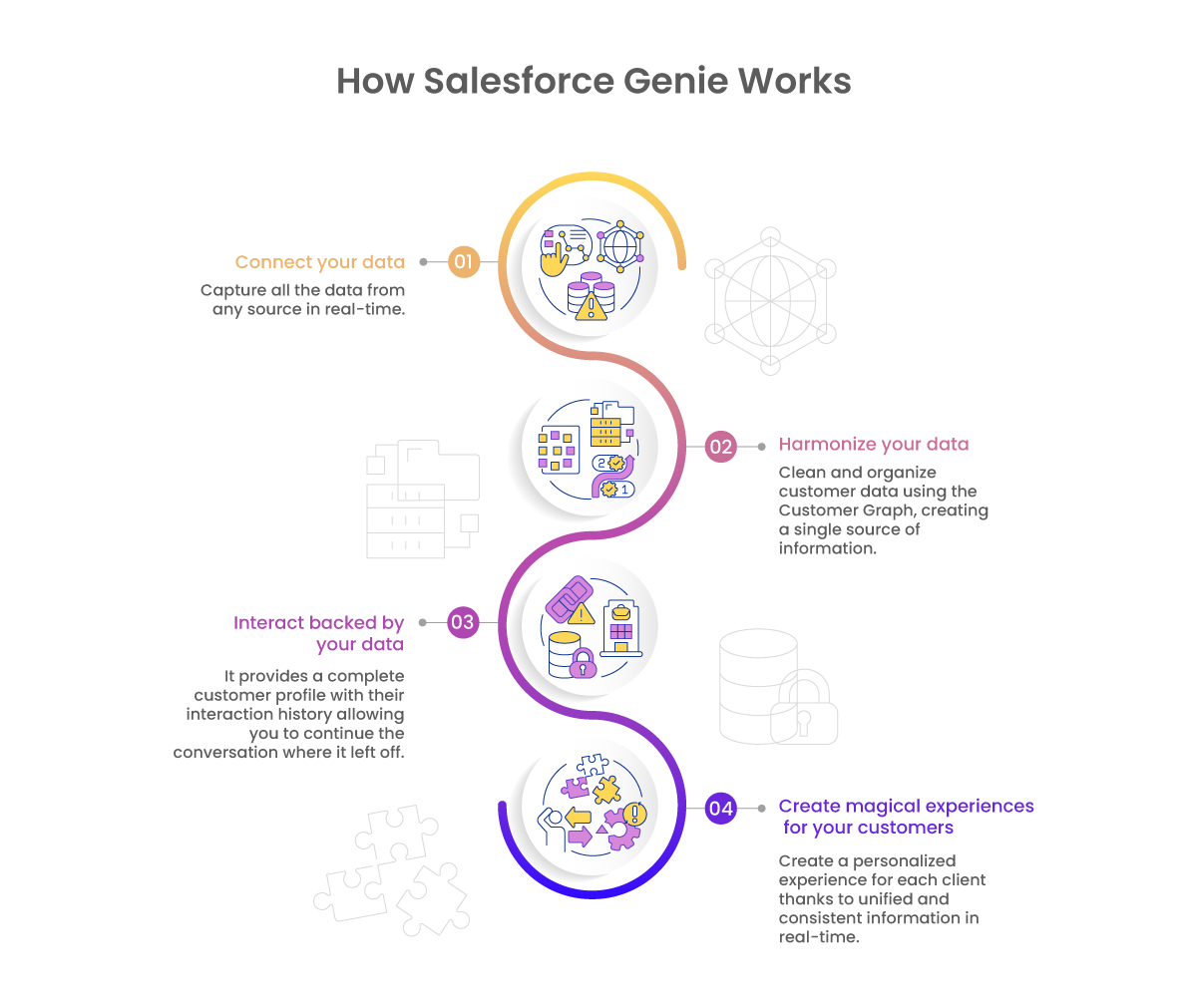 Connect your data
Genie has built-in connectors that allow you to capture, in real time, information from any source (mobile, web, API), including Salesforce apps, legacy systems from MuleSoft, and historical data from proprietary data lakes. This allows you to connect massive volumes of data that, stored in Genie, is visible and available for use in Customer 360. As well as across industry solutions, AppExchange, and customer applications.
It is worth noting that Genie operates on Hyperforce, Salesforce's public cloud infrastructure. So Genie benefits from the security, privacy, and compliance controls, as well as the built-in data ethics capabilities found in Hyperforce.
Harmonize your data
It would be useless to have a huge volume of data if it does not provide clear and precise information about customers. To do this, Salesforce Genie offers the Customer Graph -Customer Graph- a set of data models that harmonize all data flows into a unified profile for each customer. This guarantees that all data, regardless of its origin, comes together in the same profile, providing a single source of information in real time.
Interaction backed by your data
At this point, identity resolution is achieved for each customer, providing a complete history of their interactions with the business in a single profile. Since the information stored in Genie is available to all of Customer 360, it will be accessible by any cloud or application within this platform. This allows to support, in real time, the agents of any department or sector with unified profiles for quick decision making.
Create magical experiences for your customers
The great advantage of unified and consistent information provided in real time is the hyper-personalization of the customer experience. In addition, with Flow automation and Einstein AI, the power of data can be exponentially increased on a massive scale in real time, for the development of more dynamic and proactive actions with customers. With Genie, Salesforce promotes, now more than ever, the creation of magical experiences for your customers in any sector or industry.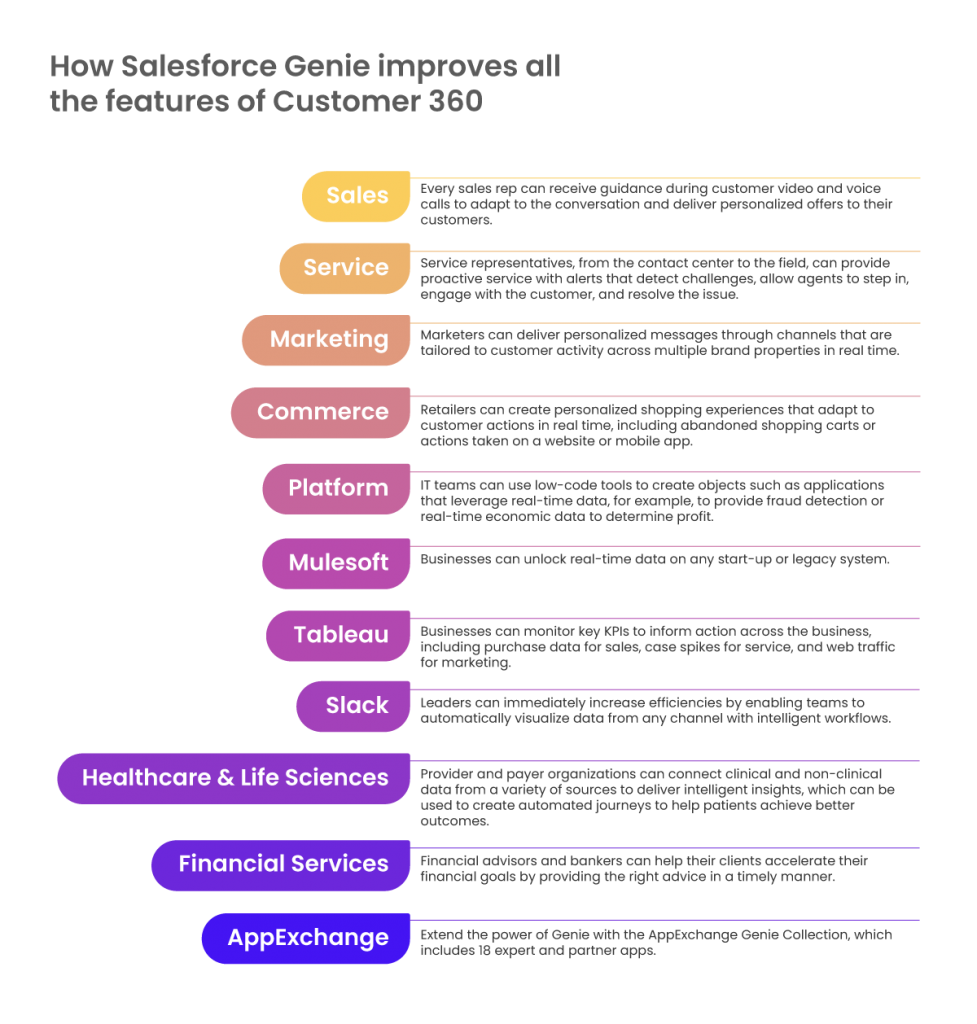 Salesforce Genie: A Level Above CDP
One of the main questions regarding Genie is its similarity to Salesforce CDP. However, Genie is a new level above CDP. In fact, the CRM itself emphasizes that Genie is not a simple addition to Salesforce CDP, nor is it an independent functionality to it. Rather, it is a rethinking of CDP itself and its capabilities.
Historically, CDPs have been a tool of the marketing area, uniting data from different channels in a single view. Genie represents a structural change in this regard. The two main differences of Salesforce Genie are, first, the access to information in real time, allowing instant updates.
Second, it guarantees access to information on all areas of customer contact. This means that all the teams in your company (sales, marketing, commerce, service and more) obtain all the information available from a client and adapt each experience they offer in order to make them totally personalized. Want to learn more about Salesforce Genie? Well, the SkyPlanner team can help you. Feel free to write to us at hello@theskyplanner.com.