The cohesion between the marketing and sales teams is vital in the business world as it allows concerted efforts, speeding up sales cycles, and optimizing the rate of return on investment. This is not always achieved efficiently, potentially causing lost opportunities, useless efforts in unproductive prospects, and tension between both departments.
To avoid these negative effects, Salesforce introduced a valuable tool in 2015 that is used by more than 1,500 companies. This tool is called Salesforce Engage, a collaborative link between the Pardot and Salesforce platforms, which enables a fully integrated and satisfying experience for both external and internal customers.
What is Salesforce Engage?
Salesforce Engage is a relatively simple add-on to simultaneously manage the technological capabilities of Pardot and Salesforce. Using this, the marketing team can create content in Pardot for the sales team. The sales executives can then access this content from Salesforce Engage. It is an easily understandable concept; however, there is more to it.
Salesforce Engage is part of the marketing philosophy focused on creating holistic, omnichannel, and integrated customer experiences. In this scenario, Salesforce Engage bridges the gap between the marketing and sales teams, while coordinating their efforts to make sales and build smarter relationships.
The Marketing department uses Salesforce Engage to create content in Pardot that can be shared with sales representatives, such as email templates, reports, etc. Sales can then leverage this information to directly target the highest marketing-qualified prospects, contact them at the best time, track messaging effectiveness, make sound data-driven decisions, and close deals faster. All from the Salesforce platform.

How to Get the Sales Team to Use Salesforce
Salesforce is a strategic tool for the growth and evolution of companies, but if it is not used to its maximum capability, it may lose its value. How to get the sales team to use Salesforce can become a real headache if you don't know how to manage it well.
Salesforce Engage Components and Features
At this point, you have to wonder how Salesforce Engage achieves this alignment between the marketing and sales teams. Well, it is achieved through an efficient set of components and features that we detail below:
Components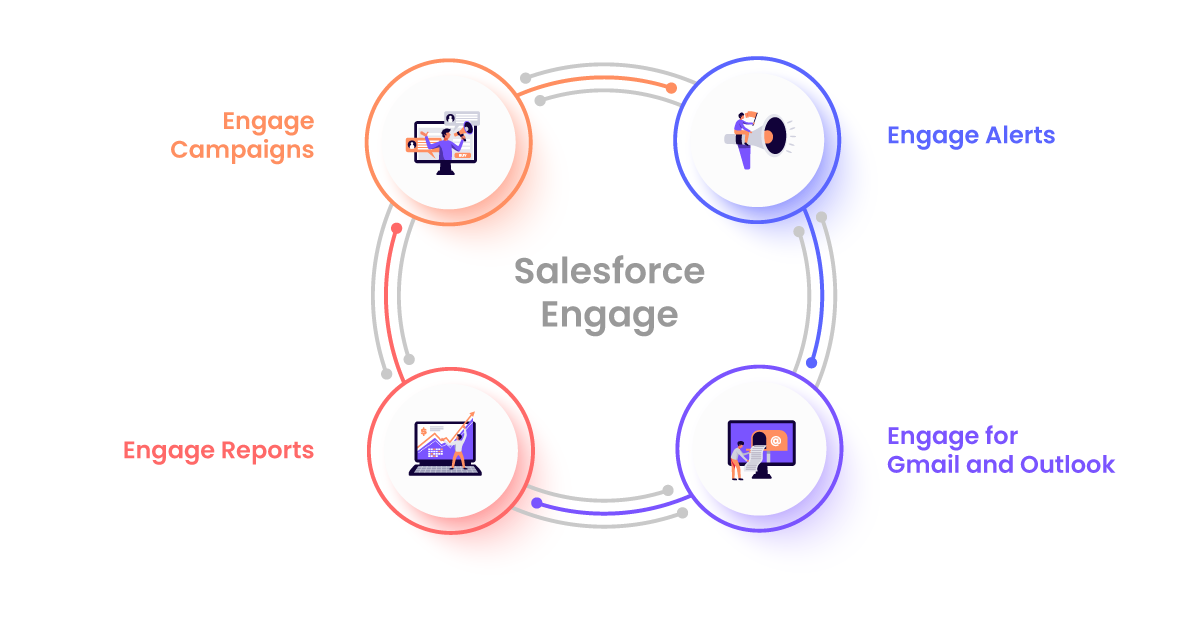 Engage Campaigns: Takes email marketing to the next level. Through this functionality, the sales team will be able to use email templates and personalized content from the Salesforce platform itself, both from Gmail and from Outlook. Relevant, marketing-approved emails will be sent to single leads (1:1) and multiple contacts (1:many).
It is also possible to specify regions within the emails, which makes it easier to comply with legal requirements and that the message is delivered at the right time. With the "Send on behalf of" option, sales reps can even send on behalf of another user who can be the owner, contact, or owner of the account.
Engage Reports: Tracks loyalty campaigns and determines their effectiveness. Loyalty reports show full delivery details, clicks/unique clicks, and opens/unique opens. This makes it easy for both sales and marketing teams to have performance charts and visualize campaign metrics to represent which emails, templates, and content produce the most engagement in a given period. In this way, sales and marketing teams can make more accurate decisions for future campaigns.
Engage Alerts: Enables the ability to view lead activity in real time and get data on both prospects and lead activity over the last four days. It will also reveal the content that has the most motivated prospects and the most ideal times to communicate with them, making it easy to reach the prospect with the right message at the right time. In this way, the Sales team can configure Engage Alerts to notify when a prospect has a key interaction or action with the company in real time; thus streamlining the sales processes.
Engage for Gmail and Outlook: Offers an extension operable from Gmail and Outlook to send trackable emails without leaving these platforms. Sales reps can also track both opens and clicks while also being able to insert spreadsheets directly. Additionally, the add-on automatically records all email interactions in Pardot and Salesforce, eliminating the risk of missing key information. Since the content is pre-approved by marketing, the emails become a trackable, correctly formatted, and effective form of communication.
Features
Easy Prospect Filtering: Enables sales agents to group and filter prospects based on data collected and stored in Pardot that they would otherwise not be able to access. Grouping and filtering is done through three levels:
Assignment: ​​Assigned leads or visitors who do not have a Salesforce Lead/Contact record.
Activity: It is a filter based on any of the nine activities available in Pardot, such as form submissions and event registration.
Geographic: Filter according to the location of the contact, either by one or several countries or even at the regional level. This way, the sales rep will have separate lists which they can use to send relevant and timely messages to the target audience. This will help the sales rep fulfill their role more efficiently and with a higher success rate.
Consistent Branding: Makes it easy to brand consistently across all email communications. Marketing and sales teams have access to the same marketing-approved templates and content for campaigns. This way, sales agents do not have to resort to designing these communications themselves and the collaboration of efforts between both teams is enhanced.
Deeper Insights into Prospect Activity: Salesforce Engage gives sales agents a view into Pardot data. This provides insight into potential customers' activities, preferences, interactions, and behaviors (page views, downloads, clicks); giving Sales an additional layer of insight.
Organized user interface: The user interface is designed to capture the essentials at a glance. Lead information is reflected in a card-based column view through an intuitive layout using Engage Alerts. These columns can be filtered according to specific criteria in order to display activity data for each client and analyze them to optimize their loyalty. Alert cards are organized by lead and based on added filters, showing the most recent at the top. The icons are simple, making it easy to label different types of interactions and easily recognize them.
Mobile Access for On-The-Go: Salesforce Engage is available for mobile devices through the Salesforce mobile app. This allows sales representatives to access information from any location on their smartphone or tablet. They will be able to see up to 100 activities of their prospects in the last 4 days. Additionally, they can apply different filters, add prospects to mailing lists to nurture campaigns, and respond right at the time of the engagement alert.
Requires little training: The tool is easy and intuitive, so it requires very little training for sales users to handle it. Even so, quick tutorials on its main functionalities can be used. It is recommended that a Salesforce Administrator and Pardot Specialist work together to implement this tool.
How to access Salesforce Engage?
Salesforce Engage is a paid add-on for Pardot; therefore, it is necessary to purchase Pardot prior to implementing Salesforce Engage. Pardot includes some specific functionalities that are only relevant to Engage, so it requires an additional license to use them. These licenses are issued as one per person and priced at 50 USD/user/month (paid annually).
Ultimately, Salesforce Engage acts as a bridge between the marketers in Pardot and the sales reps in Salesforce. For this reason, it is an extremely useful tool that is used to achieve well-coordinated teamwork that optimizes customer commitment and satisfaction throughout the purchase process. Want to learn more about using Salesforce and Pardot for marketing and sales alignment? At SkyPlanner, we can build this bridge with you, quickly and effectively. Write to us at hello@theskyplanner.com.