A study published in March 2023 on the official OpenAI website states that "with access to an LLM (Large Language Model), about 15% of all worker tasks in the US could be completed significantly faster at the same level of quality" This study reveals the indisputable impact that Artificial Intelligence (AI) has on the economy of all industries, both in large companies and in SMEs.
After around 8 years of innovation and investment in AI technology, on June 12, 2023 on Salesforce AI Day, AI Cloud was launched. In this event organized by the company every year since 2018, Marc Benioff, CEO and Co-Founder of Salesforce, showed how the company in recent years has focused on using generative AI to change the way business is done.
Discover with us what it is and what AI Cloud has to offer, the generative AI in the #1 CRM in the world.
What is Salesforce AI Cloud?
AI Cloud is Salesforce's proposal to bring AI to your business in a trusted, simple, highly personalized way and with real-time data. This solution integrates Einstein, Data Cloud, Tableau and Mulesoft technologies to incorporate business generative AI into Sales Cloud, Marketing Cloud, Service Cloud, Commerce Cloud, Slack, Flow and Apex through the Einstein GPT assistant.
AI Cloud and the challenges of using enterprise generative AI
Generative AI is the branch of AI that focuses on generating content from existing data. Einstein GPT is the world's first generative AI built specifically for CRM#1. An example of generative AI are LLMs, which are trained using deep learning algorithms to process, understand, and produce human language. Once trained, LLMs can be used in tasks involving natural language, such as text generation, automatic translation, sentiment analysis, automatic question answering, etc.
In general, generative AI can help companies increase the efficiency and productivity of business processes and personalize the customer experience. It is undeniable how useful LLMs are, but when adopting this type of technology, there are risks that business management would be critical to assume, some of them are:
The data with which they have been built is usually outdated by 1 year or more.
It is very common for them to generate written information in a coherent way, with data that has some real relationship with the subject, but is wrong, the so-called hallucinations.
The AI learns from the training data provided to it, which means that if the data is biased or discriminates against certain groups, the AI can perpetuate those same biases and discriminations in its generated output.
Loss of control over the governance of the data used to train and power the AI. This data can include sensitive information about individuals and organizations, and it is important to ensure that it is handled appropriately.
AI Cloud has been designed to counter all these risks and ensure that the content generated by Einstein GPT is fully trusted for decision making in your business. Its fascinating architecture allows you to quietly enjoy the power that the use of generative AI brings to the productivity of your business.
AI Cloud Trusted Architecture
The AI Cloud architecture, as shown in the image below, is based on 6 layers.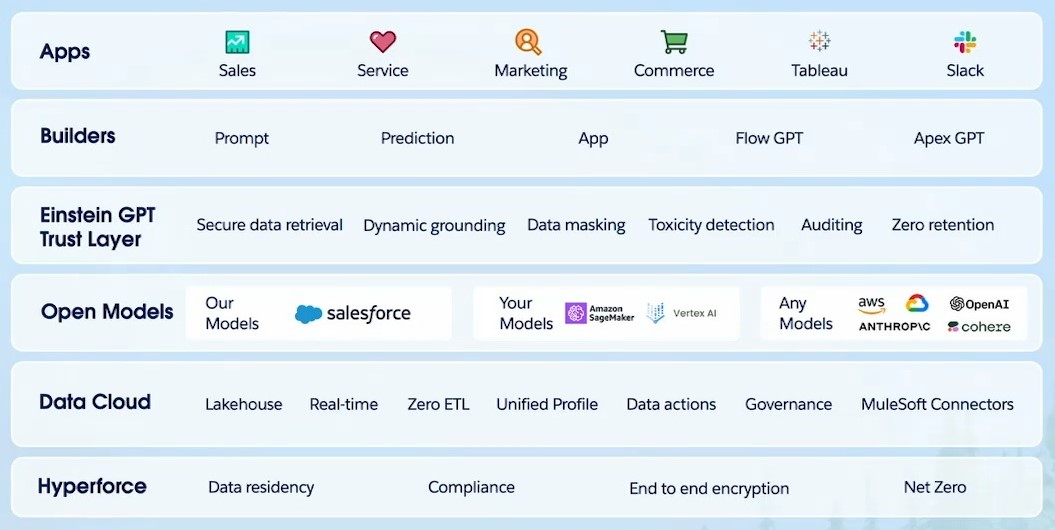 1- Hyperforce
Hyperforce, the trusted public cloud infrastructure is at the base, supporting all the technology.
2- DataCloud
In Data Cloud is where you can achieve the integration between different data sources of your company in a very simple way. By gathering as much data as possible about your business and customers, it guarantees greater personalization and veracity in the generation of content.
3- Open Models
Since AI Cloud is built on an open platform, this layer allows you to combine different learning models. It gives you access to Salesforce's own LLMs such as CodeGen, COdeT5+ and CodeTF (created by the AI Research division, an elite team of professionals dedicated to development and innovation in the field of AI within the company, and a fundamental part of the AI Cloud). You will also be able to work with others offered by third parties such as Amazon Web Services, Anthropic, Cohere and OpenAI. Plus, thanks to Salesforce's partnership with OpenAI and Google Cloud, you can use models you've created, based on ChatGPT and Vertex training options.
4- Einstein GPT Trust Layer
All the models you use, regardless of their origin, will connect to the various Salesforce tools through the Einstein GPT Trust Layer. This layer allows applying access control over the data that is processed by the LLMs, and it is also recognized as the heart of the AI Cloud. How does it work?
Once a prompt is provided, in real time the necessary data is obtained in a secure way and the business context is added to it. Masking prevents PII (Personal Identity Information) data from traveling through the prompt to the LLM. The generated content is reviewed to remove obscene words, inappropriate language etc. (detection of toxicity). Finally, the prompt is removed, thus ensuring that this knowledge is not learned by the LLM, nor does it leave the Salesforce environment. During the machine learning process, the data is not exposed, nor is it seen by Salesforce.
5- Builders
This is a layer for companies with particular needs that have decided to create their own AI-based prompt templates, apps, and flows. Through Builders you can access a local console, so that you can train your LLMs with low-level code.
6- Apps
This layer is for end users. In here is the suite of Salesforce applications powered by generative AI.
What's New in Salesforce AI Cloud?
Salesforce AI Cloud offers highly reliable generative AI technology focused on connecting with customers in a different way. It proposes the use of the controversial AI, under ethical principles that Salesforce defends as a company. It is a commitment to eliminate the trust gap in AI for companies. A unique combination of generative capabilities and security.
There are 4 key features that make Salesforce AI Cloud stand out in the market:
Clients can have access to all their data in real time. "AI is only as good as the data that drives it.", says Jayesh Govindarajan, Salesforce's senior vice president of AI and machine learning. AI Cloud ensures that users have the world's most robust CRM data set for highly personalized content generation and powerful analytics. Einstein GPT also supports data from public sources.
It is an open platform. It is perfectly compatible with any LLM.
Deploy AI trusted. AI Cloud with Einstein GPT Trust Layer enables the use of any LLM, preventing the risk of them retaining confidential company data.
It offers business-ready generative AI. This solution has been designed and configured to be used immediately. Simply and quickly, it allows you to boost productivity and increase efficiency in all customer interactions with the company. Power Salesforce Customer 360 with the magic of automatic contextual content generation.
How does AI Cloud integrate with existing Salesforce products?
Understanding the AI Cloud architecture is a great way to understand how Einstein GPT integrates with existing Salesforce products. However, the simplest answer to this question is: you can integrate AI Cloud with existing Salesforce products, through the Einstein GPT wizards for Sales Cloud, Marketing Cloud, Apex etc. By making use of natural language prompts on your data (whether from CRM or other compatible sources), you will be able to activate the generative AI and obtain both automations and personalized content. Some use cases are:
Automatic generation of highly personalized emails in Sales Cloud.
The automatic design of landing pages with much higher chances of attracting customers in Marketing Cloud.
The generation of Apex code from natural language instructions, making use of a proprietary LLM from Salesforce AI Research.
Without a doubt, AI Cloud has arrived to exponentially enhance the productivity and efficiency of your company in a simple, fast and risk-free way. This elite technology is still in development and refinement, up to date it has Einstein GPT Trust Layer and Service GPT available. Sales GPT, Commerce GPT and Marketing GPT are coming soon and expected in 2024. If you found this article interesting and you want to know about the products and services we offer, do not hesitate to contact us hello@theskyplanner.com.