Normally, most companies use some type of software to carry out their business process management and administration. On many occasions, they use several different softwares, which have been incorporated according to their needs. In turn, the development of information technology (IT) itself has led to an increasing number of devices and applications that function as important sources of data. Integrating all that information together to obtain the maximum benefits from its data is a major problem that many companies aim to solve.
It is then that MuleSoft, a company specialized in software integration products, emerged in 2006, with the workforce of a mule and the speed of a racehorse. Little more than a decade later, in 2018, it became part of the Salesforce family through the Integration Cloud.
What is MuleSoft?
MuleSoft is the name by which we can identify the #1 platform for integration and application programming interfaces(APIs). Specializing in products that connect data from multiple sources, applications and devices. MuleSoft makes it much easier to design, create and manage enterprise system integrations both on-premises and on the cloud.
How does MuleSoft connect applications, data and devices?
Our daily life can no longer be thought of without connections. From different devices and through a variety of applications, we can make purchases in stores that are on the other side of the world, we can make reservations, communicate with friends, etc. All this with just a few clicks.
Behind this connected world are APIs, which function as interpreters capable of translating the interactions between different applications in such a way that they can exchange data and understand each other even though they come from different technologies.
MuleSoft bases its success on its modern and efficient approach to API development as the main method to achieve integrations. The adoption of this type of technology has revolutionized business models, while boosting, streamlining, simplifying and making the work of IT managers in companies more flexible. Which undoubtedly translates into better performance, as proved by the 2019 Forrester Total Economic Impact study.
Let's know a little about MuleSoft products
Anypoint Platform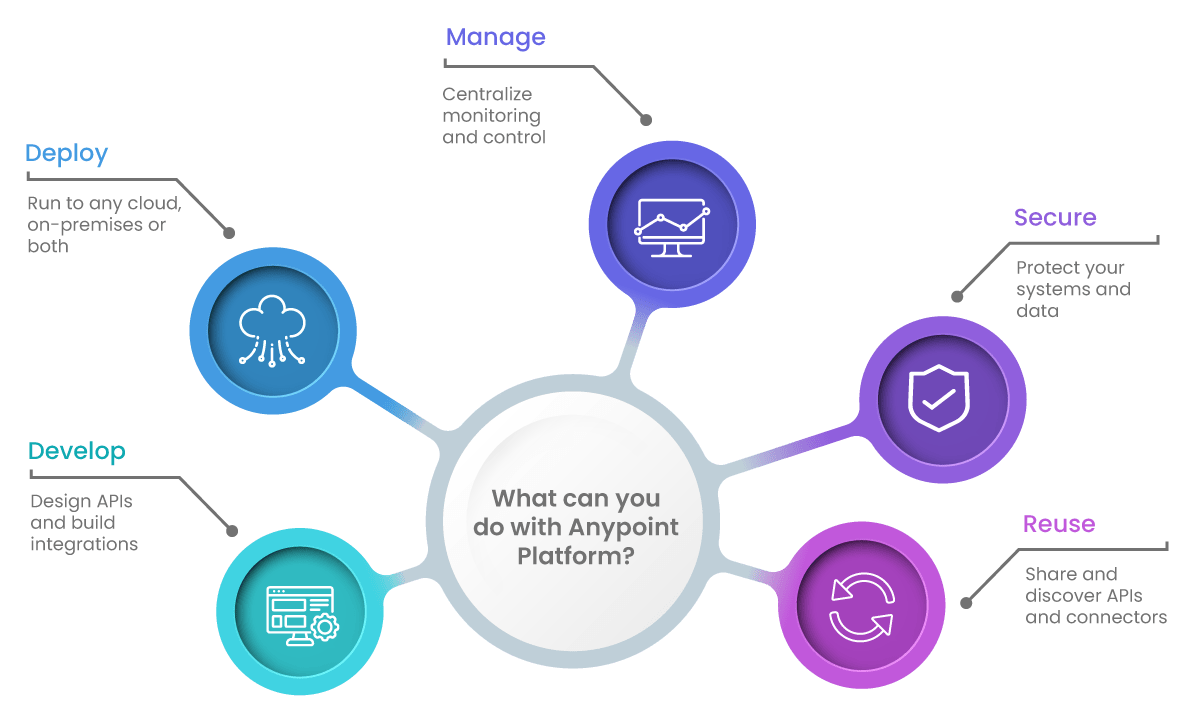 The platform was created so that IT teams can design, develop and reuse APIs, as well as monitor and manage APIs and integrations in a centralized web. AnyPoint Platform has an integration platform as a service (iPaaS) approach and is powered by the Mule runtime engine (a unique universal engine for connecting applications, data and devices) which is a lightweight enterprise service bus (ESB) based on Java. Furthermore, it includes the following components:
Anypoint Design Center: It allows developers to define and design the API specifications that will be needed for integration, prior to implementation.
Anypoint Runtime Manager: The Anypoint Platform interface that provides a unified view of your applications, servers and APIs. Thanks to the Runtime Manager, from a central location, regardless of the environment they are in, you can deploy, manage and monitor your Mule applications whether they have been deployed in the cloud or locally.
Anypoint Management Center: This component is the center of operations and will allow you to manage, monitor, audit and analyze the performance of the APIs, as well as apply basic authentication policies on a Mule application.
Anypoint Security: With a layered approach, through the control access to APIs, the application of security policies and proxying all inbound or outbound traffic; Anypoint Security takes care of protecting your data from external threats and attacks.
Anypoint Exchange: The prebuilt asset marketplace of the MuleSoft ecosystem. In it you can find a great variety of connectors, templates, examples and APIs that you can incorporate into your applications. If you want to save time, this is the first place you should turn to to find what you need. Anypoint Exchange allows you to save, share, and reuse development using best practices. You can also view, test APIs and simulate data for APIs with Mocking Service.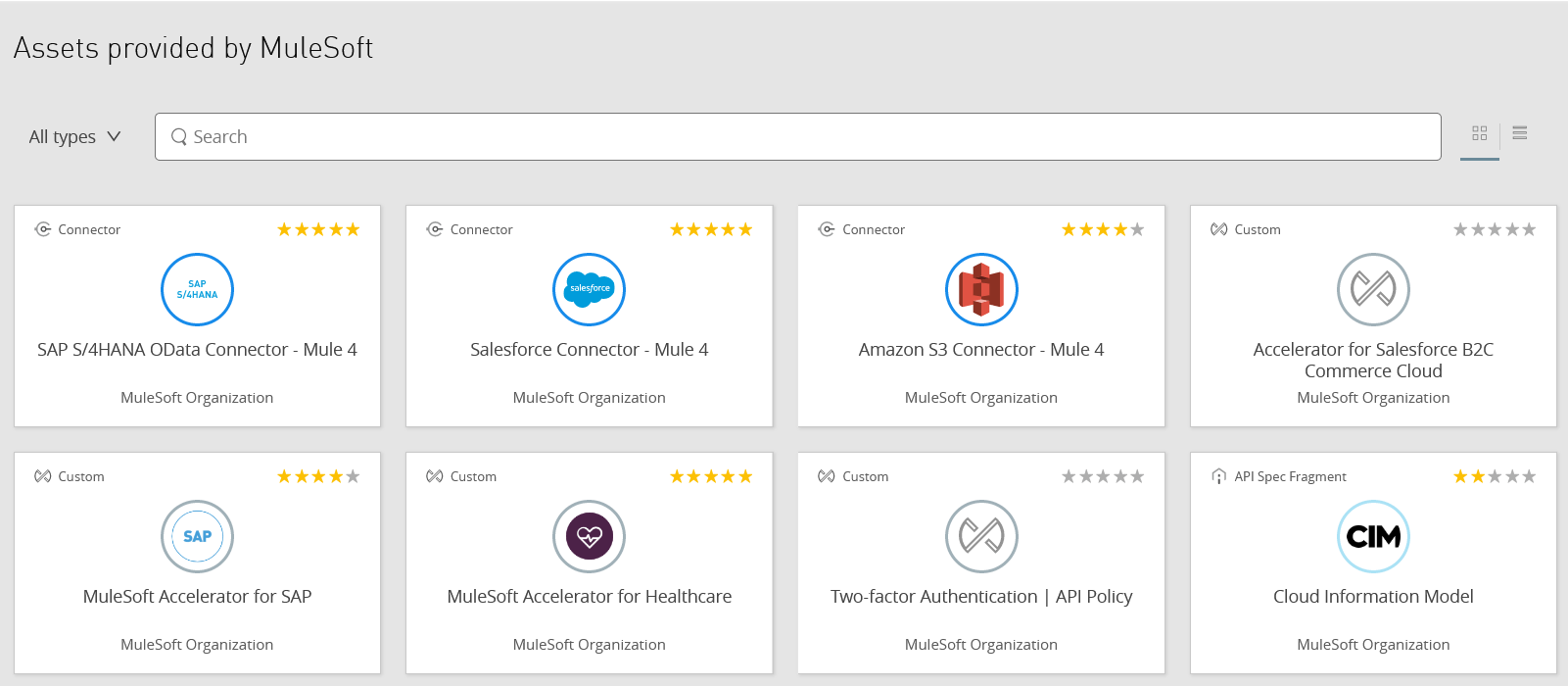 MuleSoft Composer
In principle, MuleSoft Composer is a product that has been created to meet the same needs as Anypoint Platform but aimed at a different audience, the "knowledge workers" in lines of business (LoB) who are not developers. It offers the same collaboration, execution, monitoring and security capabilities but without handling code, all is done through point and click.
In most companies, there are never enough developers to meet all the demands of LoB projects or commercial users are dissatisfied with the speed at which technological innovation processes are advancing. This is why MuleSoft with MuleSoft Composer, proposed to unify IT forces with those of LoB workers to jointly promote innovation projects.
Despite the integration benefits that MuleSoft Composer offers, many LoB workers find it difficult to leave their native business applications, which is why MuleSoft Composer has a custom approach that can be seen through MuleSoft Composer for Salesforce.
MuleSoft Composer for Salesforce is embedded directly in the Salesforce admin console and allows administrators to connect applications and data to Salesforce, automate integrations quickly and easily with just clicks, no code. All within the Salesforce user interface.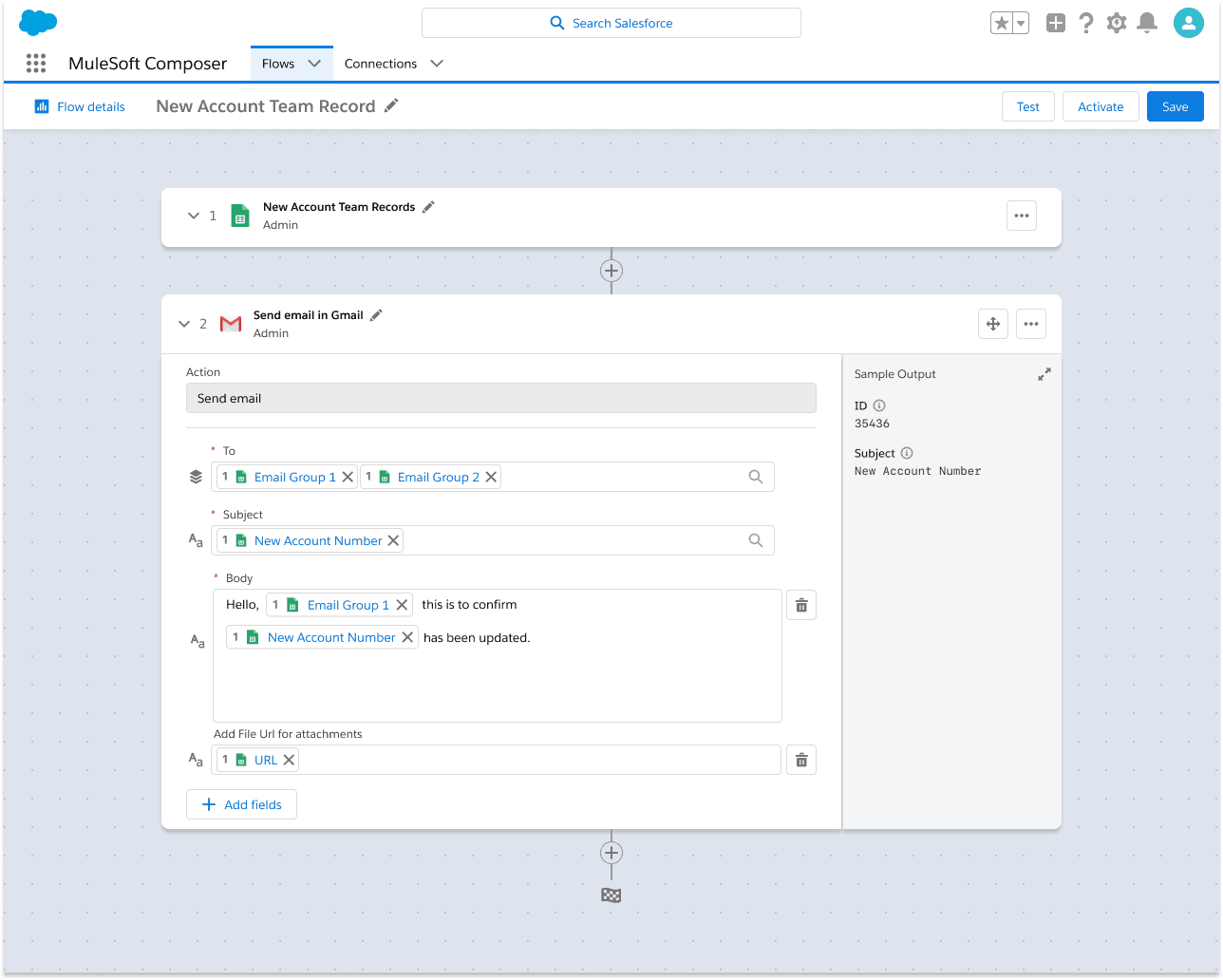 Why use MuleSoft?
With MuleSoft you have a complete view of all the data that is connected to the devices and applications. This offers a seamless and integrated customer experience that covers your entire company, including the areas of marketing, commerce, sales, service and more.
It allows you to access and integrate data from multiple systems, quickly and regardless of the technology used.
It helps you achieve your innovation goals either through clicks or code, bringing together your company's IT and LoB workforces.
The use of APIs allows you great scalability, you can grow whenever you need to, either by adapting the API you use or developing a new one.
It's flexible and versatile, designed to withstand and adapt quickly to big changes.
It offers support for more standards, formats, and protocols than any other open source ESB.
It offers you access to a large market with pre-build assets, connectors, etc. where finding what you need is easy and will save you time and effort.
It can increase productivity, due to improvements and optimization in the execution of innovation projects.
It puts at your disposal a development platform that offers you security and governance at all levels of the API life cycle.
It is easy to implement and use.
MuleSoft is undoubtedly the most attractive integration platform you can find. It will help you grow and our specialists would love to help you in that process, contact us if you need us, hello@theskyplanner.com.