The data being generated in today's digital world is staggering. Every second, user data is being collected and it's being used by companies and advertisers. Processing and analyzing this data then becomes a necessity to obtain a valuable product from it. So much so, that knowing the preferences of a certain group of users will allow us to decide the optimal way to send personalized advertising, minimizing the risk of rejection. There is no doubt about the importance of arming yourself with the right technology to perform such data processing. To fulfill this purpose, there are Data Management Platforms.
What is a Data Management Platform?
A Data Management Platform or DMP is a technological solution that is responsible for the comprehensive management of user data. It is a software as a service (SaaS) platform that collects, stores, organizes and centralizes data from different sources. Then, it processes the data and performs the pertinent analysis, until it returns a database segmented by audiences.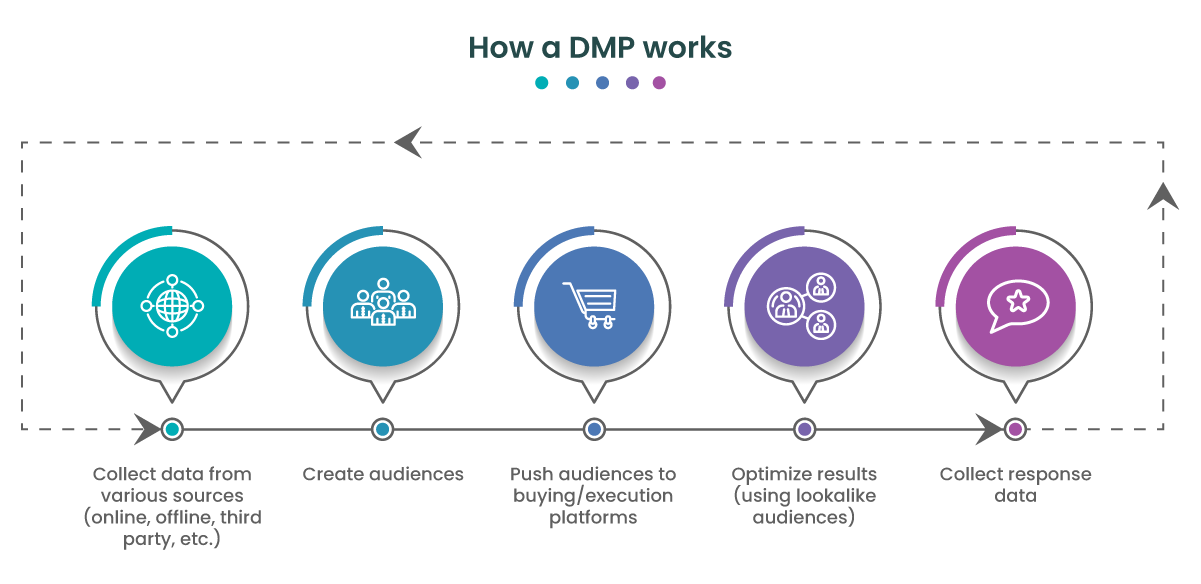 Said database shows valuable information (such as trends, preferences, among others) from which companies and marketing agencies feed to effectively influence various audiences, using personalized content adjusted to them. This type of platform processes significant volumes of data very quickly. It usually works with Big Data, using various processing techniques such as Boolean logic, algorithmic modeling and artificial intelligence.
Let's see it in an example. We have a group of users who, according to the data collected from them, do not like physical exercise and prefer to stay at home and relax. Given such a scenario, one might think that a company that is dedicated to the commercialization of sports items has no possibility of impacting that audience segment. However, although at first glance this may seem overwhelmingly logical and therefore inaccessible, reality can be interpreted differently and in the company's favor.
In this case, the information obtained from these customers can be used to transform the company's sales strategy and adapt it, in the most effective way possible, to influence that public and be accepted. For example, instead of advertising the classic sports equipment that every athlete tends to look for, this audience could be reached through advertisements for sports products that are suitable for relaxation and recreation. In this case: comfortable shoes and clothing, water bottles provided in different models, tools for muscle massages, accessories for joint care, among others. This is an example of adapting your product to an audience seemingly distant from your corporate purpose.
About the data of the Data Management Platform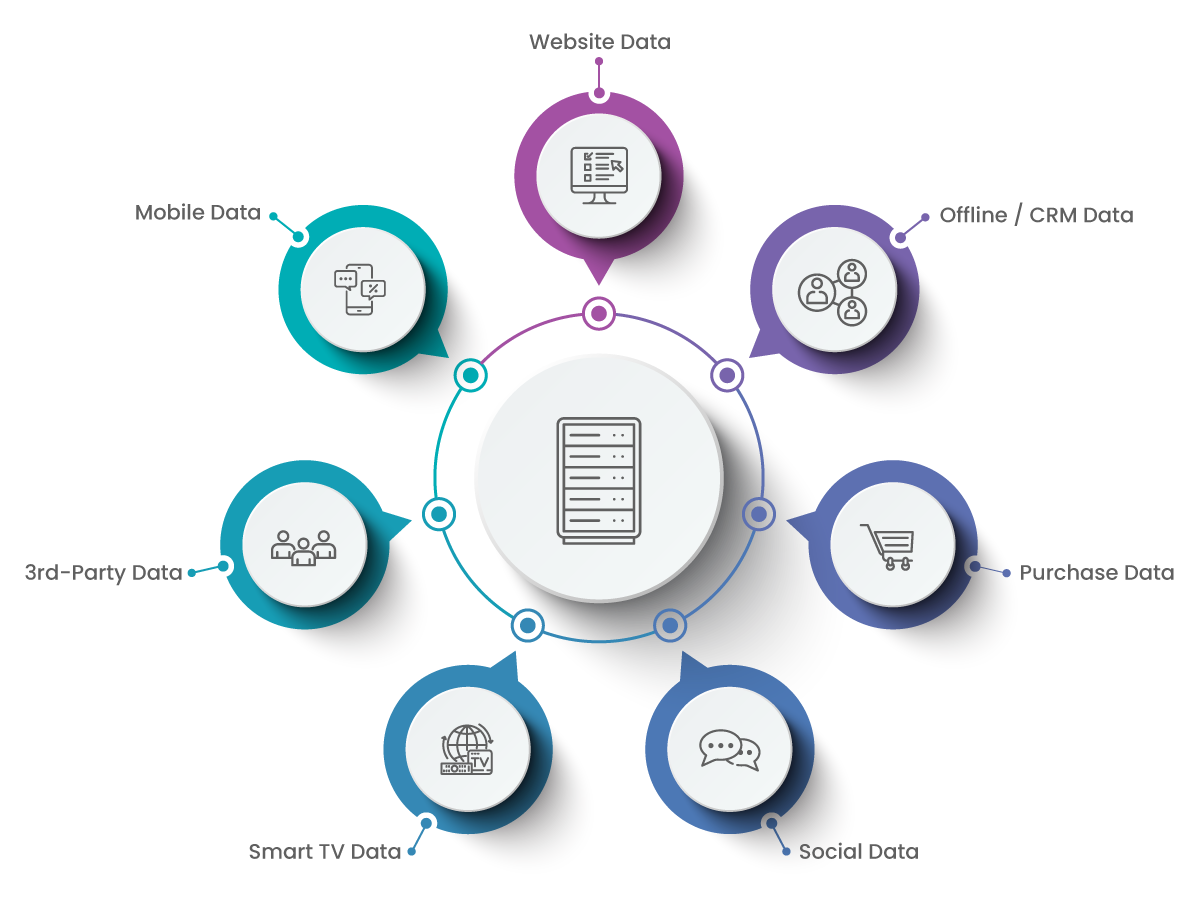 The data collected and managed by the DMPs is gathered from different channels. These can come from online, offline and mobile sources; from our own CRM, to the various websites, social networks, mobile applications, just to name a few examples. All this data can be categorized according to the objectives pursued. However, according to the origin of these volumes, three large groups of data can be identified.
| First-Party Data | Second-Party Data | Third-Party Data |
| --- | --- | --- |
| It is the data that your own company collects directly from the audience. For example, the data in our CRM. Being first-hand, without intermediaries, this type of data is transparent, highly valuable and of high quality, while the privacy risk is minimal. | It is the data that is collected and provided to you by partners or other companies through an agreement, contract or association. It would be the first party data of our partners. | They are those data that are obtained from different sources, such as websites or platforms. They are purchased from the entities that collect them as third-party data. Although they are usually of great volume and scope, the very commercialization of these makes them little exclusive and accessible even to competitors. |

Salesforce DMP, What Is It and How Does It Work?
Salesforce DMP, or Audience Studio, is a platform that collects, stores, organizes, and centralizes data from different sources. In addition, it is capable of revealing trends and patterns in user behavior, as well as new audiences.
Utility of a Data Management Platform: use cases
Data Management Platforms as a technological solution for data processing become of great help due to their versatility. Knowing its main characteristics, it is logical to ask, what is a DMP for? Content personalization and media optimization are just some of its common uses. To expand on this, let's see in more detail some examples of use cases of a Data Management Platform in your company.
Organize and integrate all available information: The DMP provides the possibility for companies to organize all the information collected from their users from different sources and unify it in a single view. It is capable of identifying the same user in different channels and devices, and integrating all their information.
Segment, create audiences and activate data: When the DMP organizes the information of its users, it does so through segmentations. This allows to create audiences for a particular objective (such as a certain advertising campaign), and to activate certain data to find common points in different audiences. Due to this, particular strategies can be outlined to influence these different audiences based on the affinities in which they converge.
Generate lookalike audiences: Through algorithmic modeling of similarities, the DMPs find new audiences with similarities to the key audiences, based on certain criteria that are used as a base. Thus, audiences similar to those used for comparison are created and with a high probability of generating conversions.
Enrich user data: The DMP enables companies to enrich the information they have about their users by integrating more data obtained through third parties. This is where other entities come into play that may also own data about your users. Not all companies have identical information on the same person. However, through associations between two or more businesses it is possible to share this information, collaborate and achieve a richer user profile. This will provide an even more complete view of your customers and, of course, will be very useful when working to satisfy them.
Customize content: Knowing the specific characteristics of the audiences allows the personalization of the company's commercial and marketing actions for them. This translates into an increase in potential income. The tighter your approach to audiences, the better chances you will have of conquering them and achieving their conversion.
Optimize programmatic advertising, the frequency of content presentation and its exclusion: DPMs allow companies to carry out decision models based on data and thus increase their reach. In this sense, it is possible to establish adequate frequencies in the presentation of advertisements or advertising campaigns, as well as insert offers in real time. This avoids oversaturating users with the same ad that has failed to extract a reaction from them multiple times. Likewise, it offers the possibility of excluding clients or users from receiving, for example, the promotion of a certain product that they have already purchased.
Promote inbound marketing and cost reduction: The broader knowledge of your audience, its segmentation, its analysis, as well as the integration of all the data, have a significant impact on the marketing process. It directly affects the effectiveness of advertising campaigns and a significant reduction in expenses for this concept. Studies show that inbound marketing costs 62% less per lead than traditional marketing.
Contribute to the personalization of the company's website: The benefits of DMPs extend further. With all the data collected and the deep knowledge of the audiences, it is able to show customizations of the website based on the type of users who visit it.
Current and future perspective
At present, certain situations have been added that could undermine the operation that the DMPs had until now, even rumors of their definitive disappearance. Specifically, these platforms use cookies in their work, such as in the processing of third party data. Today, the European Data Protection Legislation (General Data Protection Regulation – GDPR) has established the obligation to request the consent of users to collect and use their data, including those collected by cookies. Faced with this panorama now endorsed by legal issues, the data collection process for a DMP through the exchange of data with third parties becomes a bit complicated.
As if that were not enough, the risks do not stop there. Many browsers such as Firefox, Safari and the new Edge have already implemented the elimination of the use of cookies, thus promoting themselves as safer browsers in terms of privacy for their users. Among other consequences, the elimination of cookies directly harms the income generated through programmatic advertising. Google also made statements in 2020 regarding progressively joining this practice, which would have its final implementation two years later. Considering that it is currently 2022, this would have to be followed up in detail in order to prepare for this possibility.
We will see how events unfold for Data Management Platforms and the changes that are coming. For now, if you want to know more about this topic, do not hesitate to contact the SkyPlanner team, which will be willing to provide you with all the guidance you need. You can write to us at hello@theskyplanner.com.