It is clear that in the business world, the right decisions make the difference between a successful company and one that is not. To make good decisions, you need the correct and timely information.
Your business data is one of the most valuable assets you can have. However, in the digital age, the amount of raw data is expanding exponentially. Hence the reason why so many organizations have turned to business intelligence (BI) solutions for their strategic decisions. Additionally , these represent a differentiating factor within CRMs that makes its adoption by organizations irresistible.
What is business intelligence?
Business intelligence is a technology-driven process used to analyze data, turn it into knowledge, and present detailed information. It helps executives, managers, and other business leaders make informed, fast, accurate, and successful business decisions. It uses a wide variety of tools, applications, and methods. This includes data mining, online analytical processing, inquiries, reports, as well as risk analysis. These allow you to get relevant and reliable information to the right people, at the right time, with the aim of achieving better and faster results.
But, how does business intelligence really work? It uses the big information stored in databases, cleans them, structures them, and then finally turns them into relevant and actionable information that helps you make smarter business decisions. These data sources can come from marketing analyses , sales, operations performance, a customer relationship management software system (for example, Salesforce), supply chain data, etc.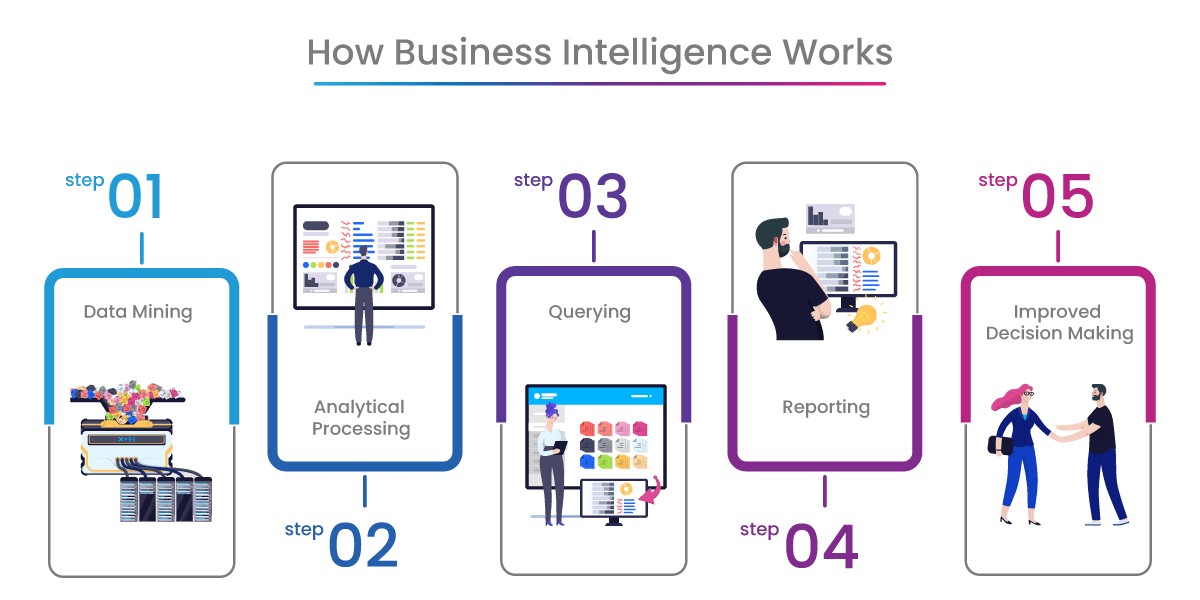 With business intelligence, you get information and visibility of your business processes to be able to identify incorrect or obsolete data, eliminate duplicates, and create reports of key performance indicators (KPI) that will help you make strategic business decisions. Increase profitability, productivity, and accelerate the efficient growth of your business through the process of extraction, transformation, and loading of your information (ETL).
So let's look at some of the main benefits of business intelligence.
Benefits of business intelligence
1- Right data at the right time.
In order to make quick and accurate decisions in the business world , it is essential to have the right data when it is needed. Business intelligence centralizes and structures all the data of your company. It helps you understand your business processes, streamline decision making, as well as improve your ability to identify key opportunities and/or threats. All of this will allow you to plan for a successful future.
2- View key information in a timely and accurate manner.
One of the key benefits of business intelligence is that it provides excellent data visualization capabilities. This allows you to create customizable, intuitive, and easy to interpret reports and dashboards which are adaptable to the needs of each of your business departments; those responsible for the different areas will have updated information in real time on the relevant data that interest them.
3- Improve your business decisions.
Implementing business intelligence will allow you to access detailed and updated information about your business, such as financial, production, customer data, etc. With all this information, you can make decisions based on evidence quickly and safely, which translates into better business decisions.
4- Increase customer and worker satisfaction.
You will be able to analyze the comments of your clients in real-time . All this information helps your staff and commercial managers to identify opportunities for improvement in your business, make the necessary changes, anticipate their needs, and provide them with an excellent service that satisfies them.
Business intelligence not only helps companies get to know your customers, but also helps them to better understand their employees. By having relevant information about your workers in real-time, you will be more aware of their needs and be able to address their concerns quickly and efficiently.
5- Improve organizational collaboration.
Custom reports facilitate communication, allowing you to share information with the rest of the company. Each department will have the data it needs, while management will be able to access this data as well. This can improve control over the functional areas of a company.
6- Increase business productivity.
Business intelligence tools can be used in the selection and analysis process when collecting data, resulting in these activities progressing much faster than in comparison to manual or unstructured tasks. By using business intelligence, processes become more agile and effective while costs are significantly reduced, obtaining high business efficiency.
Making decisions based on the current state of the company and market trends means acting with more guarantees and less risk. By improving productivity and the time spent developing truly effective, data-driven strategies, you can focus your company's efforts on improving sales and perfecting the business.
7- Identify new opportunities.
Identifying new opportunities and developing a strategy with supporting data can represent a competitive advantage and directly impact profitability in the medium and long term. Your employees can link external market data with internal data to spot new sales trends by analyzing customer data and market conditions, as well as spot business problems.
Remember that business intelligence consists of tools, technologies, applications, and practices that are used to collect, integrate, and analyze the present and past data of an organization. In AppExchange , there are countless business intelligence solutions available to you that will enable you to obtain valuable and actionable insights in real time, from custom reports to dashboards. Your management teams will now be able to make more informed and accurate decisions.
Our team is trained in the best business intelligence practices and has the experience you need. We can help you modernize and integrate your business intelligence tools, create dashboards and other data visualizations, and execute ETL processes with your information. Do not hesitate! Write to us at hello@theskyplanner.com.