Surely you have heard the proverb "Information is power", but it is not that simple. The transformation of that information into knowledge, which is capable of supporting decision-making, constitutes true power. This is where Business Intelligence, or BI, plays a fundamental role. It is the set of strategies and technologies aimed at enhancing the performance and competitiveness of a company through the intelligent processing of its data.
Selecting a BI tool that meets all your business goals can be a very complicated task. There are many aspects to take into account, and there will be some cases that would make you lean towards one solution or another. Datorama (currently Marketing Cloud Intelligence) and Tableau, both solutions from Salesforce, are available on the market for companies that want to incorporate BI into their management. In the following, we will describe some of their main characteristics and a comparison of two, taking into account factors that can help you decide on their use according to the needs or possibilities of your company.
Main features of Datorama
Provides a centralized view of data related to marketing in the company. To do this, the data would be connected using an updated library of APIs.
Simplifies and automates the processing of marketing data in real time, allowing an efficient collection of information.
Uses AI insights generated with Einstein to get more out of your data. This allows you to optimize the use of your resources and maximize ROI.
Ensures marketers have access to the information they need at the right time. In addition, they can quickly and easily create various reports and dashboards, which they can easily share with their team.
It facilitates the visualization of the results of each investment, and both the growth and objectives of the marketing campaigns.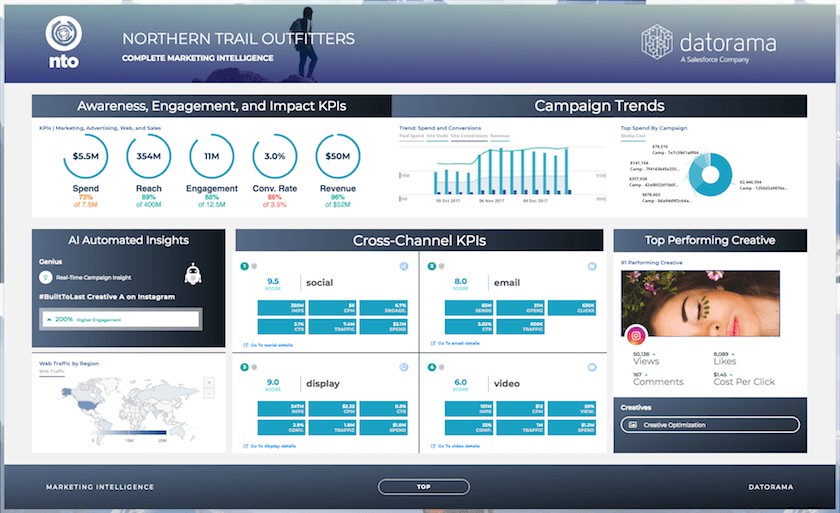 Main features of Tableau
Drives the resolution of practical business problems with an approach based on data analysis and BI. This promotes a cutting-edge work culture and solid decision-making.
Contains drag & drop functions and has natural language query processing. Its functionalities meet the needs of any professional in a company, from data scientists to business users.
It allows relating data from hundreds of different sources, both local and cloud; facilitating its collection and analysis.
Provides a comprehensive picture of business performance. Through a personalized visualization, you will be able to combine key data from any department.
It is the number 1 solution in the market. In 2022, and for the 10th year in a row, Tableau was recognized as a Leader in Gartner's Magic Quadrant for Business Intelligence and Analytics Platforms. In addition, it has a very active, diverse, and creative community.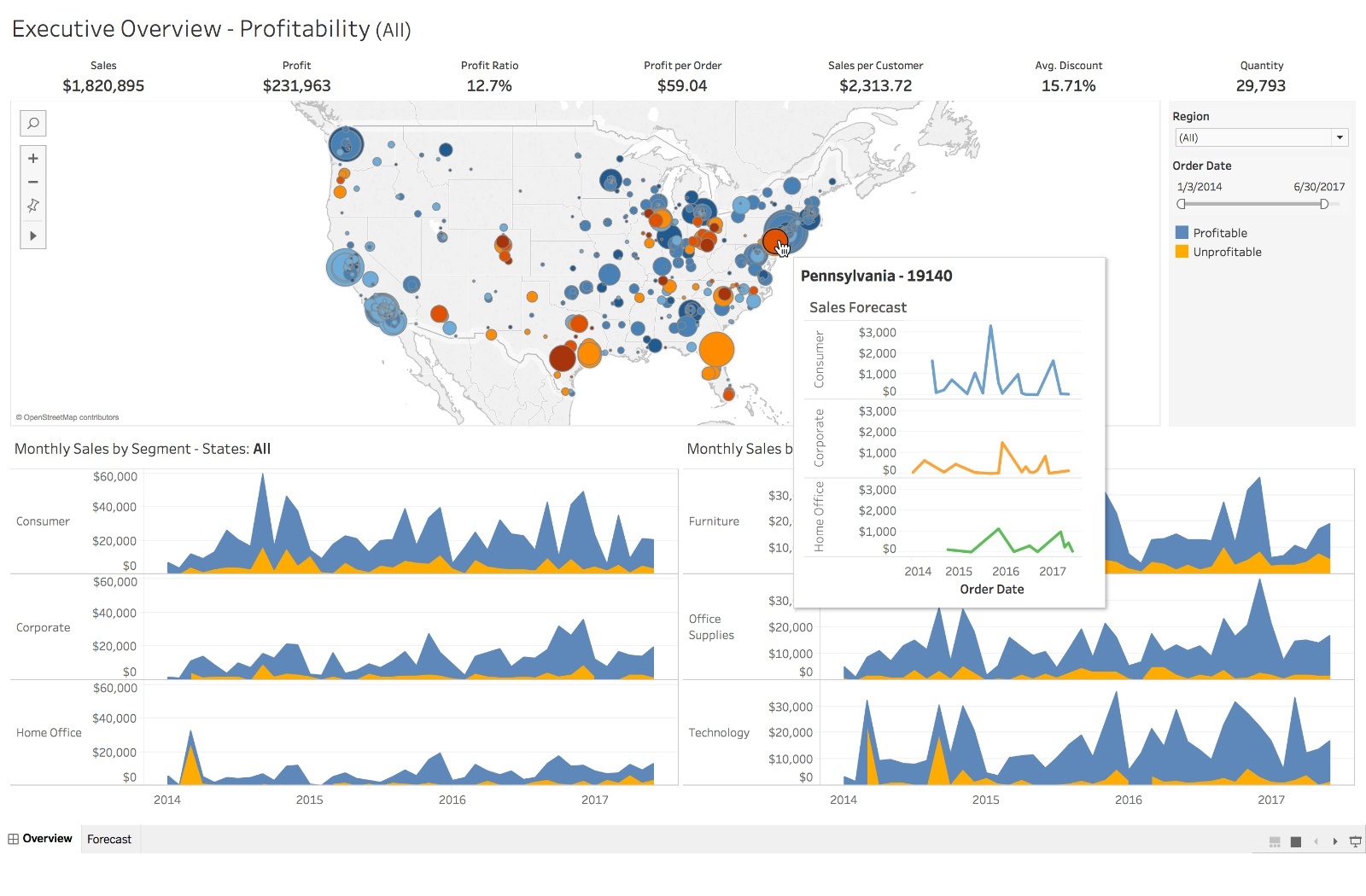 Comparing Datorama vs Tableau
| Attribute | Datorama | Tableau |
| --- | --- | --- |
| Cost-benefit | Annual Billing. Price per month and organization, starting at 3 thousand USD. More expensive solution but its quality justifies it. | Annual billing. Initial price of 70 USD user/month. It is a wonderful tool, with a very good price. |
| Personalization | Highly customizable. | Basic customization options. |
| User interface | Elegant, with several customization options. Many users consider it to be the best. | Simple, very intuitive, and friendly. |
| Learning curve | Flat while using basic functionalities. Its complexity is notably increasing. | Flat, it is quite easy to train new users. It can get quite complex when creating panels. |
| Scope | Excellent tool designed for the marketing area. | It can be used in all areas of your business. |
| Type of business in which it is most popular | Preferred by the Mid-Market. | Mostly used by large companies. |
| Industry in which it is most popular | Marketing and Advertising. | Many different types of industry. |
| Reviews | X | 10 X |
In summary, Datorama is a tool directly oriented to marketing intelligence. With it, you can connect and centralize all your clients' marketing data in a single system, significantly increasing the organization of information and the efficiency of analysis. Tableau, as a leader in BI, allows you to project the general strategy of your company, fundamentally based on data.
We hope we have given you a better understanding of each of these powerful BI tools; perhaps you may have already settled on one. However, there is a scenario that we would also want you to know and value: the joint use of both solutions.
Benefits of Datorama and Tableau Integration
Datorama's integration with Tableau powers results in the unified analysis of both business and marketing data, enabling the following:
Optimize the budget of marketing teams.
Achieve a more powerful business management.
Increase the commercial impact on customers.
Analyze opportunities in greater depth.
Unlimited exploration of marketing data with Tableau.
Use Datorama data as a data source for Tableau Desktop, Tableau Cloud, or Tableau Server.
Create custom visualizations that reflect a complete picture of company performance. A practical example is the real-time analysis of inventory data with Tableau to optimize marketing campaigns using Datorama.
In short, both solutions are fascinating. It would not be surprising if you had many questions about them. If you want to learn more about BI-oriented technologies, do not hesitate to contact us by sending an email to hello@theskyplanner.com.