Field Service is a powerful Salesforce Service Cloud tool designed to optimize the field services offered by companies. With Field Service, field service workers (agents, dispatchers, and mobile technicians), contractors, and customers are integrated into a single platform. This solution provides the customer service department with a complete view of customer information, the service requested, the technicians best prepared to handle the type of service, and the details of the assets required to provide it. All of this, from a highly customizable and mobile-friendly application.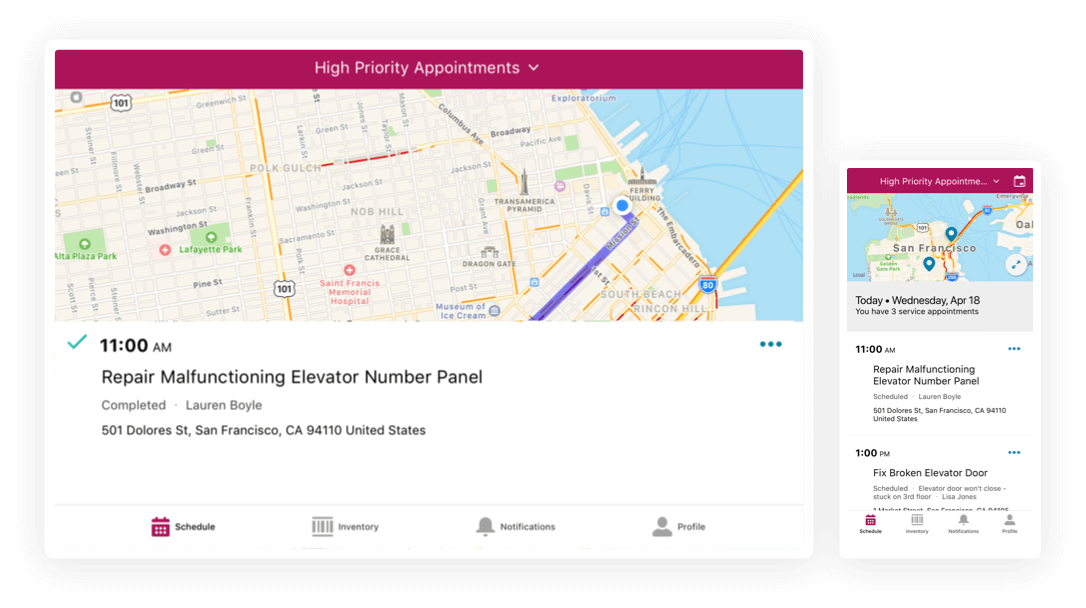 Some time ago on our blog we published the article: 10 key benefits of Salesforce Field Service for your business . On this occasion we have decided to return to the subject and delve deeper into one of those benefits: the optimization of inventory management. We present to you then, 7 ways in which Salesforce Field Service can help you with Inventory Management.
What is Salesforce Field Service Inventory Management?
In Salesforce, each inventory record is made up of a combination of the product and its location. Salesforce Field Service Inventory Management provides a centralized system through which you can record all the movements of your assets. This is a functionality oriented to control the assets of a company during field services.
Why is Salesforce Field Service Inventory Management useful?
With Salesforce Field Service Inventory Management, you can track a product from the moment it is requested for the warehouse until it is delivered to a customer or assigned to a work order. This tool can help companies save time and money. It does this by reducing manual processes and eliminating the need to use multiple software solutions. In addition, it allows optimizing the level of inventory, thanks to the information on customer demands and trends.
So let's find out how Salesforce Field Service can help you with Inventory Management.
How can Salesforce Field Service help you with Inventory Management?
This functionality allows you to obtain information about the status of your inventory during the field service operation. In addition, you can automate routine tasks such as inventory request, transfer, consumption tracking, and returns management. Specifically, Salesforce Field Service Inventory Management helps you:
1- Have a comprehensive view of your inventory at all times.
Even during field services, your company can ensure that it has the necessary products in stock to satisfy your customers' orders. Offering real-time updates of inventory allows you to react quickly to changes or inconveniences. Enhance the image of your brand by solving customer requests with a single visit!
2- Reduce your costs of both shipping and inventory.
Knowing exactly the resources available in each warehouse and its geographical location allows you to optimize your supply chain. This reduces delivery times and increases customer satisfaction. On the other hand, keeping track of the use or consumption of items in your inventory helps reduce inventory costs by avoiding overstocking or understocking. With Field Service you have the option of creating a product consumed record, if you want to control the entire life cycle of a product from storage until consumption. In addition, you can register a product consumed associated with a work order, even with a particular task.
3- To ensure that each asset assigned to the attention of a customer order reaches the correct team.
Allows assigning the corresponding resource according to the field service provided. If a work order needs to be done by a refrigeration technician with a thermometer, do not assign him a wrench! Add the appropriate products to job types, work orders, and work order line items.
4- Ensure that workers can access the assets they need to perform field services.
Mobile workers can make their own inventory requests for field services. When evaluating an order, they can detect that their inventory in stock is not enough, that they have a defective part or that they need a particular tool. In this case they can create the product requests that are necessary.
In addition, work order dispatchers and schedulers can also create requests. The first, if they detect that the available inventory does not meet the needs of a mobile worker, and the second, when they schedule a field service order that requires resources that they normally do not have in the work vehicle. Each product request can be associated with a work order, work order line item, cases, and accounts. In addition, the request can specify when and where the parts are needed.
5- Facilitate the transfer of inventory.
The transfer of products is a very useful option for optimizing the use of resources. You can keep an eye on inventory while it is transferred from one place to another to fulfill a certain request. By creating a product transfer, you are ensuring that the movement of the asset is tracked from one field service location to another. Inventories are automatically updated in their storage locations and thus their transfer is recorded.
6- Track assets while in transit between locations during shipments.
Inventory Management gives you the option to create shipments and keep track of the inventory shipments you have made. The shipments contain information about the products that make them up, the data of the transport company and the scheduled delivery date. This option is very useful to detect difficulties, readjust response times and notify customers in a timely manner.
7- Make it easy to return and repair items.
You will be able to record the tracking and data of product returns. A return order can be associated with a sale made or a work order product request. In the event that the reason for the return is a defect in the product, it will be repaired.
In short, Salesforce Field Service Inventory Management provides businesses with numerous benefits, including increased efficiency, cost savings, and increased customer satisfaction. By leveraging this powerful cloud-based solution, businesses can streamline their inventory management processes and ensure they have the right products in stock to meet customer demand.
If we have piqued your interest in Salesforce Service Cloud and you have been encouraged to implement any of its solutions, do not hesitate to contact us hello@theskyplanner.com.