For many companies, the border between an excellent or poor customer experience is based on the quality of the field services they offer. Satisfied consumers will provide you with high ratings, they will trust your company and recommend you to others. That is why, currently, the ability of a business to generate successful experiences with their clients establishes a strong competitive advantage.
Some of the most common field services are: equipment installation work, maintenance, repairs, sales, courier, and general customer service. Behind every notification that a field service technician (called a mobile technician) receives on their mobile device, we can find a customer looking for quick solutions to their problems. If a mobile technician is capable of fixing the problem on their first visit, that is something the customer will sincerely appreciate.
¿What is Salesforce Field Service?
Field Service Management or Salesforce Field Service is a system designed to automate and optimize the work offered by workers (agents, dispatchers, mobile technicians) of field services. It is part of Service Cloud and ensures that no employee sacrifices the functionality of the services they offer while working outside the office.
You will most likely want to avoid mistakes and help your field service technicians do a good job. With the implementation of Salesforce Field Service Lightning, you will be able to obtain remarkable benefits that will be immediately reflected in the increase of the efficiency of your services. In this article we will show you 10 benefits of using the Field Service that we consider key for your business.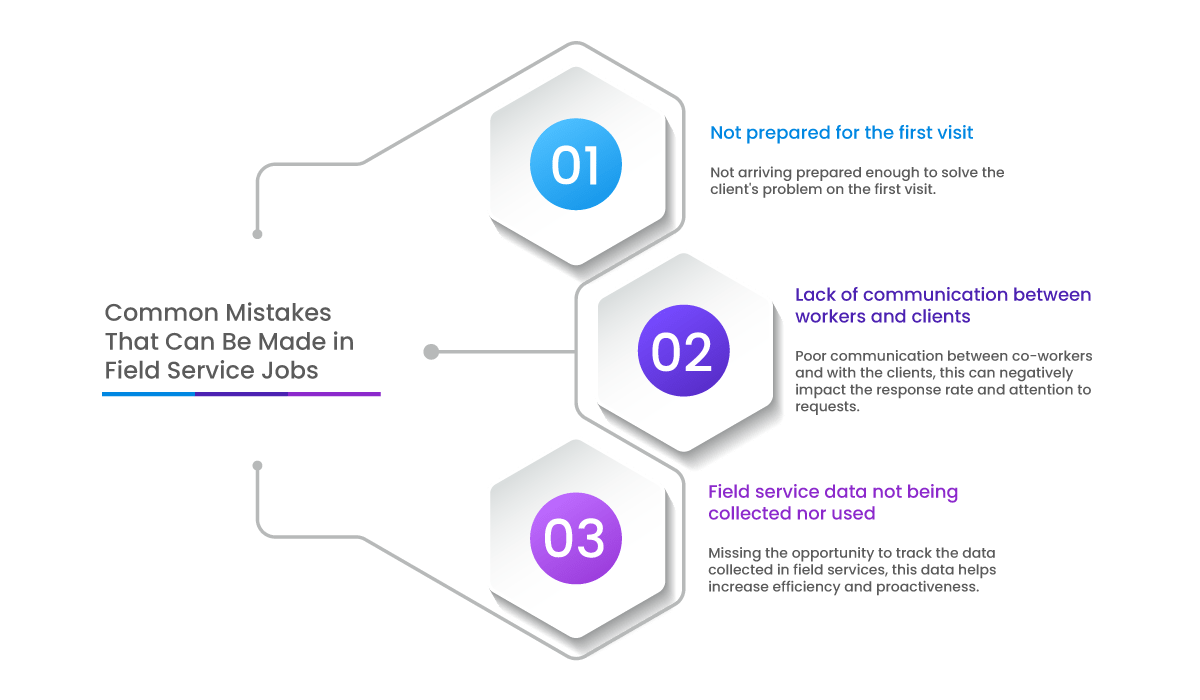 Benefits Salesforce Field Service Offers Your Business
1- Offers solutions to the service workers in the field from any type of mobile device.
Field Service is a cloud-based solution, which means that regardless of the device being used, the location or the number of connected users, as long as you have internet access you will be able to access all the data and functionality for which you are authorized. Data that will always be synchronized in real time. If it were the case that during work in the field, the technicians did not have access to the internet, they would still be able to collect all the necessary information in the mobile application. Then, when the connection is re-established all the recorded data is synchronized with the Salesforce platform.ion without internet access.
2- Automated, easy and more efficient administration of your field services.
With Field Service you can automate many tasks, such as scheduling appointments, preventive maintenance through work orders generated automatically, product requests, inventory management, creation of service reports, etc. With this service you will reduce execution time and human errors. In addition, through using the chatter in the mobile application, the technicians are in constant communication with the dispatchers. This allows them to report any issue quickly so it can be handled as soon as possible.
3- Increased productivity of employees in the field.
The large amount of data collected with this software allows the field agents to know in advance the tools and materials that will be needed, as well as the type of work that will be carried out in each appointment. This helps dispatchers choose the technicians with the needed skills and guarantees them everything necessary so that they can meet customer demands on the first contact. In addition, access to reports of previous services allows them to foresee solutions to problems which helps reduce service times and offer a more proactive service.
All of the above contributes to improving the indicators and objectives of a company's support area by optimizing the distribution of territories, schedules, routes, skills and availability.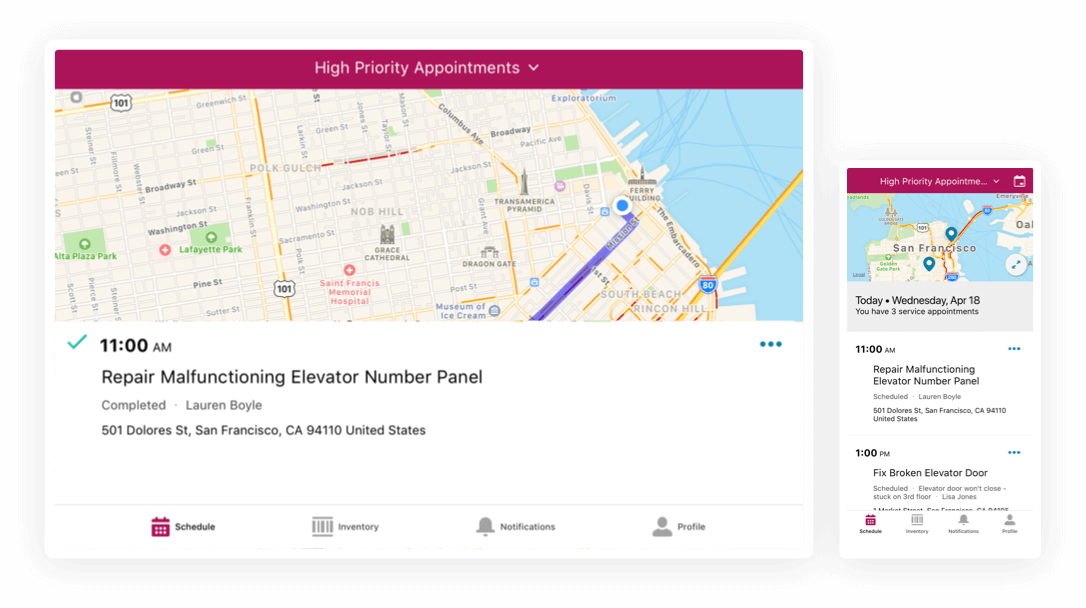 4- Optimize inventory management.
It ensures better control over the company resources and facilitates the transfer of products between locations. In addition, it manages the records of inventory returns and repairs, allowing you to track the inventory and stock up the vehicles that supply the technicians with everything they need to carry out their work regardless of their location.
5- It enables real-time visibility of all the operations that are being carried out.
It is possible to assign and manage service appointments, close work orders, keep track of used materials and the presentation of service reports from any device connected to the software. That is how real-time monitoring makes it possible to identify a problem immediately when it occurs; for example, if there is an appointment which the corresponding technician cannot attend in time. Dispatchers will then, from a single screen, locate the closest technicians and assign the appointment to the one who is available at that moment.
6- Allows you to integrate work orders with contacts, accounts and more.
Generated work orders can be automatically integrated with accounts, assets, cases, contacts, and service contracts. Therefore, orders can be easily tracked and valuable data is available that can be used for analysis.
7- Create a connected user experience.
It provides technicians and dispatchers direct contact with the client through multiple channels and at any time. Even proactively contacting the client to schedule an appointment and address a problem that they may not even know they have or could have. Meanwhile, the service agent already has all the data and knows who is the most qualified technician to assist the client and the best time to do it. In addition, it sends notifications to the client if there are any delays or when something unforeseen occurs, and also when the job is done so that they can proceed with the payment.
8- Easy customization according to the needs of your company.
Your company will surely have its peculiarities, its own focus and needs. This software allows you to configure and personalize basic functionality to better suit your business demands.
9- Report creation and data analysis.
You will be able to visualize the field service activity through photos, graphics and on a dashboard. Also, having this tool guarantees the collection of customer data, services provided, work orders, etc. This data can be processed, analyzed and used to define strategies based on them. Furthermore, they will help you make decisions that represent a competitive advantage.
10- Guarantee an excellent customer experience.
Salesforce Field Service brings together your field service teams, contractors, and customers on the #1 CRM platform to deliver critical services that generate excellent customer experiences. This is achieved through the fulfillment of indicators such as the time of attention after the contact, the resolution of the problem on first contact, as well as the proactive and personalized attention.
Keep in mind that Field Service software has to be configured correctly to meet the goals and objectives of the company. With our certified consultants and past successful implementations, our team have the capacity to help you on this journey to success, contact us via email at hello@theskyplanner.com.