In the competitive world of business, the effective use of technology has become essential to success. Sales teams must have systems that optimize their business process and allow access to updated data sales at all times, facilitating leads and opportunities' management. Likewise, both automation and the use of real-time information are key to achieving smarter sales processes, accelerating the successful closing deals while providing an exceptional customer experience.
In this context, Salesforce Sales Cloud stands out as one of the leading solutions on the market. Next, we'll take a look at how this CRM platform can transform the way customer relationships are managed. In addition, its versatility and potential make it an indispensable tool for boosting sales results.
What is Salesforce Sales Cloud?
Salesforce Sales Cloud is a cloud-based customer relationship management (CRM) platform. It focuses specifically on promoting the sales activities of an organization, providing various tools to manage and automate this process. This solution facilitates the work of sales teams, increasing productivity through centralized management of customers and opportunities. Plus, it includes collaboration and mobility features so sales teams can access information and work effectively anytime, anywhere, and on any device.
The platform is highly customizable and delivered via Software as a Service (SaaS) for browser-based access, though a mobile app is also available. The possibility of operating in real time (milliseconds) facilitates collaboration and the exchange of information between users. At its core, it's a powerful platform that helps close deals faster for both B2B and B2C contexts.
Sales Cloud Main Features
Sales Cloud is one of the most solid and consolidated Salesforce platforms, which is why it provides a wide range of functionalities to improve the productivity and efficiency of sales teams. Some of the main ones are:
Contact management: allows you to maintain a centralized contact database, where relevant information about clients and prospects is stored. Sales teams can easily add, edit and organize contacts to have a complete record of their interactions and details of each customer.
Lead management: makes it possible to identify, classify, and track leads generated by the marketing team or other sources. Sales teams can qualify these leads to identify potential opportunities and convert them into sales opportunities.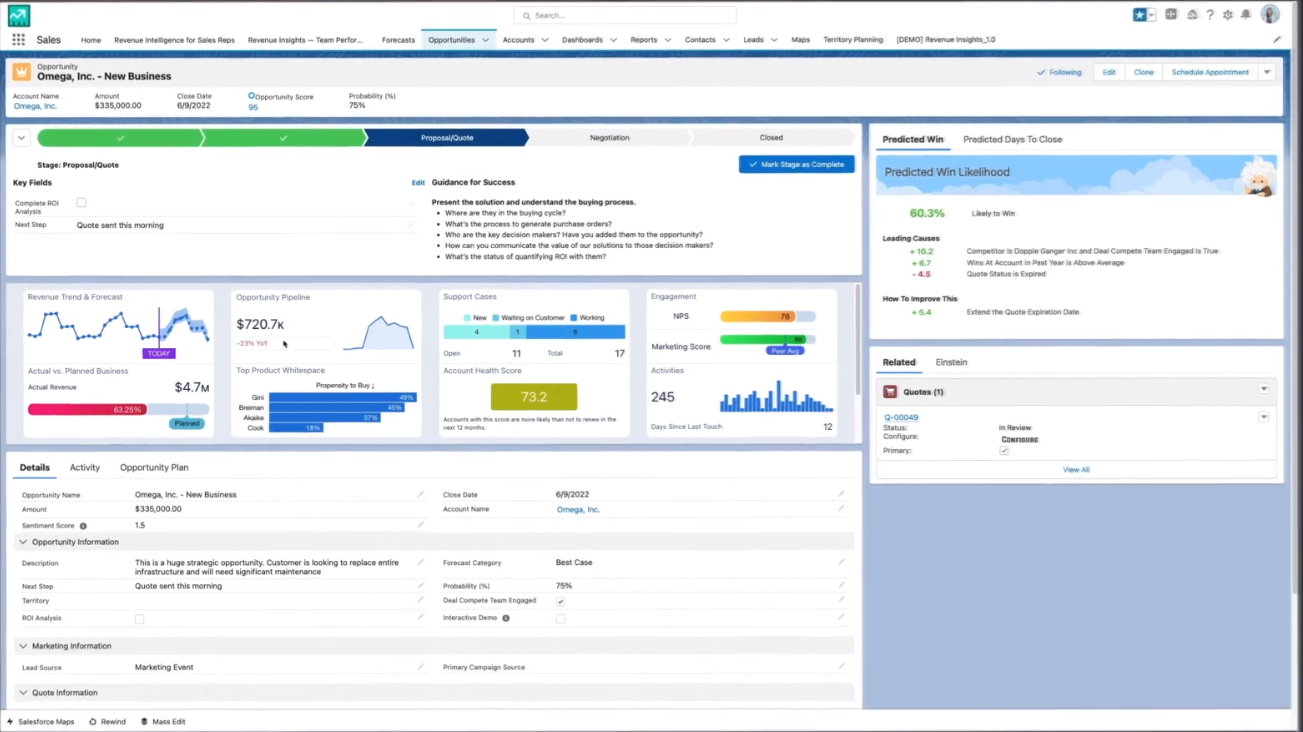 Opportunity management: allows you to create and manage sales opportunities from start to close. It makes it easy to track the progress of each opportunity, set expected close dates, and record related activities. This helps prioritize efforts, making decisions based on data.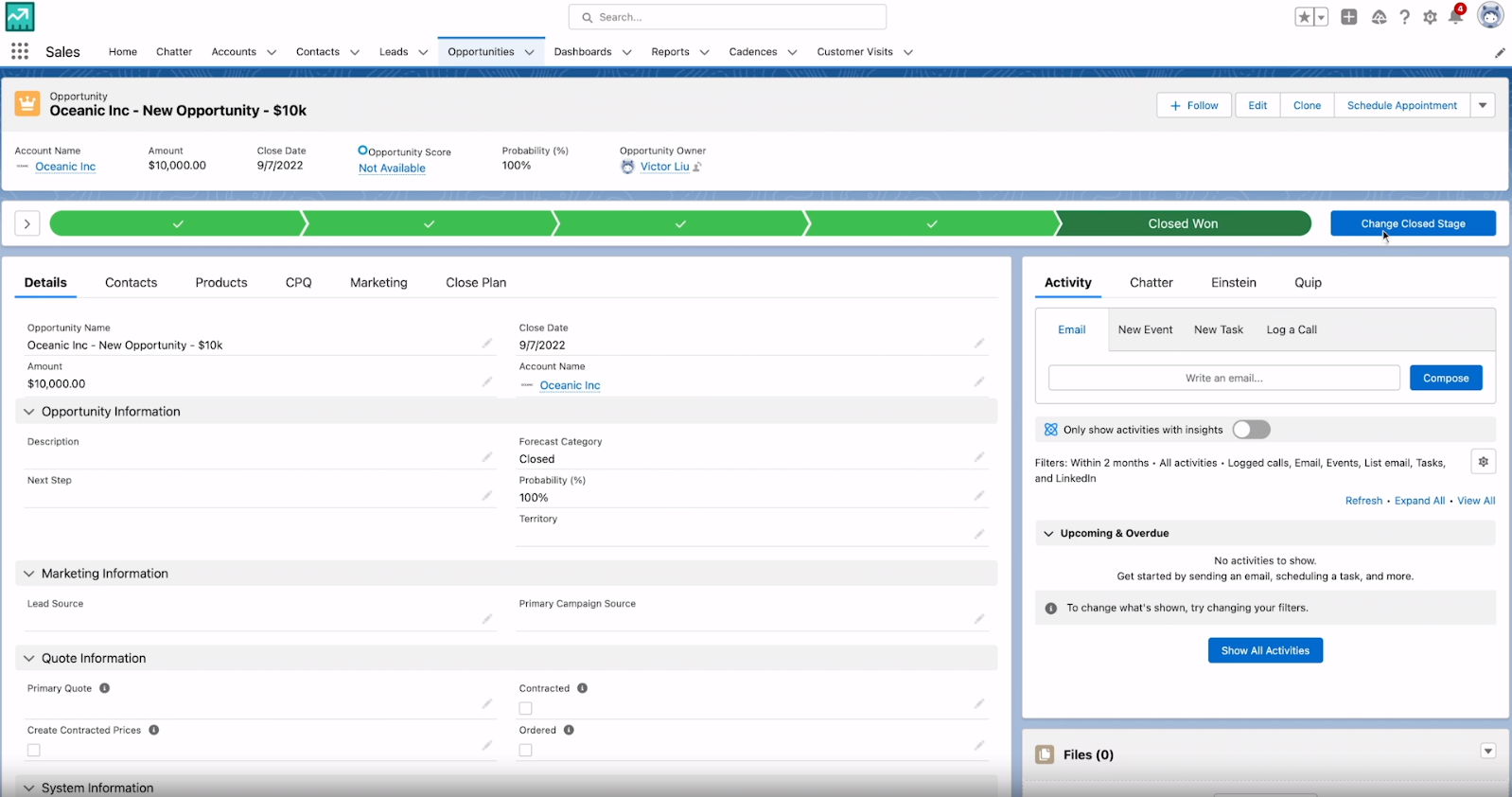 Data Management: Sales Cloud ensures data integrity by providing tools to cleanse and unify information.
Sync and share files: Allows you to sync and share files relevant to projects and sales opportunities, making collaboration easier.
Campaign Management: With Sales Cloud, you can create and manage marketing campaigns to generate leads and opportunities. Sales teams can associate opportunities with specific campaigns to measure the success of marketing strategies.
Salesforce Mobile: Offers a mobile app that allows sales reps to access customer information, log activities, and receive real-time notifications, increasing productivity while on the go.
Email integration: Integrates with sales team email to automatically record customer communications. This ensures that all relevant information is recorded on the platform and is available to the entire team.
Workflow and Approvals: With Sales Cloud, workflows and approval processes can be automated to streamline decision making.
Sales Forecasting: Provides tools to make accurate sales forecasts based on historical data and current trends. Sales teams can forecast future revenue and make strategic decisions to reach their goals.
Reports and Dashboards: Provides tools to create custom reports and dashboards, giving you a clear view of sales performance. Teams can analyze key data such as revenue, forecasts, conversion rates, and sales metrics to make informed decisions.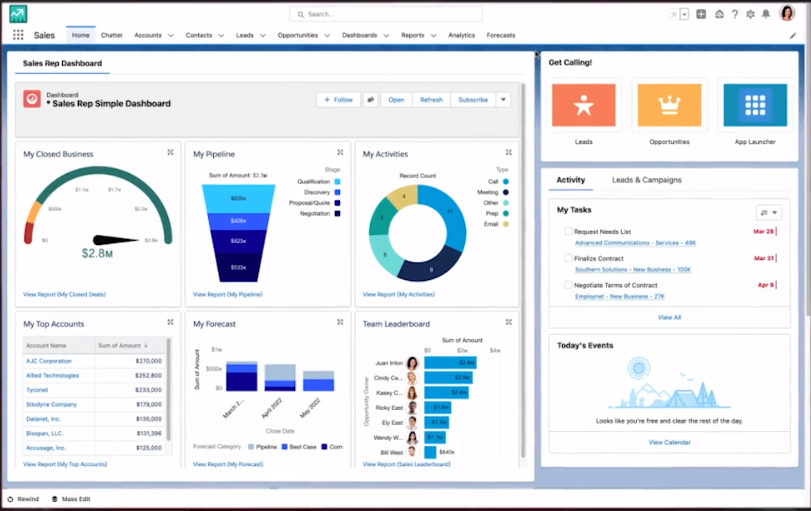 Most useful add-on for Sales Cloud
Obviously, Sales Cloud is a very complete platform on its own. But its capacity is much greater! Its true potential comes to shine through the many plugins it can integrate. Among them:
CPQ: Streamlines the process of quoting and configuring products to generate personalized offers.
Order Management: Facilitates order management and improves efficiency in transaction monitoring.
Billing: Automates the billing process and subscription management for greater accuracy in invoices.
Subscription Management: Centralizes and simplifies the management of customer subscriptions and contracts.
Sales Cloud Einstein: Use artificial intelligence to provide sales recommendations, predict opportunities and automate tasks.
Revenue Intelligence: Provides valuable information on sales performance and forecasts to make strategic decisions.
Einstein Conversation Insights: Analyze sales conversations to improve customer interaction.
Einstein Relationship Insights: Use artificial intelligence to analyze customer relationships and data.
Pipeline Inspection: Provides a detailed view of the sales pipeline and prioritizes crucial opportunities.
Sales Planning: Set goals, allocate resources and design effective strategies for sales success.
Sales Engage (formerly High Velocity Sales): Automate sales tasks, such as emails and calls, to improve the productivity of sales teams.
Salesforce Engage: Facilitate the interaction and follow-up with potential customers through personalized marketing campaigns, emails and relevant content. It is a plugin for Marketing Cloud Account Engagement, formerly called Pardot.
Sales Cloud Benefits
The main benefits of Sales Cloud are:
Centralized management of contacts and customers: provides a complete vision of clients, their histories and activities.
Automation of sales processes: the platform automates sales tasks and processes. This saves time and allows teams to focus on activities of higher potential value.
Improved productivity: sales reps. can access and update information in real time, increasing their productivity and responsiveness.
Accurate Sales Forecasting: uses real-time data and analytics to provide accurate sales forecasts, helping leaders make informed and strategic decisions.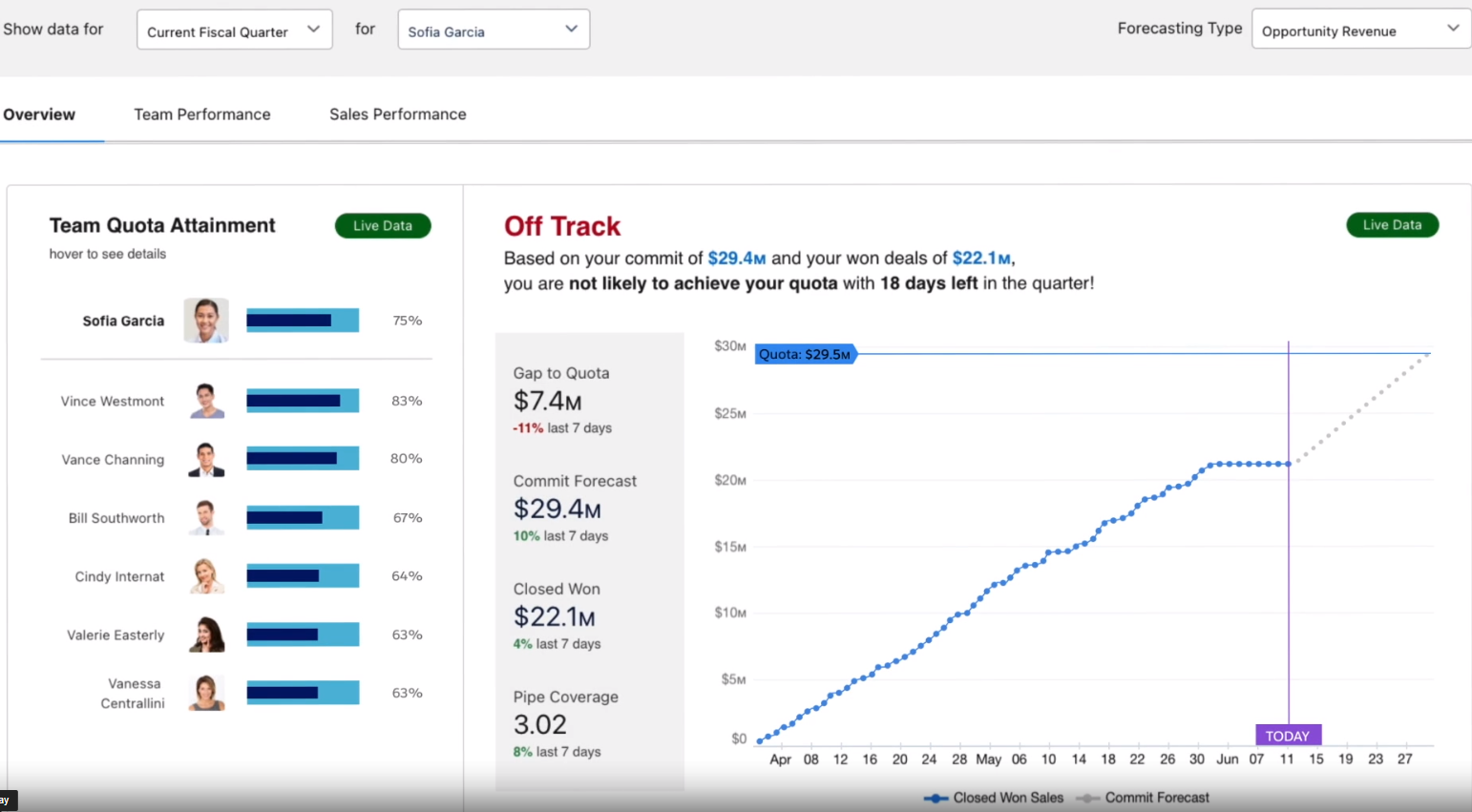 Collaboration and Visibility: fosters collaboration between sales and marketing teams by giving them a shared view of customer data and activities.
Marketing personalization and automation: allows you to create hyper-personalized marketing campaigns in pursuit of better lead generation and conversions.
Integration with other tools and systems: easily integrates with other applications and systems, facilitating adoption and improving efficiency throughout the organization.
Advanced analytics and reporting: Offers advanced analytics and reporting capabilities, enabling a deeper understanding of sales performance as well as data-driven decision making.
Optimized customer experience: allows you to provide a more personalized service and improve the overall customer experience.
Access to AppExchange: Provides extensive access to a diverse range of apps and plugins.
Editions
Sales Cloud is designed for organizations of different sizes, industries and sectors looking to optimize their sales and customer management processes. To do this, it has several editions that guarantee to adapt to the needs and capabilities of your company.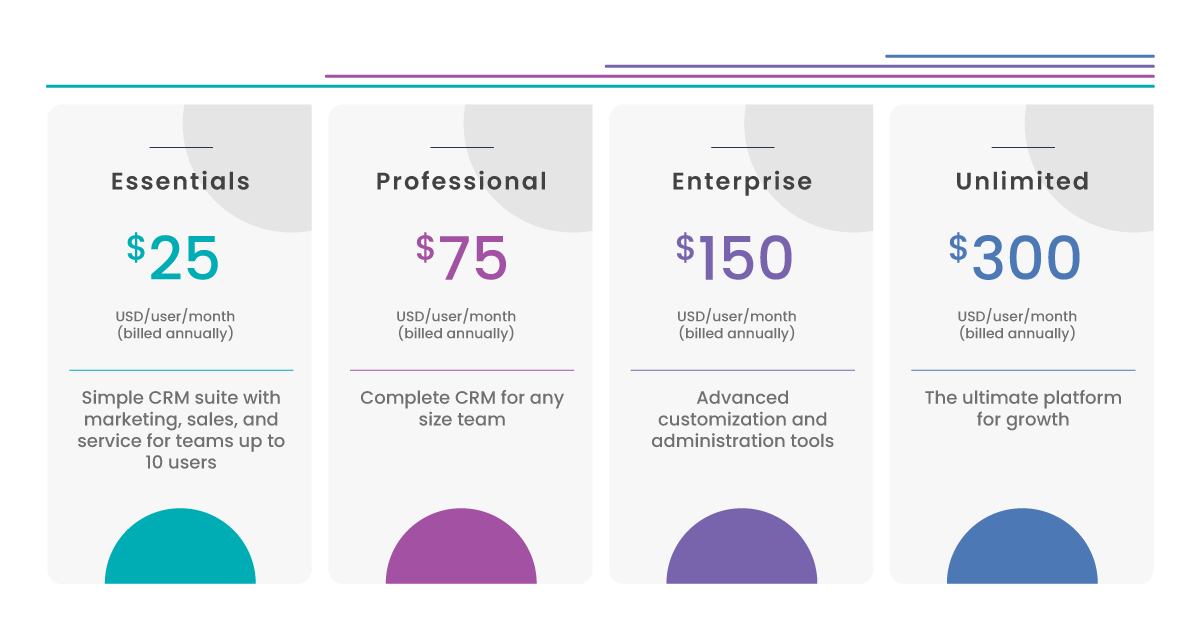 In conclusion, Sales Cloud is a powerful platform that, with its numerous functionalities and highly customizable tools, offers a complete vision of the sales cycle and the relationship with customers. Sales teams can increase their efficiency and productivity, while leaders can make informed decisions based on real-time data. In a highly competitive business environment, it becomes an essential tool to maximize business performance and take your organization to the next level.
Do you want to learn more about Sales Cloud? At SkyPlanner we have the necessary certified experience to provide you with advice and accompany you in its implementation. Write to us at hello@theskyplanner.com.