Last week, our very own SkyPlanner team members Daymel, Tamara, and Diana attended Salesforce TrailheaDX, a 2-day developer-focused conference designed for everyone who wants to learn about building on the Salesforce Platform, from advanced admins, developers, architects to beginners who are just getting started with the platform. Hosted in downtown San Francisco, this year's event featured hundreds of hands-on learning experiences including workshops, technical sessions, certifications, demos, challenges and more; and offered attendees the opportunity to learn from Salesforce engineers, product leaders and developer luminaries, while connecting them with fellow trailblazers from all over the world. All about learning, coming together as one community and giving back, this annual conference is an epic celebration of everything Salesforce.
Our team came back raving about the event, describing the energy as electrifying. Everyone was thrilled to be there, excited to help one another and to come together as one Ohana. Salesforce leaders shared insights on the latest and greatest Salesforce products and innovations, showing attendees how Salesforce is blazing a better future filled with opportunities for everyone—businesses and communities alike, all over the world. And Mackelmore and DJ Umami made a surprise appearance — what an experience!
We sat down with the team to collect their top highlights and here's what they had to say:
1) Blockchain Technology
Blockchain technology was the star of the show at this year's TrailheaDX. From finance to agriculture, its applications are numerous and absolutely incredible. If you're unfamiliar with blockchain, it's a growing list of records of transactional data that's maintained across several computers that are linked in a peer-to-peer network. The data is immutable, irreversible, and always up to date on all participants' networks. This creates a democratic system where all transactions are permanent and transparent, holding everyone involved, accountable for their actions.
"We help companies build for the future by making breakthrough technology accessible and easy to use—today we are doing just that with Salesforce Blockchain… Now, companies will be able to create new ecosystems and achieve new levels of interconnectivity through trusted partner networks."

said Bret Taylor, President and Chief Product Officer at Salesforce.
Salesforce Blockchain is a low-code blockchain platform connected to CRM that allows organizations to securely collaborate and share data across a trusted network of partners and third parties. It creates an opportunity for organizations to build blockchain networks, workflows, and apps to better serve customers. With Salesforce Blockchain, organizations will be able to design new business processes and models that bridge sales, service, marketing, and beyond to increase the speed of business, freeing up employees to focus on more high-value work. In addition, blockchain can be used for cases including asset tracking, and credentialing, verification, and authentication of products. Future applications of blockchain include validating the origin and safety of food and pharmaceutical drugs, authenticating high-value items like art or jewelry, securing voting, or moving healthcare records from one provider to another.
An early version of Salesforce Blockchain has been released for designated partners and customers, but will become more widely available in 2020. However, you can still learn the basics of Salesforce Blockchain in this new Trailhead module.
2) Open Source Ecosystem for Lightning Web Components
Salesforce also announced that they will be open sourcing Lightning Web Components — a huge opportunity for innovation as it opens the door to millions of developers and gives them the access to build apps on the Lightning Platform. Developers everywhere will be able to create web components on the development stack of their choosing. They'll also be free to code with the same standards-based framework and build applications on any platform, using the tools and open languages of their choice.
"Open source software is a leading accelerant for innovation. With more companies than ever investing in open source, Salesforce is proud to continue its work supporting an open web by empowering developers with an enterprise-ready framework to build the next generation of connected experiences."

said Chris Kelly, Director of Open Source at Salesforce.
This healthy open source ecosystem will foster a world of innovation that will benefit both the community and businesses in different ways. Any developer will be able to contribute and help define the future of development on Salesforce. If you're a developer, you can get started right away by visiting Lightning Web Components and GitHub.
3) Ruth, the elephant in the room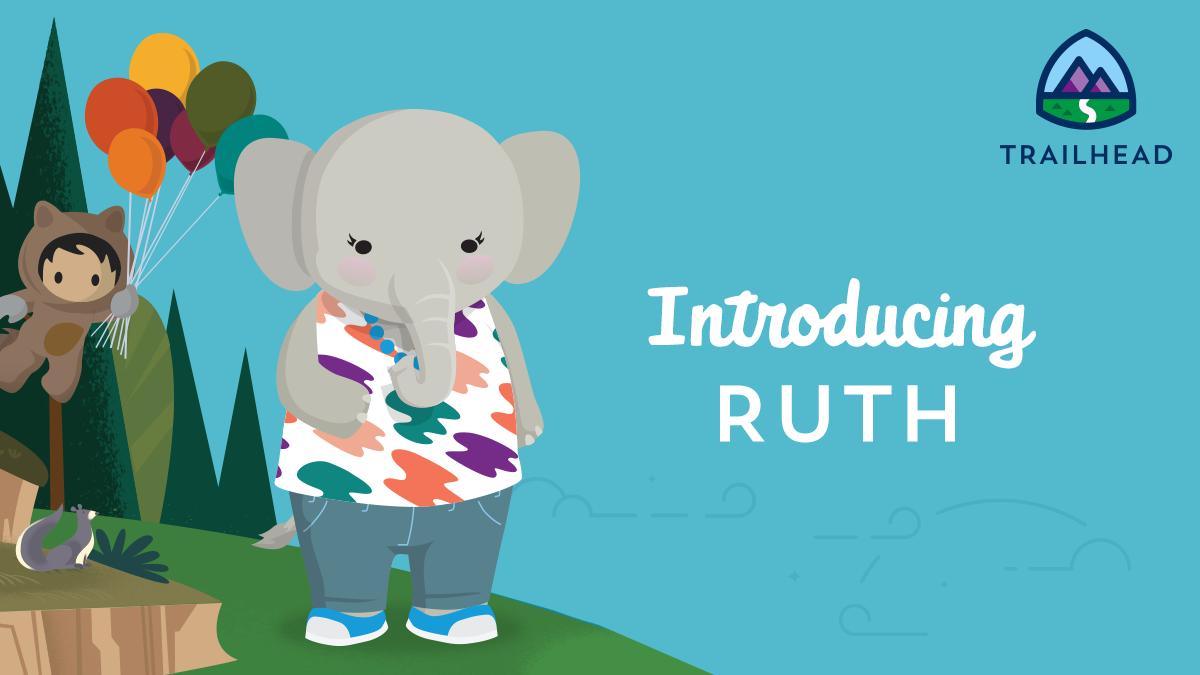 Meet Ruth, Salesforce's charming lady elephant and the newest addition to the Salesforce Ohana! Sassy, with a can-do attitude, Ruth is the expert in all things architecture and will be leading the troops in leveling up their architecture skills. Look out for her on Trailhead and if you're up for the challenge, try your hand at "Advanced Apex Specialist," her favorite superbadge. #GirlPower
4) AI & Responsibility
Trailhead launched a new module titled Responsible Creation of Artificial Intelligence that focuses on teaching users how to use and build AI in a responsible manner. One of the biggest challenges with AI is its susceptibility for bias; and the first step in preventing bias is to understand how it works and how it can appear within models and training data.
"We aim to empower developers, designers, researchers, writers, product managers — everyone involved in the creation of AI systems — to learn how to use and build AI in a responsible and trusted way and understand the impact it can have on end users, business, and society." – Kathy Baxter, architect of ethical AI practice at Salesforce.
With Trailhead's new module, users will learn how to detect bias and avoid it in their algorithms.The module is designed for everyone from data scientists to business managers alike. This is one step forward to building a better future with AI.
5) Trailmoji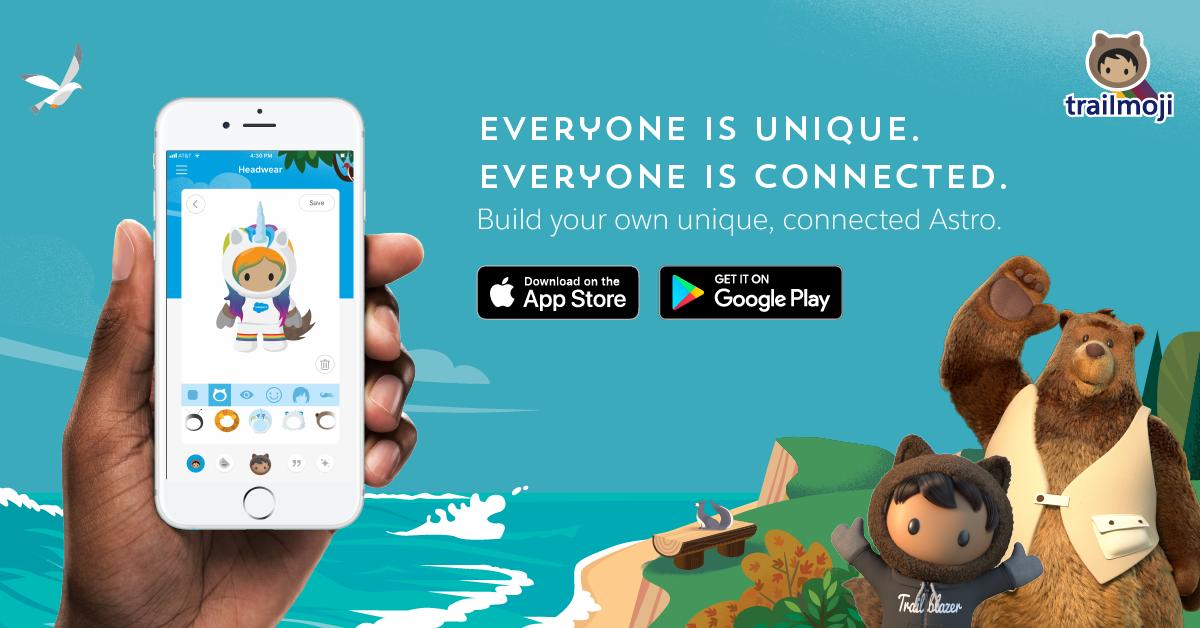 Want to dive even deeper into the Salesforce Ohana? You can now use Salesforce characters to express yourself with Trailmoji. Create and share your own Trailmoji that reflects your personal style, hobbies, and interests. The app also allows you to chat with Trailhead peers during Salesforce events and year-round, share stickers in your favorite apps, and use augmented reality (AR) to create dancing versions of Trailhead characters. You can get started by downloading Trailmoji on the App Store or Google Play.
Altogether, TrailheaDX was one for the books! We came back feeling empowered and ready to make the world a better place. We can't wait to return to San Francisco and see what's in store for next year.